10 Fantastic Stroller Hikes in Connecticut To Take with Babies and Toddlers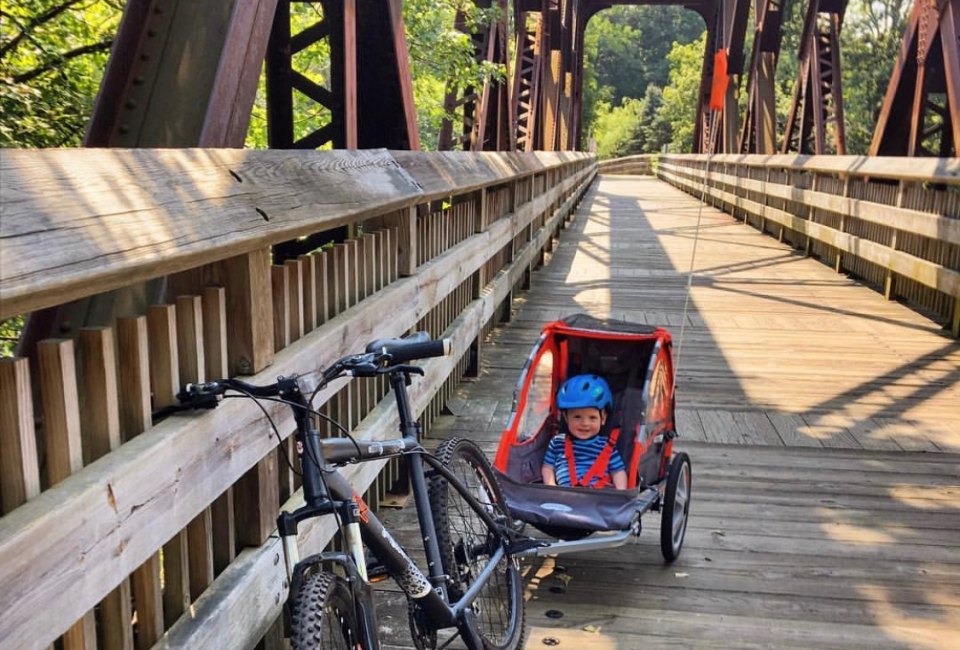 6/4/20
- By
Ally Noel
Just because you have a pre-walker doesn't mean you can't take a family hike! These stroller-friendly trails in Connecticut take advantage of the state's rail trails, greenways, and river pathways. The smooth, paved surfaces make it easy for you and your baby or toddler to explore the state. Whether you wish to enjoy peaceful walks through woodlands or strolling through city centers and parks, there is something on this list for everyone (even those with big siblings).
Once your baby graduates out of the stroller, go for a hike on one of these one mile-or-less hiking trails that are perfect for preschoolers.
2020 editor's note: Due to COVID-19, some hiking trails' visitors' areas and restroom areas may be temporarily closed. Please check websites or call in advance of your outing to ensure easy access with your family.
Stroller-Friendly Trails in Hartford County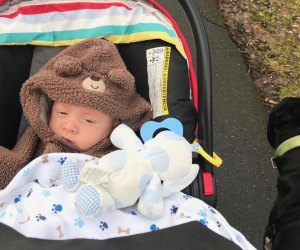 These trails are family friendly! Photo courtesy of what.a.messica via Instagram

1. Farmington Canal Heritage Trail
Technically, this trail winds through Hartford and New Haven counties before continuing into Massachusetts. You can expect to find 58 miles of paved trail ready for your stroller; running through rural areas, past historic buildings, and beautiful views.
2. Charter Oak Greenway

One of the more urban trails on this list, the Charter Oak Greenway is the name of the portion of the East Coast Greenway that runs from East Hartford to Bolton. This paved surface is about ten miles long and runs through the state's capital, college campuses, parks, commercial areas, and riverfront. 

Stroller-Friendly Trails in Fairfield County

3. Norwalk Valley River Trail
"Five Towns . . . One Vision" is the motto of the NRVT for a good reason. The NRVT is planning to build 33 miles of trail that will run from Calf Pasture Beach in Norwalk to Rogers Park in Danbury. The long term vision of this trail will be completely paved so you can stroll through Wilton, Ridgefield, and Redding. Currently, you and your stroller are best off sticking to the east side of the Wilton Loop.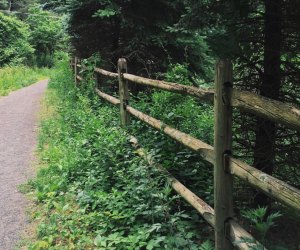 Stroll through Ridgefield on this easy trail. Photo by kaympetty via Instagram

4. Ridgefield Trail Trail
This easy 2.5 mile trail passes along a creek and through a few parks and open spaces. The trail runs from downtown Ridgefield to the Branchville section of town. There are plenty of benches located along the way, in case you want to stop and take in the scenery.
5. Pequonnock River Trail
This 16 mile multi-use, linear trail starts in Bridgeport, through Trumbull, to Monroe. You literally go from the shores of the Long Island Sound in Seaside Park to Gardener Road Reserve along the Pequonnock River Valley.
Stroller-Friendly Trails in New Haven County

6. Savin Rock Trail

Is there a coastline trail that offers amazing views of Long Island Sound AND a smooth surface for your wheels? Why yes - there is! Savin Rock Trail is on the short side (1.2 miles). But, what it lacks in length its makes up for in scenery and history. It is also part of the East Coast Greenway Trail System, so there are possibilities to extend your stroll. 

7. Derby Greenway
Opened in 2005, this 1.7 mile trail runs along the banks of the Naugatuck and Housatonic Rivers through Derby. You can expect to find a flat paced surface that is used year round by bikers, joggers, walkers and their pets.
Stroller-Friendly Trails in Litchfield County

8. Sue Grossman Still River Greenway

At just under three miles, this is one of the longer trails on our list. With trailheads in Torrington and Winchester - smooth flat asphalt treks through wetlands along the Still River. This family-friendly trail is frequently used by bikers, walkers, and joggers.
Stroller-Friendly Trails in East Connecticut

9. Niantic Bay Boardwalk
Beach hikes are tough with a stroller - if not full blown impossible. This beautiful 1.1 miles boardwalk allows you the ease of a waterfront stroll with out getting mired in the sand.
10. Putnam River Trail
Stroll your away along the eastern shore of the Quinebaug River. The path winds through woodlands, parks, an antique shopping district, and mills. This two mile trail can be accessed through four parking areas along Kennedy Drive.

Cover photo courtesy of ryanhumble via Instagram

Sign up for our free
newsletters.
Mommy Poppins is a family activity website that helps people find things to do with kids.
©
2023
MommyPoppins. All Rights Reserved.
mp-prod4-v4.32.99
We use cookies and other data collection technologies to provide the best experience for our customers.
Learn More
Sign up for the Mommy Poppins Newsletter today!