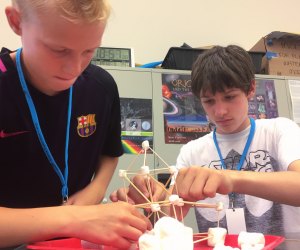 25 Fun Things to Do over Holiday Break with Connecticut Kids
School may be out between Christmas and New Year's Day, but this week doesn't always feel like a "break" to moms and dads. If you're searching for ways to keep kids busy, check out our list of 25 fun and enriching activities, from a science camps to animal storytimes to winter walks that will give the whole family some exercise. Everyone will feel great by the time New Year's celebrations arrive!
For more ideas to keep the entire family entertained, check out our December GoList, the frequently updated Mommy Poppins events calendar, and our Connecticut Holiday Fun Guide.
​1. Hear Native American stories, make crafts, and sing songs at the Institute for American Indian Studies.
2. Feed the reindeer at the 10th Annual Greenwich Reindeer Festival and ride the Winter Wonderland Carousel.
3. Explore a 4,000 acre wildlife sanctuary and view hand-painted nature dioramas for FREE at the White Memorial Conservation Center.
4. View multi-cultural events and performances during First Night Hartford.
5. Send the kids to winter camp at the Connecticut Science Center, where they will test their problem solving skills on mazes and brain-teasers.
6. Watch as massive chunks of ice are transformed into sculptures at Mystic's Winterfest celebration.
7. Stomp on down to Stepping Stones Museum and see their Big Adventures: Dinosaurs exhibit in its last days (closes Jan. 4, 2020).
8. Put on your skis and head down the hills at Sundown after dark. The Torchlight Parade begins just before the clock strikes midnight.
Mr. Gilbert's Railroad is a 60-year tradition! Photo courtesy of The Eli Whitney Museum
9. Continue the 60-year tradition and come to see Mr. Gilbert's train collection on display (annually) at Eli Whitney Museum.
10. Get your teens out for an Urban Air Teen Night including laser tag, go-karts and virtual reality.
11. Celebrate the Festival of Lights with a menorah lighting at Stew Leonards in Norwalk.
12. Experience the fun and friendship of Rudolph and his friends live on stage.
13. Get out to see the amazing neighborhood holiday lights before they turn off for the season all over Connecticut.
14. Treat the whole family to the celebrated annual production of A Christmas Carol at the Hartford Stage.
15. Get to know the animals at Earthplace in Westport through their Story & Animal Storytime.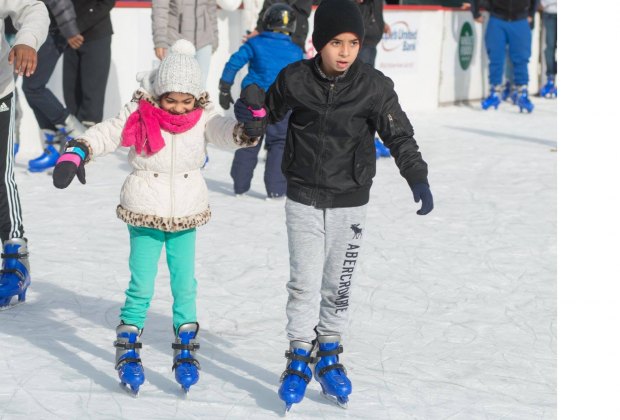 Winterfest Hartford at Bushnell Park includes free skate rentals. Photo by Andy Hart
16. Learn to skate at one of Connecticut's outdoor ice rinks.
17. Warm up and dip your spoon into some rich, creamy hot chocolate at one of these hot chocolate spots.
18. Squeeze in a holiday light experience all the way until January 1, 2020 with Holiday Light Fantasia.
19. Go somewhere your kids will never forget! The New England Carousel Museum has amazing examples on display and you can take a ride too.
20. Hurry to the Great Hall of Dinosaurs at Yale Peabody Museum before they close for major renovations.
21. Venture among thousands of twinkling lights at the Festival of Silver Lights in Meriden.
22. Do not miss the unique Winterfest/Tunnel of Lights experience offered at the Connecticut Trolley Museum. Just bring your mittens and hats!
23. Head outside into the crisp air on one of our favorite winter walks.
24. Check out the Christmas House in Torrington.
25. Help your kiddos get the wiggles out by going to an indoor play space near you.