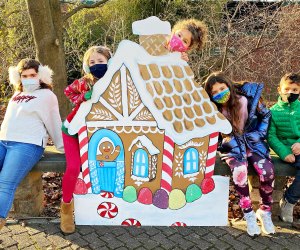 25 Things To Do Over Holiday Break with Connecticut Kids
School may be out between Christmas and New Year's Day, but this week doesn't always feel like a "break" to moms and dads. If you're searching for ways to keep kids busy, check out our list of 25 fun and enriching activities, from science museums to animal storytimes to winter walks that will give the whole family some exercise.
For more ideas to keep the entire family entertained, check out the frequently updated Mommy Poppins events calendar, and our Connecticut Holiday Fun Guide.
​1. Order a pizza for your igloo at Sign of the Whale in Stamford.
2. Visit with reindeer at the Reindeer Festival take and take a walk around the beautiful greenhouses at Sam Bridge.
3. Take a trip to the Westport Winter Farmers' Market and indulge in freshly made croissants, cookies, and tons of other local goodies. Make sure to pick up a Get Growing Craft Kit to go!
4.The stars are shining brightly over Ridgefield this holiday season. Check out the special exhibit Frank Stella's Stars at the Aldrich Contemporary Art Museum in Ridgefield. The exhibit offers both indoor and outdoor installations.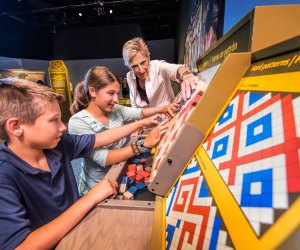 Maya: Hidden Worlds Revealed. Photo courtesy of Connecticut Science Center
5. Learn all about the hidden worlds of the Maya at the Connecticut Science Center
6. Spend a day in Norwalk checking on the Maritime Aquarium's "Living Lights" special exhibit or enjoying the final screenings of their most popular IMAX movies.
7. After the sun goes down, drive over to Stepping Stones Children's Museum and drive around their Worldwide Lights Celebration Car Parade
8. Put on your skis and head down the hills at Sundown after dark. The Torchlight Parade begins just before the clock strikes midnight.
9. Challenge yourself physically and mentally at the It Adventure Ropes Course in New Haven.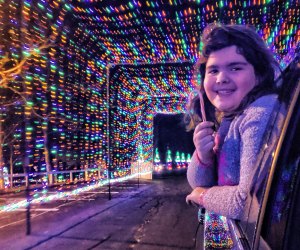 Drive thru the Magic of Lights. Photo by Ally Noel
10. Celebrate this season of lights at the Magic of Light drive-through light display in Wallingford
11. Get out to see the amazing neighborhood holiday lights before they turn off for the season all over Connecticut.
13. Get to know the animals at Earthplace in Westport through their Story & Animal Storytime.
15. Warm up and dip your spoon into some rich, creamy hot chocolate at one of these hot chocolate spots.
16. Squeeze in a holiday light experience all the way until January 1, 2021 with Holiday Light Fantasia.
17. Check out the largest display of holiday lights in all of New England at Olde Mistick Village.
18. Do not miss the unique Winterfest and the Tunnel of Lights experience offered at the Connecticut Trolley Museum.
19. Head outside into the crisp air on one of our favorite winter walks.
20. Check out the Christmas House in Torrington.
21. All Aboard! Get your tickets to the Holiday Train Show at the Connecticut River Museum and challenge yourself with their I-Spy scavenger hunt.
22. See what happens When the Earth Shakes at the Children's Museum in West Hartford.
23. Test your skills at an outdoor scavenger hunt at the Henry Whitfield Museum.
24. The Storywalk in Torrington is a fun mix of the outdoors and storytelling.
25. Escape on a winter day trip—right here in Connecticut!
An earlier version of this post by Jacqueline Miller ran in 2019.