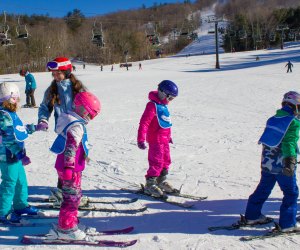 10 Family Ski Resorts In and Near Connecticut: The Lowdown
If your winter does not allow for snowy escapes to Vermont or New Hampshire, fear not. Connecticut ski resorts - though obviously not as vertically exhilarating - offer plenty of thrills for easier-to-manage day trips, and let's face it: the coldest season is much more fun if you stay active and enjoy the outdoors. The Mommy Poppins Winter Fun Guide highlights plenty of ways to help you do just that! Below is an overview of some of the area's best family-friendly ski resorts, whether you love zooming down slopes on skis or in the comfort of a snow tube. Tip: if you want to avoid lines, head to any of these mountains early in the morning and be pleasantly surprised. Going on a weekday always helps, too. If cross-country skiing is more your thing, check out these recommendations in Hartford and Fairfield counties. For even more skiing and snow sports ideas, browse our Ski and Snow Sports Guide.
Mohawk Mountain Ski Area - Cornwall
This skiing destination features a newly improved lodge, great snow (real and homemade), well marked trails, new lifts, challenging trails for adults, and an on-mountain restaurant. The Snowsports Discovery Center offers a wide variety of lessons for children at all levels of the sport. Each month, the resort features family-friendly events where Goggles the Yeti - the mountain mascot - comes out to meet all the children and ski with them. The events are free to the public and usually include face painting, obstacle courses, fun games, and coloring stations.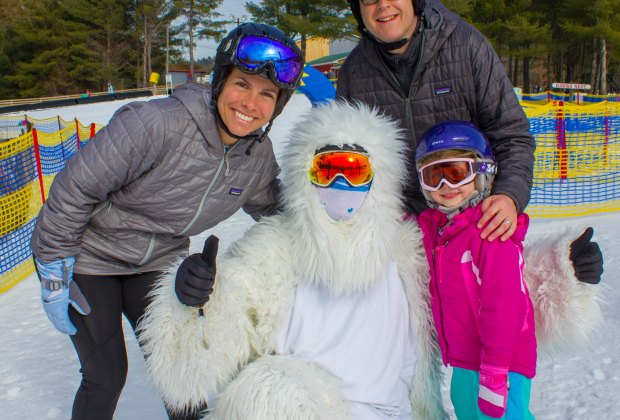 Goggles the Yeti - the coolest mountain mascot around - makes skiing extra fun for children.

Ski Sundown - New Hartford
Choose from 16 trails, 15 of which feature night lighting. Half of the trails here are labeled "easy", making it a great place to introduce children to snow. The terrain park is a favorite for snowboarders. The Brookside Lodge features Sunnyside Kitchen - a great place for lunch or breakfast. More delicious food options also served at The Back Kitchen, Sundown BBQ, and Last Chair Tavern.
Mount Southington - Plantsville
Enjoy 14 trails, ranging from beginner to advanced, seven lifts, snow making, and night skiing. Weekly children's programs, ski and riding lessons, racing teams, afterschool programs, and weekend entertainment are just some of the attractions at this 51-acre ski resort. When you need a break to relax and refuel, The Mountain Room, Waffle Haus, and Red Barn Cafeteria await, all providing great views of the slopes.
Power Ridge Mountain Park & Resort - Middlefield
Repurchased and rehabilitated, this favorite Connecticut resort reopened in 2013-2014. Grab your annual lift pass and enjoy skiing and snowboarding all season long. Enjoy 19 trails, including nine lit and open at night. Skiers of all ages will feel welcome here, whether you're ready for lessons or competitions.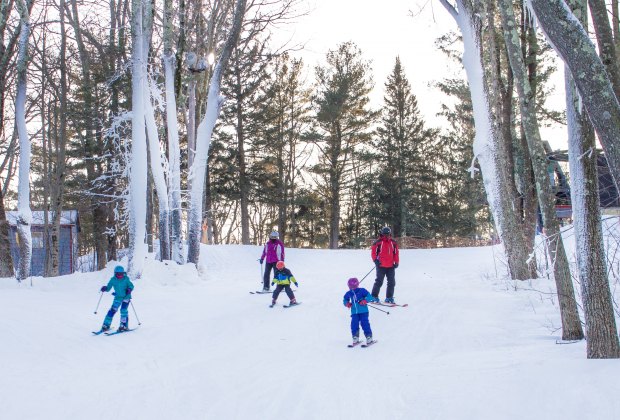 Whether you love to ski or snowboard, snowy destinations await in and around the state. Have fun for a day, a weekend, or a few days.

Berkshire East Mountain Resort - Charlemont, MA
Enjoy alpine skiing, snow boarding, night skiing, and snow tubing. An 1,840-foot elevation will give you great views, while the six lifts will make it easy to get to them. A variety of lessons are also offered here, for all ability levels.

Jiminy Peak Mountain Resort - Hancock, MA
Choose from among 45 trails and nine lifts, making this the largest ski and snowboard resort in southern New England. Children as young as 3 will have a great time on the slopes, especially since KidsRule Mountain Camps provides an all-day program that includes lesson, lift ticket, and lunch.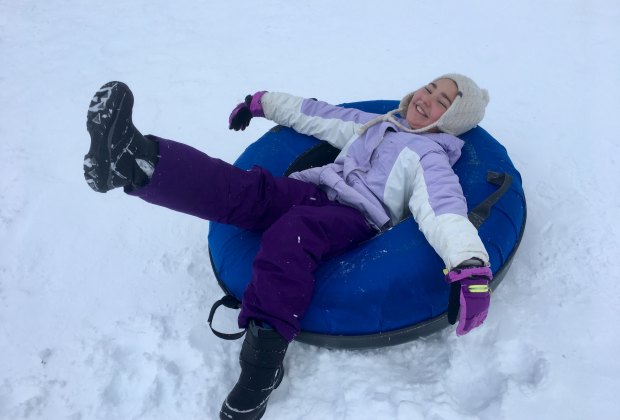 Kids, hills, and snowy weather belong together. Photo courtesy of C. Verge

Ski Butternut - Great Barrington, MA
Most of the trails here are intermediate terrain, but there's also plenty of fun to be had for beginner skiers or black diamond conquerors. The Tubing Center offers eight lanes of fun, including a Magic Carpet Lift and lights that take the fun deep into the evening. If you're close to the area, you can enjoy weekly outings, including half and full day kids' programs.
Catamount - Hillsdale, NY
Feel the fresh air as you slice through trails of fun (36 to be exact), including the double diamond Catapult, the steepest trail in the Berkshires. Fifteen trails are open for night skiing. Catamount features more than 60 ski and snowboard professionals who specialize in coaching kids, and lessons are available for children ages 4 and up.
Thunder Ridge Ski Area - Patterson, NY
Located about half an hour northwest of Danbury, 22 trails, 3 chairlifts, and 4 magic carpets await. Novice skiers, snowboarders, and the most skilled will enjoy day and night skiing and riding. Daily lesson programs are offered for all ages and ability levels.
Hunter Mountain - Hunter, NY
Located a little less than two hours from the Connecticut border in Kent, Hunter Mountain features four separate mountain faces offering a variety of terrain that caters to skiers of various ability levels. Ski lessons are offered for children ages 5 and up. Snow tubing lanes are nearly 1,000 feet long, and the tubing park features a snack bar and fire pit.
All photos courtesy of Mowawk Mountain Ski Area, unless otherwise noted.