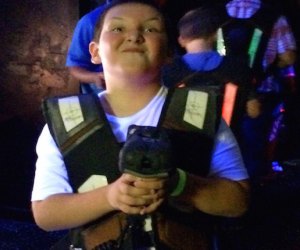 Tween Birthday Parties in Fairfield County
Just when I thought I had figured out the mysteries of kids birthday parties--the places to go for cupcakes or ice cream cakes and what to do about favors and how to handle the invites--my son turned 10 and decided that all of our heretofore well loved birthday venues were now "for little kids." Fortunately, I had enough advanced warning that I was able to do some research and turn up an impressive range of options for tweens right here in Fairfield County. Here are some of our favorites:
The Adventure Park—Bridgeport
This aerial adventure park behind the Discovery Museum offers birthday packages for intrepid climbers age 9 and up (there is a different climbing apparatus for younger kids). Parties include an orientation period as well as 2 hours of climbing and 30 minutes in a reserved area for food and cake. The park provides goodie bag and a t-shirt for the guest of honor.
Bounce—Danbury
Is your tween bouncing off the walls? Check out this brand new trampoline park in Danbury that offers 2-hour party packages that include pizza, drinks, and 90 minutes of jump time--they'll even arrange the online invitations for you! (Note that all party guests must have a signed waiver in order to participate.)
OUR LATEST VIDEOS
Chocolate Works—Darien
This new candy workshop in Goodwives Shopping Center is a Willy Wonka inspired "land of pure imagination." With the help of an attentive staff, party guests can mold and decorate their own chocolate designs in a private party room.
New Canaan Nature Center—New Canaan
Is your tween an outdoor enthusiast? Check out the Survival Challenge party for kids ages 8-12. Party guests will learn how to read a compass or a map, then learn how to build a shelter, identify local plant species, and maybe even find some edible bugs. Other party options include a Night Hike, Science Mania, as well as other themes.
Game Haven—Norwalk
This brand new "social gaming" center in Norwalk has state of the art PCs, software, and gaming systems that your tech-obsessed kids will love. They offer 2-hour parties on Fridays, Saturdays, and Sundays only (count on 1.5 hours of gaming and 30 minutes of pizza/cake/presents). They can provide pizza and drinks as part of their party packages, but party hosts must supply cake and favors.
Bowlmor—Norwalk
At their renovated facility in Norwalk, Bowlmor offers party packages for kids 12 and under and kids 13-17. Parents can customize parties to include drinks, pizzas, or other child friendly options including hot dogs, mac-n-cheese bites, and more--they even have a chocolate chip cookie "cake" option. Parents are also welcome to bring in their own cakes/cupcakes. Teen parties can be held at night (9:30 or later) under the glow lights. Party packages include a card for the arcade (amount can be customized). Lasertag is also an additional option.
Enchanted Garden—Ridgefield
Enchanted Garden offers performing arts-themed parties including hip hop, break dance, musical theater, improv/theater games, and pajama movie parties (guests supply the DVDs). Budding chanteuses will love the recording studio party for kids ages 10 and up. Kids will sing along to their favorite karaoke tracks in the studio, and have everything professionally recorded to be downloaded and shared with party guests after the party.
Sports Center of CT—Shelton
This family entertainment center offers 1.5 hour party packages in everything from ice skating to mini-golf, but if your tween is anything like mine, the big draw is going to be Lazer Tag. The Lazer Tag arena is jungle themed and includes lights, fog, and all kinds of surprises. Packages include pizza and drinks. Gift bags are available for an additional fee.
Aux Delices—Greenwich
Is your tween ready to be a Master Chef? Check out the cooking parties at Aux Delices, where they can host up to 20 guests in their special kitchen (or can come to your home). They will tailor the menu to your child's own interests.