Birthday Freebies for Connecticut Kids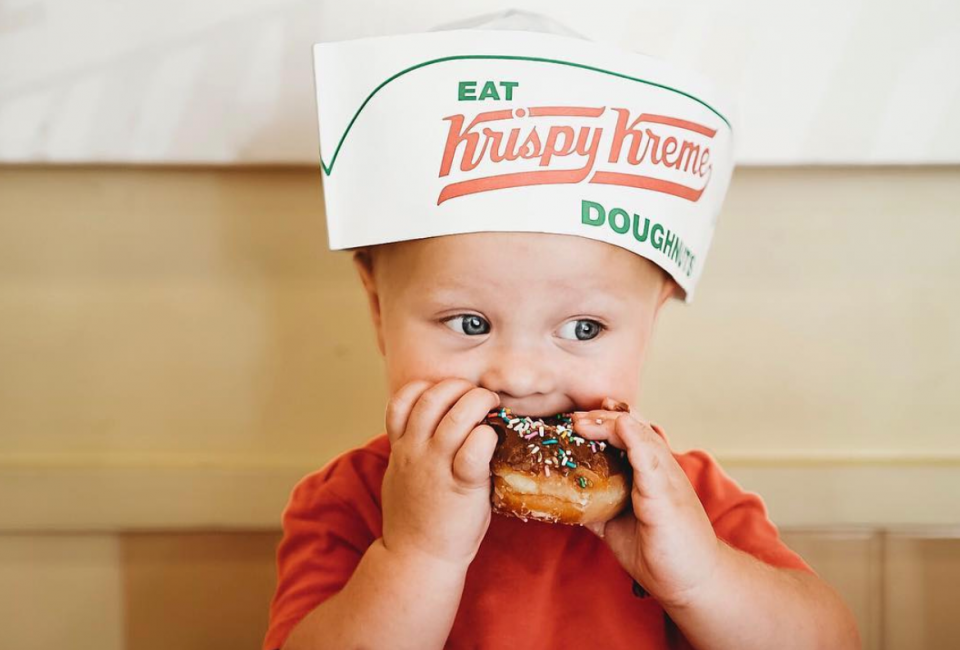 2/1/19
- By
Julia Tolstrup
Birthdays are great when you're a kid. There's the endless countdown to the big day, and finally waking up to the much-anticipated morning. So what could possibly make all this even more exhilarating? How about a whole bunch of free stuff? If you know where to look, there are some pretty sweet freebies to be had on your kid's birthday (or on yours, for that matter) across Connecticut. A lot of these places are big companies that require sign-up to a club or mailing list, and many of them require a minimum age for membership, so parents may want to be the primary member and just hand off the goodies. Others, though, are smaller, local businesses that genuinely want to offer something lovely to the people who support them. Whether your little one might like a free birthday ice cream cone or a trip back in time, here are some fun free finds for the next birthday.
To get more free fun at home and in your town delivered to your inbox, sign up for our newsletters—and discover all the free events and activities near you in our Connecticut Free Things To Do with Kids Guide.
Like a lot of these birthday freebies, you must sign up for the Rita's birthday club in order to be eligible for a free birthday treat. You have to be at least 13 years old to sign up for the club, so parents may want to consider registering on behalf of their kiddos. Rita's will deliver a coupon to your email inbox redeemable for a free icy treat on your birthday.
Sign up for the birthday club to receive a free scoop on your big day. The website doesn't list a specific age at the sign-up page, but you do need a valid email address in order to become a member.
Join the Blizzard Fan Club and you'll get all sorts of goodies. Just for signing up you receive a BOGO coupon for a DQ Blizzard, and they'll treat you to more frozen goodness when your birthday rolls around.
Members of the My Cold Stone Club will find a coupon for BOGO treats waiting in their inbox on their special day. In addition to this, Cold Stone will give you $3 off an ice cream birthday cake. There are six locations in Connecticut; check for the one closest to you.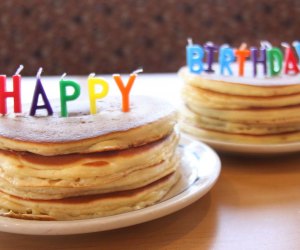 Photo courtesy of IHOP
​If your little ones like pancakes, the IHOP Pancakes to the People might be just the ticket. There are so many opportunities for free pancakes in this club--members will receive a free stack of "Rooty Tooty Fresh 'N Fruity" pancakes for signing up, every year on their birthday, and on the anniversary of the date you joined the club. That's a whole lotta short stacks.
Make birthdays sweeter with a free donut and cup of coffee, and you will get a free donut just for signing up to Krispy Kreme's eClub.
What kid wouldn't want a birthday burrito? OK, maybe a lot of kids wouldn't want a birthday burrito, but if yours definitely would, then check out Moe's. At sign up, you'll receive a coupon for free cup of queso and every year there will be a free birthday burrito waiting to be enjoyed.
This offer is a bit more involved so parents will definitely want to consider being the one who actually signs their name to membership. There are lots of incentives available that make sense if Jamba Juice is your family's jam. There is a point system for purchases that will earn you free smoothies, an app to allow you to jump the line by ordering online, and, of course, a free small smoothie or 12 oz. juice every year on your birthday. As of December 2019, the only Connecticut location is in Orange, so plan accordingly.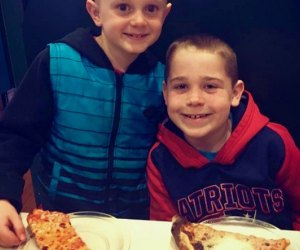 Pepe's Pizza has a birthday club entitling kids to a free pizza on their special day. Photo by cherylcenter via Instagram
This treat is courtesy of Connecticut's own and delicious Frank Pepe Pizzeria. Sign up for the birthday club online and receive a free small pizza (value up to $15.00) every year on your birthday. The sign-up page carries a caveat that it can take up to two weeks for membership to activate, so don't wait until the day before the big day to become a member.
This bookseller has a club aimed specifically at kids. Not only do you receive discounts on purchases for your kids, they will also get a free cupcake at the in-store cafe every year on their birthday. Teens receive a 20 percent coupon toward a new book.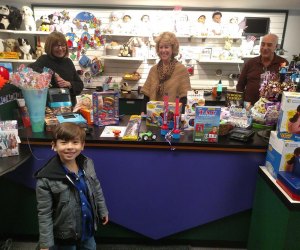 If you're under 10, enjoy a birthday freebie at the Purple Bear. Photo courtesy of the shop
Nestled in the heart of downtown Guilford overlooking the town green, this is the quintessential toy shop. It's charming and full of magical surprises and better yet—on their first visit and every birthday after that until age 10, your child receives a free gift.
Take them out to lunch (or dinner) and enjoy a special birthday surprise.
Join the Inner Circle (and receive a free bagel with cream cheese just for signing up). You'll receive "a little something" on your birthday that you can share with your little one.
Not only is this a favorite child destination, but it offers many deals such as free tokens, a free personal pizza when signing up for the More Cheese Rewards Program, and 20 minutes of free unlimited game play (with a $10 purchase) during a child's birthday week. Bonus: if you plan a birthday party here, you can take advantage of free email and text invitations.
Arguably, this birthday treat could be more exciting for parents than for kids. When you sign up for rewards at The Children's Place and enter your kids' birth dates, you will receive 20% off purchases when the big day rolls around. You can list up to four kids on your account, which makes for a lot of birthday discounts on cute clothes.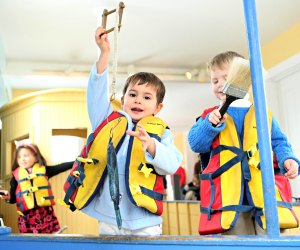 Birthday boys and girls enjoy the Mystic Seaport Museum for free! Photo courtesy of the museum
We may have saved the best for last. First, Mystic Seaport is an amazing place, with a dedicated Children's Museum for kids 7 and under and Home Port activity center for children 8 to 12. Second, there is no sign-up required. You don't need to join a club or get on a mailing list to redeem this offer. You just have to show up with ID or a birth certificate. Bear in mind that kids 2 and younger get in for free already, but once they hit 4 they need paid tickets. Use this generous offer from Mystic Seaport to treat your entire family to a special day.
Originally published May 2017