Best Fun Restaurants for Kids' Birthdays in NYC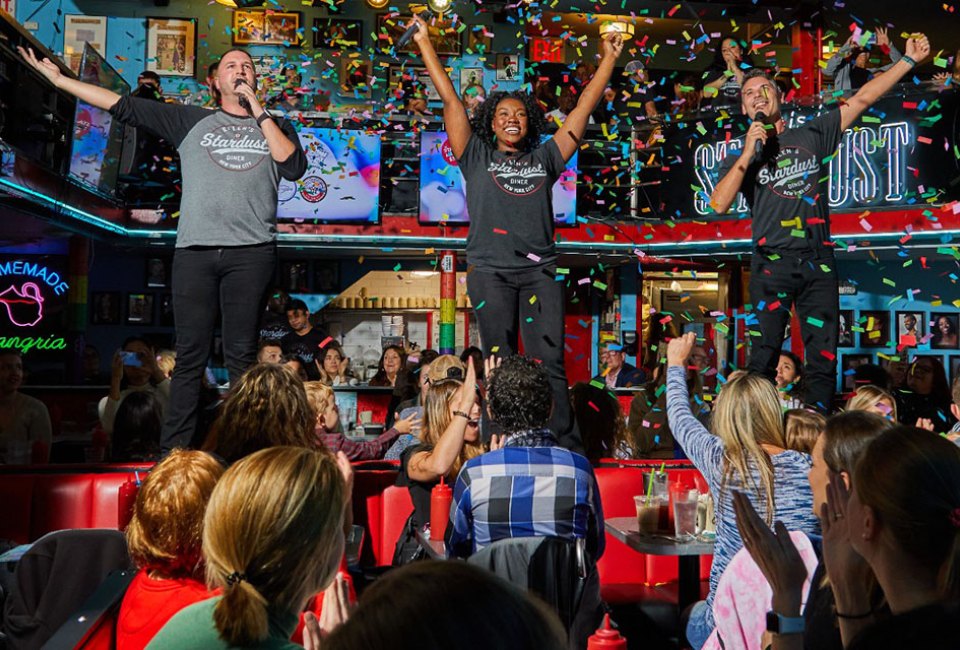 3/9/23
- By
Hans Howe-Freiwald
Growing up, special restaurants for birthday dinner were few and far between in my small South Dakota hometown. We had two choices for our birthday dinner: The first was hitting the Burger King for a cardboard crown and a cake with no candles. The second was the Electric Rainbow Arcade for 20 tokens, which lasted about two minutes, and some microwave pizza we politely hid under the skee-ball machines when mom and dad weren't looking.
Living in New York City, that is not the case. My two daughters don't know how good they have it. This foodie paradise is home to plenty of great restaurants for birthday dinner celebrations. Here are just a few of our favorite go-to spots when we're ready to party. Find more family-friendly eateries in our Guide to Kid-Friendly Restaurants, and make sure to save time for cake from one of these top bakeries for birthday cakes in NYC.
Subscribe to our newsletters to get stories like this delivered directly to your inbox



Mom's Kitchen & Bar serves plenty of comfort food favorites with Bigmouth Shakes to wash it all down.
Best Restaurants for Birthday Dinner in NYC
1. Mom's Kitchen & Bar – Midtown Manhattan and Astoria, Queens
With two locations in the city, Mom's Kitchen & Bar is all about one thing when it comes to your little one's birthday: the Bigmouth Shakes! With flavors like "Rainbow Bright," which features Fruity Pebbles, and the "M&M-Pire State of Mind," which has an entire slice of chocolate cake in it, you can't go wrong. Mention your kid's birthday and the staff even adds a candle and sings.
With a funky atmosphere that kids love, and food everyone can enjoy, Sugar Factory is a perfect spot to celebrate a birthday dinner in NYC. Most importantly: sugar! Duh, it's in the name. It also has special birthday ice cream drinks and ice cream desserts that leave kids buzzed and buzzin' about how much fun they had.
Located on New York's iconic Lower East Side, Clinton Street Baking Company is the place to go for breakfast for dinner. So why did this make this list of the best restaurants for birthday dinner? Because if your kids are anything like mine, it's all about the pancakes. Clinton Street Baking Company has some of the best in the city. You don't even have to mention a birthday to get over-the-top service here, but if you do, they'll make your kiddo feel extra special. My daughter, Ruby, recommends the chocolate chunk pancakes.
4. Jack's Wife Freda – Multiple Manhattan and Brooklyn Locations
With great food and cocktails for the adults, like espresso martinis and anything with duck bacon on it, Jack's Wife Freda has become a cross-borough staple. The special birthday celebrant can scarf down one of the city's best burgers, and then tackle a big hunk of chocolate cake that will make their day. Mention their birthday and the staff sings.
RELATED: The 18 Most Insane, Must-Try NYC Desserts

After a special dinner off the kids' menu, kids can order all things chocolate at Max Brenner.
Visit Max Brenner's now iconic original location just off of Union Square Park to celebrate the kiddo's big day with chocolate, chocolate, and more chocolate. After ordering the cheeseburgers served in a ceramic spaceship off the kids' menu, kids can get a spectacular melting s'mores sundae and lose their minds in chocolatey goodness. Have it delivered with a sparkling candle if you mention their big day.
While Kanga's is more of a birthday play destination than a restaurant, it makes birthdays so special, it deserves to make the list. With great food for the entire family and reasonable prices for an NYC play place, Kanga's Indoor Play Center makes for a birthday dinner your kid will never forget. No need to plan a big friend-filled party here, just head on in as a family and have a ball.
To give your kiddo a birthday they'll never forget, head to the iconic Ellen's Stardust Diner. Enjoy burgers and banana splits as the "Stardusters" sing some classic show tunes. Stick around because they regularly sing happy birthday to everyone in the restaurant who is celebrating. It's Broadway baby!
RELATED: Birthday Freebies in NYC: Where Kids Eat Free and Nab Gifts

If you're celebrating at Serendipity 3, a Frozen Hot Chocolate is a must-order.
Serendipity 3 is a New York City staple for a reason—it's like no place else in the city! With fanciful decor that transports the birthday baby into a candy-colored fantasy land, and sweet treats that are as exciting for the eyes as they are for the taste buds, this is a birthday dinner must. Mention the big day and there's a good chance the entire restaurant will bust out in song
Head on out to the classic Coney Island neighborhood to celebrate. N'Joy is a perfect spot for parents and little ones with a great buffet-style menu for the adults and an indoor play area for the kiddos, there's something for everyone. It even has reasonably priced kids' shows and characters you can reserve in advance.
10. Harlem Shake – Harlem and Park Slope, Brooklyn
With two city locations, Harlem Shake has become a much-talked-about favorite among milkshake and french fry aficionados. With a retro Harlem feel, the little ones will love the colorful diner decor, and you'll love taking in a little piece of this iconic New York neighborhood's history. Pop a candle in one of its famous "shortie" milkshakes off of the kids' menu and make yourself a Harlem hero for the big day.
Well, while it's no Mario Brothers at the Electric Rainbow, give these 10 restaurants for birthday dinner in NYC a try, and give your kiddo a birthday they'll never forget. And many more!
Click Here to Sign Up!
i