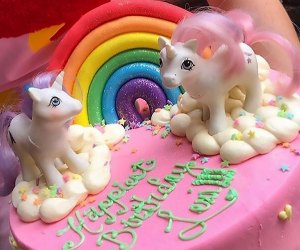 10 Birthday Cake Bakeries in NYC with Stunning Designs for Kids
Looking for a kids' birthday cake takes the cake, doesn't it? Call off the search, because we've scoured the five boroughs to find the most mind-blowing confections that pair perfectly with that awesome party spot you found.
Whether you want a twist on a classic treat, gluten-free goodies, or a sculpted replica of your child's favorite character, there's something for everyone in this delicious roundup of New York City bakeries and studios.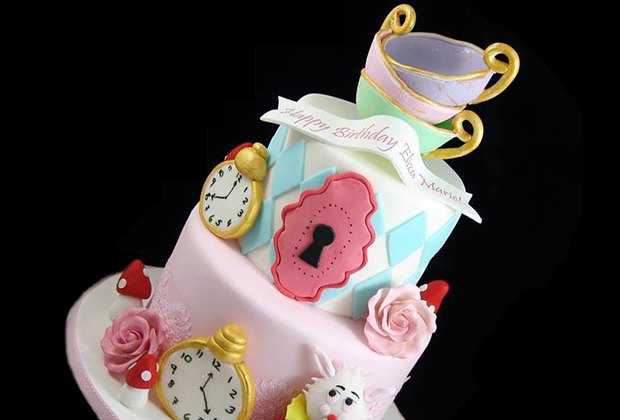 All ages can enjoy the whimsical Alice in Wonderland-themed cake from A Love for Cakes.
A Love for Cakes — Maspeth, Queens
Delivery: Delivery is available throughout New York City as well as parts of Long Island.
Retail: No, but you can schedule tastings and consultations at the Maspeth studio.
The former executive pastry chef of NYC's Capitale, Sabine Garrido, cranks out seriously extravagant creations at A Love for Cakes. With a focus on quality ingredients, delicious flavor combinations, and exquisite designs, her fun and colorful sculpted cakes are as delicious as they are over-the-top. Choose from 10 different flavors, including red velvet and banana, and 20 different fillings, including chocolate pudding and cannoli cream.
RELATED: Bargain Party Room Rentals for Kids' Birthdays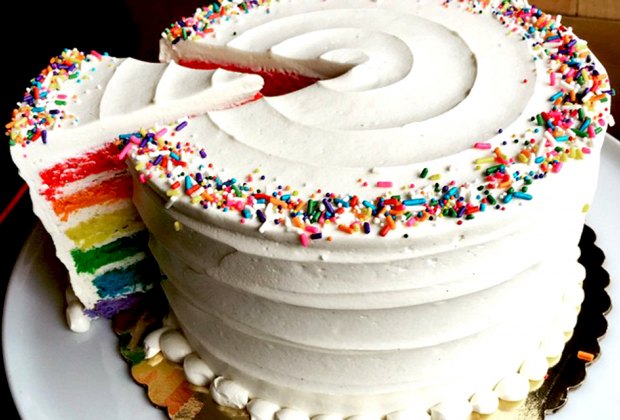 Devour the brightly-hued rainbow cake from Baked NYC for a colorful birthday.
Baked — Tribeca and Red Hook, Brooklyn
Delivery: Delivery is available throughout Manhattan, Brooklyn, Queens, and sometimes beyond.
Retail: You bet. Both locations serve breakfast, lunch, and lots of sweets.
While Baked offers only classic, three-layer, round cakes, there are plenty of ways to dress them up. Your birthday boy or girl can choose from a selection of unique chocolate transfers—from Spiderman to Hello Kitty—and add on colorful touches such as polka dots and sprinkles. Guests young and old are sure to love the not-so-classic, but not-too-crazy flavor combinations, too, like caramel apple, Oreo, and winter mint. For a traditional show-stopper, opt for its best-selling rainbow sprinkle-covered, very vanilla sprinkle cake.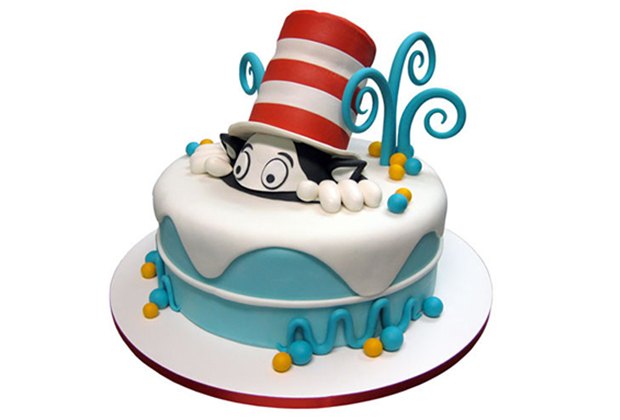 Can't go wrong with the Cat in the Hat cake from City Cakes.
City Cakes — Chelsea
Delivery: Cakes can be delivered throughout the Tri-state area.
Retail: While there is no retail seating, you can grab sweet treats on the go. Consultations and tastings are available but must be scheduled in advance.
Specializing in three-dimensional sculpted creations, creative fondant techniques, sugar work, and buttercream, City Cakes knows how to turn children's dreams into edible art. Its character cakes are incredible, whether your child wants Chase from Paw Patrol, Olaf from Frozen, the Cat in the Hat, or others. Its custom designs for celebrations at the Intrepid Sea, Air & Space Museum are out of this world. If you're looking for a birthday cake alternative, its personalized cupcakes and half-pound cookies are a big hit.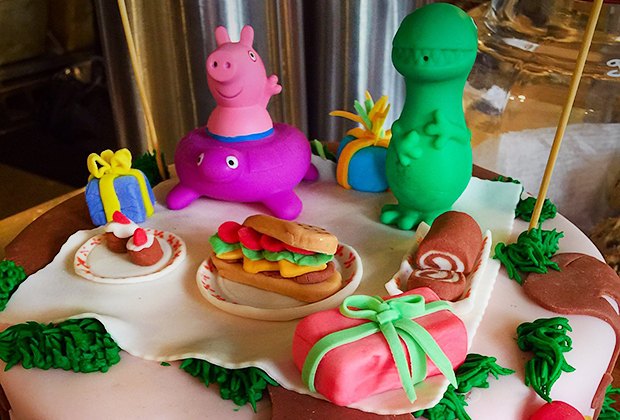 A custom cake from Clementine, which offers dairy-free and even gluten-free and soy-free options.
Clementine Bakery — Fort Greene, Brooklyn
Delivery: Most of Brooklyn and Manhattan by courier. Contact Clementine to find out if you're in the delivery zone.
Retail: Yes. It offers a daily menu of organic, vegan treats, and beverages.
If you're following certain dietary restrictions, Clementine Bakery has got your cake needs covered. All of its baked goods are dairy-free and made with all-natural, organic ingredients. Plus, it is gluten-conscious. In addition to its custom cakes, it offers a selection of pies that can be prepared gluten-free and soy-free.
RELATED: 18 Must-Try NYC Desserts and Where to Find Them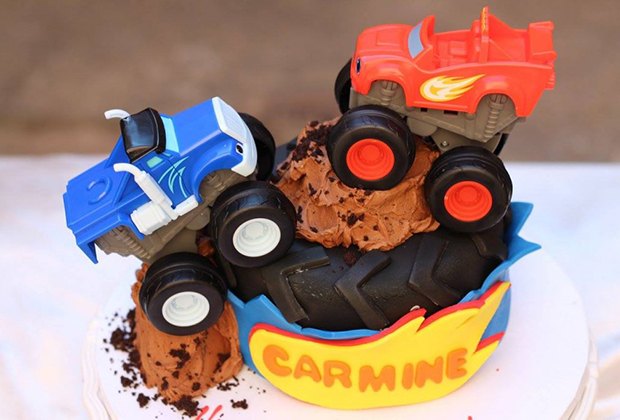 Monster truck fans will flip for this cake from Conti's.
Conti's Pastry Shoppe — the Bronx
Delivery: Delivery and shipping options are available.
Retail: Yes. You can even enjoy the bakery's original marble soda fountain installed in 1928.
This bakery opened its doors in 1921 and quickly became a neighborhood favorite, cranking out Italian and French pastries, as well as elaborate wedding cakes. The shop still uses many of the original recipes, but has added its own touch of innovation to special-occasion cakes. From emoji-covered confections to treats topped with Mickey Mouse ears, kids and adults will be blown away by these handcrafted creations.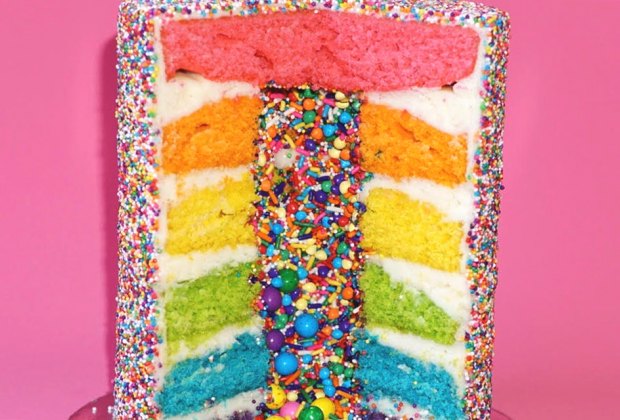 Kids will be floored by the amazing Rainbow Explosions Cake from the Flour Shop.
Flour Shop — Soho, Manhattan
Delivery: Not available yet!
Retail: Cakes for sale daily, as well as pizza cookies, cake balls, cake pops, and hot beverages.
"Sprinkles & Smiles!" is the welcome you will receive when you visit this Soho bakery—home of the colorful rainbow explosion cake. Flour-ist Amirah Kassem also serves up a unicorn cake, chocolate chip pancake cake, and the "bagel and lox" cake.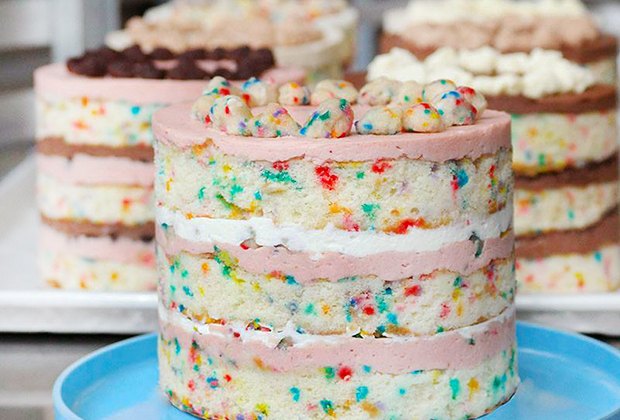 The Funfetti cake from Milk Bar is a staple in NYC, and customizations are available.
Milk Bar — Multiple locations in Manhattan and Brooklyn
Delivery: Cakes can be delivered throughout Manhattan and Brooklyn by courier. UPS shipping is also available throughout NYC.
Retail: Visit any of its locations across Manhattan and Brooklyn for to-go sweets and a selection of cakes.
Milk Bar's iconic "naked cakes," which feature unfrosted sides, are a party staple in New York City and beyond. Choose from fixed flavor options, including its famous funfetti birthday cake. But for more adventurous kiddos, they also offer popcorn cake and strawberry lemon cake.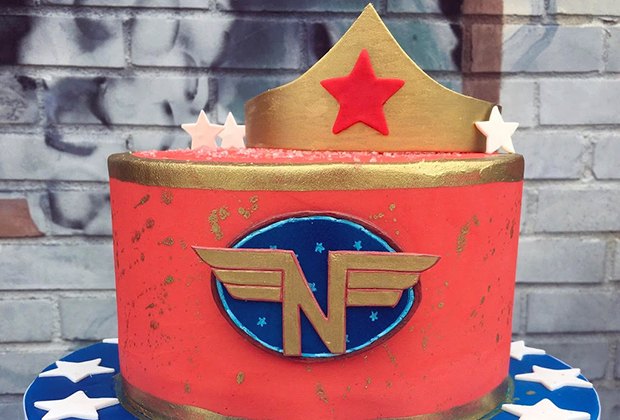 Sugar Monster Sweets specializes in custom-cake designs, such as this Wonder Woman cake.
Sugar Monster Sweets — Carroll Gardens, Brooklyn
Delivery: Yes. Delivery is available throughout Manhattan, Brooklyn, and Queens. Orders can be picked up at its kitchen in Long Island City.
Retail: There is no storefront for this Brooklyn studio that books up with orders months in advance.
Ashley Holt is the cake genius behind Sugar Monster's custom confections. She is a winner of TLC's Next Great Baker, as well as a Food Network Chopped Champion (no big deal, right?). From towering, candy-covered creations dripping in icing, to jaw-dropping cakes decked out with Shopkins and Power Rangers, all of her sweets are baked from scratch using high-quality, fresh ingredients. You can trust these bad boys taste as good as they look.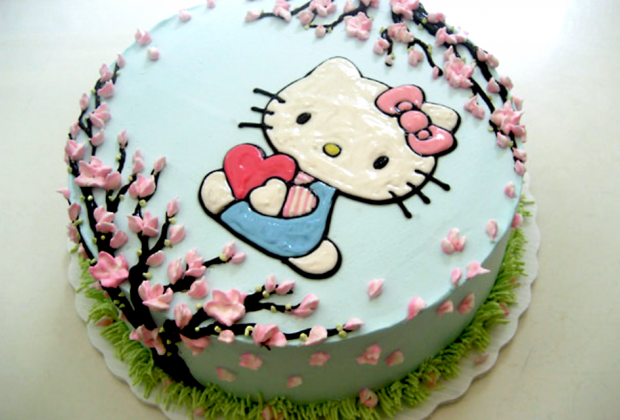 Ice cream cakes are the specialty at Sundaes and Cones, including this fun Hello Kitty design.
Sundaes and Cones — East Village
Delivery: No. All cakes need to be picked up at its Manhattan storefront.
Retail: Yes. The ice cream parlor is open year-round and offers indoor and outdoor seating.
I scream, you scream, we all scream for ice cream cake. And while Sundaes and Cones doesn't offer completely custom ice cream cakes, it does have a large selection of designs from which to choose, including kid favorites such as Winnie the Pooh, Super Mario Brothers, and Dora the Explorer. All creations contain the shop's homemade, delicately churned ice cream and are frosted with finely whipped cream. Non-fat and no-sugar-added options are available.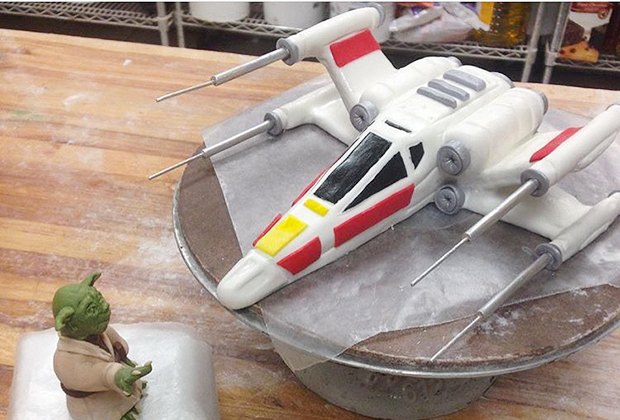 Crafting the topper on a Star Wars cake at Sweet Sweet Sue's.
Sweet Sweet Sue's — Annadale, Staten Island
Delivery: Yes, available for all cakes.
Retail: The shop's Cupcake Cafe is open on select weekdays. Free consultations are available by appointment.
Family-owned and operated, Sweet Sweet Sue's is known for custom confections and top-notch service. Free consultations are available to potential clients—a major perk—and the resident designer will sketch your dream dessert based on any ideas, photos, or inspiration you bring. Birthday boys and girls not interested in a tiered cake can opt for a themed cupcake tower topped with a just-as-wow-worthy mini-cake. Vegan and gluten-free options are available.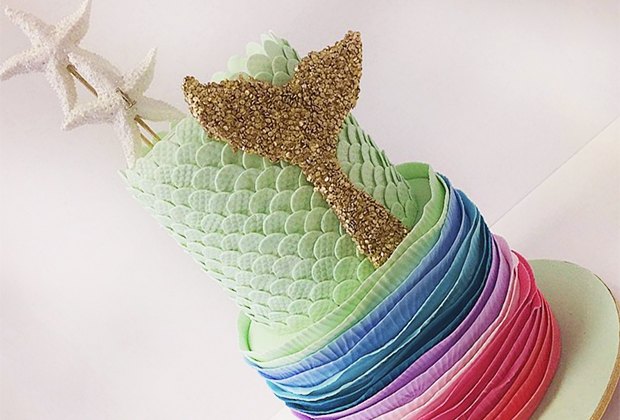 There Should Always Be Cake's elegant mermaid cake works just as well for a baby shower, princess party, or under-the-sea-themed birthday bash.
There Should Always Be Cake — the Bronx
Delivery: Curbside delivery is available, with additional help offered for cakes requiring on-site assembly. Long-distance delivery is an option depending on availability.
Retail: Yes. Freshly baked on-the-go treats can be purchased at the bake shop. Consultations are by appointment only.
Chef Laury's expertly sculpted cakes have a unique elegance, no matter the design, which is sure to captivate kids and wow adults. Her mermaid-themed cakes are magical, and her storybook-inspired designs featuring classics such as The Very Hungry Caterpillar and Alice in Wonderland are beyond beautiful. For a sweet alternative, the shop offers exquisite cupcakes and cookies perfect for any birthday party.
Photos courtesy of the bakeries.
A version of this post was published in 2018; it has been updated. Suzanne Cort contributed additional reporting.