Unique Goody Bag and Party Favor Ideas for Kids' Birthday Parties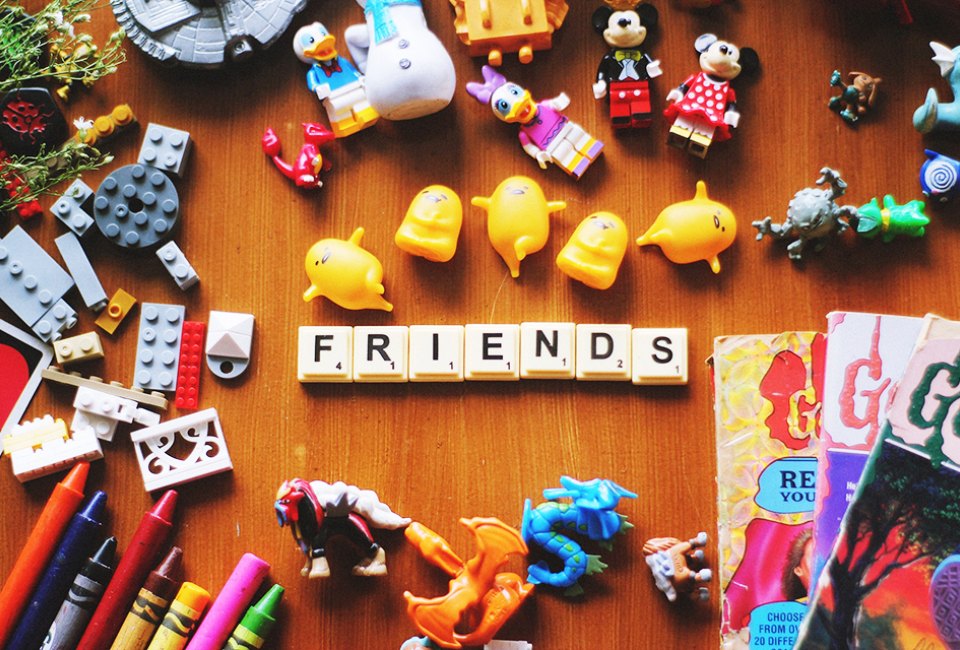 2/16/23
- By
Danielle Halibey
A goody bag or party favor is the icing on the cake of a kids' birthday party. But they're also the bane of the party planning parent's existence. No parent wants to give or receive plastic garbage that heads straight to the landfill. The best goody bags contain unique party favors that please both parents and kids. These ideas below hit that sweet spot, and allow you to bring your kiddo's personality or party theme into play, as well. Sometimes, creating the goody bag at the party even becomes one of the party activities. (Score!)
Read on for unique ideas to take your little guy or girl's goody bag from basic to brag-worthy. These aren't the only birthday hints we've got in the bag. In our Birthday Party Ideas Guide, you'll find instructions for making a pinata at home, great cakes for kids' parties, and even birthday freebies for kids.
You know what else a birthday needs? Gifts! Get tried-and-tested favorite gift suggestions the Best First Birthday Gifts, and more in our Gift Guide for Birthdays and Holidays.

Sending kids home with some goopy DIY silly slime they made is always a hit! Photo by Ally Noel
Make and Take Goody Bags
Plan an arts and crafts project for the party, and have the children take home their creations—party activity and party favor in one fell swoop! Another option is to send kids home with a follow-up craft such as a recipe attached to a cute cookie cutter or rolling pin.
Book Goody Bags
Books are great keepsakes and can be a terrific way to tie in the party's theme, too. Another idea: ask your guests to bring a copy of their favorite book to the party and organize a swap in lieu of favors, or donate everything to a book drive.
RELATED: 100 Classic Toys for Kids

Throwback to the toys of your own childhood. Photo courtesy of the Neoact store on Amazon
Flashback Goody Bags
Everything old is new again! Redefine the goody bag "classics" by introducing them to the next generation of partygoers.
Whistles
Travel puzzles
Invisible ink books
Slinkys
Mood rings
Mini Frisbees
Mini erasers
Bouncy balls
Jump rope
RELATED: Irresistible Dessert Board Recipes for Kids
Kids will have fun making these kits to give friends to take home.
Edible Goody Bags
The way to any kid's heart is through their stomach. These delicious treats can be wrapped up in a favor bag and sent home with your guests. They're sweet enough to please kids, but manage to avoid Halloween or Easter levels of mainlining sugar that parents hate. Sugar cookies or caramel apples can be made at the party and taken home to enjoy later.
S'more kits
Caramel apples
Cotton candy
Gourmet popcorn
Doughnuts
Decorative sugar cookies
Gift Card Goody Bags
This is a great way to support local businesses. Consider doling out gift cards to a neighborhood toy store or restaurant as a way to say "thank you for coming to my party." It's easy to match the party theme to a gift card favor.
Ice cream gift card
Movie ticket gift card
Gaming gift card
Streaming apps gift card
Toy store gift card
Environmentally Friendly Goody Bags
Traditional goody bags are filled with so much plastic and single-use stuff that just gets tossed in the trash. When it comes to goody bags, try to think green and have fun with some of these earth-friendly ideas.
Easy to care for plants like succulents, cacti, and air plants
Build a bouquet to take home
Give packets of seeds with a small pot (and a baggie of dirt, to make things really easy!)
Homemade Goody Bags
If you're crafty, make party favors by hand to add a personal touch to the celebration.
Homespun crayons
Rubber stamps
Dream catchers
Ornaments for the holiday season
RELATED: How to Plan a Kids' Birthday Party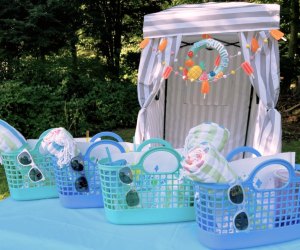 These goody bags will get loads of use all summer long. Photo by Ally Noel
Seasonal Goody Bags
When it comes to thinking outside the box for favors, it really helps to sync with the seasons. Winter, spring, summer, or fall—all of the seasons lend themselves to the perfect goody bag. If your buddy was born in the winter, consider putting together a winter survival pack, or a pail filled with flip flops and sunglasses for summer days.
Sporting equipment
Hats
Gloves
Scarves
Beach toys
Towels
Flip flops
Donations for a Charitable Cause
Include a little thank-you note with a brief description of the charity you've donated to in the names of each partygoer, and attach it to a balloon or lollipop. There are lots of organizations to pick from that cater to kids.
RELATED: Outdoor Party Games for Kids' Birthdays at Home
What better way to remember a party than with a personalized keepsake, made with love?
Personalized Goody Bags
This is the perfect way to get the birthday boy or girl involved—even little ones can help by picking their favorite songs for a party-packed playlist to send their squad home with. Add a personalized touch to each favor by adding initials with stencils, stickers, or even iron-on patches.
Make a mix tape /Spotify playlist/iTunes gift cards
Customized coloring books or sheets
A version of this article first published in 2014, and is updated periodically
This article contains some affiliate links, which means we might earn a small commission if you make a purchase. There is no extra cost to the reader. We only recommend products and services that we have personally used or have thoroughly researched.
Click Here to Sign Up!
i