The Very Hungry Caterpillar Show
DR2 Theatre

NYC Easter Brunch Cruise 2023
Event Cruises NYC

Easter Fun Cruise with Egg Hunt 2023
Event Cruises NYC
Sign up for our free newsletters.
Sensory Spice Playdough Recipe for Kids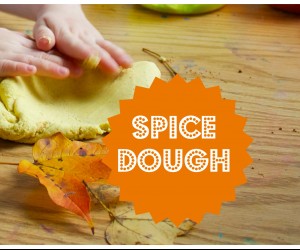 11/6/14
- By
Ally Noel
Making homemade playdough is a favorite project for toddlers and preschoolers. They love the mixing, the texture, and, of course, all the play; and it's an easy project to do with items right from your pantry. But you can make this project even more scent-sational by adding in some pumpkin pie seasonings, to give your dough an extra sensory kick that little ones will love.
Even big kids
We make our dough in a stand mixer, but even if you mix it by hand it should only take about 5 minutes. Stored in an airtight container, this dough can last up to six months.
Materials for sensory dough
2 Cups Flour
2 Tablespoons Vegetable Oil
1/2 Cups Salt
2 Tablespoons Cream of Tartar
1.5 Cups Boiling Water
Food Coloring (optional)
Pumpkin Pie Seasoning (to scent)

1. Mix the flour, salt, cream of tartar, pumpkin pie spice, and oil in a mixing bowl.
2. Pour the boiling water into the dry ingredients and stir continuously until it becomes a combined dough.
4. Allow to cool down, and knead it for a couple of minutes until all the stickiness is gone.
If you don't have a premixed pumpkin spice mix, combine any of the following ingredients to create the same, or even a custom, spice mix: ground nutmeg, ground cloves, ground allspice, ground cinnamon.
Find more things to cook and create in our guide to Easy Recipes for Kids or check out our Boredom Busters guide for more indoor activities and crafts.