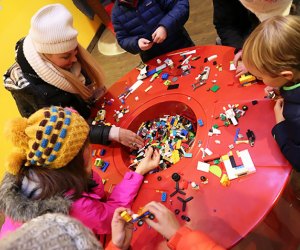 20 Indoor Places Where NYC Kids Play for Free
We're staring down another long Northeast winter, and entertaining the kids during this long, chilly season isn't easy or cheap. Throw in a cramped New York City apartment and a shortage of vitamin D and of course, everyone is eyeing the exit. Luckily, in NYC some of the best things in life are FREE (really).
If your kids are bouncing off the walls and your wallet is screaming for a break after all the holidays, we've got you covered. Check out our list of 20 FREE indoor destinations in Manhattan, Brooklyn, Queens, the Bronx, and Staten Island for fun, games, or just a much-needed change of scenery.
For more great indoor places, check out our Indoor Family Fun Guide which is loaded with all-ages drop-in spots.
Don't forget to sign up for our FREE newsletters to get posts like this delivered to your inbox.
Make sure to check venue hours before heading out.
1. Head to your local library for no-cost fun. Not all branches are created equal, but the Children's Center at 42nd Street at the main branch of the New York Public Library; the Central Branch of the Brooklyn Public Library in Prospect Heights; and the Children's Library Discovery Center in Jamaica, Queens, are all destination-worthy, with wonderful children's sections and frequent family programming. Prefer to stay closer to home? Discover what's going on at all branches in Manhattan, Brooklyn, Queens, the Bronx and Staten Island.
2. Visit an amenity-filled public atrium. Our favorites include the David Rubenstein Atrium at Lincoln Center and the Winter Garden in the Financial District. If you've worked up an appetite, the Brookfield Place food court is not to be missed.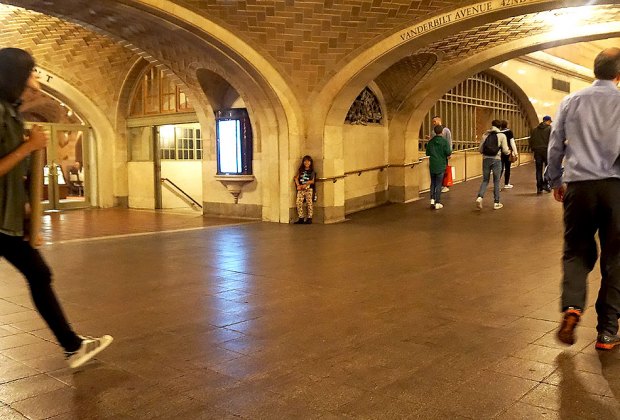 Pint-sized visitors love trying out the whispering gallery at Grand Central. Photo by Jody Mercier
3. Head to Grand Central Terminal to train-watch, try out the whispering gallery, or take in one of the other kid-friendly activities.
4. Enjoy FREE storytimes every day of the week at bookstores and other kid spots. Don't forget to see what else is going on at some of our favorite independent bookshops, including author readings, craft activities, and even puppet shows.
5. Get up close and personal with critters from the East River at the Brooklyn Bridge Park Environmental Education Center. Check out the reading corner, a model of the Brooklyn Bridge, and stay for craft time.
6. Stop by the FDNY Fire Zone in Rockefeller Center to learn about fire safety from a real firefighter. General admission is FREE.
7. While in the neighborhood, visit the mega-stores American Girl Place and FAO Schwarz. Check out amazing re-creations of NYC landmarks at the Lego Store nearby. The shop also hosts occasional FREE maker-building events. Live farther south? Visit the Flatiron Lego Store and rest in its lounge while your child admires the re-creation of the neighborhood.
RELATED: Drop-In Play Spaces Around Manhattan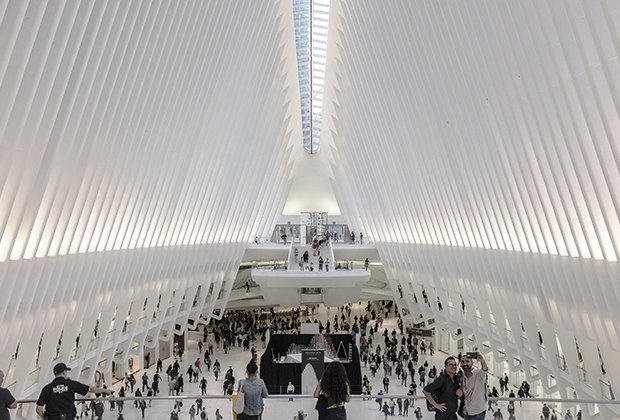 The Oculus is worth a visit for the eye candy alone. Photo by Billie Grace Ward via Flickr.
8. Gawk at the architectural wonder of The Oculus, the train station/shopping destination at the World Trade Center. More than 100 stores and eateries occupy the soaring, subterranean space.
9. See what's going on at one of the NYC Parks Department's many nature centers. Enjoy hands-on activities such as tours, crafts, and face time with animals. We're big fans of the Prospect Park Audubon Center free programs.
10. Get your game on at Nintendo NY, where kids can gawk at the giant Donkey Kong and test not-yet-released tech and video games.
11. Hit one of NYC's other interactive stores, filled with magic mirrors and giant castles (like the Disney Store Times Square), the amazing and engaging just-opened CAMP store, or independent favorite Kidding Around in Grand Central or Flatiron.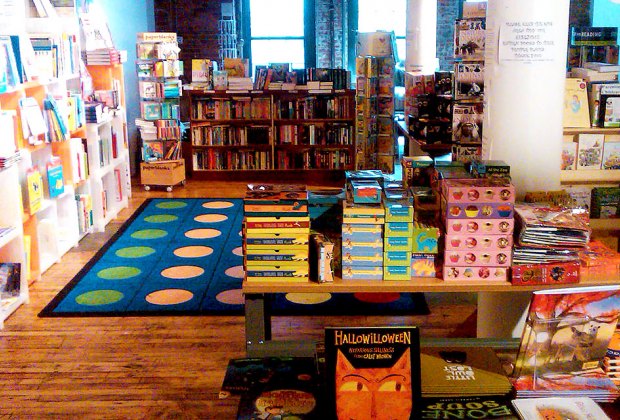 Kids have space to play or read at Posman Books. Photo courtesy of Posman Books
12. Watch the bakers in action at Chelsea Market, where a number of the city's best bakeries are rolling out dough, or read a story in the children's section of Posman Books after grabbing a bite at the market.
13. Register for a FREE youth program at your nearest Apple Store (there are several in Manhattan, as well as locations in Queens, Brooklyn, and Staten Island). Check out the latest gadgets and apps.
14. Don't forget Central Park! There are a handful of FREE indoor destinations in the 840-acre green space, including the Chess & Checkers House.
15. Take in a FREE flick at the Museum of Modern Art, or your local library. (Movies are often included in the admission price at the Museum of the Moving Image, too.)
16. Enjoy all genres of music at a Carnegie Kids FREE neighborhood concert, which take place throughout the city.
RELATED: 50 Indoor Activities for a Rainy Day with the Kids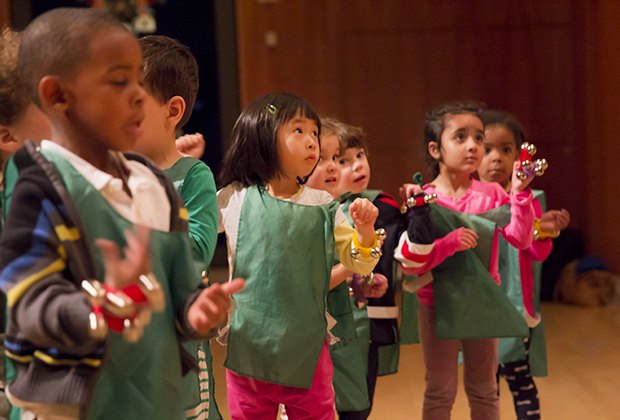 The National Museum of the American Indian is multicultural New York at its best. Photo by Joshua Voda courtesy of NMAI.
17. Explore the always FREE National Museum of the American Indian, housed in the historic U.S. Custom House. Programming includes family-friendly films, workshops, and other no-cost fun.
18. Kids play for FREE at some of these Brooklyn cafes—well, you'll need to spring for a coffee, but hey, you were gonna do that anyway.
19. Introduce kids to contemporary art at the always FREE Bronx Museum of the Arts.
20. And don't forget: Many NYC museums (and zoos and the aquarium) offer free hours on a weekly or monthly basis.
Top photo: The Lego store has free building tables. Photo by Shira Kronzon
This article, originally published in January 2010, is updated annually.