See the Totally Revamped Nintendo NYC Store in Midtown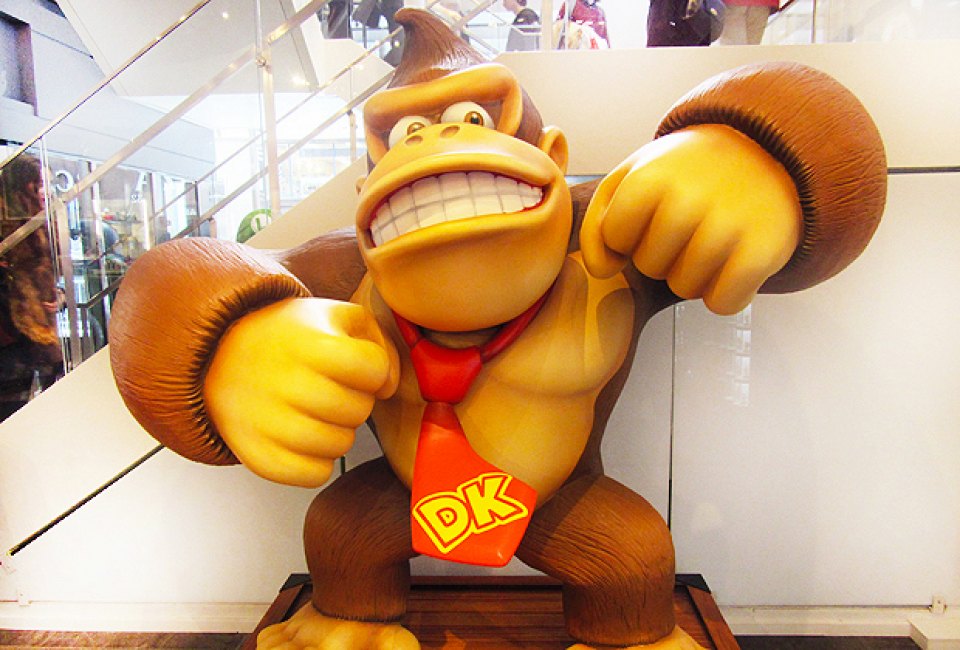 2/24/16
- By
Jody Mercier
After witnessing several big-name kid stores shutter Midtown locations, we were happy to learn that Nintendo NYC took a different approach. The gaming paradise overhauled its flagship Rockefeller Center location over the last month, reopening on Friday, February 19 with lots of fun new interactive features, ensuring its place on our list of favorite indoor places to play for years to come.
The two-story, 10,000-square-foot Rockefeller shop also displayed a new name, going from Nintendo World to Nintendo New York, or Nintendo NYC for short. We visited on opening weekend (despite the epic lines!), and it's definitely a spot to add to the NYC must-visit list for gamers and nostalgia fans. Read on for the details like a 15-foot gaming screen, a display of Game Boys from years past and even a sneak peek at the latest Zelda.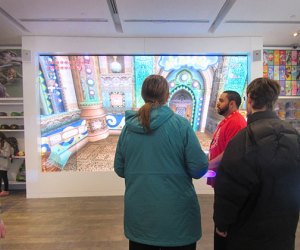 The 15-foot screen is a popular attraction at the revamped store where gamers can sample and play.
The original store has been open 10 years and much had changed in the technology-charged gaming world in that time. The overhaul updated the interior, as well as the wares, bringing it in line with the latest games, tech and yes, popular characters. The centerpiece is a 15-foot gaming screen on the second floor where anxious fans wait for their chance to play the newest iteration of the Zelda franchise, which has yet-to-be released to the public. A Nintendo employee stands by to help newbies figure out the game and keep the line moving.
RELATED: Best Restaurants for Kids Near Rock Center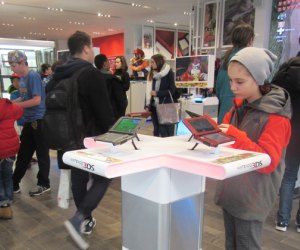 Test out various handhelds and other devices at stations like this 3DS display.
Apart from the big screen, there are eight individual screens on the second floor and three on the first, all equipped with the latest Wii U system for you to try out. Nintendo's handheld 3DS is available at nine stations, too. Even though there were plenty of diehards in the store when we visited, we never waited long to try a console.
There is plenty of Nintendo-branded merchandise on sale—from plush toys of Mario and his friends to the popular Pokemon characters and, of course, video games—but the play and interactive experience feels just as front and center as the merchandise.
RELATED: Best Winter Art Exhibits for NYC Kids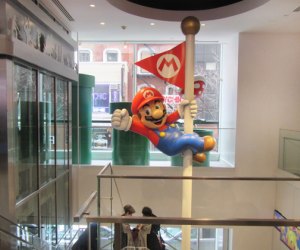 Mario's face is seemingly everywhere you turn.
Everywhere you look, you are immersed in Nintendo's imaginary kingdom. Walk through the door and a golden medallion with Nintendo's slogan "Where everyone comes to play" is newly etched into the floor. It is positioned directly in front of museum-like cases with Zelda's sword and a Mario statue ensconced with a "Congratulations Nintendo NY" sketch by famed video game designer Shigeru Miyamoto. Mario characters line the stairwell, where Super Mario himself looks like he's just taken his trademark leap onto the flagpole, marking the end of a level in one of his famous games.
Miyamoto's work can be found throughout as he is the designer of a number of Nintendo's most-popular characters, including Super Mario. The second-floor offers a glimpse into Miyamoto's mind with a two-sided case that houses sketches of Super Mario 3 and the newly released Super Mario Maker.
While my 10-year-old son delighted in sampling all the games on offer, I strolled the store and reminisced about the video games of my youth, from the original Nintendo Entertainment System to the Super Nintendo Entertainment System and beyond. He laughed when I tried to explain how we used to blow onto the games and into the consoles to get them working. The fact that you actually were attached to your console, tethered by the cord of your controller, made him laugh more. Yeah, we had it rough...
Game Boys gets a display case of its own where evolution of the handheld device is evident in a single glance from the bulky, brick-like originals to the sleek and shiny offerings on sale now.
Nintendo NY is open Monday through Thursday, from 9am to 8pm; Friday and Saturday, from 9am to 9pm; and Sunday from 11am to 6pm. The store announces all upcoming special events on its website or newly launched Facebook page.
Top image: The giant Donkey Kong makes a good photo op. All photos by the author.
Places featured in this article:
t Click Here to Sign Up!