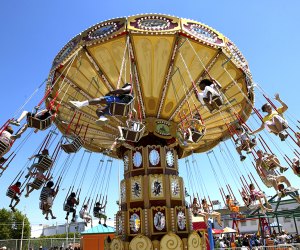 Spring Break in NYC: 50 Fun Things to Do With Kids
Worried about keeping the kids entertained over NYC's 10-day spring break? We've got it covered for you.
If you're sticking around the city, there's plenty to keep every age group busy. From interactive exhibits and hands-on museum programs to cool family theater shows, parks, playgrounds, and indoor play spaces, we've rounded up 50 things to do with kids in New York City during the break. Some of our picks only take place on specific dates; others run the entire duration, but all are engaging ways to get out and celebrate spring.
If you're thinking of heading out of town for a last-minute vacation, or just a day trip or two during the break, which technically runs from Friday, April 19, to Sunday, April 28, you can find great nearby getaways in our Day Trips Guide and more far-flung destinations in our Family Travel and Resort Guide.
Be sure to click the links for all the details, including addresses, and times.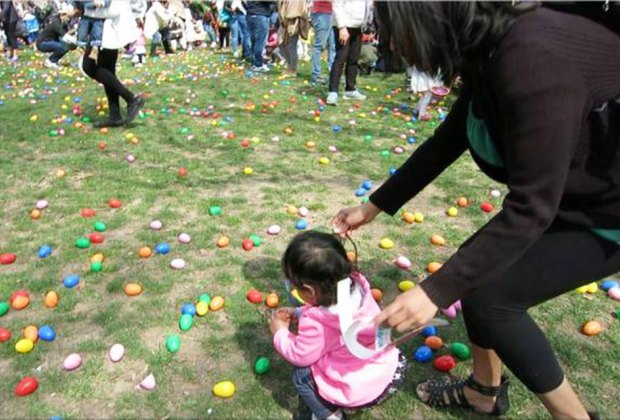 Join Think N' Fun in Sakura Park on Saturday April 20 for Easter Egg Hunts.
1. Get your goodies before the Easter Bunny hops out of town by stopping at a treat-filled hunt.
2. Get dolled up in your fanciest headgear and join the masses along Fifth Avenue during the annual Easter Parade and Bonnet Festival. FREE

The T. rex might chase you down at the new exhibt T. rex: The Ultimate Predator at AMNH. Photo by R. Mickens for AMNH
3. Explore the ferocious T. rex at the brand new exhibition dedicated to the terror of the Cretaceous at AMNH.
RELATED: Spring Break Camps for NYC Kids This April Vacation

Visit the interactive Lost and Found at Snark Park. Photo by Janet Bloom
4. Explore the brand new attractions at the Hudson Yards, including the interactive and highly touchable Lost and Found at Snark Park.
5. While you're there, explore the adjoining Shops and Restaurants at Hudson Yards, including an outpost of candy haven Dylan's Candy Bar, or visit José Andrés Mercado Little Spain for paella cooked over an open flame, and freshly fried churros.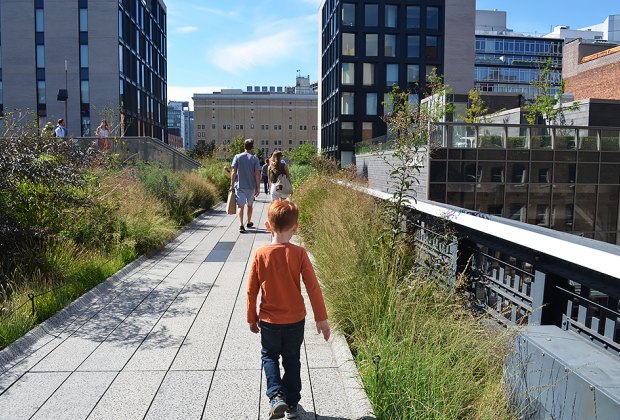 Wander above the city on the High Line. Photo by Sydney Ng
6. Work off the calories by climbing The Vessel or head to the High Line for a spring walk.
7. Head downtown to the always free National Museum of the American Indian. FREE
8. Give rock climbing a try—NYC has a few kid-friendly indoor rock climbing centers with drop-in hours.
9. Although the beach is off limits for swimming until Memorial Day, Coney Island's Luna Park and Deno's Wonder Wheel Amusement Park are open for the season with special spring-break hours.
10. Check out the history of New York's port and the role it played in building this city at the South Street Seaport Museum.
11. Grab brunch with the Easter Bunny.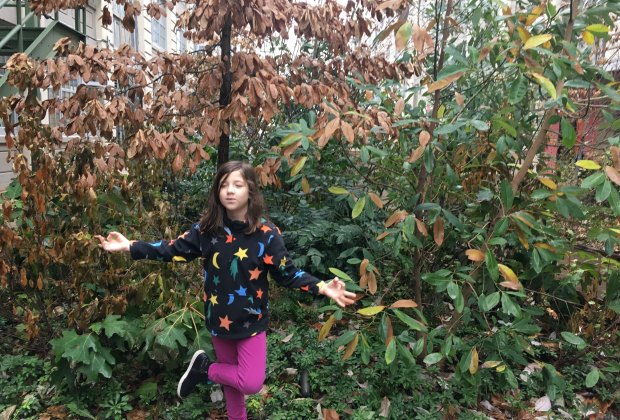 Find a moment of peace in the relaxing Zen Garden at Industry City. Photo by Siobhan Adcock
12. Explore Brooklyn's booming Industry City with its cool eats, Japan Village, roller rink, mini golf, and more.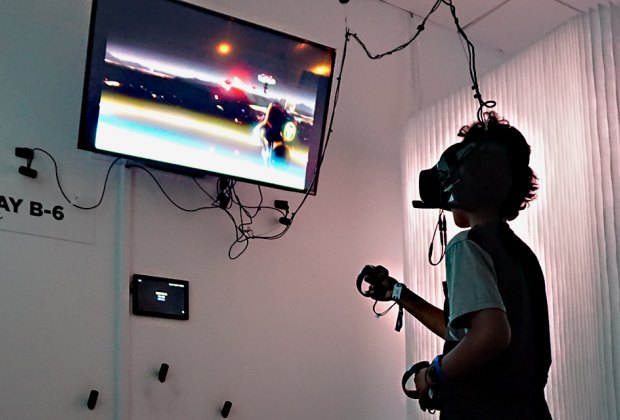 Need a little break from NYC? Then head into VR World and choose an adventure. Photo by Jody Mercier
13. Immerse yourself in Midtown's gamer haven, VR World, or Brooklyn's VR Bar.
14. Stop in at Prospect Park's Audubon Center, where kids can participate in spring break events, such as nature walks or bird watching, or just pick up a ready-made Discovery Pack full of nature-inspired fun to enjoy throughout the park. FREE
15. Ride a square-wheeled trike and enjoy other interactive fun at the Museum of Mathematics.
16. Hit the Bronx's bucolic Wave Hill to take in spring blooms and find inspiration for its Family Art programs.
17. Explore Ocean Wonders: Sharks! at the New York Aquarium.

Explore the life of former Brooklyn Dodger great Jackie Robinson. Photo by Jody Mercier
18. Learn about the life of former Brooklyn Dodger great Jackie Robinson at an exhibition honoring him at the Museum of the City of New York.

Gaze at the amazingly beautiful orchids at the Orchid Show at NYBG. Photo by Jody Mercier
19. No matter the weather outside, the sight and scent of orchids is intoxicating at the NYBG's annual orchid show.
20. Ice skating is so last season. Why not strap on some roller skates at Brooklyn Bridge Park's Pier 2 roller rink, which opens right in time for break!
21. Explore antique trains, buses and more at the New York Transit Museum, and enjoy its spring break drop-in programming.
22. Skip the big-name museums and track down some fun finds at these offbeat NYC spots.
23. Start your engines and head on over to the Javits Center, where the always-popular New York International Auto Show makes its annual appearance from Friday, April 19 through Sunday, April 28.
24. Introduce your kids to some old-school fun with a trip to a family-friendly arcade, where they'll learn the ins and outs of classic video games.

Puss and Boot opens at The Swedish Cottage Marionette Theatre. Photo courtesy of the theater
25. Take in a performance of Puss in Boots at the Swedish Cottage Marionette Theatre.
26. Prep for the upcoming tennis season by checking out Court 16 in Long Island City; you can even sign up for a FREE session.
27. Head to the Children's Museum of Manhattan for a day of fun, or visit one of these hands on kiddie havens.
28. Enjoy a wizarding-inspired brew at Steamy Hallows in the East Village.
29. Cross something off your to-do list with a trip to the Red Hook IKEA, which is offering some fun family workshops. FREE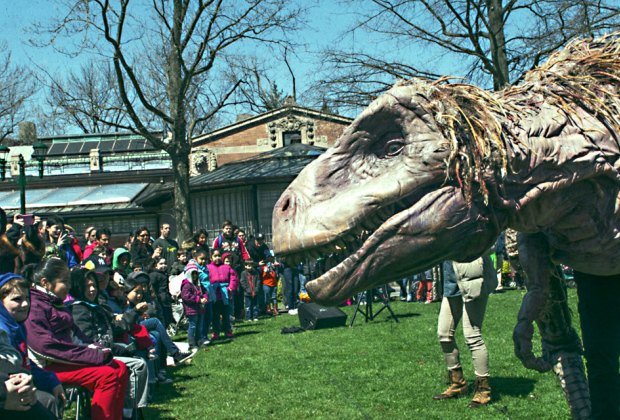 Travel back in time on our guided tour to learn about dinos of the past and animals of the present. Photo courtesy of WCS
30. Explore the Bronx Zoo like a local and get up close with once-extinct creatures when Dinosaur Safari resurrects them again.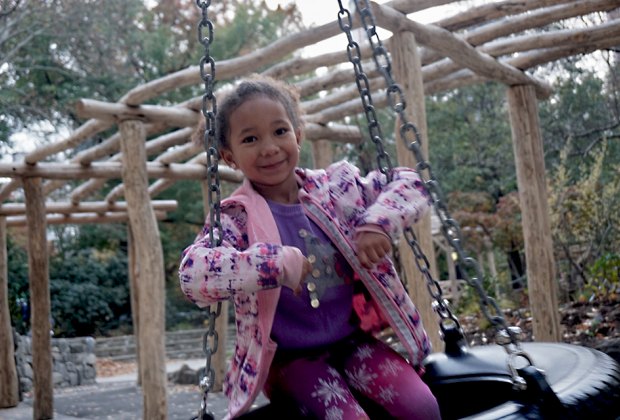 It's time to explore new playgrounds, like the revamped Billy Johnson Playground.
31. Spring weather is the perfect time to explore the newly revamped Billy Johnson Playground or check out some other fun, hidden finds in Central Park. See how many of our other top playgrounds you can visit.
32. Treat yourself—oh, and the kids, too—to one of these over the top desserts.
33. Bad-weather day got you down? It's always warm inside the Butterfly Conservatory at AMNH.
34. Historical fun awaits at the Morris-Jumel Mansion, Manhattan's oldest house, where George Washington once plotted his attacks on the Redcoats.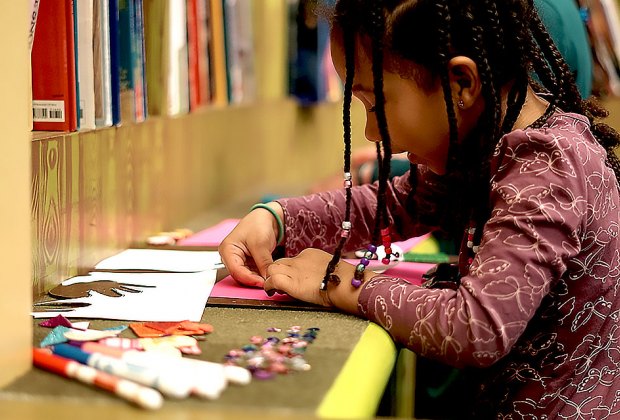 Keep your kids busy with hands-on activities and programs at the DiMenna Children's History Museum.
35. Explore the museum within a museum: The DiMenna Children's History Museum at the New-York Historical Society, which has loads of spring break programming planned.
36. Attempt to bust out of one of these kid-friendly escape rooms.
37. For interactive, chocolate-centric fun, visit one of these spots to whip up your own sweets, or opt for one of these other cool cooking classes.
38. Visit the Queens Botanical Garden.
39. Immerse yourself in the interactive theatrical adventure Pip's Island, now playing in Times Square.
40. Enjoy one of these spectacular art exhibits now on view.
41. Spend an afternoon perusing the aisles at one of these wonderful, independent kid-lit spots, many of which offer FREE storytimes.
42. Celebrate Earth Day with a giant festival in Union Square on Tuesday, April 23. FREE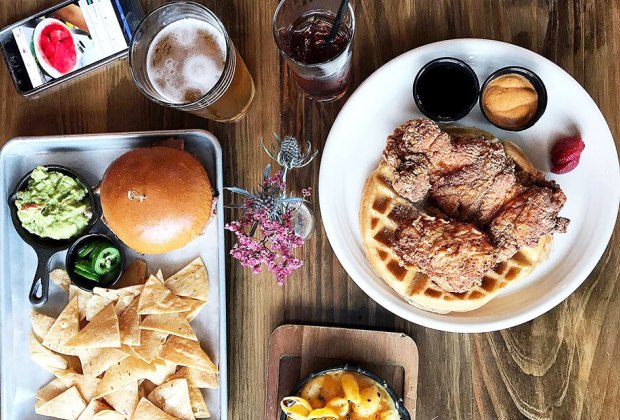 The whole family will be pleased with a feast at Gotham Market.
43. Grab a nosh at the massive Dekalb Market Hall or nearby Gotham Market, or one of these other popular city food halls. Find more kid eats (and sweets) in our NYC Restaurant Guide.
44. Re-acquaint yourself with The Met and take in the new Play it Loud: The Instruments of Rock and Roll exhibit.
45. If Mother Nature cooperates, you can always hit one of our city's fabulous playgrounds or parks. Too many to choose from? We narrowed it down to the best of the best in this kid- (and mom!) tested list.
46. Burn off crazy-kid energy at drop-in play spaces in Manhattan, Queens, Brooklyn, and Staten Island.
47. Children too old for kiddie gyms? Go bowling, play pool, or go for brunch at these dine-in movie theaters.
48. Celebrate spring at the Brooklyn Botanical Garden's Sakura Matsuri Festival. Be sure to book your tickets in advance!
49. Explore a new-to-you corner of NYC. We have in-depth Kids' Neighborhood Guides for communities in all five boroughs, including Chelsea and the East Village or Gowanus in Brooklyn and Long Island City, Queens.
50. Or cross something off your bucket list: Print out a copy of our 100 Things to Do with Kids Before They Grow Up and get going! Done all of those already? See if you've been to all of our favorite new attractions that opened in 2018 or any of these anticipated 2019 spots that have already debuted.
We have additional options in our jam-packed Events Calendar and our Spring Fun Guide.
This post, originally published in April 2010, is updated annually.
Unless noted, photos courtesy of the venues