Spring Break in NYC: 50 Fun Things to Do With Kids
Worried about keeping the kids entertained over NYC's spring break? We've got it covered for you.
If you're sticking around the city, there's plenty to keep every age group busy, especially as more venues are opening up. From exploring our favorite kid-friendly museums to playgrounds worthy of a subway schlep, and destination-worthy tourist attractions that are much less crowded right now, we've rounded up 50 things to do with kids in New York City during the upcoming public school spring break.
Spring break means kids are off school from Monday, March 29-Friday, April 2, 2021. Some of our picks only take place on specific dates; others run the entire duration, but all are engaging ways to get out and celebrate spring.
If you're hoping to get out of town, be sure to visit our Day Trips Guide for some inspiration.
Editor's note: While we are trying to promote safer activities that occur outdoors or with social distancing guidelines in place, please keep your family and others safe by always wearing a mask and maintaining an appropriate distance. If you arrive at a venue that appears too crowded, try using the "nearby" search feature on our Event Calendar to find something else to do. Be sure to click the links for all the details, including addresses, times, and reservation information.

The Queens Botanical Garden offers plenty to see and do to celebrate spring's arrival. Photo by Sydney Ng
Fun Anytime Destinations for Spring Break
1. Visit the Queens Botanical Garden to see the seasonal sights and pick up a take-home craft kit on the weekends.
2. Enjoy a New York staycation at one of these family-friendly hotels.
3. Hit the Bronx's bucolic Wave Hill to take in spring blooms.
4. Explore Ocean Wonders: Sharks! at the New York Aquarium or its newest exhibit, Spineless.
5. Do a little furniture shopping while enjoying some Swedish meatballs at the newly opened Ikea in Rego Park, Queens.
RELATED: 35 Things To Do During a Spring Staycation With NYC Kids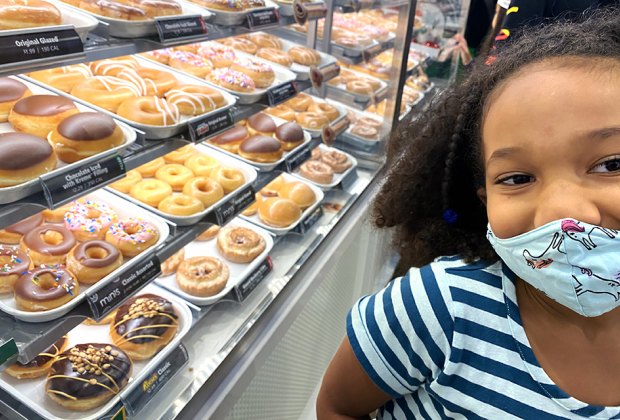 Krispy Kreme's new Times Square mega-shop is a sweets lover's dream come true. Photo by Jody Mercier
6. Indulge yourself with some sweet treats in Times Square, which is hauntingly quiet without its slow-walking hoards of tourists. Visit the M&Ms World, Hersey's Chocolate World, or our new favorite sweet spot Krispy Kreme's 4,500-square-foot doughnut wonderland.
7. Catch a movie in your car at the Skyline Drive-In, on the Greenpoint waterfront, offering family-friendly movies nightly with the Manhattan skyline as its backdrop. Don't have a car? No problem—socially distanced seating on lawn chairs is also available, weather permitting.
8. Drop in for a unique art class with inspired teachers at Playday Cobble Hill or Playday LIC.
9. Explore Hudson Yards, including the outpost of play space/toy store CAMP, Dylan's Candy Bar, and José Andrés Mercado Little Spain to take out amazing Spanish food.
RELATED: Spring Break Camps for NYC Kids in 2021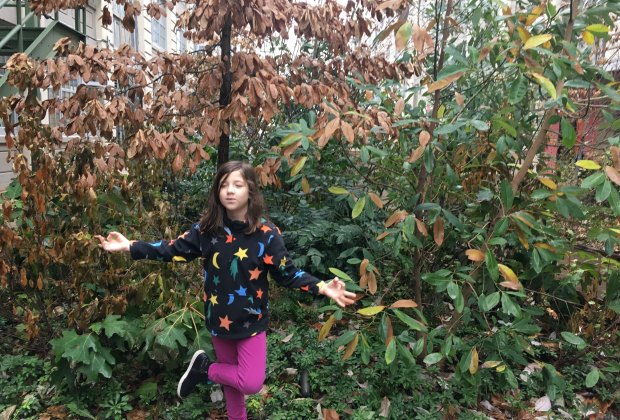 Find a moment of peace in the relaxing Zen Garden at Industry City. Photo by Siobhan Adcock
10. Explore Brooklyn's booming Industry City with its cool eats, Japan Village, mini golf course, Powerhouse@IC bookstore, and more. It's also home to the largest covered outdoor dining area in the city.
11. Explore the Bronx Zoo like a local and get a behind-the-scenes look at the zoo with these animal encounters.
12. Play tourist for a day and visit Lady Liberty. Liberty Island, Ellis Island, and the Statue of Liberty Museum are all open and welcoming visitors.
13. Blow bedtime and stroll the streets of the South Street Seaport to explore fun, interactive public art that's taken up residence in the neighborhood.
RELATED: Live Performances Return to Lincoln Center With Sprawling Outdoor Setup This Spring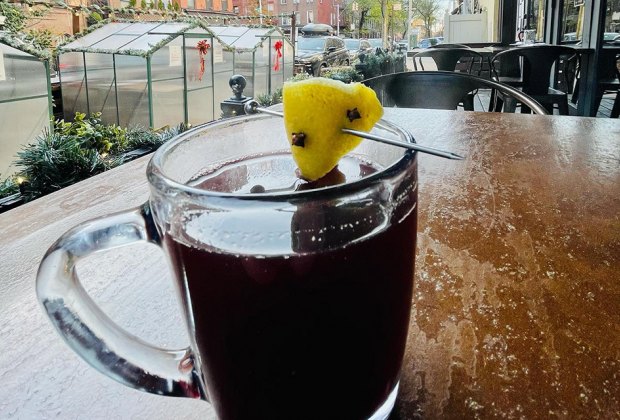 La Cigogne offers a cozy outdoor dining experience no matter the weather.
14. Dine at one of these restaurants with creative outdoor setups.
15. Enjoy some ooey-gooey playtime at Soho's Sloomoo Institute or the Museum of Ice Cream.
16. Explore a new-to-you corner of NYC. We have in-depth Kids' Neighborhood Guides for communities in all five boroughs, including Chelsea, the East Village, Gowanus in Brooklyn, and Long Island City, Queens.
17. Take in the stunning views of the Manhattan skyline from the observation deck at the Empire State Building.
18. Or cross something off your bucket list: Print out a copy of our 100 Things to Do with Kids Before They Grow Up and get going!
RELATED: Sea Life Aquarium, Legoland Discovery Center Set to Open May 4 at American Dream

The motion-activated, light-up, art installation, Reflect, at Domino Park is plenty of fun to play on. Photo by Jody Mercier
Fun in Parks and Playgrounds During NYC's Spring Break
19. Dance through the new public art installation at Domino Park.
20. Grab your bike, scooter, or walking shoes to check out the Empire State Trail. Pick it up in Lower Manhattan and make your way all the way to the Canadian border...if you dare.
21. Visit the brand new, hidden gem of a playground at Waterline Square Park.
22. Spend a day in nature at Prospect Park and enjoy nature walks, bird watching, or hit up one of the many playgrounds.
RELATED: New York City Parks and Playground Guide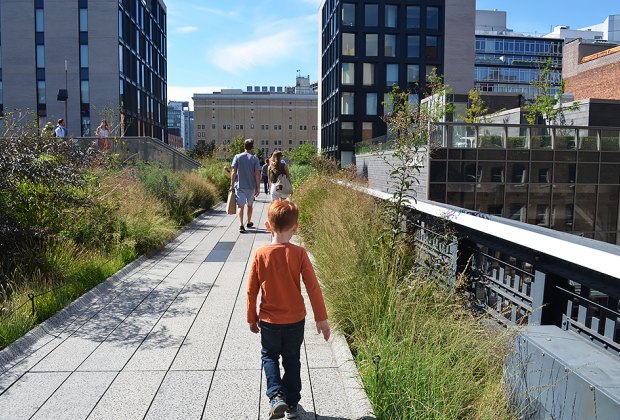 Wander above the city on The High Line. Photo by Sydney Ng
23. Head to The High Line for a spring walk. Tickets are only required for weekend saunters.
24. Spring weather is the perfect time to reacquaint yourself with Central Park's Billy Johnson Playground or check out some other fun, hidden finds nearby. See how many of our other favorite Central Park playgrounds you can visit.
25. Explore some outer-borough gems like Van Cortlandt Park in the Bronx, Socrates Sculpture Park in Queens, or The Greenbelt in Staten Island.
26. See how many of these best of the best kid- (and mom!) tested playgrounds you can visit during one spring break.
RELATED: Guide to Museums, Galleries and Exhibits in NYC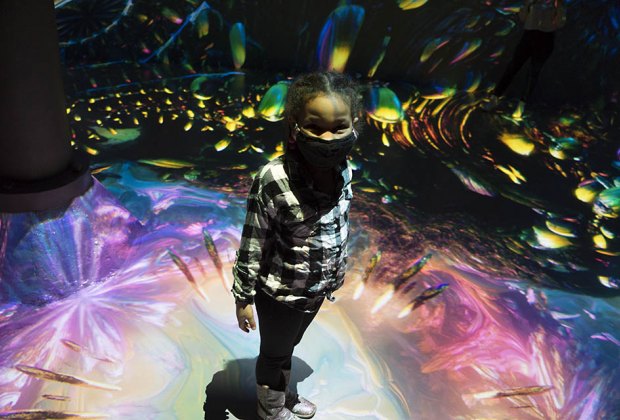 Geometric Properties is an immersive audio-visual installation in the Chelsea Market's one-of-a-kind gallery space Artechouse. Photo by Jody Mercier
Museums and Indoor Spots to Explore Over Spring Break
27. Revel in the interplay between math, nature, and architecture at a new immersive art experience at Artechouse by artist Julius Horsthuis.
28. See KAWS: What Party at the Brooklyn Museum, a sweeping retrospective featuring more than 100 broad-ranging works by Brooklyn-based artist KAWS, aka Brian Donnelly.
29.Take the older kids to Fotografsika, the photo-centric museum housed in a stunning landmark building on Park Avenue South.
RELATED: 14 Family-Friendly NYC Openings We're Anticipating in 2021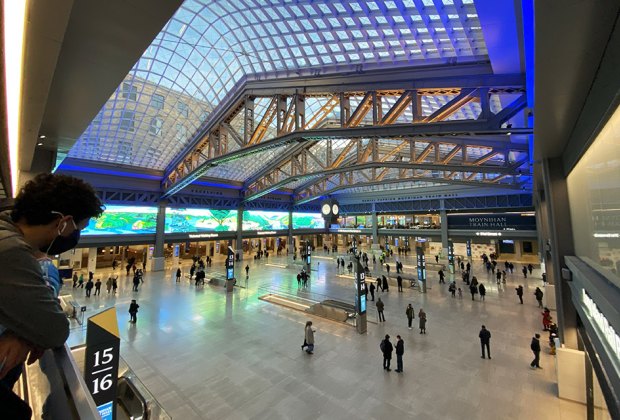 Moynihan Train Hall is worth a visit even if you're not catching a train. Photo by Jody Mercier
30. Marvel at the new Moynihan Train Hall with its cool, public art pieces.
31. See how the first six months of 2020 unfolded through the eyes of 100 New Yorkers at a special, crowd-sourced exhibit at the Museum of the City of New York.
32. Be amazed by the large-scale outdoor sculptures featured in the exhibition Niki de Saint Phalle: Structures for Life at MoMa PS1 in Long Island City.
33. Gaze upon Jackson Pollack's Mural, the newest exhibition at the Guggenheim.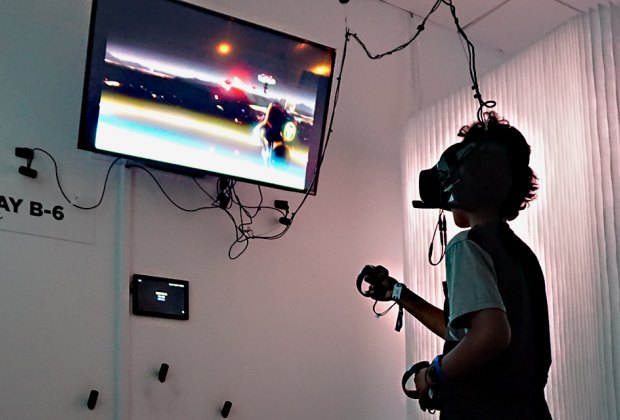 Need a little break from NYC? Then head into VR World and choose an adventure. Photo by Jody Mercier
34. Immerse yourself in Midtown's gamer haven, VR World, or Brooklyn's Beat The Bomb.
35. See the newest exhibition at MoMA featuring 70 of Alexander Calder's pieces on display in the outdoor sculpture garden and a third-floor gallery, accompanied by films, historical photographs, and archival materials.
36. Prep for the upcoming tennis season by checking out Court 16 in Long Island City; you can even sign up for a FREE session.
37. Give rock climbing a try—NYC has a few kid-friendly indoor rock climbing centers with drop-in hours.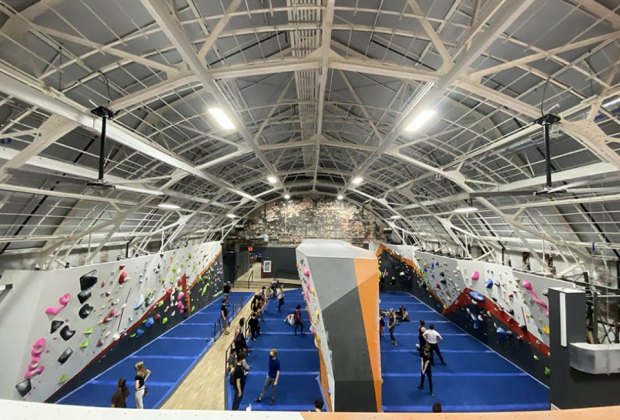 Bouldering is beginner-friendly and kids as young as age 3 can scale the walls at The Cliffs at Harlem. Photo by Jody Mercier
38. Or check out the supersized bouldering gym at The Cliffs at Harlem.
39. Head to the Children's Museum of Manhattan for a day of fun.
40. Bad-weather day got you down? Explore the Nature of Color at this cool exhibition at AMNH.
41. Historical fun awaits at the Morris-Jumel Mansion, Manhattan's oldest house, where George Washington once plotted his attacks on the Redcoats.
42. Explore the museum within a museum: The DiMenna Children's History Museum at the New-York Historical Society.
43. Visit one of our favorite indoor play spaces open now.
RELATED: Where to Take Easter Bunny Pictures With NYC Kids in 2021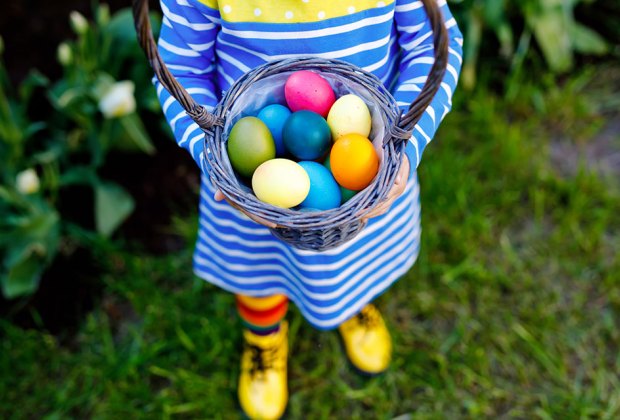 Join an Easter Egg Hunt in the city.
Spring Break Events for NYC Kids
44. Get your goodies before the Easter Bunny hops out of town by stopping at a treat-filled hunt.
45. Enjoy a puppet show! Brooklyn's Puppetworks is playing Aladdin & the Wonderful Lamp through Sunday, March 28, and debuts The 3 Wishes & The 3 Little Lambs the following weekend.
46. Get crafty at the Chelsea Market with BUILD NYC, which provides Legos, Magna-Tiles, and more mediums to build with in the outdoor, heated dining area on Saturday, March 27.
47. Get your sweets fix on-screen when Willy Wonka and the Chocolate Factory plays at the Queens Drive-In on Sunday, March 28.
48. Get to know The Battery Urban Fam during a farm tour Thursday, April 1.
49. Learn why Earth Rocks during a special spring break program at the Brooklyn Children's Museum.
50. Stroll Atlantic Avenue during its Spring Fling on Saturday, April 3, to enjoy a touchless egg hunt and more spring activations.
This post, originally published in April 2010, is updated annually. Unless noted, photos courtesy of the venues