Spring Break 2023: 50 Fun Things To Do in NYC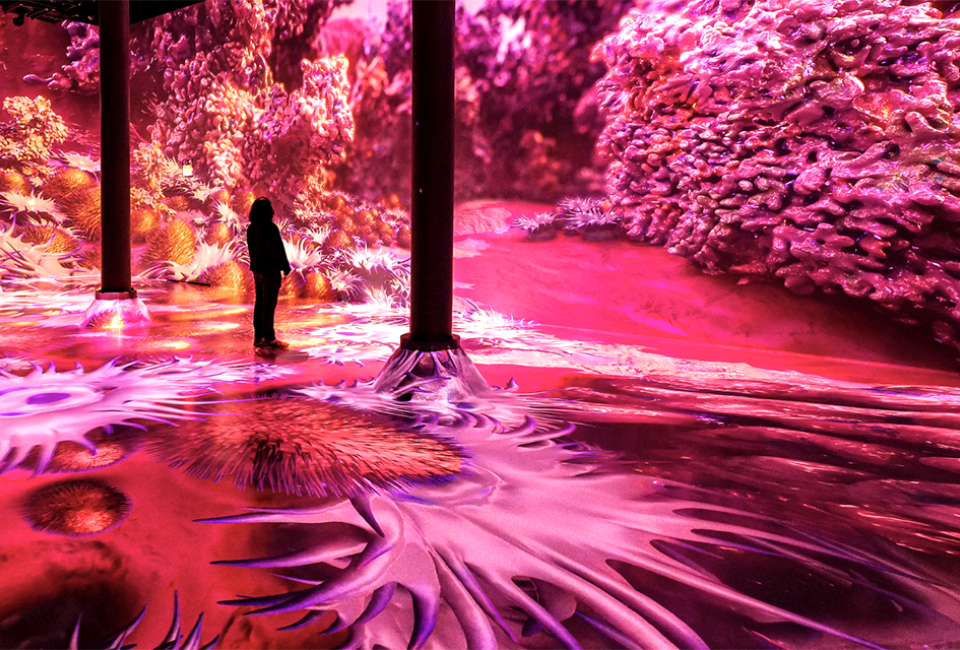 3/31/23
- By
Jody Mercier
2. Wave Hill
Hit the Bronx's bucolic Wave Hill to take in spring's brilliance.
RELATED: Best Carousels in NYC: 13 Merry-Go-Rounds City Kids Love

The Queens Botanical Garden offers plenty to see and do to celebrate spring's arrival. Photo by Sydney Ng
3. Queens Botanical Garden
The Queens Botanical Garden is an underrated delight to catch spring's beauty.
4. RiseNY
Soar over New York City at RiseNY to journey through time on an indoor simulation ride offering a bird's eye view of city landmarks, seasonal events, local history, and pop culture.
5. New York Aquarium
Explore the New York Aquarium and the rest of the fun in Coney Island.
6. Easter Parade and Bonnet Festival
Don your finest bonnet and strut your stuff at the Easter Parade and Bonnet Festival, one of our favorite FREE annual parades.
RELATED: 53 Things To Do During a Spring Staycation with NYC Kids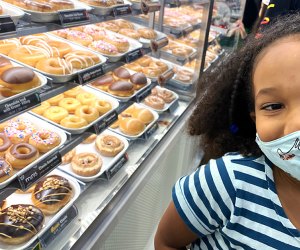 Krispy Kreme's Times Square mega-shop is a sweets lover's dream come true. Photo by Jody Mercier
7. Times Square's Sweet Treats
Indulge yourself with some sweet treats in Times Square. Visit M&Ms World, Hersey's Chocolate World, or Krispy Kreme's 4,500-square-foot doughnut wonderland.
8. Stephen A. Schwarzman NYPL Branch
Besides checking out books, there's a ton to see and do at the New York Public Library's Main Branch in Midtown.
9. Skyline Drive-in
Catch a movie in your car at the Skyline Drive-in on the Greenpoint waterfront, which offers family-friendly movies with the Manhattan skyline as its backdrop. Don't have a car? No problem—seating on lawn chairs is also available, weather permitting.
10. Playday
Drop-in for a unique art class with inspiring teachers at Playday Cobble Hill or Playday LIC.
RELATED: Weekend Getaways near NYC: Lake Resorts in New York State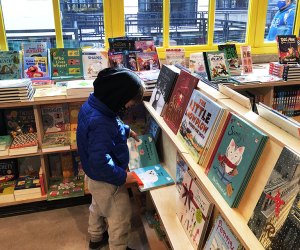 Spend a few hours exploring Powerhouse Books at IC. Photo by Diana Kim
11. Industry City
Explore Brooklyn's booming Industry City with its cool eats, Japan Village, a family-fun game room, Powerhouse@IC bookstore, a newly opened Urban Air, and more.
12. Peter Rabbit Afternoon Tea at The Peninsula New York
Get some extra mileage out of your Easter outfits by booking a reservation for a special Peter Rabbit Afternoon Tea in the stylish Gotham Lounge at The Peninsula New York.
13. Hudson Yards
Explore Hudson Yards, including the outpost of play space/toy store Camp, Dylan's Candy Bar, and José Andrés Mercado Little Spain to enjoy amazing Spanish food.
14. Bronx Zoo
Explore the Bronx Zoo like a local and get a behind-the-scenes look with these animal encounters, or try a ropes course at the Tree Top Adventure, reopening just in time for break.
RELATED: 28 Spectacular Spring Day Trips near NYC for Families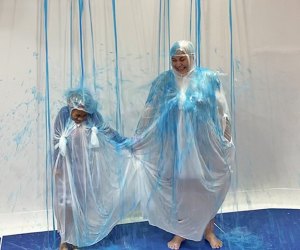 The Sloomoo Institute offers some hands-on sensory fun for all ages. Photo by Jody Mercier
15. Offbeat Museums
Enjoy some ooey-gooey playtime at Soho's Sloomoo Institute, the Museum of Ice Cream, or Color Factory.
16. Explore an Unfamiliar Enclave
Explore a new-to-you corner of NYC. We have in-depth Kids' Neighborhood Guides for communities in all five boroughs, including Battery Park City, Harlem, Bay Ridge, and Long Island City.
17. Summit One Vanderbilt
Spend a day frolicking in a ball pit—and we're not talking about those primary-colored plastic orbs. No, head to Summit One Vanderbilt for an elevated ball pit experience, in every sense of the word.
18. New York International Auto Show
The New York International Auto returns from Friday, April 7-Sunday, April 16. Head to the Javits Center to explore the latest in automotive innovation and enjoy freebies, cool cars to climb in, and more.
RELATED: 20 Things To Do with Kids in NYC on Easter Sunday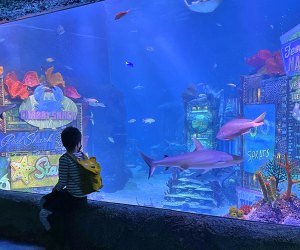 The Sea Life Aquarium is one of the myriad attractions for families at the American Dream Mall. Photo by Diana Kim
19. Hang at the American Dream Mall
Head to the American Dream Mall where kid-friendly attractions abound, including Sea Life Aquarium, Legoland Discovery Center, Nickelodeon Universe, DreamWorks Water Park, and more.
20. Empire State Trail
Grab your bike, scooter, or walking shoes to check out the Empire State Trail. Pick it up in Lower Manhattan and make your way all the way to the Canadian border...if you dare.
21. Statue of Liberty
Play tourist for a day and visit Lady Liberty, where you can climb to the crown once again!
22. Bronx Children's Museum
Nab your FREE tickets to explore the newly opened Bronx Children's Museum, which offers tons of room to romp for kids up to 10 years old, plus one epic water table!
RELATED: New York City Parks and Playground Guide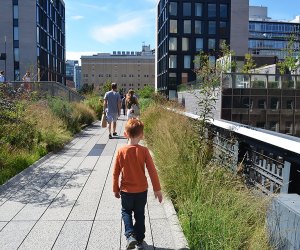 Wander above the city on The High Line. Photo by Sydney Ng
23. The High Line
Head to The High Line for a spring walk or visit the floating park, Little Island, nearby.
24. Visit a New Playground
See how many of these newly installed or remodeled NYC playgrounds you can visit during the week off.
25. Prospect Park
Spend a day in Prospect Park and enjoy nature walks, birdwatching, or hit up one of the many playgrounds—we've even ranked our favorites!
26. NYGB Orchid Show
See spring in full bloom by booking tickets to the New York Botanical Garden's Orchid Show. Time your visit right to see the spectacular blooms all across this family-friendly garden.
RELATED: Astoria Park's Charybdis Playground Reopens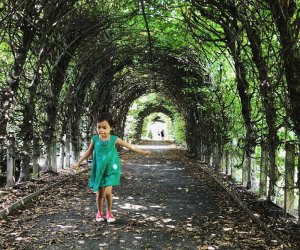 Snug Harbor on Staten Island is a fun spring break trip. Photo by Janet Bloom
27. Explore an Off-the-Beaten-Path Park
Explore some outer-borough gems like Van Cortlandt Park in the Bronx, Socrates Sculpture Park in Queens, The Greenbelt in Staten Island, or one of these other underrated NYC parks.
28. Central Park
Spring weather is the perfect time to reacquaint yourself with Central Park's fun, hidden finds.
29. Morris-Jumel Mansion
Historical fun awaits at the Morris-Jumel Mansion, Manhattan's oldest house, where George Washington once plotted his attacks on the Redcoats.
30. Immersive Art
Revel in Magentaverse, the newest immersive audio-visual installation at Artechouse, a one-of-a-kind gallery space. Another option: Monet's Garden.
RELATED: Visiting Governors Island: 20 Things To Do and See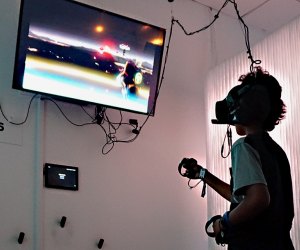 Need a little break from NYC? Then, head into VR World and choose an adventure. Photo by Jody Mercier
31. Experience Virtual Reality
Immerse yourself in Midtown's gamer haven, VR World, or Brooklyn's Beat The Bomb.
32. City Pickle
Have you gotten swept up in the pickleball craze? Book court time at the opening-just-in-time-for-spring-break City Pickle.
33. Black Comic Festival
Head to the Schomburg Center for Research in Black Culture on Friday, April 14 and Saturday, April 15 for the Black Comic Book Festival with plenty of all-ages fun.
34. View the Cherry Blossoms
Nothing says spring like cherry blossoms. Head to the many parks and gardens all over the city to enjoy the blooms while they last.
RELATED: Best Things To Do in NYC this April with Kids

Bouldering is beginner-friendly and kids as young as age 3 can scale the walls at The Cliffs at Gowanus. Photo by Diana Kim
35. Climb The Cliffs
Or check out the supersized bouldering gym at The Cliffs at Harlem or visit its outpost in Gowanus.
36. Go Rock Climbing
Give rock climbing a try—NYC has a few kid-friendly indoor rock climbing centers with drop-in hours.
37. Fotografsika
Older kids get a kick out of exploring Fotografsika, the photo-centric museum housed in a stunning landmark building on Park Avenue South.
38. Brunch with Easter Bunny
After finding all your treats, recharge with brunch with the Easter Bunny.
RELATED: Where to Take Easter Bunny Pictures With NYC Kids in 2023

Join an Easter Egg Hunt in the city. Photo courtesy of Think n' Fun
39. Hunt for Easter Eggs
Get your goodies before the Easter Bunny hops out of town by stopping at a treat-filled hunt, including our own Mommy Poppins egg hunt in conjunction with the South Street Seaport.
40. See a Broadway Show
We've outlined our top picks for all ages on the Great White Way.
41. Zephyr
If your kids are too little for Broadway, bring them to The New Victory Theater, which hosts the action-packed, whimsical Zephyr from Cirque Mechanics through Sunday, April 16.
42. Revisit Our Favorite Playgrounds
See how many of these best-of-the-best kid- (and mom!) tested playgrounds you can visit over the 11-day stretch.
RELATED: Best Winter and Spring Break Camps for NYC Kids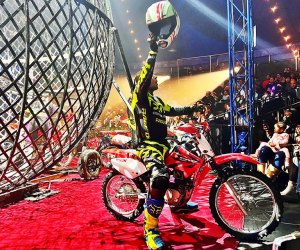 Daring performers push the boundaries of possibility under the big top at Flip Circus. Photo by Gwen Tundermann
43. Flip Circus
Attend the Flip Circus to see jugglers, acrobats, aerial artists, magicians, and motorcyclists through Monday, April 10 at the Staten Island Mall.
44. Roller Skate at Rockefeller Rink
The famed rink at Rockefeller Center reopens its retro roller skating rink on Friday, April 14.
45. Jackie Robinson Day
Join the Brooklyn Dodger's stars namesake museum in celebrating the day he broke MLB's color barrier with a fun-filled day of activities.
46. Indoor Play Spaces
Head to the Children's Museum of Manhattan for a day of fun, or enjoy one of our favorite indoor play spaces.
RELATED: NYC on a Budget: Cheap Things To Do and Money Saving Tips

Apolino the Magician at the Brooklyn Magic Shop hosts magic shows that delight kids and adults alike. Photo by Diana Kim
47. Brooklyn Magic Shop
Explore all the fun in store at the Brooklyn Magic Shop, which includes camps, classes, and family-friendly magic shows.
48. DiMenna Children's History Museum
A museum within a museum, the DiMenna Children's History Museum at the New-York Historical Society is perfect for school-aged children with interactive exhibits and a diverse selection of historical artifacts.
49. See a Puppet Show
Book your tickets to see Little Red Riding Hood, which premieres Saturday, April 8, or catch Puppetsburg's Puppets and Bubbly at The Wild on Sunday, April 16.
50. Bucket List Fun
Or cross something off your bucket list: Print out a copy of our 100 things to do with NYC kids before they grow up and get going!
This post, originally published in April 2010, is updated annually.
Click Here to Sign Up!
i