Wave Hill with Kids: Nature-Inspired Family Fun in Riverdale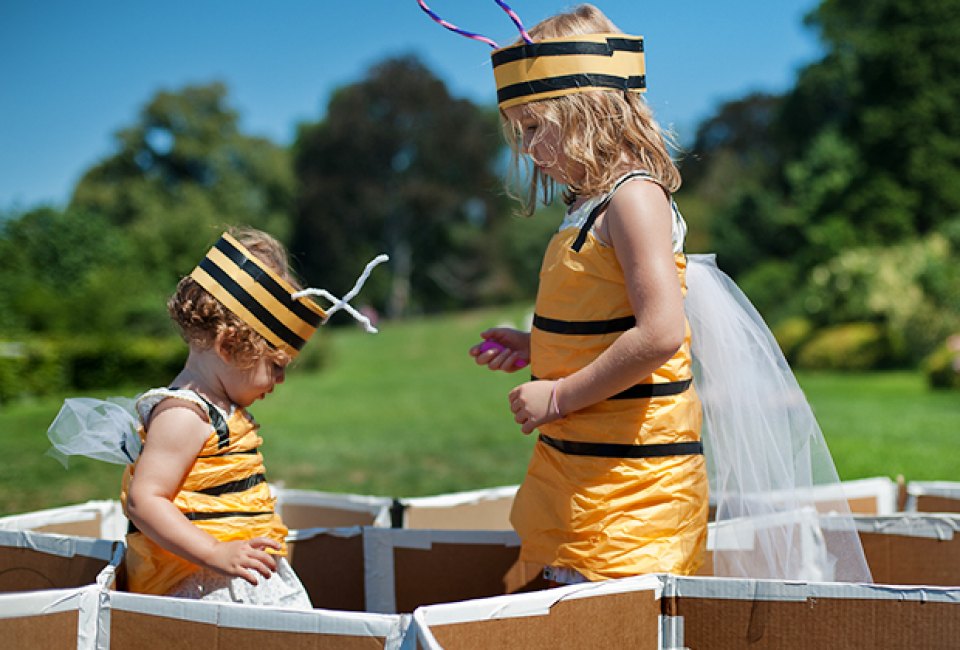 6/4/17
- By
Sonia Gonzalez
If you've never been to Wave Hill—a bucolic 28-acre public garden and cultural center in Riverdale—you're missing a truly special NYC green space. Though much smaller than the sprawling 250-acre New York Botanical Garden, Wave Hill offers picturesque views of the Hudson River, sprawling grassy lawns that guests are encouraged to play and relax on, beautifully curated gardens, an art gallery, and unique character all its own.

My family has been visiting Wave Hill since my now-teenage son was just a toddler. With family art projects every weekend, nature and garden walks, and other kid-centered programming, plus comparably inexpensive admission prices, Wave Hill definitely deserves a spot on your summer fun bucket list.
Wave Hill House was built in 1843 as a private country home and was purchased by J.P. Morgan partner George W. Perkins in 1903. The house, along with surrounding properties acquired by Perkins, was deeded to the City of New York in 1960 and—lucky for us—converted to a public garden by 1965.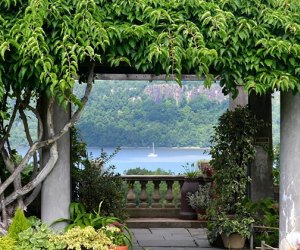 Pergola Overlook is one of several scenic spots. Photo courtesy of Wave Hill.
From the moment you pass through the main entrance to the grounds, you leave the bustling city behind. As you enter, you can't miss the Great Lawn and Pergola Overlook straight ahead. The Italianate structure frames breathtaking views of the Hudson River. This is always our first stop.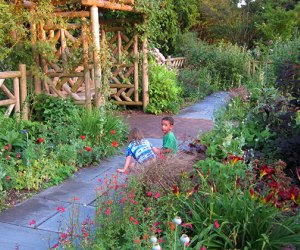 The flower garden. Photo by K M/CC BY 2.0
After a few moments taking in the views, we usually make our way to the nearby gardens. The flower garden offers bright colors and varying textures. My daughters like checking out the herb garden to see if they spot some of the same ones growing at their grandmother's house, but they particularly like the wild garden—and so do I. While they busy themselves racing through the narrow paths and hiding among the tall plants, giggling and crafting fantastic tales, I enjoy the hillside view of the Hudson and the gazebo nestled near the top.
The adjacent Aquatic Garden, flanked on three sides by pergola-covered pathways and benches, offers a serene place to spot small frogs and fish, rest, draw, write, or simply enjoy the view.
One of my favorite things about Wave Hill is that guests are encouraged to enjoy the lush green lawns—no 'keep off' signs anywhere! Cozy chairs dot the landscape and gazebos and benches are tucked into little alcoves throughout the grounds. My girls run around, sometimes even kicking off their shoes to run through the grass barefoot.
RELATED: Bronx Park with Kids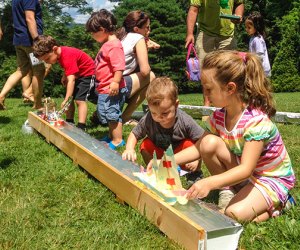 Kids float their handmade river rafts art project created during the weekly family art session. Photo by Joshua Bright/courtesy of Wave Hill.
The Wave Hill House acts as the central hub for public programs including the Family Art Project, a nature-inspired crafting session held every Saturday and Sunday. Each week explores a different theme and all workshops are artist-led.
If you're craving a snack, The Café, also located in the Wave Hill House, offers seasonal fare, tasty snacks, and housemade beverages including a delicious apricot ginger ale. Seating is available inside; however, in warmer weather, you'll want to enjoy your snacks on the Kate French Terrace, where you'll be rewarded with unobstructed views of the Hudson River and Palisades. You'll also spot the Abrons Woodland just beyond the manicured lawn below the terrace.
RELATED: Visit Bronx Zoo Like a Local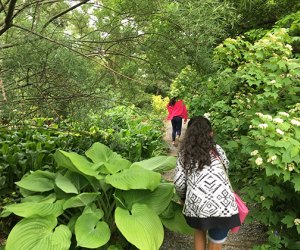 The kids love zipping through the various nature trails. Photo by the author.
Exploring the woodland is wonderful! It's shaded and quiet, with varying paths and terrain and just enough seclusion to allow young imaginations to run wild. But it's impossible to get lost and easy enough for toddlers and young kids to explore safely. If you enter by the Wave Hill House (which we usually do) and keep on the woodland path, it will lead you along the outskirts of the garden grounds. You'll emerge right by the main entrance and close to Glyndor Gallery.
Glyndor Gallery features contemporary art exhibitions inspired by nature. Family-friendly guided tours are offered for a more in-depth exploration of the artwork. Nestled between the gallery and the edge of woodland is an outdoor picnic area with umbrellas to provide a shady spot to eat.
My family always has a great time when we visit. We can leisurely explore all corners of the garden in a day, which means no one is disappointed about missing an exhibit or activity.
Tips for visiting with kids
Bathrooms with changing tables are located in Glyndor Gallery on the southern end of the garden, the Perkins Visitor Center and Shop near the center of the garden, and the Wave Hill House and Cafe on the northern side, which means you're never far from a restroom.

Outside food is allowed at Wave Hill, but visitors are encouraged to use the picnic area outside of Glyndor Gallery.

Only service animals are allowed on the grounds, so leave furry friends at home.

Bike racks are available near the front gate. Bikes, trikes, and scooters are not allowed on the grounds. Other things to leave home: skates, Frisbees, balls, and kites.

Wave Hill is accessible by local bus lines, subway (1 train or A train to the Bx7 or Bx20), and Metro-North. Free shuttle service is provided to and from the Riverdale Metro-North Station and the 1 Train at West 242nd Street. Onsite parking is available for a fee and free offsite parking is available nearby with free shuttle service to the garden. See more detailed information here.
Wave Hill is located at 675 West 252nd Street in the Riverdale section of the Bronx. Hours are Tuesday-Sunday, 9am-5:30pm. Admission is $8 for adults, $2 for children, and FREE for kids under 6. Check the website for full details on hours and admission.

Top photo: Honey Weekend at Wave Hill is just one of several family events that happen throughout the year at the garden. Photo by Joshua Bright/courtesy of Wave Hill.
Places featured in this article:
Click Here to Sign Up!