50 Fun Elf on the Shelf Ideas for 2023: Easy To Set Up Tricks for Mischievous Elves
11/28/23
- By
Ally Noel
If your family is getting ready to welcome back the Elf on the Shelf for the holidays, we have some fun and easy inspiration. Elves typically arrive sometime after Thanksgiving and return to the North Pole on Christmas Day, giving families about a month to fill with hilarious Elf on the Shelf ideas.
Like any good house guest, your elf should be able to keep mischievous acts mostly mess-free and easy to set up. We've put together a list of 50 simple but impressive elf antics, including funny Elf on the Shelf ideas, easy Elf on the Shelf ideas, and last-minute Elf on the Shelf ideas for hectic mornings. Many of these activities can easily be worked into your existing or holiday schedules while requiring few extra props.
Find more Christmas activities and crafts for kids, plus other fun things to do this season, in our Christmas and Holiday Fun Guide.
Funny Elf on the Shelf Ideas
1. Covered in Band-Aids
Poor Elf has several boo-boos and has used up all the Band-Aids.
2. Stealing Couch Change
Elf has a hand stuck between the cushions, and is taking all the quarters!
3. Sticker Mayhem
Looks like someone got ahold of some stickers and went a little crazy on the TV screen.

Elf is just hanging around!
4. Hanging Upside Down from the Ceiling
A couple of pieces of tape, and your elf is dangling from the ceiling.
5. Going Number Two in a Candle
Sitting on a candle with some strategically placed chocolate chips ... we think Elf may not have made it to the potty in time!
6. Coloring Book
Elves are notoriously artistic ... and they especially love red and green.
RELATED: Best Christmas Cookie Recipes To Bake with Kids

Elf is easy like Sunday morning...
7. Dyed Milk
What happened to the milk?! It's green, or red, just like Elf is used to in the North Pole. Parents only need a few drops of food coloring for this one.
8. Dry-Erase Board Joke
Prop your elf up against a dry-erase board with a marker in hand, right next to some elf humor. Here's one to start: What do elves learn in school? The elfabet!
9. Bra Hammock
Who got into Mom's underwear drawer? A bra suspended from two cabinet knobs makes the perfect hammock for a napping elf.
RELATED: Charlie Brown Christmas and More Kids' Holiday Movies to Watch This Holiday Season

Elves tend to get stuck in places and need help getting out!
10. Cheerios SOS Message
Imagine your child's delight when she finds this SOS message written in cereal!
11. Gone Fishin'
A chopstick, a piece of string, and some goldfish in the sink make the perfect relaxing activity for your elf.
12. Rolling in Toilet Paper
We can almost hear the elf screaming wheeeeeall the way down the steps.
RELATED: 20 Fun and Easy Toilet Paper Roll Crafts for Kids

Elf has been egg-stremely naughty!
13. Egg Faces
Open a carton of eggs to make breakfast and discover that your elf has drawn funny faces on all 12 of them.
14. Drawing on Family Photos
You can draw on the glass of a picture frame with dry-erase markers to make funny faces on family members. Once the kids have had a good laugh, just wipe it clean.
15. Replacing Stockings with Underwear
Your elf can be quite the trickster. He might even replace the Christmas stockings with undies!
RELATED: 25 Christmas Towns and Villages That Absolutely Sparkle

Surprise! You have a little dental-hygiene buddy today.
16. Toothpaste Smiley Face
Toothpaste in the sink is a pain to clean up, but it's worth it for the laughs your kids will get from seeing Elf's smiley face.
17. Twister
Draw colored circles on a sheet of paper and position your elf to look like it's enjoying a classic game of Twister. Better yet, use this printable.
18. Marshmallow Snowball Fight
Marshmallows and hot cocoa go together like elves and snowball fights!
RELATED: 25 Christmas Jokes for Kids and Holiday Riddles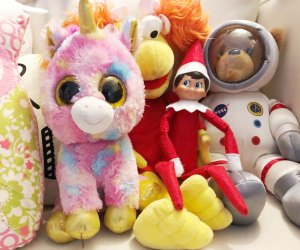 Peek-a-boo!
19. Stuffed Animal Peek-a-Boo
Hide the elf in your child's stuffed animal collection and see how long it takes to find it.
20. Stuck in the Clothes Dryer
Ask the kids to help you with the laundry so they can see that their elf got stuck inside the dryer making mischief.
Easy Elf on the Shelf Ideas
21. Bath Time
Fill the tub with water, and watch your elf float away on a bath toy.
22. Drive-in Movie
Set up a few toy cars, trucks, and anything else on wheels around an iPad and create a drive-in movie for your elf.
23. Fixing Barbie's Car
Give Elf a mini wrench, and set him up to fix Barbie's car!
RELATED: 10 Best Christmas Cookie Recipes To Bake with Kids

Perhaps your elf has a sweet tooth, and is ready to get baking. Photo by Mark Baylor, courtesy of Flickr (CC BY-NC-ND 2.0)
24. Making Cookies
Baking cookies is a popular holiday tradition, so why not have your elf get in on the fun? Maybe he gets the ingredients out in the night, and will need your help making the cookies the next day!
25. Tissue-Box Nap
Sleepy Elf is taking a snooze in a tissue box!
RELATED: Make a Marshmallow Catapult with Kids

Let your Elf indulge in a nice long soak in marshmallows. Image courtesy of Pamela Garrity
26. Marshmallow Bubble Bath
Treat your elf to a spa day by filling a small bowl with a mini-marshmallow bubble bath.
27. Midnight Snacker
It could be
gulping down the syrup
or chugging some chocolate milk, but either way, Elf is in a whole bunch of trouble.
28. Walking the Toys
With a pipe cleaner for a leash and a few members of the Paw Patrol (or any small toy animals), Elf is making sure the pets get enough exercise.
29. Sick Elf
It's flu season, and that's got some of us feeling a little under the weather. Elf is resting in a basket with a thermometer, a blankie, tissues, and Vicks VapoRub.
RELATED: How to Make Rock Candy with Kids
Leave a "sweet" love note from your elf.
30. Candy Cane Hearts
This is the elf version of love notes. Arrange candy canes to face each other lying flat, creating super cute hearts.
31. Grocery List
We appreciate the elf trying to take something off parents' to-do list, but this grocery list left on the fridge is all sweets, no veggies.
32. Photocopy
If you've got a printer with a copier handy, maybe your elf would enjoy this silly prank.
33. Climbing onto the Counter
Stacking cans on top of one another to reach the counter is just one sneaky way your elf gets close to the cookies.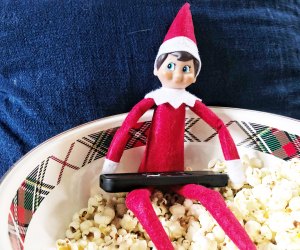 Don't let your elf hog the popcorn bowl on family movie night.
34. Movie Night
Declare a "family movie night" with a bowl of popcorn (and an elf). We've found 30 Christmas movies to fill the whole family with holiday cheer!
35. Ready for S'mores
Have your elf gather all the ingredients to make Christmas oven s'mores!
36. Playing with Makeup
Elves like eyeshadow too, they're just not great at the application.
37. Game Night
Kick off a family board game night with an elf vs. teddy bear game of Connect Four.
38. Tea Party
Pinkies up! An all-doll tea party is the perfect way to warm up after that long trip to the North Pole.
39. LEGO Messages
Send a message from the North Pole by creating word sculptures out of LEGO bricks.
Last-Minute Elf on the Shelf Ideas

Get your elf its own portal to the North Pole.
40. Elf Door
Do yourself a favor, and order one of these adorable miniature portals to and from the North Pole, perfect for letting kids' imaginations run wild. Now that they know exactly how your elf gets into the house, some mornings it might make sense that after a long journey, Elf just felt like resting next to the portal.
41. Hiding in the Utensil Drawer
Place your elf in the drawer with the utensils for a fun breakfast surprise.
42. Snow Angels
Flour, sugar, and salt all make fine snow substitutes for your elf, who's had some fun making angels.
43. Sock Slumber Party
Your elf figured it was time for a sleepover, so it borrowed enough socks for some toy friends and had a late-night party.

Namaste!
44. Yoga
Using a paper towel or washcloth as a mat, your elf practices downward dog and other poses.
45. Hand-Washing Monitor
Set your elf up to hang out near the sink with a bar of soap, with a reminder to wash your hands.
Do you want to build a snowman?
46. Toilet Paper Snowman
Do you want to build a snowman? Use toilet paper rolls to recreate Olaf or Frosty.
47. Shaving Cream Fiasco
Even with such a cute baby face, Elf felt a little stubble coming in. Of course a big mess was made!

A parade of all their favorite stuffies is sure to make the kids smile.
48. Toy Parade
Have your elf lead a parade of toys!
49. Q-tip Messages
Let your elf leave messages or snowflakes using cotton swabs.
50. Hiding in Shoes
An elf peeping out of a shoe can really kickstart your morning routine.​
Whoops! Did you forget to move your Elf on the Shelf? Here are 5 elf excuses:
We've also included some great excuses for those mornings when, whoops, the elf forgets (read: you forget) to move! Pro tip: set a reminder on your mobile phone or electronic calendar to "move your elf" after you tuck the kids in each night.
"You woke up too early, so your elf didn't have a chance to move."
"He fell asleep waiting for you to fall asleep."
"I had to run downstairs last night, and I saw some Elf dust in the air! I bet he was on his way back to the North Pole until he heard me."
"It looks like he was stuck. I guess we'll have to use these kitchen tongs to move him."
"I think that must be the perfect spot for him to see everything that is going on."
Photos by the author except where noted
This article was first published in 2020.
t Click Here to Sign Up!