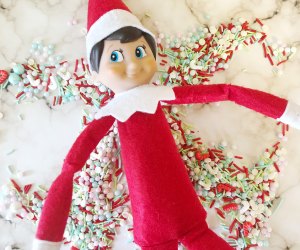 30 Elf on the Shelf Ideas for Silly Holiday Fun
If your family is getting ready to welcome the Elf on the Shelf back from the North Pole, we have a few fun new ideas for you this holiday season. Elves typically arrive sometime after Thanksgiving and return to the North Pole on Christmas Day, giving families 30 days (or so) to fill with hilarious Elf on the Shelf antics.
Like a good houseguest, Elf on the Shelf should be able to keep his mischievous acts generally mess-free and super easy to set-up, so we've put together a list of 30 simple but impressive elf antics. Many of these activities can be worked into your morning routine or popular holiday activities while requiring few extra props. We've also included some great excuses for those mornings when, whoops, the elf forgets (read: you forget) to move! (Pro tip: set a reminder on your mobile phone or electronic calendar to "move your elf" after you tuck the kids in each night.)
Find more fun things to do this season in our Christmas and Holiday Fun Guides.
Funny Elf on the Shelf Ideas
1. Fill the tub with water, and watch your elf float away on bath toy.
RELATED: Elf on the Shelf the Musical Opens for the 2019 Holiday Season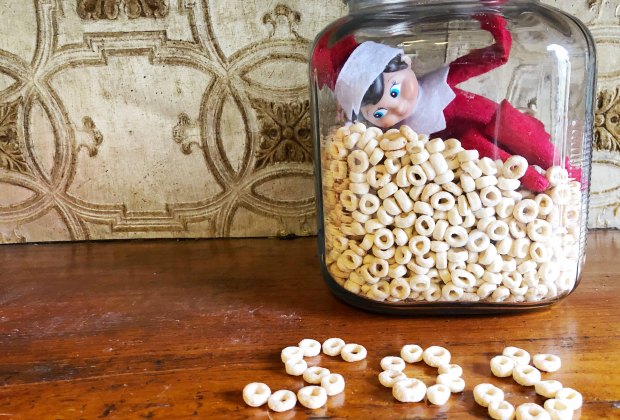 A little help, please? I've fallen in!
2. Imagine your child's delight when she finds this SOS message written in cereal.
3. Place your elf in the drawer with the utensils for a fun breakfast surprise.

Surprise! You have a little dental hygiene buddy today.
4. Brushing your teeth can be such a drag until your elf gets in on the action.
5. Whether he's wrapped up, stuffed in a roll, or caught mid-toilet paper fight, elves and toilet paper is always good for a laugh.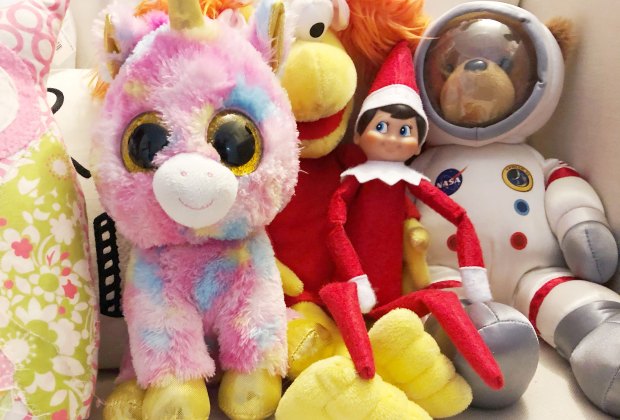 Peek-a-boo!
6. Hide the elf in your child's stuffed animal collection and see how long it takes to find it.

They might not notice this hidden Elf on the Shelf until it's time to head out the door.
7. An elf peeping out of a shoe can kickstart your morning routine.
8. Elves can get a little chilly from all that flying back and forth from the North Pole. Bundle them up in a washcloth, aka, an "elf blankie."
Let your Elf on the Shelf indulge in a nice long soak in marshmallows. Image courtesy of Pamela Garrity

9. Treat your Elf to a spa day by filling a small bowl with a mini marshmallow bubble bath.
10. He could be
gulping down the syrup
or chugging some chocolate milk, but either way, the fridge offers your Elf an opportunity to get into a whole bunch of trouble.

Everyone loves a Christmas cookie. ​Image courtesy of Pamela Garrity
11. Baking cookies is a popular holiday tradition, so why not have your elf get in on the fun, either decorating or just gobbling.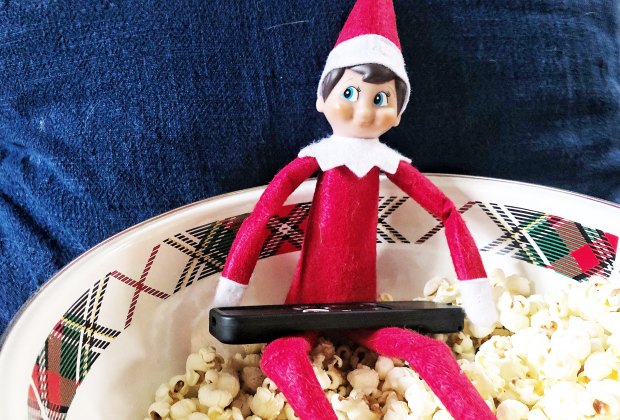 Don't let your elf hog the popcorn bowl on family movie night.
12. Declare a "family movie night" with a bowl of popcorn (and an elf). We've found 25 Christmas movies to fill the whole family with holiday cheer!
13. Marshmallows and hot cocoa go together like elves and snowball fights!
14. Have your Elf gather all the ingredients to make Christmas oven s'mores!
​Family game night just got a bit more elfish. Image courtesy of Pamela Garrity

15. Kick off a family game night with an elf vs. snowman game of Connect Four.
16. Your elf can be quite the trickster. He might even replace the Christmas stockings with underwear.
Tea party for two?
17. Pinkies up! This doll tea party is the perfect way to warm up after that long trip to the North Pole.
18. Hide the dry erase markers from your elf! These markers make altering family photos way too easy!
19. It is very common to find your elf napping in a tissue box.

A parade of all their favorite stuffies is sure to make the kids smile.
20. Have your elf lead a parade of toys!
21. Let your elf leave messages or snowflakes using cotton swabs.
​Even Elf on the Shelf loves Legos! Photo courtesy of Pamela Garrity
22. Send a message from the North Pole by creating word sculptures out of Legos.
23. Oh no! What did the elf do to the coloring book?! Set up your elf with a crayon in hand and scribble on a page of a coloring book for an artistic take on this Christmas game.
24. Do you want to build a snowman? Use toilet paper rolls to create this
elf-sized snowman
.
​Use candy canes to create a special message. Image courtesy of Pamela Garrity​

25. Leave love notes from your Elf by setting up candy cane hearts.
Whoops! Did you forget to move your Elf on the Shelf? Here are 5 elf excuses:
26. You woke up too early, so your elf didn't have a chance to move.
27. He fell asleep waiting for you to fall asleep.
28. I had to run downstairs last night, and I saw some Elf dust in the air! I bet he was on his way back to the North Pole until he heard me.
29. It looks like he was stuck. I guess we'll have to use these kitchen tongs to move him.
30. I think that must be the perfect spot for him to see everything that is going on.
Photos by the author except where noted