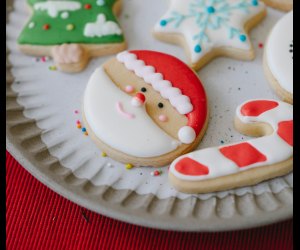 10 Best Christmas Cookie Recipes To Bake with Kids
While my family will happily bake and eat cookies any day of the year, we really ramp it up for our Christmas cookie baking. We have hosted an annual Christmas cookie party every year since the kids were born, and it's a tradition they look forward to almost as much as opening their stockings. Because they love to be part of the cookie baking process, we have amassed a ton of Christmas cookie recipes. They range from super easy Christmas cookies the kids could help make and decorate when they were tiny, up to more sophisticated Christmas cookie recipes their tween tastebuds love. We've tested out dozens of Christmas cookie recipes over the years, and these are our top ten: including our favorite never-fail, best ever Christmas sugar cookie recipe.
We've got more kid-friendly holiday treats, like these yummy Hot Chocolate Bombs, in our Guide to Easy Recipes for Kids, plus loads more Christmas fun for the whole family in our Ultimate Guide to Holiday and Christmas Activities.

Look no further, here it is: our favorite never-fail Christmas sugar cookie recipe.
I am obsessed with these cookies. I love to experiment with baking, so I've tested dozens of other sugar cookie recipes. I've tried recipes with cream cheese, brandy, lemon juice, confectioners' sugar—you name it. And this good old Martha recipe is the best. My kids finally had to put their foot down with my experimenting, and we never stray from this recipe anymore.
OUR LATEST VIDEOS
2. Best Easy Way to Make Sugar Cookies: Spritz Cookies
The only drawback of my favorite sugar cookie recipe is that it's really time consuming and messy to roll out, cut, shape, chill, and decorate the dough. Spritz cookies have the same buttery taste, but you put the dough in a cookie press that kids love squeezing. The only drawback is that you have to buy the cookie press, but I think it's worth the investment. (You can get a good one for about $20 and a great one for $35.)
We discovered these cookies on Half Baked Harvest just in time for our final pre-pandemic cookie party, and my kids can't wait to make them again this year. Not only are they adorable, but kids of any age can help shape them by rolling balls of cookie dough and squishing them together.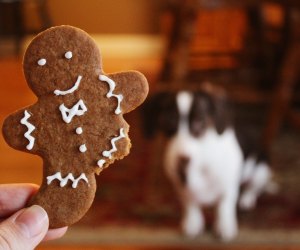 The secret ingredient? Find out below...
While a bad gingerbread cookie tastes like cardboard, a good one is divine. This one is transcendent. The secret? Black pepper, which really heightens the taste of the ginger. Your kids will get a kick out of telling people about the secret ingredient.

Easy to make, and so festive looking. Photo courtesy of the author
5. Best Easy Christmas Cookie Recipe
Here's the recipe any kid can help bake: one box cookie mix, one stick melted butter, two eggs. Done. Or not … you can add any mix-ins you like. We sometimes add green food coloring and Christmas M&Ms to vanilla cake mix. Or crushed peppermint to chocolate cake mix. Let your kids come up with their own flavor combinations and mix-ins. (Bake at 350 for 9 minutes. And if your cake mix is only 15 oz., you will need to add ¼ cup of flour.)
This is my secret weapon for cookie swaps. If you want everyone fighting over who gets to go home with your cookies, try making this. It's a great chocolate chip cookie made with browned butter and stuffed with a scoop of frozen Nutella. Your kids will have a blast helping you stuff the cookies, and licking their fingers. And everyone will adore you for baking these cookies.

We have hosted an annual Christmas cookie party every year, so my kids are experts. Photo courtesy of the author
Why? Well, with three ingredients (plus a pinch of salt), this is something you can whip up anytime. It's easy: no chilling or rolling, and everyone loves them. Even if your son won't touch peppermint and your daughter gags at raisins (or is that just in my house?), your pickiest eater or tiniest toothless one will happily gnaw on these. And finally, this is the Ted Lasso biscuit. And if you can think of Ted Lasso without smiling, you're made of sterner stuff than I.
Looking for a lighter cookie? Or one that's gluten-free? This easy meringue cookie is cute, sweet, easy, and tastes like a candy cane.

It's easy to create adorable little reindeer! Photo courtesy of the author
9. Rudolph's Favorite Christmas Cookie: Reindeer Cookies
These are our favorite cookies to leave for Santa. You can have zero decorating skills, and with mini pretzels, chocolate chips, and red M&Ms, it's easy to create adorable little reindeer. The peanut butter cookie base is delicious, too.
10. Best Hanukkah Cookie: Rugelach
We celebrate Christmas and Hanukkah at our house, and while Christmas gets the lion's share of cookie baking, it wouldn't be the holidays without a few batches of rugelach. For fillings you can go crazy: try a traditional filling like walnut or poppyseed, use your favorite jam, or go with my kids' favorite—chocolate.
This article contains some affiliate links, which means we might earn a small commission if you make a purchase. There is no extra cost to the reader. We only recommend products and services that we have personally used or have thoroughly researched. (I have both of the cookie presses linked to above and recommend them both! Honestly, you can also get one for about $9 that works fine, but it won't last multiple years or withstand a toddler who likes to take things apart. But if you just want to try it out this holiday season, a very cheap one will work!)
All photos unless otherwise indicated are courtesy of Pexels