50 Amazing Things To Do in Los Angeles with Kids this Spring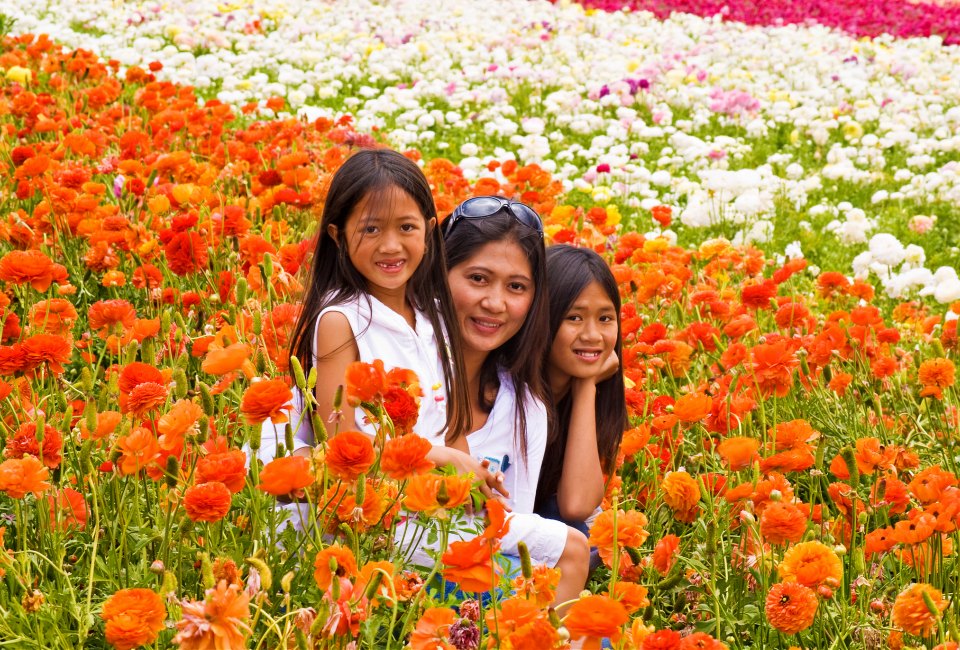 3/31/23
- By
Meghan Rose
Spring is in the Los Angeles air, which means wildflowers bloom, waterfalls gush, and after a long winter at home, it's finally time to start venturing out again to take advantage of all the wonderful springtime things to do in Los Angeles. Spring is the best time to explore LA—the weather is gorgeous, but it's before desert destinations get too hot and beaches get too crowded. Without further ado, here is our roundup of 50 great spring activities in Los Angeles for the whole family. These picks range from outdoor adventures to museums—plus a few suggestions for ticketed activities and even some spring day trips and getaways.
Don't forget, you can find more seasonal happenings in our Los Angeles Spring Fun Guide or our always-bursting Event Calendar, where we add new events every day.
Get more ideas for things to do in Los Angeles this spring, or any season, delivered right to your inbox—sign up for our newsletters.
Outdoor Family Activities in Los Angeles this Spring
1. Admire guaranteed gorgeous blooms for miles
Even in a dry year, the famous Flower Fields in Carlsbad are bursting with gorgeous flowers. Wander 50 acres of ranunculus flowers overlooking the Pacific Ocean, a sweet pea maze, plus poinsettia and orchid displays.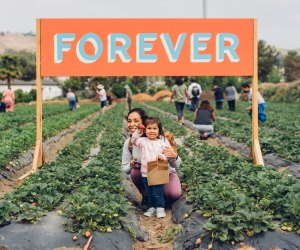 Fresh springtime strawberries are the best. Photo courtesy of The Ecology Center
2. Visit a local farm
Visit Springtime on the Farm at Underwood Farms or pick your own strawberries at The Ecology Center.
3. See the stars
Whether they're in the sky at the Griffith Observatory or on the famous Hollywood Boulevard, you don't have to go far to stargaze.
4. Meet exotic animals
Take your little animal lovers to the Zoo! In Southern California we are so lucky to have a plethora of zoos to visit including the LA Zoo, the Santa Barbara Zoo, and the biggest beast of all, the San Diego Zoo.
5. And sea creatures
At The Aquarium of the Pacific, kids can see sea otters, sharks, sea jellies, frogs, lorikeets, and more.
RELATED: Find an Amazing Petting Zoo Near Los Angeles Where Kids Can Have Animal Encounters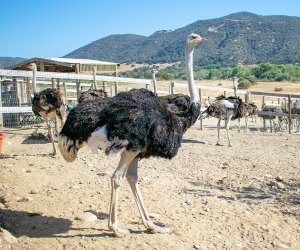 It's not every day you can meet and feed an ostrich. Photo courtesy of Ostrichland USA
6. Take a trip up to Solvang
Don't forget to put down your aebelskivers (delicious Danish donuts stuffed with jam) long enough for a stop to see and feed over 100 amazing ostriches and emus at Ostrichland USA.
7. Take a hike!
While you can hike all year in LA, our favorite hikes to see wildflowers, waterfalls, and wildlife are all best in the spring.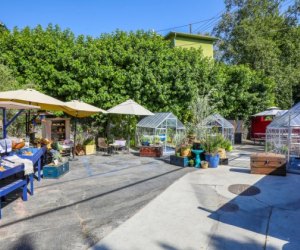 Eat in your own greenhouse at Lady Byrd Cafe in Echo Park. Photo by Ali Buck
8. Dine al fresco with the kids
Take advantage of the warming weather to eat at a beautiful outdoor spot — on a patio, in nature, dangling over the ocean, or dining among peacocks.
9. Hit the drive-in
When the days become longer and the evenings warmer, drive-in movies are the best. Spring is when drive-ins playing family-friendly fare start to pop up in every part of town.
10. Go tidepooling
Discover the underwater worlds that lurk under the sea at our favorite tide pools.
11. Ride horses in an iconic spot
Take a horseback ride right under the Hollywood Sign — or you can choose a mountain or coastal ride.
12. Go water biking
Maybe you can't walk on water, but the whole family can bike on water, day or night, at Long Beach Waterbikes.
13. Visit the Battleship USS Iowa
Battleship USS Iowa is one of our favorite outdoor museums, and your family can take a self-guided or behind-the-scenes guided tour to explore areas off-limits to the public.
14. Visit Six Flags Magic Mountain
You and the kids can get your scream on at Six Flags Magic Mountain; a perfect outing with the whole family is possible with our handy guide.
15. Take a trip to Legoland
If roller coasters are a bit much for your young ones, Legoland California is perfect for even the littlest theme park enthusiast.
16. Check out Sesame Place San Diego
Join Big Bird, Elmo, and the rest of their friends at Sesame Place San Diego.
RELATED: The La Brea Tar Pits and Page Museum: How To Have a Historic Visit with Kids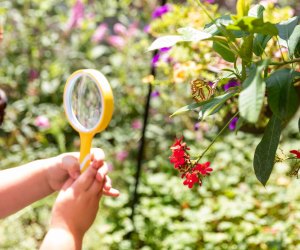 Take a closer look at the Natural History Museum's Butterfly Pavilion. Photo by Gina Cholick/ NHM
17. It's butterfly season!
Butterflies abound at the Butterfly Pavilion at NHM and don't forget to adopt your caterpillar during Butterfly Season at Kidspace in Pasadena.
18. It's playground season
Visit an amazing playground and let the kids burn off that blossoming springtime energy as they joyously climb, swing, see-saw, and slide.
19. Go fly a kite
These great green parks have plenty of room to fly a kite, up to the highest height.
20. Grunion run!
Every LA kid has to go on a grunion run at least once. Make this the year! Plus, the Cabrillo Marine Aquarium in San Pedro offers many resources about this fishy full moon phenomenon and how to enjoy it.
21. Mini golfing
Hit the (mini) links and go mini-golfing.
22. Go kart racing
Or perhaps your little speed demons would rather take to the track. There is go-kart racing at Go Kart World in Carson, at K1 in multiple locations, and at the Mulligan Family Fun Center in Murrieta.
23. See art outside a museum
Take a self-guided street art tour of the city.
RELATED: Free Museum Days for Kids in Los Angeles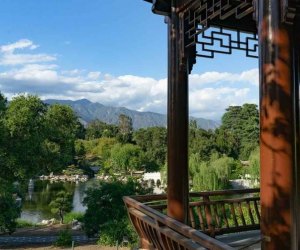 The view from Stargazing Tower at the Huntington Gardens. Photo courtesy of huntington.org
24. Visit one of our favorite gardens
At the Huntington Gardens, you can explore everything from the Children's Garden and the Chinese Gardens.
25. Visit the heart of downtown
Take a trip on DTLA's famous Angel's Flight, and then catch a bite at LA's Grand Central Market.
26. Visit the original heart of downtown
Visit Olvera Street for a dose of LA history, and a hearty helping of some of the best churros in town.
RELATED: The Coolest (Affordable) California Vacation Rentals for Families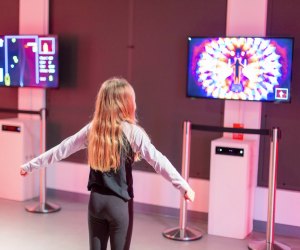 Take a trip to Santa Barbara to the children's museum. Photo courtesy of MOXI: The Wolf Museum
Indoor Activities in Los Angeles this Spring
27. Head up the coast to MOXI
MOXI, The Wolf Museum of Exploration + Innovation is fun for the whole family. As if you needed another reason to take a trip up to Santa Barbara.
28. Bubbles are back at Bubblefest
Pop on over to Bubblefest at Discovery Cube Orange County March 30 through April 17.
RELATED: Santa Monica's Cayton Children's Museum is a Game Changer

The make-believe beach is loads of sun-free fun. Photo courtesy of Pretend City
29. Pretend City
Let your kids give "adulting" a try at Pretend City, the interactive child-sized city. Imaginations are set free as children can play in a make-believe grocery store, farm, art studio, and beach.
30. Check out the California Science Center
The Science Center is free, and nowhere else can you and your kids enjoy some "space ice cream" as you imagine your life in orbit aboard the Space Shuttle Endeavour.
31. Visit everything at Hancock Park
Take in a day at the LACMA campus and enjoy the Metropolis II, the Tar Pit Museum, and the Academy Museum.
RELATED: An Insider's Guide to Kidspace Children's Museum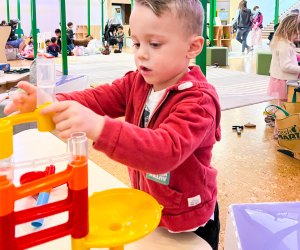 Explore the wild West at the Autry. Photo by Kylie Williams
32. Play inside the Autry Museum
Your little city slickers can enjoy a new play space in The Autry Museum of the American West, AKA LA's "Cowboy museum" right across from the LA Zoo.
33. The Petersen Museum
Got a little gear head? Drive on over to The Petersen Museum.
34. Be a hero at Discovery Cube LA
Solve challenges with the Paw Patrol pups in the Paw Patrol: Adventure Play exhibit at Discovery Cube LA.
35. Dive into ball pits
Little ones will never want to leave the ball pits at Munchkins Indoor Playground, or any of these other indoor LA playgrounds.
RELATED: 10 LA Libraries with Great Play Spaces You Have to Try

The book tunnel at The Last Bookstore is amazing. Photo courtesy of Wikipedia
36. Buy books
Visit the Last Bookstore and stock up on some books for the kids. Plus, just smell the books. Live, real, actual books!
37. The Museum of Illusions
Watch your kids defy the laws of gravity and physics at the Museum of Illusions.
38. Get crafty
Visit Color Me Mine for pottery painting or Meri Cherry's art studio for crafting. Maybe the kids can make something for grandparents for Mother's Day or Father's Day.
RELATED: Get Ready for Summer: Discover the Best Summer Camps in LA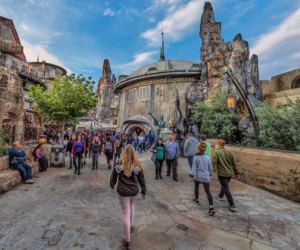 Star Wars: Galaxy's Edge takes you to a galaxy far, far away: Anaheim. Photo by Joshua Sudock/Disney Parks
39. Disneyland, of course
Visit Mickey and his friends at Disneyland and/or Disney California Adventure before the summer rush. Plus, the Disney California Adventure Food & Wine Festival is running through April 26.
40. See LA's most famous marionettes
March, waltz, and tap dance beside the kids while seeing ¡FIESTA! at Los Angeles's famous Bob Baker Marionette Theater.
41. Step into a video game
Walk through warp pipes and live out your Mario Kart dreams in Super Nintendo World at Universal Studios Hollywood.
42. Escape to an Escape Room
These great Escape Rooms for kids plunge kids into a real-life, puzzle-solving experience.
43. Hit a water park, no matter the weather
Spring showers won't get in the way of enjoying Orange County's indoor water park at the Great Wolf Lodge.
RELATED: Campgrounds Near Los Angeles with Extra Entertainment For Kids

Anza-Borrego Desert State Park is beautiful in the springtime. Photo courtesy Kerem Hanci Photography
Take a Day (or Weekend) Trip This Spring
44. Visit Joshua Tree
Joshua Tree National Park is just about two hours from LA and offers a variety of landscapes, including plenty of those eerie-looking trees that gave the park its name.
45. Sip and play in Temecula
Temecula is a kid-friendly wine region where the kids play while parents enjoy the fruits of the local vineyards.
46. Visit Anza-Borrego Desert, California's largest state park
Anza-Borrego Desert has a fascinating desert landscape that will make kids forget all about the urban jungle for a while.
RELATED: 25 Road Trips from Los Angeles for a Weekend Family Getaway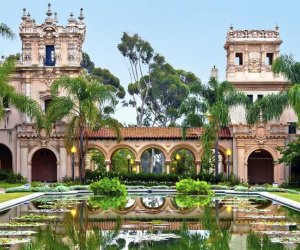 Explore another gorgeous SoCal city. Balboa Park photo courtesy travelinusa.us
47. Road trip to San Diego
As if the world-class zoo wasn't enough (and it is), San Diego has Seaworld, Balboa Park, the possibly haunted Whaley House, and so much more.
48. Visit the Channel Islands
Go kayaking by the Channel Islands and you may see frolicking dolphins, sea lions, and even bald eagles.
49. Palm Springs, it's not just for old people
Your kids will love the endless sun in Palm Springs — enjoy the dates, dinos, hiking, riding the aerial tramway, and just hanging by the pool.
50. Go to the hottest place (Death Valley) before it gets too hot!
Death Valley has recorded the highest temperatures in the western hemisphere, so going before the summer heat hits is perfect. Explore the salt flats, sand dunes, majestic mountains, and (of course) the ice cream shop.
Top photo by Chris Jimenez/CC-BY-2.0
Sign up for the Mommy Poppins Newsletter today!