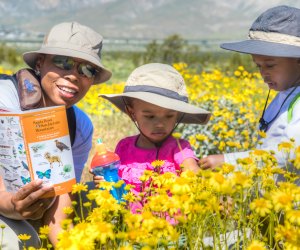 Spring Wildflower Hikes To Catch this Season's Super Bloom
Spring is the time for enjoying wildflowers! With all the rain LA has seen, people are using that word superbloom again this season; local hills look more like Ireland than Southern California, and you don't have to go far to see carpets of flowers. There are several locations known for spectacular annual displays of spring wildflowers (not to mention the famous fields of Carlsbad), and areas recovering from recent fires can surprise us by bouncing back beautifully. Large displays typically last two to six weeks, so you need to make plans quickly when word comes of a good one. (Don't have time to drive outside the city limits? We know plenty of local hikes worth checking, too!)
If we hear of more great displays, we'll share in our newsletter! (Have you subscribed?)
Since large-scale wildflower displays typically occur in the high desert, be sure to take sunscreen, hats, water, snacks, good walking or hiking shoes, and of course a camera for your trip. Spring weather in the high desert is not necessarily hot; it can also be comfortably cool and very breezy. If you are looking for cactus blooms or a weekend away, look into current flower displays at Death Valley, Anza Borrego Desert State Park, Irvine Ranch, or Joshua Tree National Park— more than a day trip for most of the LA area but well known for their blooms. Of course, you are likely to see some wildflowers on any of your favorite hikes from spring through summer, so even if you miss the year's largest displays, don't let that stop you. And finally—please tread lightly, don't pick the flowers, and leave plenty for the next visitors to enjoy!
Wildflower Updates
You can get updates on bloom status from the Theodore Payne Foundation Wildflower Hotline (March thru May) or you can call the Southern California Poppy and Wildflower Hotline at 818.768.3533. There is also the Desert Wildflower Report site. These hotlines maintain general information on what is blooming and where. When interested in a particular location, a direct call is best.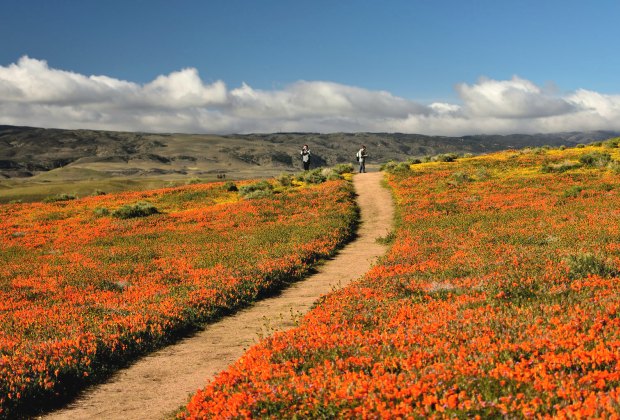 Our state flower in all its glory at the Antelope Valley Poppy Preserve. Photo by Tom Hilton/CC BY 2.0

1. Antelope Valley Poppy Preserve
15101 Lancaster Road
Lancaster, CA 93536
661.946.6092 or 661.724.1180
Have you seen photos of fields covered in orange poppy blooms? Antelope Valley is where many of those photos are actually taken. It's no surprise that the California Poppy is the most widespread wildflower here, turning the landscape into a field of orange in good years, but other flowers are also present. The interpretive center is open during wildflower season (typically mid-March through mid-May). Eight miles of unpaved trails and one paved section are available for strolling. The preserve is located 15 miles west of Lancaster; parking costs $10.

2. Hungry Valley SVRA
Visitor Center
Gold Hill Road near N Peace Valley Road
Gorman, CA 93243
661.248.7007
The Gorman area's wildflower displays are the closest option for much of greater Los Angeles. Hungry Valley SVRA has self-guided tours of the prime viewing areas; both road and hiking options are available. Access to the park is $5. The website and phone number both have current information on the bloom. Wildflowers on Gorman Hill (the large hill you see from I-5) are best viewed from Gorman Post Road, immediately north of the freeway at the Gorman exit. Gorman Post Road offers no hiking access, and there is no fee here.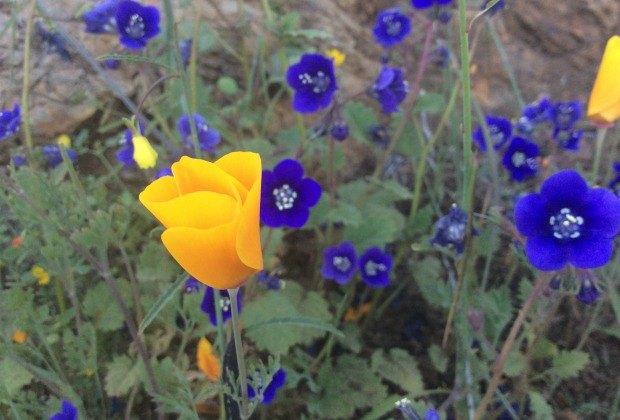 Photo by Mommy Poppins

3. Saddleback Butte State Park
East Avenue J and 170th Street East
Lancaster, CA 93535
661.946.6092
Located 18 miles east of Lancaster, near the town of Lake Los Angeles, Saddleback Butte has a campground, picnic area, vault toilets, and several miles of hiking trails. A good year brings out fields of sweet-smelling yellow coreopsis, tidy tips, fiddleneck, and desert dandelions among the Joshua trees and creosote bush. A 1-mile easy unpaved trail from the picnic area to Little Butte goes through fields of flowers. Older kids can handle the hike to the peak—there are different flowers at elevation, but no large displays among the rocks. A short paved nature trail leaves from the picnic area, but does not make it into the wildflower areas. Check the park's Facebook page for wildflower updates before you go, too.
4. Chino Hills State Park
4721 Sapphire Rd.
Chino Hills, CA 91709
951.780.6222
This day-use state park 10 miles northwest of Corona offers Angelenos a variety of landscapes without driving too far from home. The park does have a discovery center (open weekends only) to use as launching pad, and this season brings an unusually colorful variety of plants and flowers, offering home to plenty of nesting birds (watch for red-winged blackbirds). Also watch for bobcats and coyotes, both of which have been spotted by hikers along the parks many trails. Be prepared for some steep climbs, but the reward can be a view all the way to Catalina on a clear day. Note that all dirt trails are currently closed at this park, though check the Chino Hills State Park Facebook page to find out when they reopen.
5. Santa Monica Mountains National Recreation Area
Includes Malibu State Park, Circle X, and Los Virgenes Canyon Open Space
Visitor Center:
26876 Mulholland Highway
Calabasas, CA 91302
805.370.2301
The Santa Monica Mountains are not known for large fields of colorful blooms. However, if you are looking for a variety of flowers or riparian flowers (creekside), this is the place to come. The bloom is still heavily dependent on winter rains, so be sure to check the link to see what's blooming and where. Recent fires are likely to have an impact, but wildflowers are the first sign of healing.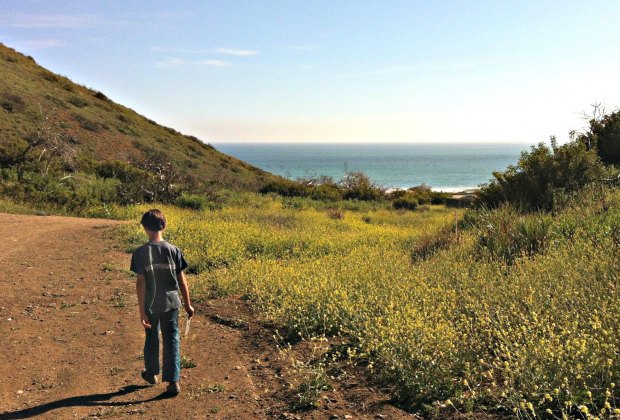 Point Mugu State Park offers wildflowers, mountains, and sea views all in one hike. Photo by Mommy Poppins
6. Point Mugu State Park
9000 Pacific Coast Hwy.
Malibu, CA 90265
310.457.8143
Don't let the Malibu address confuse you; arriving at this park requires driving up PCH until you cross the county line into Ventura. Point Mugu has lovely beaches and camping as well as trails up into the mountains above the coast. The devastating 2013 fire left these slopes charred and blackened and in many spots impassible for a few seasons, but recent rains show us how nature heals after a fire. The wildflower display along the Backbone Trail is absolutely breathtaking. (Note that recent storms have affected the Thornhill Broome turnaround, but leave your RV at home and you should be fine.)
7. Corriganville Park
7001 Smith Rd
Simi Valley CA 93063
805.584.4400
Simi's Corriganville Park (which we know and love from its Faery Hunt shows in summer) was hit hard by the Woolsey Fire; but winter rains have created a springtime silver lining to hike out and enjoy in the form of fields of California poppies. Once a Western movie set turned amusement park, now it's a lovely spot for a hike with kids.
8. Walker Canyon Ecological Reserve
Off Route 15
Lake Elsinore, CA 92530
858.467.4201

If you head down the 15 toward Temecula, you'll notice a spot where people are slowing down to admire the multitude of California poppies. Although some drivers just pull off the highway and park, this is apparently causing traffic issues in the current superbloom; better to exit at Lake Street and then take the trail at the corner of Lake Street and Walker Canyon Road. The gravel trail is wide and goes for a few miles with great views of the blooms.
9. Rancho Santa Ana Botanic Garden
1500 N. College Ave
Claremont, CA 91711
909.625.8767 ext. 200
Don't want a long drive, or you're party can't go hiking on dirt trails? Rancho Santa Ana Botanic Garden in Claremont bills itself as California's Native Garden. Native plantings are organized by plant community; there is also a replica Tongva village and marked accessibility routes. Plants bloom as they do in the wild. Call to find out the bloom status.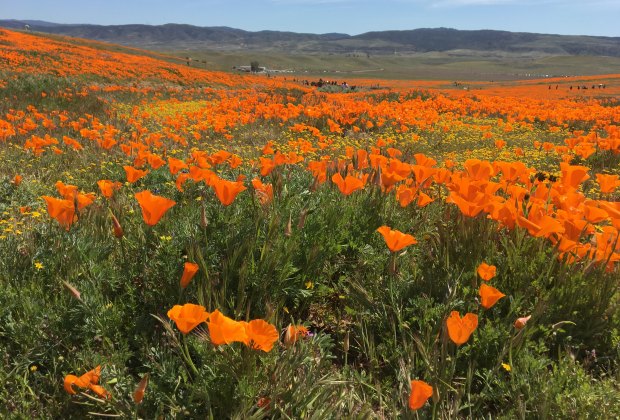 Photo by Mommy Poppins
Post originally published March 26, 2014