Malibu with Kids: 25 Best Things To Do in Malibu, CA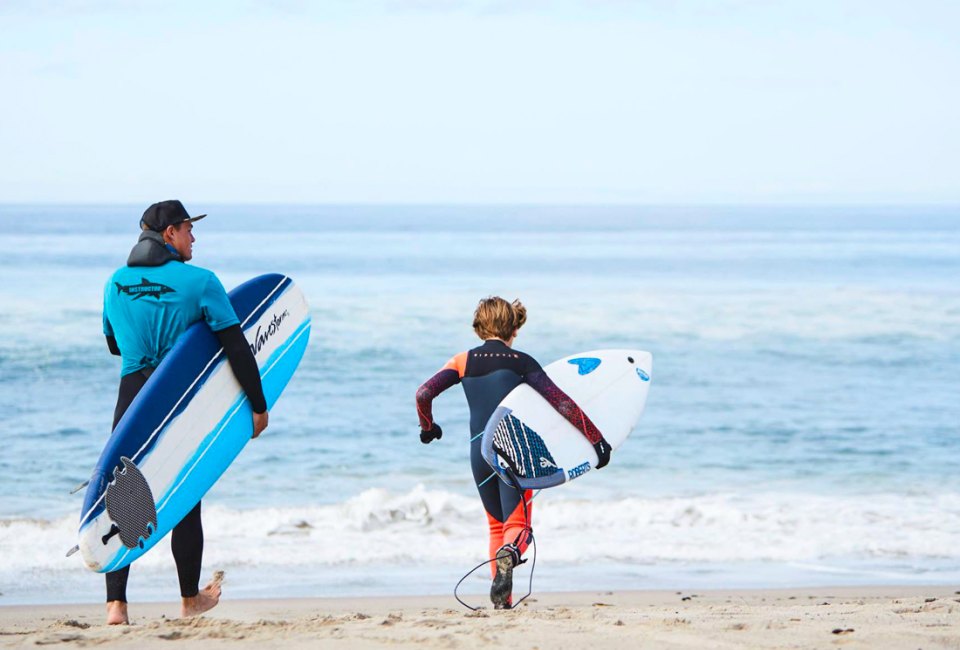 7/28/23
- By
Meghan Rose
Malibu with kids is as breezy as the ocean air sweeping over the picturesque shores and breathtaking cliffs. From movie-famous beaches to wildlife encounters and museums to fantastic playgrounds, Malibu has loads of things to do for kids of all ages. Hit the beach, go surfing, visit the Getty Villa, eat at the end of the pier, go hiking—Malibu's not just for movie stars, it's easy to enjoy Malibu with kids. Though, if you want to see movie stars, there are plenty of them around!
Here are the coolest places to visit in Malibu with kids for a day (or weekend). Once you're in the neighborhood, check out our local mom's guide to Santa Monica, and tips for visiting the Santa Monica Pier with kids, as they're right down the PCH.
Malibu's Best Beaches for Families
El Matador is one of three "pocket beaches" at Robert H. Meyer Memorial State Beach. While it's a steep path from the street parking above (leave the stroller at home), the rock formations make for amazing views. It's one of our picks for the best beaches for families.
Also known as Surfrider Beach, Malibu Lagoon State Beach is a coastal wetland and bird sanctuary. Right across from the Country Mart, cross the freeway where kids can watch the surfers, play on the beach, and learn about the diverse bird species that inhabit the area.

Breathtaking views at Leo Carillo State Park. Photo courtesy of California Parks and Recreation
Explore the tide pools and caves at Leo Carrillo State Park, a coastal wonderland with rocky shores and sandy beaches. Kids can have fun searching for seashells, spotting marine life, and exploring the best tide pools north of Palos Verdes.
On a clear day, you can see Catalina. And almost every day, you can see dolphins frolicking, rock climbers climbing, and some movie or commercial shooting. Hike up the cliffs when kids tire of sandy play, and make dinner reservations at Sunset Restaurant so you can stay to watch the sunset on full bellies. Then take the kids home to watch Iron Man, Planet of the Apes, or another movie filmed here.
Zuma Beach is one of Malibu's most popular family-friendly beaches. (And another on our list of best beaches in LA for families.)With its expansive sandy shores, gentle waves, and lifeguards on duty, it's the perfect spot for kids to play in the sand, swim, and build sandcastles. Gwen Stefani loves it so much that she named one of her kids after the beach!
Best Playgrounds, Parks, & Hikes in Malibu with Kids
RELATED: Hiking in Los Angeles with Kids: The Best Hiking Trails for Families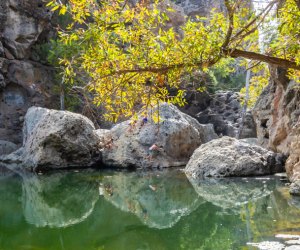 This rock pool is next level. Photo courtesy of Malibu Creek State Park
Malibu Creek State Park has hiking trails, beautiful scenery, and a famous rock pool, which takes the top spot in our best swimming lakes in LA roundup. There are hikes suitable for kids of all ages and abilities, great places to picnic by the creek, and lots of wildlife to spot. Don't miss hiking to the MASH site for a one-of-a-kind LA adventure.
Head over to Malibu Bluffs Park, a spacious park with breathtaking ocean views. The park has playgrounds, picnic areas, a sandy digging pit, cliff walks, events like movie nights, and open spaces for kids to run and play. Don't forget to bring a kite; this is the best kite-flying park on the Westside.
One of my family's favorite walks is Legacy Park, right behind the Country Mart. It's a wildlife refuge where you're never more than a minute away from a bathroom and snack. Plus, the rock and tile statues are great for taking pictures.
This inclusive playground that opened in 2020 is utterly awesome. Grab a snack at Whole Foods, and let the kids run and play at this first-responder-themed playground. Got teens in the family? Send them over to Urban Outfitters to shop while their siblings play.
There is no shortage of stunning hikes in Malibu, but Solstice Canyon is suitable for kids of all ages—so long as you take the paved path out and back. You'll pass by ruins, educational signs, and end at a seasonal waterfall. Get there early as the parking lot is small.
Amazing Activities in Malibu with Kids
RELATED: Free Museum Days for Kids in Los Angeles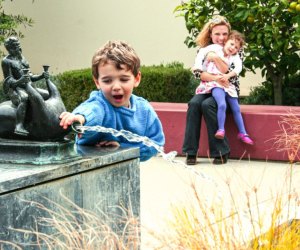 So many interesting sights to discover at the Getty Villa. Photo courtesy of Mommy Poppins
We call this our beach house, we're here so often. It's perfect for kids: there's just enough art with a fascinating history to give them something to look at (and art detective cards with a Percy Jackson theme), but also plenty of gorgeous outdoor places to run around and explore. The museum hosts incredible Family Days several times a year, and the cafe has great food and stunning views. It might be my favorite spot in all of LA. Also, it's free. Read all about visiting the Getty Villa with kids here.
Take a stroll on the historic Malibu Pier, offering panoramic ocean views and a chance to spot dolphins or sea lions. Kids even try their hand at fishing. Try to time your visit for a sunset meal at the Malibu Farm Restaurant or on weekends at the Malibu Farm Cafe. Honestly, I prefer the restaurant, but my kids favor the Cafe, which has the same incredible kids' menu as the restaurant, but allows you to sit on the second level and pretty much dine with your feet hanging over the ocean.
Learn about the rich history of Malibu at the Adamson House and Malibu Lagoon Museum. Kids can marvel at the unique tile work and architecture of the historic house, and discover the fascinating stories of the region through interactive exhibits. While visiting is free for kids under 5, we've run into docents who are not super toddler and preschool friendly, just as a heads up. Hours are limited, so be sure to check before visiting.
Malibu is the perfect place to try to surf, and if you've never been, you can take a surfing lesson. There are a lot of companies, but our favorites for families are Malibu Longboards or Malibu Makos, where you can book private lessons for anyone in the family or a group lesson for your whole crew.
This great, hidden spot has loads of concerts, shows, and events, many of which are family-friendly. Check the schedule.
RELATED: Skateboarding the Best Skate Parks Around Los Angeles for Kids

The Skateboard contest is always a favorite. Photo courtesy of the ​Malibu Chili Cook-Off
This Malibu tradition has more than chili; it's a small-town festival with carnival rides and a skate contest. Also, it's a fun place to mingle with movie stars.
There's storytime at a typical library, then there's storytime at Bluffs Park for babies, wildlife encounters, and nature walks. This particular library has such interesting events for children of all ages making it simple to find educational entertainment in Malibu with kids.
This might be the prettiest farmers market you'll ever visit. Fantastic local produce, tons of yummy kid-pleasing treats, samples galore, music, and it's right next to Legacy Park, so while parents shop, kids can run around.
Best Restaurants in Malibu with Kids
RELATED: Best Outdoor Dining in Los Angeles at Family-Friendly Restaurants

You just can't beat these ocean views at Malibu Farm Restaurant. Photo courtesy of the Malibu Pier
My favorite meal in town comes from Malibu Farm Restaurant, known for its fresh and organic farm-to-table cuisine. The kids' menu is amazing, the views are stunning, and parents can feel themselves unclenching as the ocean breezes blow. Tell your kids to leave room for dessert.
The Malibu Country Mart, a unique outdoor shopping center with tons of stores, is pretty much considered the hub of Malibu. Sure, you can shop at Fred Segal or Surfing Cowboy, both of which have pricey but uber-cool kids offerings, but if you've got kids, you're probably at the Mart for the impeccably clean bathrooms or food.
For family-friendly restaurants, I recommend Cafe Habana (which is George Clooney's Cuban-Mexican spot with a solid kids' menu, or Taverna Tony, which has fantastic Greek food, and kids will happily fill up on hummus and pita and sample the flaming cheese.
For snacks and casual fare, we like Alfred Coffee, Whole Foods, and Malibu Mutt's, where you can order basic burgers from a hole in the wall and then let the kids play at the playground while you relax a little (or shop!). If you crave seafood, Broad Street Oyster is a can't-miss choice. While delicious, prices are big and portions small, so if you've got picky eaters who don't love seafood, save this for date night.
This seafood shack is equally famous for the diet-busting delish seafood and the decibel-shattering Harleys that fill the lot. Pick up some fried clams and calamari (chicken strips, hot dogs, and burgers are available for picky kids) and enjoy the show—the ocean (and the bikers!).
Gladstones on the beach used to be all about the view, and the food was forgettable. But the food has gotten much better, and the view is still fantastic. The kids' menu might be the most reasonable-priced sitdown meal in town. And after you eat, take the kids down to romp on the beach in front of the restaurant.
As mentioned above, this is a lovely way to end a day at Point Dume or Zuma. In a little beach bungalow, this spot feels like a little slice of the Hamptons or Cape Cod landed in Malibu. I'm a little hesitant to share this because it feels like an under-the-radar secret. Book your table for sunset; you won't regret it. The kids' menu is a little pricey, but the food is tasty and the atmosphere divine, and it's a worthwhile splurge for the whole family.
RELATED: Los Angeles Restaurants Where Kids Can Play While Parents Eat

Don't forget to try the hula pie. Photo courtesy of Duke's
The question is, what will you be talking more about—the view or the hula pie? Hawaiin surfing legend Duke Kahanamoku taught surfing in Malibu, making it a fitting tribute to bring laid-back island vibes and a kids' menu to the sandy shores of Malibu.
Last but not least is Paradise Cove. When you order breakfast, lunch, or dinner, you can dine with your toes in the sand on this private Malibu beach. Remember that you must order $30 worth of food to cover four hours of parking here for the reduced rate of $10-$15; order less or stay longer, and you're on the hook for the $45 (weekday) and $65 (weekend) parking fee.
However, watch the clock, and you can enjoy the same stretch of beach as the local billionaires. Pack your car with sand toys, play for a couple of hours on the beach, then make a reservation, rinse off the sand, and dine on or by the beach. Portions are massive, and the kids' menu is a treat. We order appetizers and drinks for adults and then help the kids finish their massive meals!
Sign up for the Mommy Poppins Newsletter today!
i