The Best Playgrounds in Los Angeles: They're Even Worth Crossing the 405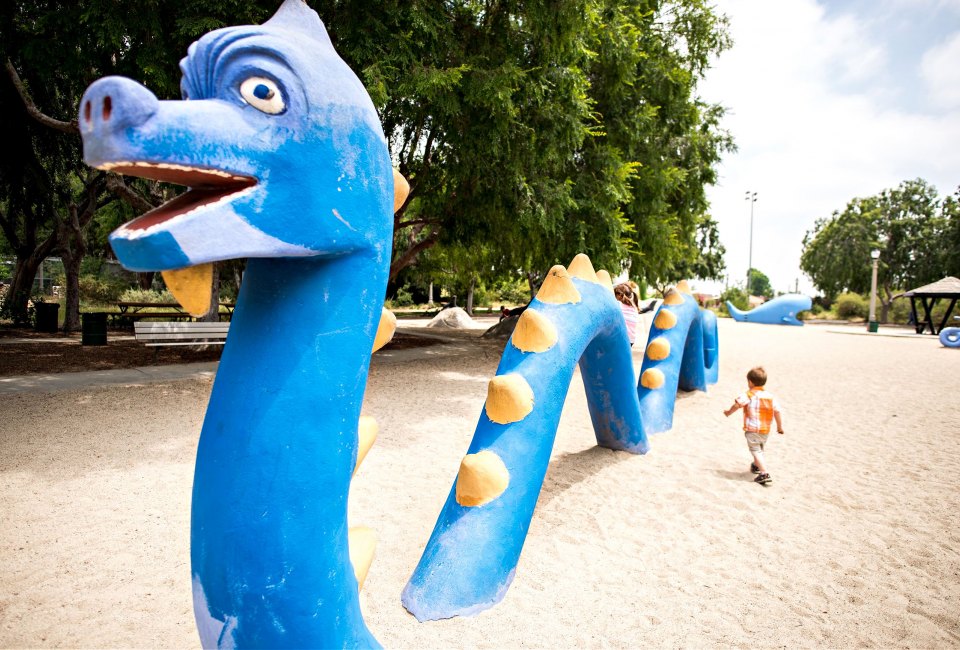 1/15/21
- By
Meghan Rose
Remember the days of busted swings and boring slides? Well, kids growing up in LA will never have those memories; the best playgrounds in Los Angeles (which are open again, hallelujah) are bastions of play and creativity for kids of all ages and abilities. These LA playgrounds feature rocket ships and pirate ships, fire trucks and trains, sea creatures and more. There are climbing structures, sand pits, thrilling ziplines, and playgrounds that honor the original inhabitants of the land. While the neighborhood playground is great for every day, sometimes cooped up kids need something new. And these playgrounds have the ultimate accolade: they're worth crossing the 405!
For more playground inspiration, check our guide to LA's top parks and playgrounds, or our list of the best beach playgrounds in Los Angeles and OC.

Shane's Inspiration at Griffith Park is for kids of all ages and abilities. Photo courtesy of Landscape Structures
The Best Playgrounds in Hollywood, Mid-City, and Griffith Park
Shane's Inspiration is the first all-inclusive and universally accessible playground in Los Angeles. Opened in 2000, Shane's is vast—the kind of playground where you can spend the better part of a day, with picnic tables nearby for easy eating on the go, and plenty of bathrooms. This is the playground that set the bar for all other playgrounds in Los Angeles for a long time. In the summer of 2019, the playground got a makeover and now is better than ever, with ziplines, spinners, musical and sensory instruments, swings, see-saws, and (my favorite part) more shade. Now kids really can spend most of the day here, and without sunburns. If kids ever tire of this playground, take a short hike up to the Old Zoo grounds, or (when open) take advantage of the other wonders of Griffith Park: the Merry-Go-Round, Pony Rides, and Travel Town.
Pan Pacific Park, right next to The Grove, actually has a couple of playgrounds. There's one by the parking lot at the recreation center (Renee's Place), which is perfect for little train lovers. But the larger playground in the middle of the 28-acre park was given an upgrade in late 2019, and now features accessible, interactive play and learning activities at ground level for kids of all abilities. There is more shade (yes!) and new swings and slides. It's part of the whole park facelift, which includes a new baseball diamond, soccer field, basketball courts, and more. With ice cream at Milk and loads of food options at The Grove within easy walking distance, this is a park that families can park themselves at for the whole day.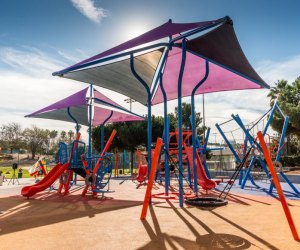 The new playground at Pan Pacific Park. Photo courtesy of the City of Los Angeles
This isn't the biggest playground. Or the flashiest. But everything about it is just right. Attached to a child care center, the playground has a small play structure for babies and new walkers. But the real draw is the bigger kid side, which is built to incorporate bits of nature, like rocks to climb and hide under, and animals to find perched on the rocks. The climbing net, wobbly posts, and zipline provide hours of entertainment. This park also has public tennis courts and is near Griffith Park's other attractions; not to mention The Village Bakery and Cafe and India Sweets & Spices, for those in need of sustenance.
This little playground is a gem. Pristine grounds, a little creek running through the park, exceptionally clean bathrooms, and a completely fenced in playground with structures for both younger (2-5) and older (5-12) kids makes this the least stress inducing playground on the list. Which makes it popular. So if this park and playground are too crowded, and you've driven all the way here, simply hop back in the car and drive further up the road to Franklin Canyon Park. After a stroll around Heavenly Duck Pond, come back for some playground time. (Note: The playground is currently open, but is limiting how many children are allowed on the equipment at a time, so try and visit during off hours.)
Well, it's not exactly shocking something in Beverly Hills is spectacular. The grass really is greener, sometimes. Monkey bars, rock climbing walls, loads of balance and spinning equipment, as well as enough swings to go around, are all at the playground. There's a sand pit for little diggers nearby, but if parents want to keep kids out of the sand (there are those days when you just don't feel up to coping with a whole pail of sand getting tipped from shoes into the backseat of the car), it's easy to distract kids with all the other (shaded) equipment. Plenty of grass to play ball on, as well as tennis courts, and even bocce and croquet courts are available. The community center is currently closed, and the playground occupancy is limited (the website says it's closed, but it isn't, at least as of January 2021). So bring a book, a blanket, and a ball (and maybe some snacks) and wait for a turn at one of the prettiest playgrounds in town.
Most people that come to Grand Park with kids come to the biggest section of the park, where the massive, free splash pad dominates the scene. Or families come for one of the many events, like the book fests or free concerts (when gatherings are allowed to occur). But that means that kids are missing one of the great playgrounds of the city. Opened in 2014, the Grand Park Playground, across from City Hall, looks like a Dr. Seuss book came to life. Meant to mimic an urban jungle, with climbing berms and structures, a tree fort, bright colors, and music making stations, it's a playspace that captures the imagination of kids of all ages. On hot days, the splash fountain is just up the stairs to the west, and when kids get hungry, Grand Central Market is an easy walk down Broadway.

Polliwog Park calls to seafaring kids, from the shores of the pond. Photo courtesy of the City of Manhattan Beach
The Best Playgrounds on the Westside and in the South Bay
This isn't a typical swings-and-slides playground. Tongva Park was designed as an homage to the original inhabitants of this land, and as such, the features of the playground are built right into nature. Follow a creek, walk through natural art installations, climb the rock wall, explore the splash pad, find wildlife through the binoculars, and more. With the ocean providing a beautiful backdrop, this award winning park appeals to everyone from out-of-town guests to energetic toddlers.
While the Malibu Cross Creek Playground is the shiny new park in town, my heart belongs to Malibu Bluffs Park. I've seen tweenagers who are too cool for school whooping like toddlers on the climbing structure and zip line. And new walkers love those same things, they just need a little help. The enclosed playground is a wonderful basic playground, but it's the spread of the playstations around the 6-acre park, with a zipline up along the jogging path, a sand pit with built-in diggers, a whale watching station, spectacular ocean views, and even a gorgeous bluffs hike, that makes this a destination playground.
The highlight of this park is the pond, which is home to all manner of ducks, geese, and other waterfowl. The adjacent playgrounds include a lighthouse-inspired climbing structure, sand area, and colorful tot lot. But it's the proximity to all the birds that keeps kids entranced, while they play at the playground. When things open up again, check the schedule of events and concerts that take place at the amphitheater by the pond.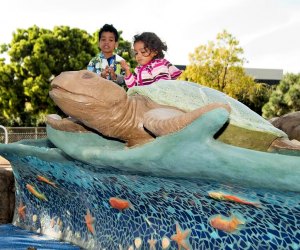 Glen Alla Park. Photo courtesy of the City of Los Angeles
Run, climb, slide, swing, even roll down a hill built just for rolling. This nautical themed park has a ship, whale, and turtle to climb on. With a nearby dog park, and mature trees with large low branches perfect for climbing, this neighborhood park has it all. I have one kid who loves dogs and another who is terrified of them; this park is a sanity-saver that keeps both kids happy, since one can watch the pups play while the other feels safe playing in the fully fenced-in playground.
Ground control to Major Tom! The name says it all. This mid-century three story rocketship and stunning city views make this a worthwhile outing for any family, but for budding astronauts, this is the (pun intended) mother ship.

Reese's Retreat at Brookside Park has everything an aspiring pirate could want. Photo courtesy of the City of Pasadena
The Best Playgrounds in the Valleys
This is another mid-century masterpiece, so off the bat it's important to note that safety standards are not what most parents today are used to. Everything isn't plastic and soft edges. What it is, is awesome. It kind of feels like a mini-golf course, minus the putting greens, where kids can run wild. There are 14 different sea creatures that rise from the sand for kids to climb, slide, and play on. It's the only playground I know of that is on the National Registry of Historic Places, and is definitely worth a visit for all Angelenos.
My kids call this one the pirate park. It's Pasadena's first universally-accessible playground, opened in 2011. The proximity to the Rose Bowl Aquatic Center and Kidspace Children's Museum make it a perfect place to drop by after swim lessons or a day at Kidspace. If you've got little rascals who long to make you walk the plank, it's worth a drive across town. The play structure is a giant pirate ship, with cannons and climbing and planks, there are fish to ride around the ship, and the pièce de résistance is that in the sand pit there is actual running water, so sand castles stay built.

Costanso Fire Station 84 Park. Photo courtesy of RecWest Outdoor Products
If Reese's Retreat is for young seafaring scallywags, this is for little firefighters. It's a big ol' fire truck play structure. It's 100% in the shade, which is a big sell for this hot-as-blazes in the summer location. And the entire park is fenced in. The only downside to this park is that there are no public restrooms, so if you're making the trek here from another part of town, go before you go—or take note of the Whole Foods across the street, or Trader Joe's just a few blocks away (both are great for potty and snack breaks).
This one is for parents. Yes, kids adore this park. The lush grass is great for playing ball and having picnics, and the loop around the park is perfect for young bikers. There's a Rose Garden to explore, and, of course, a fantastic climbing playground that fits seamlessly into the wooded area and has tons of picnic tables and seating for parents (and every other swing has been removed to enforce social distancing). The entire park is gated, so while it is large, it is enclosed and safe. The bathrooms are clean. You can plonk a blanket in the middle of the grass by the playground and watch younger kids play, while big kids bike the loop. Honestly, it's like the planners asked parents what they would want in a park and playground, and served it up on a platter. A platter that is free on weekdays for everyone, but has a $5 per person charge for non-San Marino residents on the weekend. It's worth it.
Two playgrounds (one for toddlers, the other for big kids) sit across from one another. The toddler playground has swings, activity centers, and tons of sand (bring a bucket and shovel), while the bigger playground for older kids has multiple slides, swings (even a tire swing) and a tiny castle for kids to explore. In itself, it's a great playground. But what really makes this playground destination-worthy is that it has so much more: swan paddle boats (and real swans in the lake), kayak rentals, surrey rentals, bike paths, a Japanese garden, golf (!), and more. Bring a picnic and plan to stay for the day.
Sign up for the Mommy Poppins Newsletter today!
i