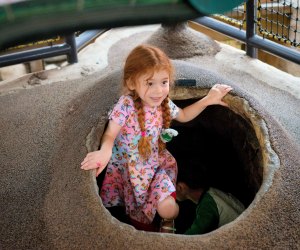 Kidspace: An Insider's Guide to LA's Beloved Children's Museum
Kidspace is now entering its fourth decade in Pasadena and it's easy to see why this children's museum has such staying power. There is something for everyone at Kidspace, from animal lovers to budding scientists to those looking to get their wiggles out. There is an area for babies and toddlers and plenty of activities to entertain bigger kids (the museum is designed specifically for children ages 10 and under). In fact, there are more than 40 hands-on exhibits within the 3.5 acres of indoor and outdoor property. My own family has had a membership for five years now. So what keeps us coming back again and again? Read on to find out—plus tips on how to maximize your visit.
Playgrounds and Climbing Structures at Kidspace
If your kiddo has energy to burn, you'll be happy to know there are several places to do it at Kidspace. That includes a variety of climbing structures, most notably a 40-foot tall tower designed to look like raindrops. Children who make it to the top are treated to a view of the Kidspace courtyard (plus bragging rights, of course). Then there is the Ant Hole, where kids can squeeze their bodies through an underground tunnel, popping up through the ground and scurrying up an anthill. Outside, there is an exhibit called the Hawk's Nest which offers up more climbing fun and a rope bridge for kids who want to test their balance. There are dress-up wings at the top, so little ones can pretend they are actually flying. My daughters never get tired of the trike track where they can ride tricycles of all sizes around a large area marked by cones and signs (yes, even kids have to obey the rules of the road).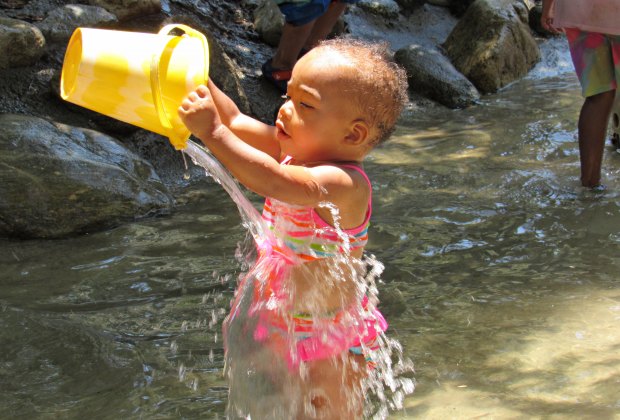 Kidspace has some great splashing options.
Water Play at Kidspace
Hot day? Kidspace has two water play areas where visitors can cool down. One is a mini splash zone with fountains in the museum's front courtyard. The other is a big stream-like water feature in the backyard (I consider this one to be among the best splash pads LA has to offer). Kids can walk up and down a small rocky river, watching leaves float and even sticking their heads under a waterfall at the top. In the fall, this water feature becomes the setting for the Kidspace Rubber Ducky Race, where kids can decorate their own ducks to send down the river in the hopes of finishing first. Note to parents: children are required to wear shoes while playing in the splash pads.
Meet Rosie the Tarantula
Or Tortellini the tortoise... Or the bevy of cockroaches (I always pass on that last one) housed at the museum's Nature Exchange. Inside this area, kids can get up close and personal with a variety of live reptiles and insects. Hunt for the queen bee in the beehive display. It's not easy! She's marked with a white dot but we've only managed to find her once. Watch how the legless lizard moves just like a snake or get creeped out by the carnivorous plants on display. Aside from the stuff that's alive, the Nature Exchange has dozens of animal-themed books and puzzles. There's even a game in which kids can try to match the fake poop to the right creature (my daughters find this hilarious). One more cool thing about the Nature Exchange: visitors can earn free souvenirs here (a seashell or rock) by writing a quick report on one of their favorite animals or plants.
RELATED: 12 Family Memberships Worth Having As You Raise Your LA Kid
Pulleys hard at work in the Physics Forest. Photo by Jackie Jones
Science Rules at Kidspace
Another highlight at Kidspace is the outdoor Physics Forest, which features 12 interactive exhibits that teach scientific concepts such as how pulleys and pendulums work. My girls love the Bottle Rocket, which illustrates force and pressure, launching a big water spray. Children can also build a mini roller coaster, use their own energy to power a giant fan, or try taking on their parents in a tug-of-war game that demonstrates mechanical advantage. Science continues inside at the Imagination Workshop, a space for creating and engineering. Projects change daily, and some have age recommendations. My family really enjoys making our own stop-motion movie using a special program on iPads provided by staffers. During another visit, we made our own boats to float downstream in the Kidspace water feature.
Annual Kidspace Events for Families
Yes, the exhibits are awesome. Yes, the staff is friendly. But the number one feature that keeps my family coming back to Kidspace is definitely the variety of fun events. In the spring, families can purchase and take home their own caterpillars, watch their transformation, then return to Kidspace for a grand release during the museum's Butterfly Celebration. On the first Tuesday of the month families can take advantage of Free Family Night. My daughters always look forward to playing in real snow during the Kidspace Snow Days in December, or dressing up as mermaids and pirates for Pirate Day in September. And on any given weekend, there are performances 'on the frog,' —the frog-shaped outdoor amphitheater. Visitors can catch local kids' bands, dance troupes, comedy groups, even presidential impersonators over President's Weekend. Throughout the year, there are usually a few days devoted to slime or bubbles, too. Performances are included with museum admission.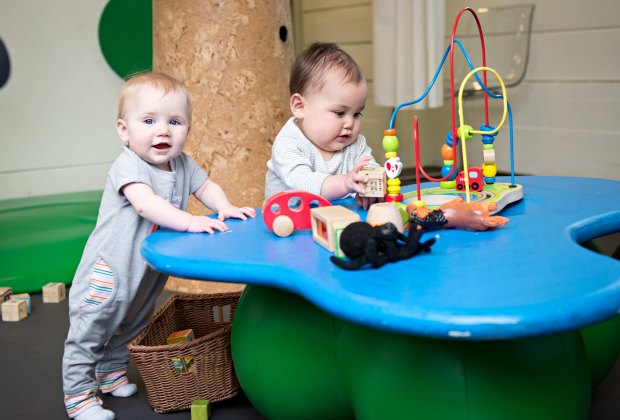 The Early Childhood Learning Center
Activities for Toddlers and Preschoolers
There is an area for kids ages three and under at Kidspace. The Early Learning Center is padded and contains many sensory elements to interest crawlers and young walkers. Families looking to snuggle can do it in Nuzzle Nests, which are kind of like pods that hang from the ceiling. Toddlers also like Kirby's Corner, an outdoor space with some small playground equipment and water play. Also outside is a music area where kids can jam, a mud and clay exhibit where they can get messy, and a sand box. Those looking to chill out can enjoy the indoor Storyteller Studio, where there is a reading nook, an art table with daily activities, a puppet theater, and a small performance stage.
Know Before You Go
It's easy to spend all day at Kidspace, especially since there is a restaurant on campus called Bean Sprouts that serves up healthy snack and lunch options. (Visitors can also bring their own food to enjoy on the many outdoor tables.) There's a park just outside of the museum, too, which hosts the popular annual Kidspace Pumpkin Festival.
Kidspace is open Tuesday through Friday from 9:30am to 5pm (and Mondays during the spring and summer months), and weekends from 10am to 5pm. There is a members-only hour every Sunday at 9am and a free family night from 4pm to 8pm on the first Tuesday of every month (except September). It's a good idea to check the Kidspace website before visiting as the museum closes for some Rose Bowl events.
Parking is free and plentiful.
Photos courtesy of Kidspace, unless otherwise noted