Kidspace: An Insider's Guide to LA's Beloved Children's Museum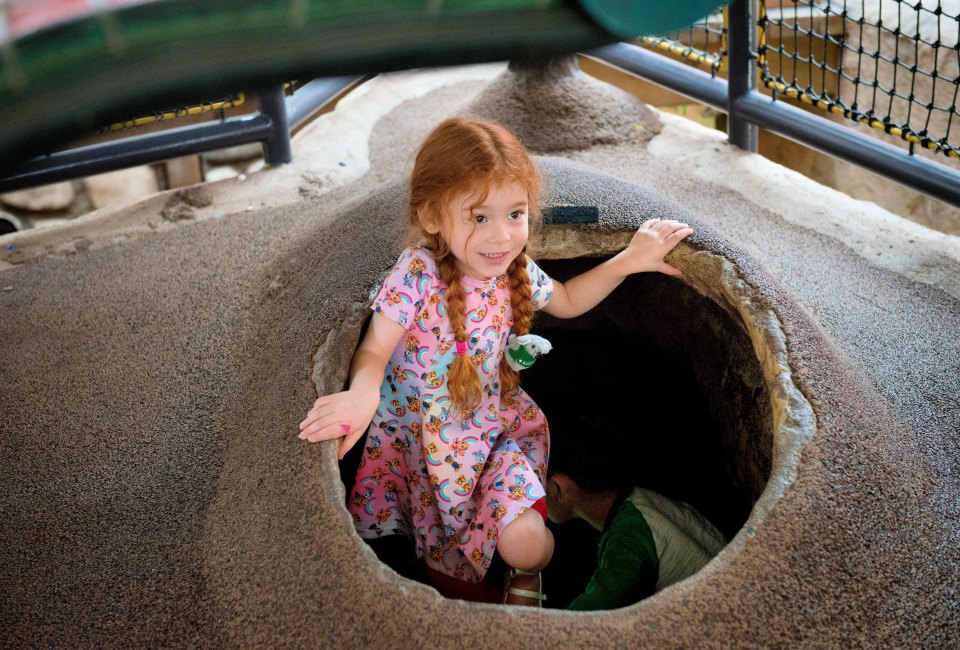 8/18/23
- By
Jackie Jones
Kidspace is a treasured children's museum in Pasadena, set apart from other museums in Los Angeles with its immersive water play features, enthralling exhibits, and unique climbing structures. There is something for everyone at Kidspace, from animal lovers to budding scientists and mini music maestros.
There are more than 40 hands-on exhibits within the 3.5 acres of indoor and outdoor property, and the museum is designed specifically for children ages ten and under. My own family has had a membership for five years now. So what keeps us coming back again and again? Read on to find out—plus tips on how to maximize your visit.
For more museum exploration, visit the best children's museums in Los Angeles and Orange County, take advantage of free museum days in Los Angeles, and browse our Museum Guide for Kids in Los Angeles and Orange County.
Climbing Structures at Kidspace
If your kiddo has energy to burn, you'll be happy to know there are several places to do it at Kidspace.
That includes a variety of climbing structures, most notably an indoor 40-foot tall tower designed to look like raindrops. Children who make it to the top are treated to a view of the Kidspace courtyard (and bragging rights).
Then there is the Ant Tunnel, where kids can squeeze their bodies through an underground tunnel, popping up through the ground and scurrying up an anthill.
Outside, there is an exhibit called the Hawk's Nest which offers up more climbing fun and a rope bridge for kids who want to test their balance. There are dress-up wings at the top, so little ones can pretend they are actually flying.
Of course, climbing wouldn't be complete without rock climbing, and there is a climb-across rock wall for adventurous little ones to conquer at the top of the hill.

Splash and play in Arroyo Pequeño at Kidspace. Photo courtesy of Gina Ragland
Water Play at Kidspace
Hot day? Chances are likely in Pasadena, but luckily Kidspace has multiple riveting outdoor water play areas where visitors can cool down.
The big water draw is the Arroyo Adventure, a multi-level stream that can entertain for hours. Although you'll be right next to the Rose Bowl, it will feel like you took a day trip from Los Angeles to a nearby mountain town. Note that the stream can be rocky and slippery. Water shoes are required to play in the stream.
Arroyo Pequeño essentially consists of natural water tables for kiddos to splash and play and is right next to the lower Arroyo Adventure stream. Bounce toy frogs through the waters among animal sculptures surrounding the inviting landscape.
There are also small fountains in the museum's courtyard which children can run through for a quick water fix.
RELATED: Best Splash Pads, Splash Parks, and Water Playgrounds in Los Angeles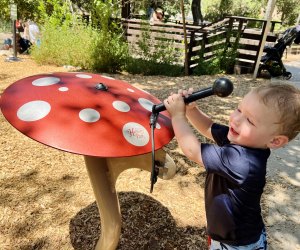 Shaded Instruments is music to our ears. Photo courtesy of Gina Ragland
Make Music at Kidspace
Go past the Arroyo Adventure streams at the top of the hill, and you'll find the darling Pepper Tree Music Jam. Music-loving kids will love testing out different musical instruments, and some are toddler-friendly sizes.
After a dip in the stream, it's the perfect place for children to dry off while dancing to the beat of their own drum in the shade of the tree covers.
Kidspace Trike Tracks
My daughters never tire of the trike track, where they can ride tricycles of all sizes across a Golden Gate Bridge replica and pedal around a large area marked by cones and signs (yes, even kids have to obey the rules of the road).
Kids can ride solo on a one-seater trike or take a sibling or friend along for the ride on a two-seater.
RELATED: Toddler-Friendly Hikes and Nature Walks in and Around Los Angeles

The Nature Exchange entertains and educates. Photo courtesy of Gina Ragland
Meet Rosie the Tarantula
Or Tortellini, the tortoise. Or the bevy of cockroaches (I always pass on that last one) housed at the museum's Nature Exchange. Kids can get up close and personal with live reptiles and insects. Hunt for the queen bee in the beehive display. It's not easy! She's marked with a white dot, but we've only found her once.
Aside from the stuff that's alive, the Nature Exchange has dozens of animal-themed books and puzzles. There's even a game where kids can try to match the fake poop to the right creature (my daughters find this hilarious).
RELATED: The Best Playgrounds in Los Angeles: They're Even Worth Crossing the 405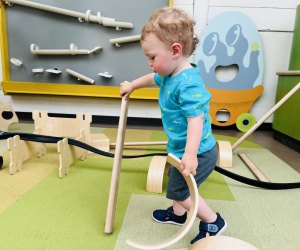 Future engineers will love the creative ramp building. Photo courtesy of Gina Ragland
Ramps & Rollers
In addition to the Nature Exchange, Climbing Tower, and Ant Tunnel, visitors can hone their gross motor skills in the indoor galleries by building ramps for cars and balls, sparking creative play. Kidspace staff members tend to be posted at this exhibit, helping young kids and future engineers to construct imaginative designs.
RELATED: Things My Preschooler Loves at The California Science Center

Pulleys hard at work in the Physics Forest. Photo by Jackie Jones
Test Scientific Theories at Kidspace
Another highlight at Kidspace is the outdoor Physics Forest, which features 12 interactive exhibits that teach scientific concepts such as how pulleys and pendulums work.
My girls love the Bottle Rocket, which illustrates force and pressure, launching a big water spray. Children can also build a mini roller coaster, use their own energy to power a giant fan, or try taking on their parents in a tug-of-war game that demonstrates mechanical advantage.
Los Trompos
The bright installations in the Kidspace courtyard will surely attract visitors with their vibrant colors. Kids can twirl and whirl in the various spinning tops. There's even an enclosed one, which could be a fun adventure for a baby and a memorable photo op.
RELATED: Best Farms near Los Angeles for Family Fun: Discover the Cream of the Crop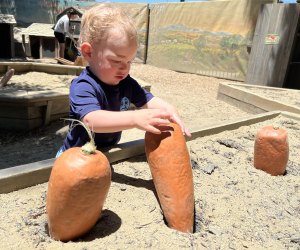 Dig for giant carrots at the Muddy Boot Farm. Photo courtesy of Gina Ragland
Kidspace Muddy Boot Farm
Farm-to-table is top of mind at this interactive play area, where kiddos can dig for (pretend) produce and harvest giant carrots in various vegetable gardens. Their finds can then be sold or traded at the farmer's market stand. There's also a chicken coop to explore and plenty of wheelbarrows to push around.
Blink, and you might miss the Winding Willow Lake next to the Muddy Boot Farm. A real boat is anchored in blue sand with nets to catch toy fish. A tip for your visit is to let the kids play in the blue sand before the Kidspace water play or expect blue sand to get everywhere and to keep finding it days after your visit.
Activities for Toddlers and Preschoolers
Kidspace is a paradise for toddlers and preschoolers as tons of activities and exhibits are age-appropriate for younger children.
Toddlers will love Kirby's Corner, an outdoor area for kids four and under with small slides and fun water tables, making this another spot for water play at Kidspace. There's also an extension to this popular play area—Kirby's Pit Stop—where kiddos can wash smaller versions of trikes in a car wash and put gas in their mini vehicles.
Families looking to snuggle can do it in Nuzzle Nests, which are kind of like pods that hang from the ceiling. Nearby the Nuzzle Nests is a Mamava nursing pod, where new mothers can have a private space for breastfeeding or pumping.
RELATED: Things To Do with Preschoolers in Los Angeles Before They Turn 5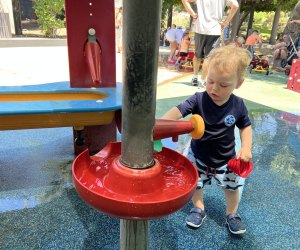 ​
Toddlers will have a blast in Kirby's Corner. Photo courtesy of Gina Ragland
Annual Kidspace Events for Families
Yes, the exhibits are awesome. Yes, the staff is friendly. But the number one feature that keeps my family coming back to Kidspace is the variety of fun events.
In the spring, families can purchase and take home their own caterpillars, watch their transformation, then return to Kidspace for a grand release during the museum's Butterfly Season. October is full of treats at Kidspace Halloween.
On the first Friday of the month, families can take advantage of First Free Fridays. My daughters always look forward to playing in a winter wonderland during the Kidspace Winter Frolic in December. Throughout the year, there are usually a few days devoted to slime or bubbles, too.
Food at Kidspace
It's easy to spend all day at Kidspace, especially with Bean Sprouts on-site, which serves up healthy snacks and lunch options in adorable designs like faces and spaceships. Special dietary needs like nut-free and egg-free options are available too.
Parents will also appreciate the many caffeine options at Bean Sprouts. There's a cooler full of milk and fruit pouches at Bean Sprouts, making it easy to grab a quick snack on the go.
Visitors can also bring their food to enjoy on the many outdoor tables. High chairs can be found around the outdoor tables, making it convenient for meal times for little ones. There are no indoor seating areas for meals though the tables are largely covered by shade.
Food trucks are sometimes parked inside Kidspace, providing another food option for visitors.
RELATED: Best Children's Museums in Los Angeles and Orange County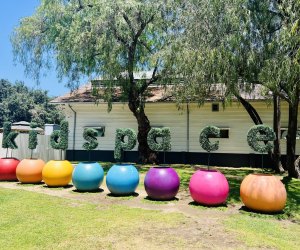 Kidspace is right next to the Rose Bowl in Pasadena. Photo courtesy of Gina Ragland
Getting Here and Parking
Kidspace is easy to find, and it's directly next to the Rose Bowl, sharing a parking lot with the famous stadium. It's a good idea to check the Kidspace website before visiting, as the museum closes for some Rose Bowl events. Parking is free and plentiful.
Know Before You Go
It will be essential to bring extra changes of clothes as kids enjoy the Kidspace water fun. Towels will be needed, too!
Water shoes are required to play in the stream, so bring an extra pair of shoes that will be dry for more play afterward.
Begin your visit with the outdoor exhibits in the morning before it gets too hot, then head into the air-conditioned indoor exhibits when the sun is shining brightest.
Don't forget hats and sunscreen for extra sun protection.
Indoor galleries are first-come, first-serve based on capacity limitations.
Kidspace is open Tuesday through Thursday from 9am to 4pm (and Mondays during the spring and summer months) and weekends from 10am to 5pm.
Originally published on September 8, 2019. Updated by Gina Ragland
Places featured in this article:
Sign up for the Mommy Poppins Newsletter today!
i