Best Children's Museums in Los Angeles and Orange County
8/26/19
- By
Jackie Jones
Children's museums are a thing of beauty. Los Angeles has plenty of local museums to excite and inspire visitors of all ages, but a museum where kids are encouraged to touch all of the exhibits, climb on the furniture, and ask as many questions as they want (not in an inside voice either) is the holy grail of indoor activities. Here are the best children's museums in Los Angeles specifically designed to entertain and enrich the lucky kiddos of Southern California.
Kidspace Children's Museum
Located in Pasadena, Kidspace is designed specifically for kids ages 10 and under. That means plenty of physical stuff like climbing towers, a trike track, and two water play areas (a mini splash zone with fountains and a big, stream-like water feature). The museum appeals to animal lovers who can get up-close and personal with a box turtle or tarantula, while kids into science love the physics forest, which includes 12 hands-on exhibits that teach such concepts as the transfer of energy and centripetal force. My favorite thing about Kidspace is its many themed events held throughout the year. Around the holidays, visitors can play in real snow during the museum's Snow Days. In the spring, families can purchase and take home their own caterpillar to watch its transformation, then release it during a Butterfly Celebration. Last fall, my daughter won the Kidspace Rubber Ducky Race (she still brags about it to this day). Conveniently, there is a restaurant on campus called Bean Sprouts that sells healthy snack and lunch options. Kidspace is open Tuesday through Friday from 9:30am to 5pm (and Mondays during the spring and summer months). On the weekends, the museum is open 10am to 5pm. There is a members-only hour on Sunday mornings and a free family night on the first Tuesday of every month.
Insider's Tip: Be sure to check the Kidspace website before visiting, as the museum closes for some Rose Bowl events.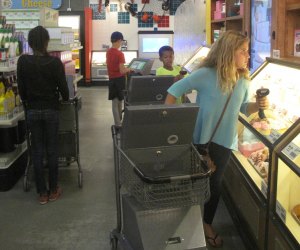 Kids do the shopping at the "Market" at the Discovery Cube. Photo by Mommy Poppins
Discovery Cube LA and OC
The emphasis is on green energy and science at these sister museums, one located in Santa Ana right off I-5 and the other in Sylmar in the San Fernando Valley. Both facilities boast a movie theater with STEAM-friendly short films, as well as a helicopter tour where kids can take a virtual trip over some of California's natural landmarks, all while learning about wildlife and water conservation. Lucky LA visitors can also take a virtual trip down the toilet, which my kids find hilarious. There is plenty to interest toddlers and tweens alike at the Discovery Cube museums, including interactive features such as a Race to Recycle game, a Science of Hockey area, and new exhibits that open every few months. Kids at the Discovery Cube OC can step inside a replica of the Jet Propulsion Lab's control room for a space mission. A highlight at the Discovery Cube LA is the supermarket where kids can use grocery carts equipped with computer screens to scan items that are healthy and environmentally responsible. Speaking of food, Bean Sprouts has cafes inside both the LA and OC locations. The Discovery Cube museums are open every day (minus some holidays) from 10am to 5pm.
Insider's Tip: Be sure to check for promotions at the Discovery Cube LA and Discovery Cube OC before visiting. Both museums offer free or discounted tickets for some local residents. Credentialed teachers get free admission every day!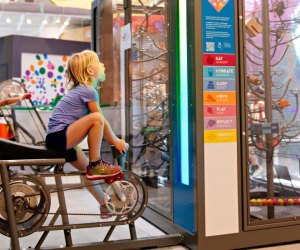 Make their jaws drop at the Cayton. Photo by Mercie
Cayton Children's Museum
The long-awaited Cayton Children's Museum recently opened its doors this summer in the Santa Monica Place mall, and the new facility is still somewhat of a work in progress. The space is large (21,000 square feet) and full of natural light. There are 35 exhibit installations at the Cayton, which appeal primarily to the 10 and under crowd. Young visitors enjoy taking iPad x-rays inside the animal clinic or "calling" their friends on old rotary phones inside what's called the Hello Booth. On the Courage Climber, brave kids can take a rope walk above the museum. Fans of vehicles love climbing on and through a real (but no longer in-use) helicopter and fire truck. And little artists can get creative inside a studio that offers vegan paint among other materials. The Cayton has a snack room with vending machines, but parents may want to bring their own food, or pick up something at one of the restaurants in the mall. The museum is open Monday through Saturday from 10am to 7pm, and 12pm to 7pm on Sundays. The Cayton is one of the hottest tickets in town right now, so visitors are encouraged to reserve online admission in advance. Tickets have a designated entry time, and guests are allotted two hours per visit.
Insider's Tip: Parking at Santa Monica Place is free for the first 90 minutes. Posted rates apply after that; the Cayton does not validate parking.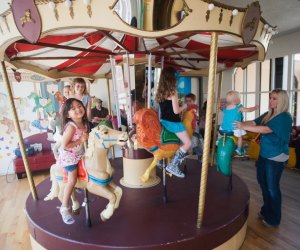 Unlimited carousel rides are included! Photo courtesy of The Children's Museum at La Habra
The Children's Museum at La Habra
You'll find this small but sweet museum just off Route 57, in a renovated Orange County train depot. Despite its small size, there are dozens of hands-on exhibits at the Children's Museum at La Habra, geared primarily for the preschool set. Visitors can't get enough of the Carousel Room, which features a hand-carved merry-go-round. Kids also really like the Nature Walk, where they're able to visit with taxidermy-ed animals including a moose, bear, and lion (sorry squeamish parents!). Dinosaur lovers can look for fossils in a prehistoric dig site or visit the outdoor dino garden, while train enthusiasts can check out a caboose from 1942. There is a little playground with a treehouse located within the museum for kids under age five, and there is a park next door. Families may want to bring food here for picnicking as there is no restaurant on campus. There are some special events held at the museum, notably a noon year's eve party on December 31. Current hours at the Children's Museum at La Habra are Tuesday through Friday 10am to 4pm; Saturday 10am to 5pm, and Sundays 1pm to 5pm. There is a special members-only hour at 9am on Fridays.
Insider's Tip: Unlimited rides on the merry-go-round are included with admission, though there is a height maximum.

The rainbow wall at Southern California Children's Museum begs for Instagram. Photo by Ographr
Southern California Children's Museum
Another museum in Pasadena, this lofty space feels like a mix between a kid's museum and an indoor playground. For one thing, there is a bouncy house at the Southern California Children's Museum. It's big and doesn't have a door. My kids call it the bouncy stage. There are also two playground structures with slides, as well as sensory elements like a place to play with fake snow and a giant pin impression board where kids can make molds of their faces and hands. A highlight is the museum's calendar of daily events. On Mondays, kids can take the stage and belt out their favorite songs during Open Mic. Children 2 and up can make edible art during the Fun Foodie Friday class. My daughters really love the SCCM art room, which is small but allows kids to design their own projects, choosing from an array of materials like pipe cleaners, colored paper, googly eyes and more. Big kids also have a good time here, though the museum is best-suited for those 8 and under. The Southern California Children's Museum is open Monday, Wednesday, and Thursday from 9:30am to 1:30pm; Tuesday, Friday, and Saturday from 9:30am to 4:30pm, and Sunday 12:30-4:30pm. There is no restaurant on campus, but there is a large eating area that is kept very clean.
Insider's Tip: Families get two-for-one admission on Tuesdays after 2pm.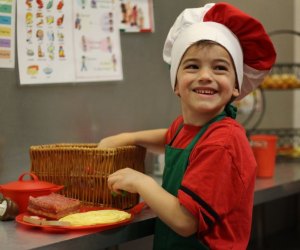 At Pretend City, every kid has a job to do. Photo courtesy of Pretend City
Pretend City
The name says it all at this Orange County children's museum, not far off the 405 in Irvine. Housed inside a large building in an office park, Pretend City really is like a mini metropolis where kids can role-play a variety of careers. There's a play hospital and dentist's office, stocked with toy X-rays and medical gear. There's a farm with shovels and pretend soil (and real baby chicks!). My daughters can't get enough of the amphitheater, where they can dress-up and perform on a stage for anyone willing to watch (kids also get to man the lights). Another highlight is the marina, a large water play area with floating boats, sea creatures, and tiny dams and waterfalls. Note to parents: if you don't want your little one to get wet, you may want to steer clear of this space. Feeling tired? Kids can chill out and read in the Pretend City library. Feeling hungry? After cooking in the play cafe, head to the real cafe where there are vending machines and tables. Check the calendar before visiting for seasonal exhibits and special events like touch-a-truck. Pretend City is open Monday from 10am to 1pm; Tuesday through Saturday from 10am to 5pm, and Sundays from 11am to 5pm. Members get to play every day for one hour before general admission. Visitors can get 2-for-1 admission on the second Friday of every month, when Pretend City hosts free developmental check-ups for kids.
Insider's Tip: Be sure to get a stamp card when you enter. When kids get them stamped at the exhibits throughout Pretend City, they get "paid" for their work with toy money!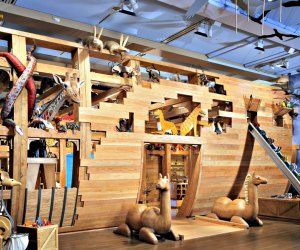 Your kids will want to spend 40 days and 40 nights at Noah's Ark. Photo by Grand Mudford courtesy of Skirball Cultural Center
Noah's Ark at the Skirball
Ok, ok—so the Skirball is not technically a children's museum. In fact, there is plenty of adult material at this cultural center on Sepulveda Boulevard, right off the highest point on the 405. But anyone who has visited the Noah's Ark exhibit at the Skirball knows what a special place it is. Occupying an 8,000 square-foot gallery designed like the inside of a wooden ark, the museum-within-a-museum is an interactive play space that explores the ancient story. That means it's packed with animals, all made from recycled materials. My kids love trying to figure out what elements went into making each whimsical creature. The storm and flood, the other major themes in the Noah's Ark tale, are also represented here. A multi-sensory wall with cranks, tubes and other mechanical devices allows kids to create wind, thunder, and lightning. And then there's the ropes course, where kids can climb up to the rafters, squeeze in crawl spaces and cross catwalks near the ceiling. Every day there are drop-in activities at Noah's Ark too, from story times to sing-a-longs. Admission is timed and limited to 90 minutes. Weekends can be especially busy, but you can purchase tickets online in advance. Admission is free on Thursdays on a first-come, first-serve basis. Hours at Noah's Ark are Tuesday through Friday noon to 5pm; Saturday and Sunday 10am to 5pm. There is a cafe onsite at the Skirball, though it's closed for renovation through early 2020.
Insider's Tip: After playing at Noah's Ark, visit the Skirball archaelogy dig where little scientists can hunt for artifacts hidden in the sand.
And two worth a day trip:

The New Children's Museum is a highlight of a San Diego trip. Photo by the author
The New Children's Museum
On a recent family trip to San Diego, I brought my kids to the New Children's Museum and I swear they loved this play place as much as SeaWorld. Bright, colorful, and located in the heart of downtown, the museum spans three stories and appeals to kids of all ages. (I saw parents having a lot of fun, too—myself included!) Go to see the Whammock, an exhibit that resembles a giant rainbow-colored hammock that kids can climb into, onto, and all over. Remember the feeling of jumping on the bed as a kid? Another installation features wall-to-wall mattresses and tire pillows where kids can bounce their hearts out. Something my family really enjoyed was the Sketch Aquarium, where little artists can scan their drawings of sea creatures and then see their images projected onto a giant virtual aquarium. A Bean Sprouts cafe is on site, and the New Children's Museum is a short walk away from restaurants in the city's Gaslamp Quarter. The museum is open Monday through Saturday from 9:30am to 4pm and Sunday from 11am to 4pm.
Insider's Tip: Check out the clay corner if your kid is in an artsy mood. You can take your little sculpture home free of charge.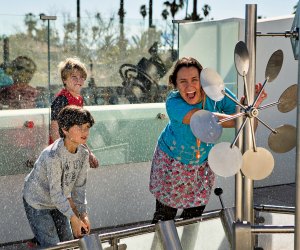 Kids love MOXI's interactive water feature on the rooftop Sky Garden. Photo courtesy of MOXI/Visit Santa Barbara
MOXI, the Wolf Museum of Exploration + Innovation
Santa Barbara cemented its place as a family vacation destination when this modern play space opened in 2017. Science rules at the MOXI, where kids of all ages love exploring the exhibits that occupy the museum's three natural light filled floors. Aspiring musicians can play DJ and create their own movie sound effects in the Sound Track installation. Little engineers can build their own race cars to send whizzing down a fast and bumpy course at the Speed Track. You will never look at selfies the same way again after checking out an exhibit called Mosaic Faces. After visitors take a photo of themselves at a kiosk, the device then generates a version of their image using hundreds of other photos. Totally trippy... and totally fun. And then there's the Sky Garden where parents can enjoy the beautiful view while kids pump and splash in a water feature (all while learning about fluid dynamics.) The MOXI does not have a cafe on site, but it's within walking distance of many State Street restaurants. The museum is open every day (minus some holidays) from 10am to 5pm.
Insider's Tip: Kids ages 13 and over may visit the MOXI without an adult.
One Last Thing:
A membership at one of these museums can get you discounted or even free tickets to other children's museums nationwide as well. (My Kidspace membership saves me 50% off admission at the Skirball, for example.) If you have a membership at any of these museums, check the terms of their reciprocal program. Happy playing!
Sign up for the Mommy Poppins Newsletter today!