Insider Tips for Visiting the Natural History Museum with Kids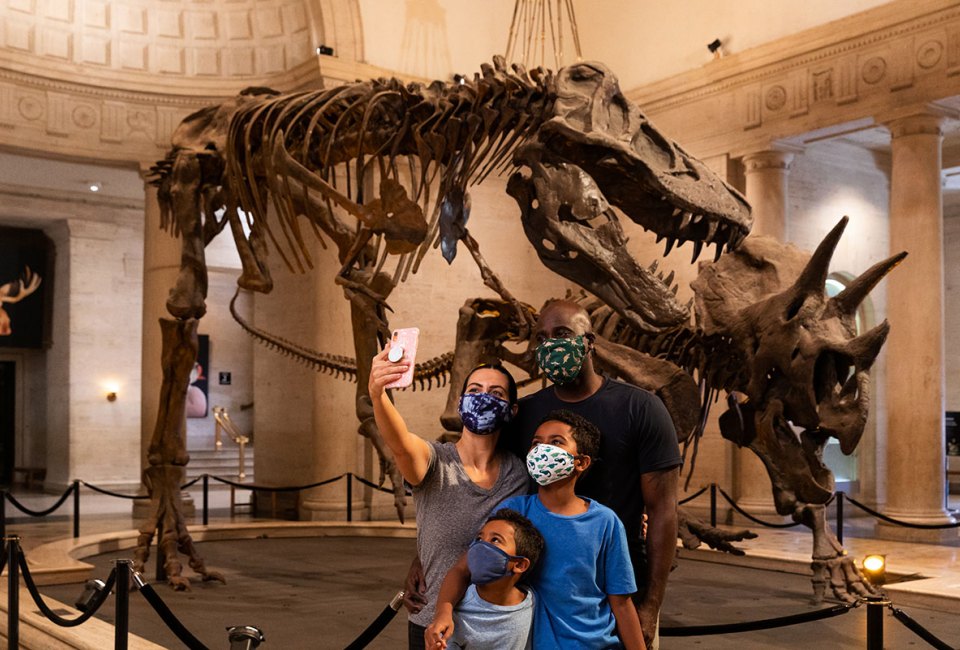 9/20/21
- By
Matt Matasci
Located in the expansive Exposition Park just south of DTLA (right between the beloved California Science Center and the soon-to-open Lucas Museum—or the Star Wars Museum, as we call it at my house!), the Los Angeles County's Natural History Museum is one of the best museums in the city, especially for kiddos. From the soaring dinosaur fossil exhibits at the Dino Hall to hands-on activities in the Nature Lab, this museum has plenty to see and explore but is also manageable—families can definitely see the highlights in one day. Here's an exhibit-by-exhibit guide to hitting all the kid-friendly faves, plus the secrets of where to eat, park, and play.

The first thing that greets you are the dinos! Photo by the author
Can't-Miss Exhibits at the NHM: Where To Start
Find It: Level 1
Best For: All ages
There's no denying it—kids love dinosaurs. Whether cartoon-y characters from their favorite shows or realistic, life-size models, they just go nuts at the thought of playing or learning about these prehistoric creatures. That means the Natural History Museum's Dinosaur Hall is a must-visit, and should probably be your first stop. There are 20 mounted skeletons found in this exhibition, with 300 fossils to boot! The Hall is built on two levels, so you can look down on the towering Tyrannosaurus rex skeletons (the only place you can view baby, juvenile, and sub-adult T-Rex skeletons) and other lower-level exhibits.
Find It: Level 2
Best For: All ages
If you polled an average first grade class, how many kids would say they want to be a paleontologist when they grow up? At the Dinosaur Lab, kids get the chance at an up-close look at what it really means to be a paleontologist. Here, real paleontologists are on the job, chipping away at large rock slabs to reveal the fossils, then carefully brushing and cleaning the artifacts. You'll learn about the process of discovering, excavating, and cleaning dinosaur fossils— and if you're really lucky, you might even catch a glimpse at a new discovery!
Find It: Level G
Best For: All ages, but older elementary and middle school kids will get the most out of the exhibition
One of the most unique exhibitions at the Natural History Museum is the Nature Lab. Here, visitors get the chance to see the intersection of urban Los Angeles with its very wild natural setting. The day-to-day lives of local wildlife are highlighted in this exhibit, where kids can put themselves in the "shoes" of snakes, rats, possums, frogs, and other local critters. Highlights for my kids are the rattlesnake heat sensor and the coyote exhibit. Keep an eye on the schedule because there are also demonstrations with live animals hosted in the Nature Lab.
Find It: Level 1 and Level 2
Best For: All ages, though the low light could frighten smaller children
Animal dioramas are a classic staple of natural history museums, and Los Angeles County's is no different. At the NHM, you'll be able to explore diorama halls that feature animals from Africa and North America. In these dioramas, kids get a close look at the habitat of creatures like bears, lions, gazelle, moose, and even elephants.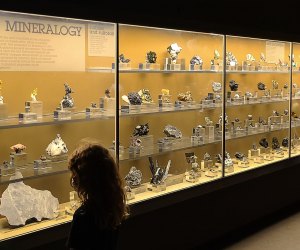 Sparkly things from the earth take center stage in the Gem and Mineral Hall. Photo by the author
Find It: Level 1
Best For: All ages
My daughter is obsessed with princesses and beautiful, sparkly things so it's no surprise that a major highlight for her is always the Gem and Mineral Hall. This darkly lit room is home to an impressive collection of diamonds, crystals, and precious stones from around the world.
Find It: Level 1
Best For: All ages
The Age of Mammals exhibition combines the best of the diorama halls with the Dino Hall. Visitors can see how the skeletons of long-extinct creatures like the giant sloth looked, along with learning more about the history of evolution. This exhibition features interactive kiosks and animal specimens that explain how and why creatures evolved the way they did.
Explore the history of the city. Photo courtesy of the Natural History Museum of Los Angeles County
Find It: Level 1
Best For: All ages, but older elementary and middle school kids will get the most out of the exhibition
Okay, I admit it, this is my personal favorite exhibition by far. Being a bit of a nerd about Los Angeles and its unique history, I love to bring my kids into this multi-room exhibit. Perhaps they are never quite as impressed as I am, though that may be because they're seven and four years old. Becoming Los Angeles is an awesome and fun-fact-loaded trip into the development of Los Angeles, from the Pueblo to the Red Cars to the freeway system and modern LA.

Who lived here before we did? Photo by the author
Find It: Level 2
Best For: All ages, but older elementary and middle school kids will get the most out of the exhibition.
The Visible Vault is a must-see for those interested in archeology, particularly that of the ancient Latin American civilizations like the Aztec, Maya, and Inca. Carvings, sculptures, jewelry, ceramics, and more are all on display in this exhibition and it gives visitors a small look into what life was like in these ancient but advanced cultures.
Whooooooo are you? Photo by the author
Find It: Level 2
Best For: All Ages, though the low light can frighten some sensitive younger kids
The Hall of Birds is completely overwhelming, with wall-to-wall glass displays with taxidermied versions of every type of bird you could possibly imagine. All told, there are 600 species of birds on display in this exhibition, 400 of which are native to Los Angeles. The various drawers that pull out to reveal all the different shapes and sizes of eggs is a big favorite of my girls, as is the "Principles of Flight" demonstration.
Note for 2021: Some portions of the Hall of Birds are currently closed.
Butterflies in the summer, spiders in the fall. Photo courtesy of the Natural History Museum of Los Angeles County
Find It: East of the Main Entrance
Best For: All Ages
In front of the museum's South Entrance is a pavilion that is home to two seasonal exhibitions. From March until September, NHM hosts its colorful Butterfly Pavilion. And just in time for Halloween, from late September to December it transforms into the Spider Pavilion. At the Butterfly Pavilion, you and your kids can experience the delicate and eye-catching insects up close—they might even land on your clothes. (Just no touching!) There are as many as 30 different species of butterflies at the exhibition, including many native to California. Spotting the residents of the Spider Pavilion requires a closer examination. This exhibition is home to over 500 spiders, some local to Southern California and others from as far away as Southeast Asia. (Also no touching these critters, but you probably won't have to remind kids of that fact.)
While admission to the 3D Theater isn't included in your museum admission, it's well worth the extra cost of just $6 a person (and free for members). The theater is currently showing Dinosaurs of Antarctica 3D. Showings are daily, beginning at 10am and begin every 30 minutes.
Food and Drinks
When it's time for a snack, the NHM Grill is located on Level G. In addition to a well-stocked selection of snacks, drinks, and grab-and-go meals like salads and cold sandwiches, the café serves a menu of hot items. So long as the weather permits, skip the echo-y, modern indoor dining area and take your lunch to the outdoor seating area behind the café. Kids can release some pent-up energy by exploring the winding paths of the Nature Gardens, which are home to 600 different kinds of plants from around the world. Families are also welcome to bring their own food to enjoy indoors or outside.
Note for 2021: The water fountains and water bottle filling stations at NHM are currently closed. You can bring your own water bottles from home or purchase boxed water at the Butterfly Pavilion pop-up store.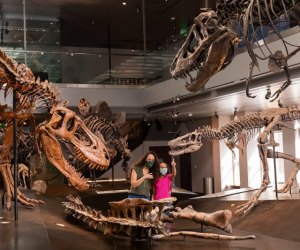 So many bones. Photo courtesy of the Natural History Museum of Los Angeles County
Know Before You Go
Strollers
All exhibits at the Natural History Museum are stroller accessible except for the Butterfly Pavilion and Spider Pavilion.
Changing Tables and Family Restrooms
A Family Care Lounge is available on Level 2 of the Museum in the Bird Hall. There are baby changing stations and family restrooms on every level.
Parking and Metro
The main parking structure is the NHM Car Park on Bill Robertson Lane, south of Exposition Boulevard. This lot is quick to fill up, so additional parking is offered in the Blue Structure Parking Lot. The rate at the NHM Car Park is a $15 flat rate, while at the Blue Structure it is $15 before 5pm and $18+ after 5pm. Exposition Park is located on the Metro E Line (formerly Expo Line) and the Expo Park/USC happens to stop right across the street from the museum.
Admission
Advance tickets are recommended, though not required, and are available online. Ticket prices are $15 for adults, $12 for seniors and students, $7 for kids ages 3-12, and free for kids 2 and under. There is an extra fee for the Butterfly Pavilion, Spider Pavilion, and 3D Theater. If you plan on returning (and why wouldn't you?), a Family Membership is a worthwhile investment. LA County Residents get free museum admission from 3-5pm.
Festivals
The NHM holds fantastic festivals throughout the year, including Dino Fest each September and the Bug Fair in May. There are also amazing programs all summer long in the gardens, so be sure to check the calendar of events when planning your visit to see if you can catch one of these great events.
While You're Here: Surrounding Attractions
As part of the Exposition Park complex, the Natural History Museum is surrounded by plenty of other attractions that are perfect for kids, including the Rose Garden and the California Science Center. The California African American Museum has fantastic exhibits on a rotating basis and often hosts events for kids, teens, and families. Games, events, and concerts are held at the historic LA Coliseum. And soon, the Lucas Museum of Narrative Art will open across Bill Robertson Lane, bringing another world-class museum to the area.
Places featured in this article:
---
Natural History Museum Los Angeles County
Sign up for the Mommy Poppins Newsletter today!