Ten Things My Preschooler Loves at the California Science Center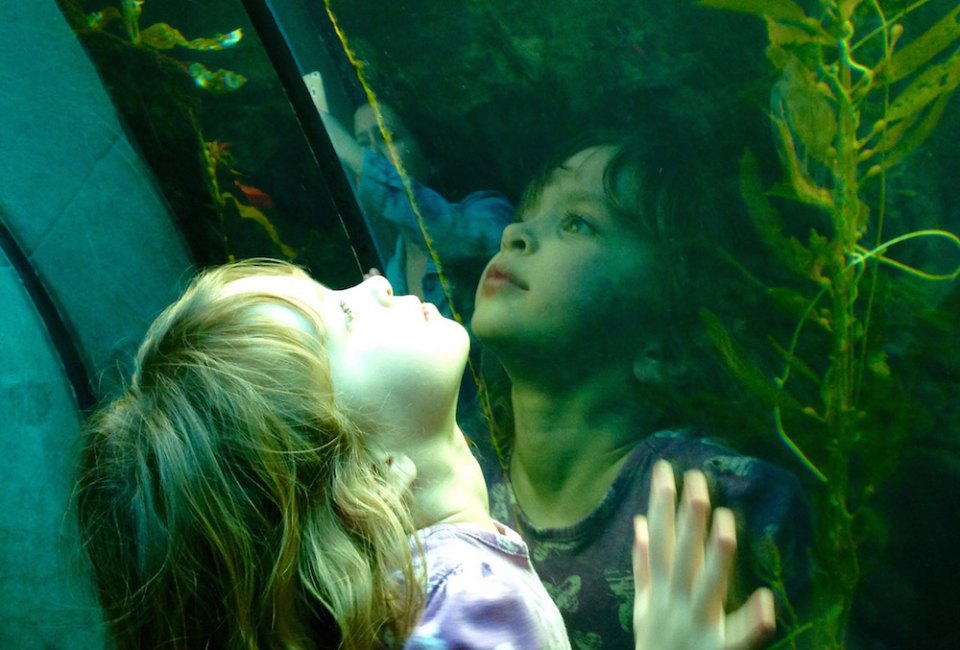 4/17/18
- By
Jennifer Cook Nice
We've talked before about our teen and tween favorite features at the California Science Center, but there are at least as many things to fascinate preschoolers and toddlers at LA's oldest, freest science museum. Never underestimate the appeal of science to the preschool set, and amazingly, with the exception of IMAX films and special exhibits, the California Science Center is free and open to the public 7 days a week, 362 days a year.
The California Science Center is broken into four areas -- World of Life, Creative World, Ecosystems, and Air and Space Exhibits. Seeing everything in one day would be beyond ambitious, particularly with a toddler or preschooler, so here are the 10 highlights that my preschooler enjoys most of all:
1. Aquarium
Our favorite is the aquarium, a 188,000 gallon kelp tank filled with live kelp, fish, and other marine life. Who needs to drive to Long Beach?
2. Touch Zone
We never miss the floor above the aquarium, where there is a touch zone. Toddlers can touch sea stars, sea cucumbers, and sea anemones.
3. Discovery Room
We love the Discovery Room for ages 7 and under, where kids can see real mice and cockroaches, pretend to garden, and have a seat on the patio benches while reading provided books. Included within the Discovery Room is a special area for toddlers and preschoolers ages 3 and under, a make believe bedroom filled with puzzles and toys. Pro tip: right outside the Discovery Room is an easy-access bathroom with a changing area.
4. Rot Room
Despite the gross name, the Rot Room is a surprising treat. One can observe maggots and flies and see how they help with the decaying process.
5. River Zone
On River Zone's patio, kids can have fun observing and experimenting with water motion (but if you're not careful, you can get pretty wet).
6. Hurricane Simulator
We never miss the Hurricane Simulator, where my toddler loves to be enclosed in a cylinder with 78 mile per hour winds. This experience costs $2, but it's a treat (and remember, entry is free, so $2 doesn't seem like much of a splurge).
7. World of Life
Where else can preschoolers watch chicks hatching? The Life Source section of the World of Life area is home to the irresistibly cute chick hatchery.
8. IMAX Theater
The seven story IMAX theater always has amazing 45-minute 3D filmsm nay of which are preschooler-friendly such as National Parks Adventure or Pandas. Tickets for kids ages 4-12 are $5.25 and for adults $8.50. You can save a couple dollars per ticket with a KCRW card.
9. Trimana Grill
The McDonald's was recently replaced with Trimana Grill, Market and Coffee Bar, which has solid options for parents, preschoolers, and toddlers. Lunch could be quesadillas, burritos, chicken strips, or gourmet burgers, followed by hand-scooped ice cream and cappuccino.
10. Rose Garden and Exposition Park
Before or after the museum, take a stroll by the fountain and the Rose Garden, or play at Exposition Park across from the adjacent Natural History Museum. The Metro stops right in front of the Natural History Museum, just a few steps away from the California Science Center.
The museum is stroller and wheelchair accessible with ramps and elevator options throughout. Visual description tours are available for the visually impaired with advance notice, and assistive listening devices for the hearing impaired.
Parking in the big lot off Figueroa costs $12 to $15, but we generally have luck parking near the swim stadium on Bill Robertson Lane. It is a little bit of a trek from there to the museum, but a nice walk through green, tree-filled fields.
This post was originally published February 21, 2016.
Places featured in this article:
---
California Science Center
Sign up for the Mommy Poppins Newsletter today!