Santa Anita Park Spring Carnival
Santa Anita Park

KidStock
Pretend City Children's Museum

Online Robotics Camp
Young Gates - Kids Online Personalized Classes
Sign up for our free newsletters.
30 Things To Do with Kids in Downtown Los Angeles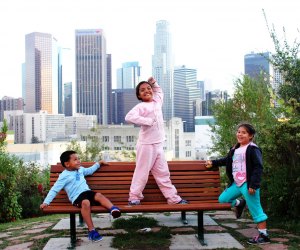 2/9/18
- By
Jennifer Cook Nice
From the outside looking in, Downtown LA can seem somewhat daunting and unfriendly. Isn't it just another part of LA with tall buildings and not enough pedestrian zones? Tourists and LA natives alike often find themselves wondering what kid-friendly activities there are to do Downtown. Well, I'm happy to be the messenger as well as the reminder of all the wonderful family-friendly activities that there are in this bustling metropolis. Read on for a list of 30 kid friendly things to do in Downtown LA. Then hop on the Metro or the Expo Line and start the adventure!
1. All aboard! Take a Metro Link train ride to/from beautiful Union Station.
2. Across from Union Station, take a stroll down historic Olvera Street, a one-block pedestrian zone and Mexican street market, home to the oldest remaining structure in Los Angeles, the Avila Adobe (free entry).
3. Enjoy a meal among the three levels of critters and curiosities at Clifton's Cafeteria.
4. Visit the lobby of the Ace Hotel, located in the United Artists building, to see the wall of books and decor of real instruments -- then take some funny photos in the old-school photo booth.
5. Let your kid pick out some cool fabric from one of LA Fashion District's many fabric shops.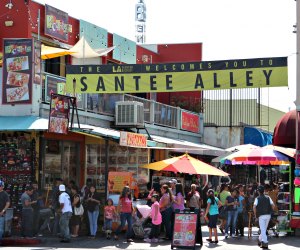 Make time for Santee Alley. Photo by Jenna Pittaway/Neon Tommy/CC BY 2.0
6. At the LA Fashion District, don't forget to walk through Santee Alley, two blocks of shops and a lot of fun.
7. In Little Tokyo, visit the tranquil James Irvine Japanese Gardens at the Japanese Cultural Center (free entry).
8. Take a walk through the Japanese Village Plaza and stop at the Mitsuru Cafe for red bean cakes (imagawaki). You can watch the fresh imagawaki being made through the window!
9. Go bowling at X Lanes in the Little Tokyo Mall.
10. For a spectacular view of the city, take a ride to the top in the glass elevators of the Westin Bonaventure Hotel.
11. Catch a marionette show at the Bob Baker Marionette Theater. Be sure to book ahead.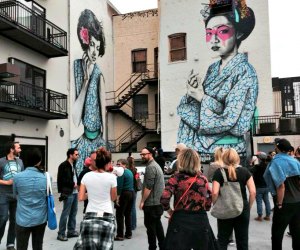 Photo courtesy of Downtown Art Walk
12. Attend the Downtown LA Artwalk early in the evening. Artwalk starts at 5pm on the second Thursday of the month. Bring kids to enjoy the early hours of the walk as the later it gets, the more crowded and rambunctious it can be.
13. Eat a meal inside a real LA Fire Station built in 1912 at Engine Co. No. 28.
14. Take a sketch pad and a pencil to practice your drawing while touring The Museum of Contemporary Art (MOCA).
15. Catch a movie and a snack at LA Live, an entertainment and dining complex next to the Los Angeles Convention Center. This is also a great location for winter season ice skating.
16. See Chinatown and take a tour, attend a music event, or have a quick picnic at the LA State Historic Park.
17. Visit The Los Angeles Music Center's three theaters and take a tour of Frank Gehry's Walt Disney Concert Hall, home to the LA Philharmonic.
18. Enjoy some organic, fair trade ice cream churned and energized by a person on a bicycle at the Peddler's Creamery.
19. Sign the kids up for the Summer Reading Club at Central Library. Take a tour, ride the elevators wallpapered with Dewey Decimal System index cards, and see the unique fountains outside of the library.
20. Indulge in a picnic at the California Plaza at Bunker Hill amidst fountains, streams, and flowers.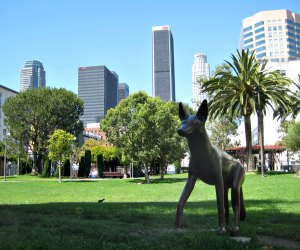 Grand Hope Park is a Downtown oasis. Photo by Ricardo Diaz/CC BY 2.0
21. Stop by Grand Hope Park for some good ole playground time. Take advantage of the photo op near the large dog statues on the grass.
22. Shop the Thursday farmers market at LA City Hall- South Lawn.
23. People watch at Pershing Square or shop for some fresh produce at the Wednesday farmers market. This is also a great location for ice skating during the winter.
24. Walk the dog at the Arts District Dog Park.
25. Rock out at the GRAMMY Museum.
26. Support the Santa Monica Mountains Conservancy's newest park, Vista Hermosa Natural Park, with its beautiful views of Downtown LA, walking trails, streams, and picnic grounds.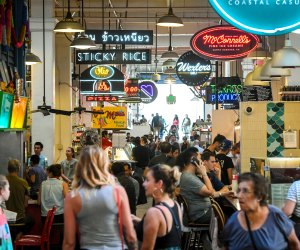 Grand Central Market is bustling. Photo by Michael Owen Baker
27. Take a unique, stroller friendly walk through the Grand Central Market, a bustling open market filled with shops and international cuisine.
28. Have a free wander through the photogenic exhibits at the Broad Museum.
29. Try a charcoal ice cream cone (with actual charcoal ice cream) at Little Damage.
30. Fly up Bunker Hill on historic Angels Flight.
Originally published January 2014