Olvera Street: a Day Trip to Mexico in the Heart of Downtown LA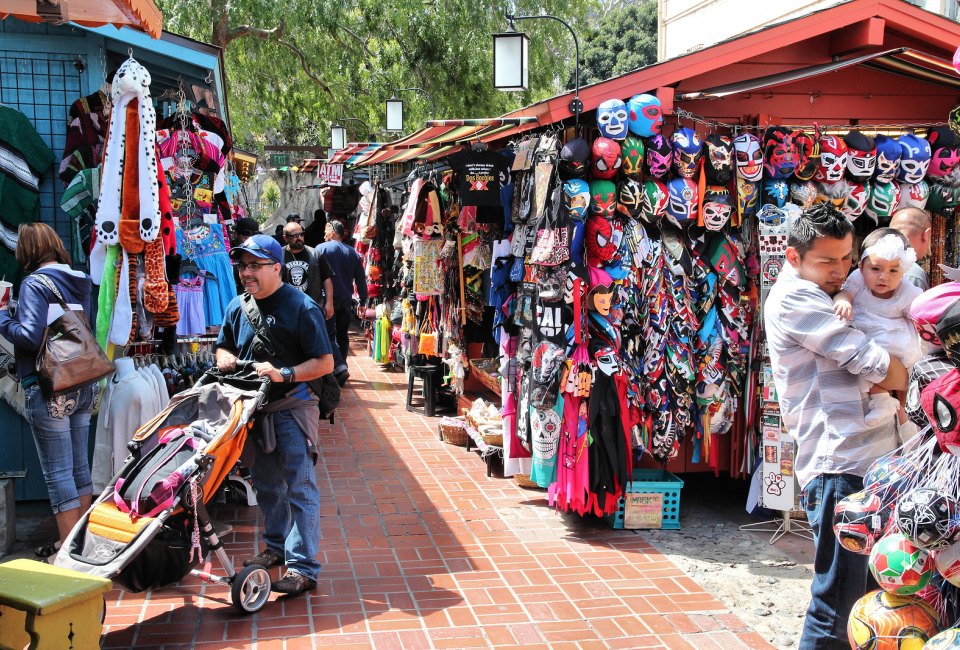 12/20/17
- By
Arianna Menon
Although young compared to some East Coast cities, Los Angeles has a rich, culturally diverse history worth exploring with the whole family—and a festive place to start is Downtown on Olvera Street. The city's most famous Mexican marketplace is at the heart of historical LA and hosts some of the region's oldest traditions at annual events like Las Posadas at Christmastime, Los Novenarios for Día de los Muertos, and LA's birthday celebration each summer. The colorful pedestrian zone is an ideal place to kick off an afternoon of fun, shopping, good food, and just a little learning.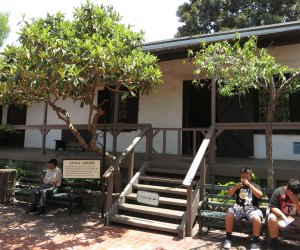 Here's where to find the history lesson: Avila Adobe. Photo by Ken Lund/CC BY 2.0
Our hometown was founded by 44 Native American, African, and European settlers in 1781, and El Pueblo de Los Angeles Historical Monument is the de facto birthplace of the city. Olvera Street, originally called Vine Street (believe it or not, in the 1830s there were several vineyards near downtown), functions as an open-air museum of beautifully preserved historic buildings. The oldest house on the street is the Avila Adobe, built in 1818. It's open, free to the public, and definitely a must-see: Inside the adobe are six original rooms decorated with antique furniture and representing the ranchero lifestyle of the 1800s. There's a large courtyard kids will love exploring. Other remarkable monuments across the street from the adobe are the Pelanconi House, the city's oldest brick building, and the two-story Eastlake Sepulveda House.
Olvera Street was closed to traffic and turned into a Mexican marketplace in 1930, and became an instant tourist attraction. The tree-shaded and terracotta paved street remains a great shopping and dining destination. Stores and booths sell traditional Mexican art, colorful ceramics, musical instruments, costumes, leather goods, sombreros, and trinkets. There are great deals to be found, and wonderful handiwork; it's like a quick trip to Mexico without facing the 5 and passport control.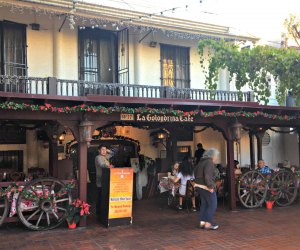 Casa La Golondrina Café is a Downtown classic. Photo by author
Restaurants and cafés serve authentic Mexican cuisine with a few nuances. Casa La Golondrina Café, located inside the Pelanconi House, first opened its doors in 1924 to become the city's first Mexican restaurant. This institution has been providing Pan-Mexican specialties such as the banana leaf-baked cochinita pibil and chicken mole accompanied by mariachi entertainment for decades.
Another dining staple is El Paseo Inn, whose signature dishes are the chicken tortilla soup and tostada de nopales made with cactus leaves. Founded in 1930, this restaurant's bar is the oldest one in the city and not surprisingly has killer margaritas. Both Casa La Golondrina Café and El Paseo Inn offer happy hour and a kids' menu, but they close early (as early as 5pm on some weekdays), so make sure to check their hours before making plans to dine there. El Cielito Lindo, on the other hand, stays open until 11pm and specializes in taquitos pan fried to order with a side of avocado sauce (the menu also includes burritos and chile rellenos, but the shredded beef taquitos are a must-try).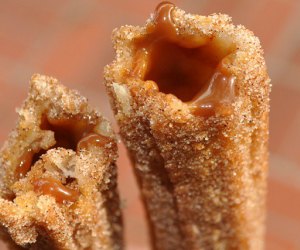 The whole trip is worth it for churro relleno con cajeta from Mr Churro. Photo by L.A. Foodie/CC BY 2.0
For dessert, look no further than Mr. Churro. The traditional churros are sprinkled with cinnamon and sugar, but the ones filled with caramel, chocolate, guava, and strawberry jam bring the churro to new sugar heights. If you think you and your kiddos can't handle it, though, just opt for the ice cream.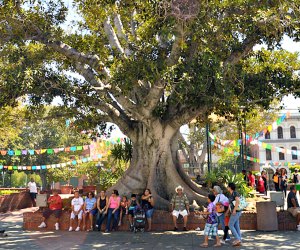 The Plaza. Photo by Daniel Orth/CC BY 2.0
When the shopping and dining are all done, head to The Plaza, El Pueblo's square. During one of Calle Olvera's many annual celebrations, the square is bustling with a flurry of activities, music, dancers, piñatas, and other treats. Even on an average day, the Plaza is a fun place for kids to run around and chase pigeons. Just south of the Plaza, don't miss the city's first fire station, the Plaza Firehouse, a museum displaying 19th century fire equipment and tools. Next to the firehouse, there's also Gateway to Nature, an education hub and store specifically designed to engage kids. Here, little ones can learn about outdoor exploration and ways to engage with nature while living in a large metropolitan area like Los Angeles.
Olvera Street is just north of Main Street in DTLA, and El Pueblo de Los Angeles Historical Monument is located on 125 Paseo de La Plaza. Free tours are available Tuesday through Saturday at 10am, 11am, and 12pm.
There are five parking structures nearby (two on Main Street, two on Alameda Street, and one on Los Angeles Street) with hourly and flat rates. Lot 5, at 711 Alameda Street, is the cheapest—a pay-at-the-machine, open-air lot with a current daily maximum of $7. Even cheaper, though, might be taking public transport to DTLA's beautiful Union Station, just across the street.
Places featured in this article:
---
El Pueblo de Los Angeles Historical Monument
Sign up for the Mommy Poppins Newsletter today!
i