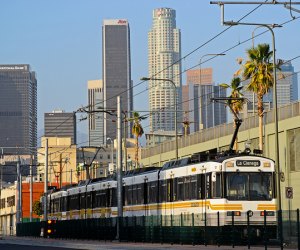 Riding LA's Subway: 7 Family-Friendly Outings on the Eastside Made Easier with the LA Metro Rail
A transformation is slowly taking place in our great, sprawling city. It's taken some Angelenos time to warm up to the idea, but it is happening: Car-huggers everywhere are loosening their grips on their beloved steering wheels, and they are giving LA's latest mode of public transportation a try. I was initially coerced by my kids into taking the plunge. For them, a ride on the subway is the highlight of the outing, forget what's at the end of the line (and kids ride free until ages 5). But like many car owners in LA, my fear of being stuck somewhere without a car is overwhelmingly strong. However, lately I've been stuck in my car commuting from museums and family events much too often, and that's even more stressful. So, much to my children's delight, we are now card-carrying Metro Rail riders.
A quick tutorial: The Metro Rail system is currently two underground lines and four above-ground/light rail lines, including the western-expanding Expo Line (sure to inspire a follow-up article soon). Your key to entry is the Transportation Access Pass, or TAP card. It can be purchased and loaded at kiosks in any station. Rides normally cost $1.75 each way, and some stations provide free car parks or garages for customers while they ride. The trains come about every 5-10 minutes during the day (less frequently at night), and they are clearly marked. Digital monitors and automated announcements also help make the experience fool-proof.
Ready to ride? Here are 7 family-friendly destinations on the Eastside that you never need to drive to again...
Universal Studios and Universal CityWalk
Red Line - Universal City/Studio City stop
The convenience of this stop is fantastic, as the parking garages here tend to be slow-going, congested and expensive. The Metro Red Line drops you off at the base of Universal Studios on Lankershim Boulevard, and Universal runs a free shuttle every 15 minutes from the Metro station up the hill to the CityWalk if you prefer not to walk it.
Hollywood Walk Of Fame
Red Line - Hollywood/Highland stop
This is just one Metro stop south of the CityWalk. If you can tear yourself away from the Hollywood & Highland complex and you're not catching a movie at El Capitan, then begin the touristy but fun walk at the Chinese Theater and head east. There's another Metro stop with an impressive art deco theme at Hollywood and Vine, so no need to backtrack when picking up a return train.
California Science Center
Expo Line - Expo Park/USC stop
The above-ground Expo Line starts on the Westside with two stops in Culver City. Both have free car parks, making them convenient locations for Westsiders to pick up the Metro Rail. The Expo Park stop places you smack dab in front of the new home of the space shuttle Endeavour; it's a 15 minute ride from Culver City. Easy as can be.
Natural History Museum
Expo Line - Expo/Vermont stop
One stop away from the California Science Center is the Natural History Museum, home to the fall Spider Pavilion, and the ride is just under 15 minutes from downtown Culver City's station. Ambitious museum-goers looking to check things off their Mommy Poppins Bucket List can start here, walk to the Science Center, then hop on a return train at the Expo Park/USC stop (or vice-versa).
Old Town Pasadena
Gold Line - Memorial Park stop
Old Town is Pasadena's answer to, "Can we go to the mall?" It's outdoors, beautifully historic, and offers a nice selection of stores and restaurants to keep the whole family happy. The epicenter is One Colorado at the corner of Fair Oaks and Union Street, and the light rail Gold Line drops you three short blocks away on Holly Street (next to playground-equipped Memorial Park - another perk).
Downtown at Pershing Square
Purple and Red Lines - Pershing Square stop
Most of the Metro lines merge and intersect Downtown; this stop is accessible by either the Red or Purple Line, and it's one stop away from a connection with the Expo and Blue Lines. Here you are dropped at a prime spot on Hill Street one block away from Angels Flight (#46 on the Bucket List), the historical train car that carts you up to Olive Street around the corner from MOCA. The square itself is fun to explore with kids, too, as is the enormous Grand Central Farmer's Market on Broadway between 3rd and 4th.
Union Station
Purple, Red and Gold Lines - Union Station stop
The Purple Line starts at Wilshire and Western and ends here; it's a 15 minute ride from one end to the other. Red and Gold also stop at this historic train station, a favorite with children. Watch the Amtrak trains depart then have a snack at a leather seat in the grand lobby. Step outside and cross Alameda to quaint Olvera Street, where you can visit LA's oldest house, Avila Adobe (#94 on the Bucket List).
Photo credit: Steve and Julie via flickr