25 Connecticut State Parks and Forests That Are Great to Visit with Kids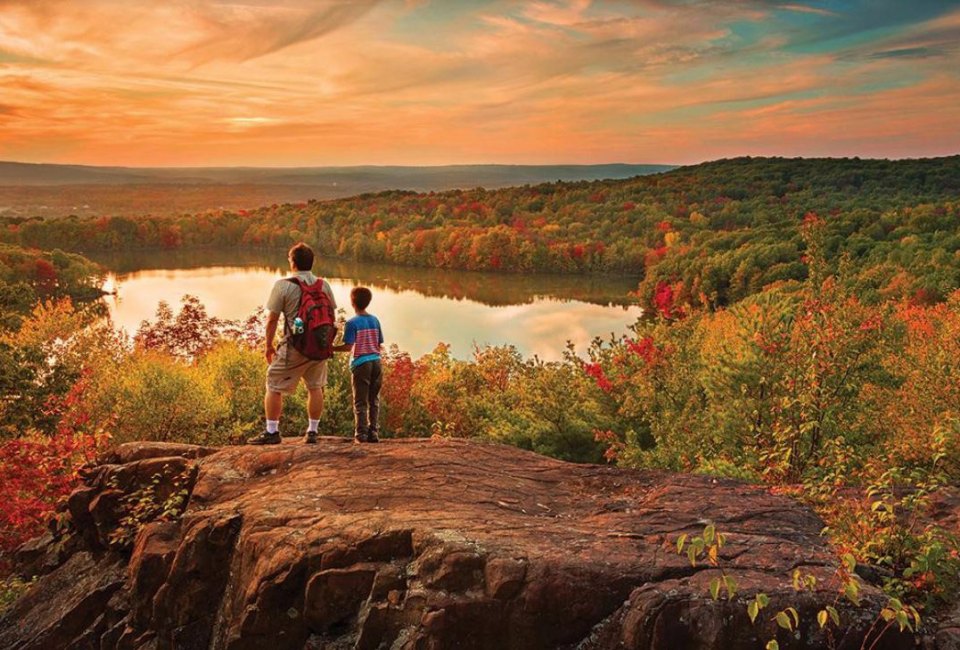 10/1/21
- By
Clementina Verge
The Nutmeg State is home to 110 state parks, which means there's a lot of outdoor adventure to be had from swimming to hiking and camping. We've compiled a list of favorite state parks to visit with children, taking into consideration terrain, views, access to restrooms, and other amenities or attractions associated with each destination. For wee ones, consider our suggestions for 1-mile hikes and fantastic stroller hikes. To challenge older children, plan a trek up a mountain. Grab your hiking shoes, pack snacks, and enjoy the park views and fresh air.
And with the Passports to Parks program, Connecticut vehicles pay nothing to enter.
Kid-Friendly State Parks Near Hartford
The first quarter of the 1.25-mile trail is a steady, muscle-building incline, but the Heublein Tower awaits at the top, making the trek worth it. Have a picnic, admire flowers, and revel in panoramic views while learning about the people who lived here. The historic home is open Thursday through Monday, from Memorial Day Weekend through Labor Day weekend.

You'll find more than 250 species of trees at Dinosaur State Park's arboreteum. Photo courtesy of Visit CT
Hike 2 miles of trails (which include boardwalk for strollers), explore an arborteum featuring more than 250 species of trees, and check out one of the largest dinosaur tracks in North America housed inside the Exhibit Center. There is a hands-on kids center as well and a lit diorama full of dinosaurs. Trails, which are excellent for birdwatching, are free and open daily year-round.
This is an easy, paved 4.5 mile walk/hike with wildlife teeming all around you. Annual eagles nests shut down the trail starting in about March, so make sure to follow the park's Facebook page. Kids can see muskrats, snakes, turtles, ducks, geese, and more. Look for examples of 19th-century stonework that are remnants of the Windsor Locks Canal's commercial and industrial history.

Penwood State Park offers 800-acres for Connecticut families to enjoy. Photo courtesy of Visit CT
This is a lovely historic forest full of geographical interest. From the main entrance, hike a short trail to Lake Penwood or take a longer trail to Lake Louise where you can picnic and enjoy the views. Bring binoculars for birdwatching.
The Scantic runs through several towns including Enfield and East Windsor. The hiking trail begins in Enfield and is less than a mile to the river. There are several "unblazed" trails as well if you want to adventure with older kids. Look for turtles, beavers, and other wildlife as you hike.
Kid-Friendly State Parks Near Litchfield County

Burr Pond is a state park with a sandy beach that gives families a chance to launch a kayak, cast a fishing rod, and take a swim. Photo courtesy of Visit CT
Hike the 3.5-mile trail surrounding Burr Pond, swim in the lake, go fishing, relax in a kayak or canoe, enjoy a picnic (charcoal grills available), or spend the day lounging on the sandy beach. Food concessions and restrooms are also available during the summer months.
The sprawling fields and formal gardens make this a good place to spot butterflies and enjoy a picnic (Note: no fires, or grills, allowed), while the nearly 1-mile ecology trail teaches with interpretive signs. The residence, the former summer estate of Miss Edith Morton Chase, is open for free tours from June through October, on the second and fourth weekends of the month. Bathrooms and drinking water are available.
This is the place to go in the summer for tubing and can get quite crowded. Abutting the Farmington River, this is one of the locations where adventurous tubers hop in the water. You can also put in canoes and kayaks at this location.

Black Rock State Park is a great place for Connecticut kids to swim and play. Photo courtesy of Visit CT
Families can make caping a destination in this preserved woodland. There are 78 sites for tent camping and cabins to rent at this western Connecticut state park. Located on Black Rock Pond, kids will love swimming, fishing both the ponds and streams, and the nearby recreation fields for endless games. The rustic cabins are pretty impressive and rent for a reasonable price. Thee are bathrooms and showers available, but no pets allowed and alcohol is prohibited. Day tripppers can enjoy short hiking trails.
The People's State Forest has four seasons of activities for families. It is one of the few Connecticutstate parks with an on-site museum, which includes forest, plant, and animal displays. The forest boasts 10 miles of trails, a boardwalk, scenic views, and a huge picnic pavilion (which can be rented). There's options for camping,too.
Kid-Friendly State Parks Near New Haven County
There's sand and waves at Connecticut's largest shoreline park along with a 3.5-mile walking and cycling path with beautiful views, the Meigs Point Nature Center with programs and exhibits, and car-top boating and fishing opportunities. If you want to spend the night under the stars, check out the Hammonasset campground. The beach is rocky with plenty of natural wonders to enjoy.

Make your way to the top of Sleeping Giant Tower Trail and be on the lookout for great views. Photo courtesy of Visit CT
This is one of my personal favorites as I grew up down the street from Sleeping Giant. The mountaintop that stretches 2 miles and resembles a sleeping giant inspired this park's name. Although it was hit by a tornado a few years ago, things are getting back to normal. The Sleeping Giant Tower Trail is a moderate, well maintained walking trail with wildflowers and a castle-like lookout tower that provides spectacular views of the surrounding region.
One East Haddam's most popular attractions, Gillete Castle is definitely worth a visit. The impressive and ecentric medieval-style structure is set on sprawling acres that include paved paths, hiking trails, a duck pond, bridges, and picnic areas. The castle, open Memorial Day weekend through Columbus Day, features beautiful views of the Connecticut River and offers insight into the life of actor and director William Gillette, best known for portraying Sherlock Holmes. Bathrooms, food concessions, and a gift shop are open in season.
Connecticut families can hike or bike woodland trails, admire beautiful stone bridges, and relax by two gushing waterfalls. The park offers designated swimming and picnicking areas, and bathrooms and picnic tables are available.
Devil's Hopyard is the former site of a working mill (till the late 1800's) and gets it's name from a couple of stories including former beer brewers (hence the name "hopyard") and a series of holes near the waterfall (supposedly left by the devil). There are many trails of varied length for hiking, or you can choose to picnic, bicycle, fish, or camp. There's also a waterfall, a stone bridge, and onsite bathrooms.
Take a walk on the Farmington Canal Heritage Trail, which is paved-over train tracks running throug Connecticut. You can bicycle, in-line skate, cross-country ski, or break out the jogging stroller and run or walk this trail. The trail is open from dawn to dusk. The trail is nearby Sleeping Giant State Park.
Kid-Friendly State Parks Near Eastern Connecticut

Bigelow Hollow State Park is a great place for scuba diving, boating, and fishing, but hikes are long, and recommended for older children. Photo courtesy of Visit CT
This state park is ideal for more ambitious hikers and recommended for older children, since there are no loop trails and hikers must walk at least 6 miles to connect to different paths. The 18-acre Bigelow Pond is a beautiful sight, with fishing, boating, and scuba diving available. There are picnic tables and pit toilets.
Several trails in the park offer water views, so lace up your hiking boots (it can get swampy near the lake) and enjoy the adventure. Boating, fishing, and mountain biking are allowed. Picnic tables, a picnic shelther, and composting toilets are available.
The name Mashamoquet is Indian for "stream of good fishing," which testifies to the area's rich Native American history. The most famous feature is the Wolf Den into which General Putnam crept during a night in 1742, and shot a wolf that had been stalking local sheep. Near the den are natural stone formation featuring a table rock and Indian Chair. Stream fishing is still possible today, along with hiking, camping, and swimming. You can also visit the grist mill. Bathrooms, picnic tables, and picnic shelters are available.

Rocky Neck State Park is an ideal place for families to camp and explore the region. Photo courtesy of Visit CT
This is a popular destination because it has a lot to offer. Enjoy the sandy beach as it stretches out facing Long Island Sound. Lay out a blanket and build sand castles to the sound of trains passing by 100 feet away on an overpass. Bring your fishing pole, and try to catch saltwater fish. Go crabbing, collect sea shells and crab shells, and put up a tent and stay at the large campground for several days while you explore all the parks and trails in the area. There's plenty of amenities, including showers and large bathrooms.
Dip your toes in the ocean, fly a kite, enjoy a picnic (charcoal grills are available), and relax with panoramic views of the Long Island sound. Eolia, the majestic summer mansion of the Harkness family, features 230 beautiful acres of gardens, trees, and sweeping lawns. The mansion is open for tours on weekends and holidays from Memorial Day to Labor Day.
Built from 1839-852, the fort was one of 42 constructed to defend the coast. Its architecture incorporates Egyptian Revival features, making it a great destination for fun and learning. Enjoy interactive history lessons, a waterfront walk, and saltwater fishing from the pier. The fort is open Wednesday through Sunday, Memorial Day weekend through Labor Day. Restrooms are available.
Kid-Friendly State Parks Near Fairfield County
A bear and a wolf (statues) welcome visitors into the park where you can spend the afternoon paddling in a kayak or canoe, fishing (in five ponds), or exploring ruins along the well-maintained system of trails and open fields. Note: Deer hunting is allowed here from September 15 through December 31.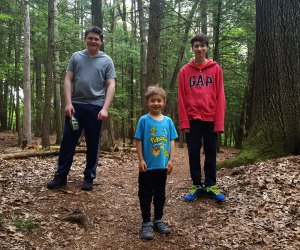 Getting out and enjoying Connecticut's state parks, whether hiking or camping, are great ways to spend time and bond with your kids. Photo courtesy of the author
Connecticut's first state park still ranks high as a resident-favorite and is the site of the state's 9-11 Living Memorial. View marsh life from the observation platform, swim in Long Island Sound (water shoes are recommended for the rocky terrain), play in the sand, go fishing, or enjoy lunch in the shaded picnic areas. The Sherwood Island Nature Center is open seasonally and features educational exhibits. Sandy stretches and Sound breezes make this a perfect place to fly a kite, and the on-site airfield accommodates remote-controlled model airplanes.
You can come to Squantz any time of the year and find something to do. Located in the Pootatuck State Forest and on Squantz Pond, there are hiking trails for every experience level, as well as plenty of established picnicking spots. A designated swimming area is available during the summer and a boat launch as well. Canoe and kayaks rentals are available during the summer.
Sign up for the Mommy Poppins Newsletter today!