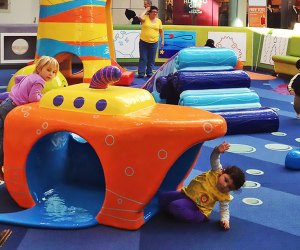 Free Indoor Play Spaces for Long Island Kids
There's no reason to stay home just because the colder weather is upon us.
All across Long Island, there are play spaces and indoor playgrounds to keep your kids happily occupied. In fact, some of them are hiding in plain sight. And better yet, many of these kid-friendly spots are FREE. From malls to bookstores and libraries, there is plenty of FREE fun to be had for Long Island kids.
Enjoy these unique play destinations, but remember at most venues a parent/adult must be present to supervise children.
For more indoor fun, don't forget our guide to rainy-day activities on Long Island.
Malls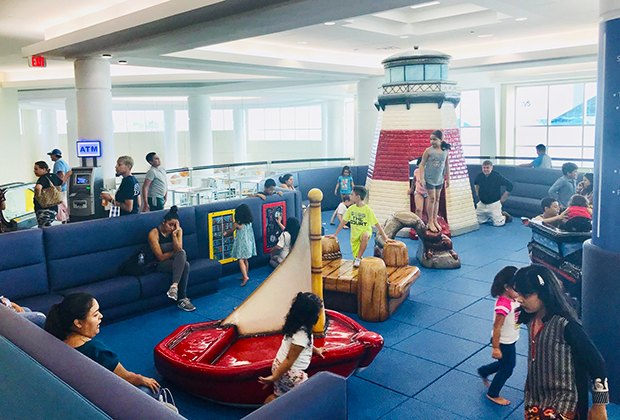 Broadway Commons features an expansive play area for kids.
Broadway Commons — Hicksville
Tucked away upstairs by the food court, the children's area is worth a trip up the escalator even if you're not hungry. The floor is a giant map of Long Island, showcasing some of the island's highlights, including a Montauk Lighthouse slide, planes and trains to ride on, a "dock" to walk out on, and plenty of comfortable seats for adults. It's an ideal stop for kids eager to run around in a mostly enclosed area while grabbing a snack.
RELATED: Our guide to museums and art centers for Long Island kids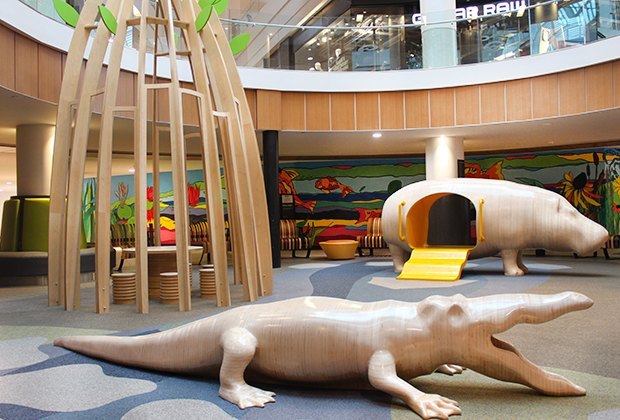 Enjoy a FREE children's play adventure at Roosevelt Field mall in Garden City.
Green Acres– Valley Stream
The enclosed play area, situated between in front of Old Navy, includes plenty of bright, over-sized pieces just waiting for kids to climb over and explore. The nautical-themed toys include a large lobster, star fish, whale, and lighthouse. For added fun, kids can test their memory at the electronic "Simon"- like toy on one of the walls.
Roosevelt Field — Garden City
This popular mall in central Nassau County has a large children's play area on the concourse level outside of Glow Golf. The area features unique sculpted playground pieces in a jungle theme, including a crocodile and hippo, that kids can climb on and enjoy.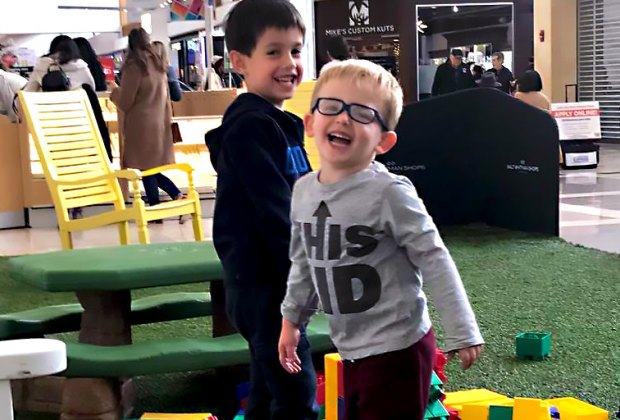 Take a break from shopping for a little playtime at the play area Walt Whitman Shops. Photo by Kim Miller
Walt Whitman Shops – Huntington
This mall recently added a play area between Lord & Taylor and Macy's. While not enclosed, it is tucked away against the wall and includes over-sized LEGOs and Connect 4, as well as plenty of seating for kids and adults. A few feet away, teens and tweens (and adults) may enjoy a game of chess or checkers (also over-sized), which are set up on tables.
Westfield South Shore — Bay Shore
​The play area here features an aquatic theme with colorful sea creatures and large puzzles. It's located near the food court and the family lounge, which has interactive games and televisions showing children's shows. Another plus: The family restroom features pint-sized toilets and sinks perfect for little ones. Plus, parents can rent themed Smart Wheels strollers, which come with a built-in tablet.
Westfield Sunrise — Massapequa
Like its sister mall in Bay Shore, Westfield Sunrise features a play area where little ones can climb and explore an aquatic-themed area filled with sea creatures. There is plenty of space to run around. It's located on the lower level in front of Sears. Smart Wheels strollers are also available for rent.
Stores and shops
Book Revue — Huntington
Book Revue is Long Island's largest independent bookstore and a fairyland for children who love to read and explore. Enjoy FREE Toddler Time every Thursday morning at 11am. A huge children's section boasts colorful murals, artistic, kid-friendly sculptures, an indestructible fire engine, and more. It's a great place to instill a love of reading in your child.
Barnes & Nobles — Islandwide
This bookstore chain offers FREE weekly storytimes in stores around Long Island. Just head to the children's department, where kids will hear a new story every week and get to make a fun craft. Spend some time happily browsing through their many shelves stocked with books for kids of all ages. Check individual stores for event dates and times.
Disney Store — Islandwide
Just walking into a Disney store can bring a smile to a child's face. Children can enjoy wandering around, seeing all their favorite Disney toys, movies, and games. There is often a Disney favorite playing on TV along with a huge pile of stuffed animals kids can check out.
RELATED: Our guide to Long Island's best indoor play spaces for kids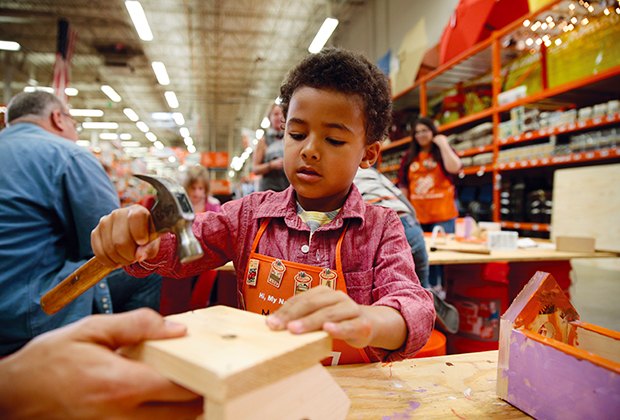 Learn do-it-yourself skills in a fun environment at Home Depot workshops.
Home Depot — Islandwide
Home Depot offers kids workshops that mix skill-building and creativity while teaching safety to little ones. It even offers parent-and-me options, such as building a bank that your child gets to decorate. Best of all, your child can keep the project and gets a Home Depot workshop apron for participating.
Ikea — Hicksville
Ikea can feel like an indoor playground for adults. But did you know the Ikea next to Broadway Mall has an actual indoor play area for kids? Smaland is a FREE, supervised play area that's designed like a Swedish forest. You can leave your child for up to one hour while you shop. One caveat: Kids must be potty trained.
LEGO — Roosevelt Field mall
What child doesn't love LEGOs? Here, children can explore and build their own creations at child-size tables filled with bins of everyone's favorite plastic building blocks. Check out our calendar to see when the LEGO store is holding FREE events throughout the year.
RELATED: Sports centers and fun zones for Long Island kids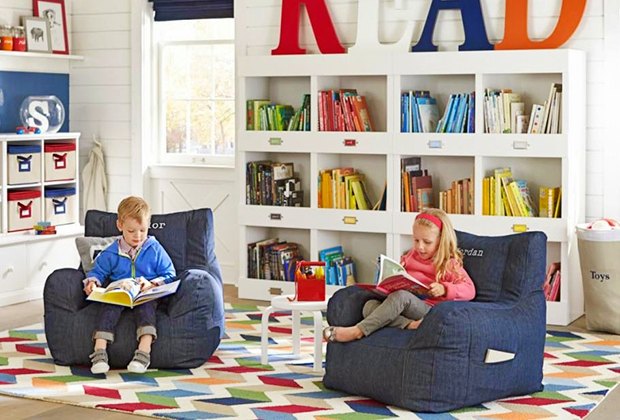 Kids can enjoy a comfortable learning and play environment at Pottery Barn in Huntington Station.
Pottery Barn Kids — Huntington Station
Located at Walt Whitman Mall, PB Kids hosts FREE events throughout the year, including storytimes, craft events, and more. It also has pint-sized tables and set-ups of its classic Anywhere chairs, so children can play and explore while mom and dad shop.
Libraries
Local libraries — Islandwide
No doubt your local library offers FREE story and craft times, and much more. From toddlers to tweens and teens, libraries are a treasure trove of FREE quality events for kids of all ages. Suffolk libraries can be found here and Nassau libraries can be found here.
Photos courtesy of the venues