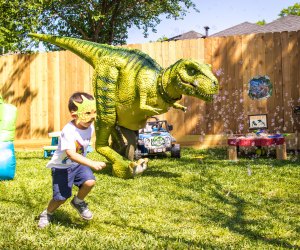 One-of-a-Kind Birthday Party Ideas for Houston Kids
Houston is home to tons of places to throw the best birthday party, from indoor spots to science-themed laboratories for your little Einstein. But if you really want to kick the festivities up a notch and plan a party that will go down in your family's history as the best. party. ever., then look no further. Here are seven ideas for planning a spectacular bash. And for more inspiration, check out our birthday party guide.
1. Invite some dinosaurs.
Jurassic Extreme offers one of the craziest birthday party additions in the city - they bring walking dinosaurs that will play and interact with the kids. Partygoers can walk the dinosaur, race the dinosaur, get "eaten" by the dinosaur, and even ask it questions. And at the end of the party, the birthday kid gets to have a dance-off with the dino. The company offers packages that include a slew of services, including a dino DJ to introduce the activities, a photographer and videographer. The company currently has six walking dinos to rent, and prices vary depending on location and length of time you're looking to have them around. Because they can be intimidating for little ones, we don't recommend this for toddler parties (think ages 4 and up).
For a more educational route, Dinosaurs Rock will bring a mini-museum to you with presentations on genuine fossils, minerals, and details on specimens found here in the Lone Star State. This is such a fun idea for parties because kids get to touch and interact with pieces usually seen from behind museum glass. Kids also get to participate in a fossil dig and keep their rare finds! The premium package is $395 for 12 children, and the super premium package is $495 for 18 children (super premium allows kids to keep more fossils or minerals). Excavation blocks (where kids chop down a block to find a fossil or mineral inside) can be added for $10 per child.
2. Make it wild with furry guests.
Houston has several animal party entertainers for kids, and we have a roundup of some of the best in our birthday guide. This is a fun option because you get the entertainment value of a zoo visit (albeit much scaled down) without the crowds or without having to actually leave the house. Entertainers range from those that offer a full petting zoo complete with ponies to snake handlers (yes, the kids get to handle them, too!).
3. Cool it down with sweet treats.
There's a good chance your child's birthday party will fall in one of the 10 months of the year that it's hot in Houston. If so, there are tons of vendors that will bring delicious treats to your bash. You can rent your own machine, or hire a company to do the sticky work for you. Kona Ice will drive a truck to your party with a custom selection of flavors and treats (price depends on location, the length of time, and the number of flavors).
4. Make it snow.
If your child was born in Houston, then they've likely ever seen Houston snow, also known as sleet. It's ugly. So the novelty of having faux snow at a party is even more appealing. Ice Express will deliver snow at any time of year, and it works even better if your home or the party site has hills that can be transformed into giant snow-covered slides. But even without the hills, any party in Houston that includes a snowball fight is a winner.
5. Step up your inflatable game.
Renting a vanilla inflatable slide is so yesterday. Why go traditional when there are crazier (and more entertaining) inflatables to bring to your home, such has a huge inflatable Twister game, laser tag arena, obstacle course, or even a human foosball game! Spring Party Rentals has all of these options ranging from $250-$600, and some models come with trained operators to keep things safe. Other companies with similar options include Extreme Climbing, Sky High Party Rentals, Lone Star Parties, and Texas Amazing Entertainment.
6. Take it to the kitchen.
Don't worry, I'm not talking about your kitchen. There are several spots around Houston that offer cooking classes for kids as well as party packages. Sure, pottery painting can be fun, but there's something about putting a chef's hat on a kid and putting them in front of a stand mixer that's empowering - they learn how to make their own meal and have fun with their friends while they're at it. An added bonus is that you don't even have to provide party favors; they keep (or eat) what they make.
7. Create your own American Idol.
For the music-loving kid, Karaoke 4 Kids provides a rental package that rocks - it includes a backdrop curtain, costume accessories, a disco ball (!!!), sound system, two microphones, and a flat-screen monitor. And it's just $195 for up to 24 hours. This means kids get to really get into character when they hit the stage, and you can even supplement with your own costumes and props. I mean really, who doesn't love karaoke?
Photo courtesy Sweet Pecks Photography