15 Fun Houston Birthday Party Entertainers Who Will Come to Your House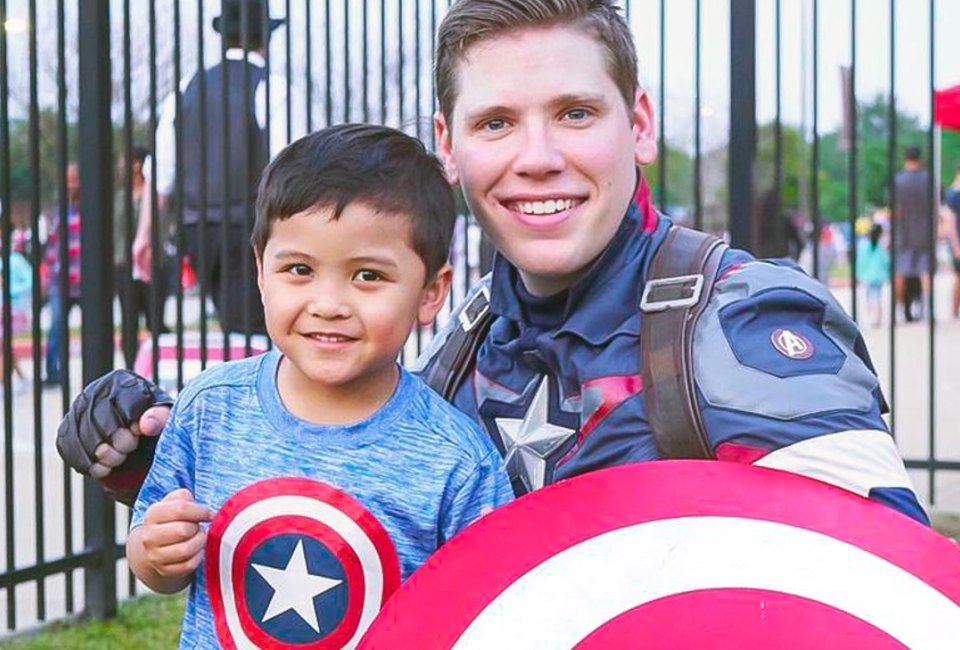 2/17/23
- By
Rebecca Matheson Ortiz
Looking for children's birthday party entertainers in Houston? We have 15 Houston birthday party entertainers who will come to your home.
As parents, we want to make our children's birthday parties unforgettable, and planning one such party is definitely not monkey business. One easy way to do this is to bring whatever it is that your kid loves (animals, princesses, superheroes, magic - you name it) to life right in your very own home or event space. Yes, I did say easy. No, really; hear me out. These 15 excellent Houston birthday party entertainers provide everything from live animal shows to princess tea parties, face painting, balloon art, and more; and they bring the show on the road so you can host your event where it's convenient for you. Don't forget to check out our birthday party guide for more fun and easy ideas your little ones will remember for a lifetime.
Best Houston Animal Entertainers for Kids Birthday Parties
These folks have more than three decades of experience under their belts. You can have a full-size petting zoo delivered to your party (along with qualified staff) as well as ponies, and even an adorable train that takes the kids for a quick ride around the street or parking lot, depending on your party's location. Petting zoos for parties include more than a dozen animals, including llamas, piglets, lambs, goats, ducks, chickens, a mini donkey, and bunnies, to name a few. As yes, even if you live in the heart of Houston, these animals are allowed because they are not permanent residents. Prices are based on location and need and are subject to change, so call for current numbers.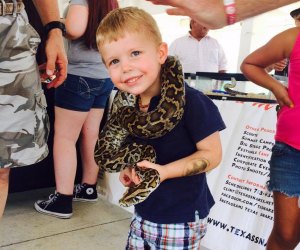 Photo courtesy of Texas Snakes
The founder of Texas Snakes is a long-time (one could say lifetime) snake enthusiast and native Houstonian, and the company has years of entertaining experience. Along with the animals themselves, Texas Snakes also sells snake-themed party favors and has fun cake ideas to make the planning process all the easier. The team usually brings eight snakes and a turtle, and all are non-venomous. The kids are allowed to interact with all of the animals. Prices are based on party location, but you can expect to spend around $225 - $275 along with a $50 non-refundable deposit.
There is no shortage of animals to pick from at Incredible Events. Among the more affordable, party-friendly options is the petting zoo, both traditional (baby farm animals) and exotic, bird shows, camel rides, "unicorn" visits, and monkey shows. The company is essentially a one-stop-shop for party rentals, as it also rents out DJs, characters like princesses, and inflatables. Prices vary depending on location and package - call for pricing.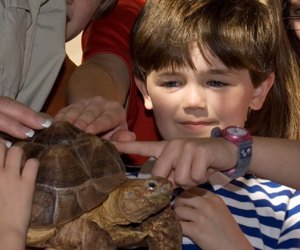 Hire Houston birthday party entertainer, My Reptile Guys, for an intro to snakes and other reptiles. Photo courtesy of My Reptile Guys
This one is perfect for kids who love reptiles, from massive pythons to bearded dragons. There are several party packages to choose from with My Reptile Guys: The Jungle, which includes six animals and a 40-minute show; the Expedition, which includes eight animals and a 50-minute show; and the Grand Safari, which features ten animals and a one-hour show. Along with the educational show, photography is included and the kids get to interact with and pet each animal. They also have ideas for a reptile-themed party, from decorations to snacks. Prices depend on the package - $250 for the Jungle, $275 for the Expedition, and $295 for the Grand Safari. Travel fees apply for certain locations as this company's home base is in Missouri City.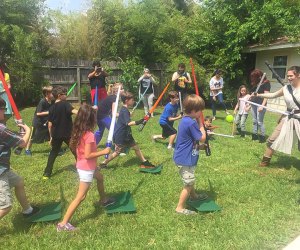 Jedi Training photo courtesy of Hero Headquarters
Superhero and Princess Birthday Party Entertainers in Houston
More than just princesses can be booked at the Princess Parties of Houston, where your child's favorite costumed character, whether that's a frosty queen, mermaid princess, or Pikachu, will make a grand entrance and spend time dancing, taking portraits, doing story time, and more, depending on your package. The Sweet Party Package is 30 minutes long and recommended for tiny tots, while the more elaborate packages, like the popular, hour-long Shimmer Package and Superhero Party Package include games and treats that older kids love. Spanish speaking characters are also available! Prices range from $150 - $200 for the basic party packages, while the elaborate Fairy Tale Princess Picnics can run up to $1,700. Additional characters and add-ons can be included for a fee.
Bring your child's fairy tale dreams to life when you book with The Princess Party Co. of Houston. Beloved characters like Aurora and Snow White arrive in full, regal costumes to provide authentic experiences that bring some magic to your event. All the princesses are professionally trained, so they'll delight little ones from the grand entrance through story time, games, and more. The hour-long Enchanted Event package starts at $249 and the 90-minute Grand Gala, which includes makeovers and a coronation, starts at $349.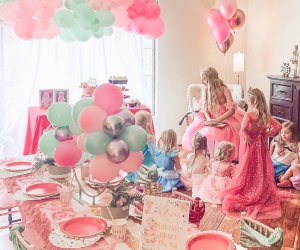 Photo courtesy of the Fairest of All Parties, a princess party entertainer in Houston.
This Houston premier party entertainment company offers top-quality character parties with highly trained singers and actors so your birthday child can meet their heroes in real life. From swimming mermaid princesses at your pool party and royal tea parties with the timeless royals of their favorite fairy tales to makeovers, superhero practice, and meet-and-greets with favorites from hit shows and toy shelves, Fairest of All has just what you're looking for to host an incredible birthday party. Nine interactive and uniquely tailored packages are available with prices ranging from $160 -$450.
Throw the coolest kids party on the block! With a focus exclusively on children's entertainment, this party entertainment company in Houston captures the imagination of your child with regaling tales of heroics told by professionally trained performers. Authentic costumes, stories, activities, and more will be performed by your character of choice for your child. While there is the full selection of well-known princesses and leading ladies, Fairytale Headquarters also offers a wide array of iconic male characters, like princes, ruffians, pirates, Peter Pan, holiday characters, space explorers, and beyond. The packages include interactive story telling, pictures, games, princess makeovers, character lessons, and more with prices from $205 for one hour with one character to $1,335 for three hours with four characters.
Inspire the confidence and imagination of your child when you bring in famed superheroes (or villains) to show off at their next birthday party. The trained actors at Houston Hero Headquarters take on the roles of everything from spidery guys and evil jokesters to the Powder Puff Girls, star warriors, rangers, and more. Select from options like Hero Training, where party guests will get to play games with toys like marshmallow bows and foam dart shooters, Prank Lessons with classic villains, Science Demonstrations from a friendly inflatable robot, or Star Warrior Training, complete with light swords. Prices range from $205 for one hour with one character to $1,335 for three hours with four characters. Travel fees and nonrefundable deposits may apply.

Some Houston birthday party entertainers can set up extra fun, like a Foam Party! Photo courtesy of Monty the Magician
Great Houston Magicians for Kid Parties
A premier magic act that's perfect for younger audiences, the Kyle Kazoo Show provides a mix of interactive magic acts with an age-appropriate comedy show that will leave both kids and grownups entertained. The shows include 45 minutes of magic that involves a lot of audience participation - and the birthday child will be the star of the show. As a bonus, an official Kyle Kazoo Magic Set is gifted to the guest of honor at the end of the event. Custom party favors are also available upon request. Prices vary by location, date, show type, and more - contact for a quote.
Steve Burton is a Houston area entertainer and magician beloved for his kids birthday magic shows that always include a lot of laughs. Your party guests will be amazed with the energetic performance that lasts for 40-50 minutes and includes music, comedy, animals, and lots of audience participation. The fluffy bunny Skootch and lovely white dove are sure to get cheers, and each show can be customized to your specifications, so you're getting exactly what the birthday child has been hoping for. Contact for prices.
Bring a fast-paced, high-energy, non-stop fun show to your child's Houston birthday party with Monty the Magician. Specializing in children's magic for the last 30 years, Monty brings the wow-factor with party options like magic lessons, interactive shows, foam parties (yep, you could have a magic show and foam party right in your own yard), and more. Performances range between 45-60 minutes and may even include a surprise appearance by Whisper the dove. Contact for prices.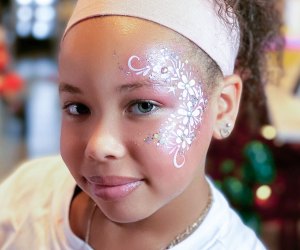 Curly and Daisy face painting photo courtesy of the Daisy Dolly Facebook page
Bring the Fun to Your Kid's Birthday Party with These Houston Face Painting and Balloon Artists
This dynamic duo set off in the Houston birthday party entertainment scene with one goal in mind: to make children happy. They accomplish this goal at every event with their impressive balloon art and wow-worthy face painting skills. This team can blend perfectly with any theme, engaging kiddos with jokes, fun costumes, and sparkling personalities. Contact for pricing.
There's a little something for every child's birthday party when you book with the team of professionals at Wow Party Art. They've got masterful balloon twisters that can spin the colorful rubber into animals, flowers, swords, unicorns, crowns, and more. When it comes to face painting, up to 50 design options are sure to fit your theme or each child's personal favorites, from superhero masks and monsters to flowers and characters. But the fun doesn't stop there! They also offer packages with glitter tattoos, caricatures, henna, balloon decor, and more. For face painting and balloon twisting, prices range from $125 for one hour to $255 for three hours.
With top-notch service and professional quality at competitive rates, it's hard to go wrong with the award-winning Houston Face Painting and Balloon Art. A hand-selected group of trained artists will wow your kids with vibrant paintings of animals, characters, fancy designs, and more. Glitter and gems are available for a pop of glam! And Mom and Dad can rest easy knowing that every artist is safe to have in your home, as they've been thoroughly vetted and passed background checks. Prices start at $125 an hour, with options and pricing tailored to your event.