35 Things To Do in the Hudson Valley with Kids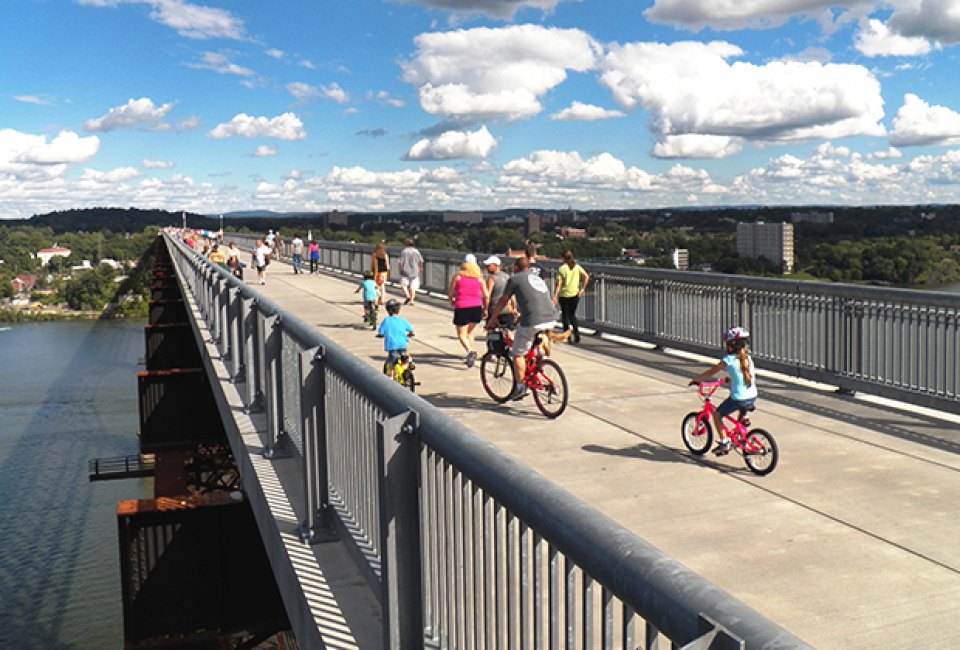 10/20/22
- By
Lisa Johnston
The Hudson Valley is a year-round destination for families all over the tri-state area, and it's no surprise as there are tons of things to do in the Hudson Valley with kids. It boasts natural beauty, delicious food, and wonderful museums, historic sites, theaters, and play spaces. With events timed for nearly every holiday, and enough attractions to suit any family's interest, the Hudson Valley beckons visitors searching for a family getaway or day trip.
We've found 35 things to do in the Hudson Valley with kids, ranging from the obvious (hello Legoland New York) to the under-the-radar. If you're looking to spend more than a day here, be sure to peruse our top picks for family-friendly hotels in the Hudson Valley, and find more family-friendly destinations nearby in our Adirondacks, Catskills, and Hudson Valley Guide.
Subscribe to our newsletters to get stories like this delivered directly to your inbox.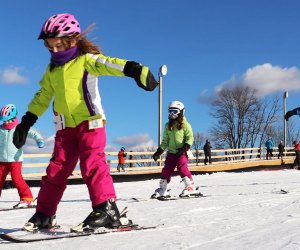 Mount Peter is a great ski destination for beginners and has a top-notch learn-to-ski program.
Best Attractions in the Hudson Valley for Kids
1. Mount Peter
Learn to ski and snowboard on the gentle slopes of Mount Peter, a perfect spot for beginners. Don't miss out on snow tubing there, too—a kid favorite.
2. Wolf Conservation Center
See endangered wolves up close—and even howl along with them!—at the Wolf Conservation Center in South Salem. Want to really become one with the wolves? Reserve a tent for an overnight stay, which comes complete with a pizza party, outdoor movie, and more.
3. Jellystone Park
If you want to enjoy the outdoors but prefer to be in the comfort of a cabin—and surrounded by tons of kid-friendly activities—then a visit to Jellystone Park in Gardiner is a must. There are swimming pools, a huge splash pad, a playground, an arcade, and lots more.
4. Palisades Climb Adventure
The Palisades Center mall in West Nyack can be an all-day outing—especially when it's raining, freezing, or too hot—with shopping, food, and lots of kid-friendly activities, including the indoor Palisades Climb Adventure, where kids (and adults!) can see the mall from a whole different vantage point.
5. FASNY Museum of Firefighting
Take the Jr. Firefighter Challenge Course, where kids can extinguish a faux fire, slide down the fire pole, and more, plus see more than 60 fire engines, at the FASNY Museum of Firefighting in Hudson.
RELATED: 15 Family-Friendly Catskills Resorts for Your Next Weekend Getaway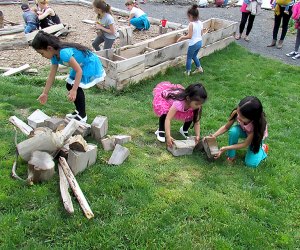 There's always hands-on fun to enjoy at the Hudson Highlands Nature Museum in Cornwall.
6. Hudson Highlands Nature Museum
Receive a hands-on education in nature at the Hudson Highlands Nature Museum, which includes the outdoor Grasshopper Grove—basically a nature-themed playground area—or, take part in one of its nature programs on the weekends.
7. Bethel Woods Center for the Arts.
Take in a concert, enjoy a festival, or visit the museum at the site of the 1969 Woodstock festival at Bethel Woods Center for the Arts. There is programming geared specifically toward kids, too.
8. Ramapo Challenger Learning Center
Space-obsessed kids love to spend the day at this Rockland County learning center, part of the National Challenger Center network. Check out its family programs, or sign up for an after-school session, which includes a flight simulator!
9. West Point Museum
Kids complain you're too strict? Tour West Point and the FREE West Point Museum to show them what real discipline looks like (gorgeous Hudson River views included).
10. Bear Mountain State Park
Spend the day at Bear Mountain State Park, whether you're swimming in the summer, celebrating Oktoberfest in the fall, or ice skating in the winter. Be sure to save time for a ride on the carousel, which features 42 hand-carved native animals—including a skunk!
RELATED: Visiting Rocking Horse Ranch with Kids: Top Tips for a Hudson Valley Family Getaway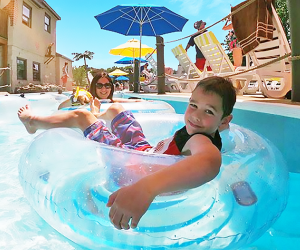 Float down the lazy river at SplashDown beach, which offers plenty of wet-and-wild fun for all-ages.
11. SplashDown Beach
No summer is complete without a visit to a water park, and SplashDown Beach in Fishkill fits the bill, with slides, pools, and more to keep the whole family entertained—and cool.
12. Dia Beacon
This modern art museum might not seem super kid-friendly at first glance, but with its cool exhibitions, you'd be surprised at how much little ones enjoy it. My 7-year-old is talking about our visit months later. Bonus: Kids under age 5 are FREE.
13. Storm King Art Center
Speaking of art, if you're worried about keeping kids indoors to marvel at the creativity, a visit to this outdoor sculpture garden, with its wide-open spaces and trails, might be a good bet. There's no way you can see Storm King in one day, so mark this one down for a repeat visit.
14. Franklin D. Roosevelt's Hyde Park
Make history come alive with a visit to FDR's house in Hyde Park, where you can take a tour daily. While there, don't miss out on what the rest of the town offers, including saving room for a meal at one of the Culinary Institute of America's student-run eateries, like the Apple Pie Bakery Cafe.
RELATED: Family-Friendly Resorts and Hotels in the Hudson Valley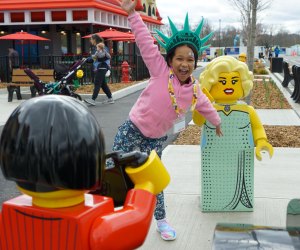 Enjoy big-time theme park fun, plenty of photo-ops, and more Legos than you can imagine at Legoland New York. Photo by Jody Mercier
15. Legoland
Lego-loving kids can be spoiled with a day at Legoland New York in Goshen, but being able to spend the night too will really blow their minds. We've got a hotel review, so you'll know what you're getting into before you book.
16. Boscobel House & Gardens
Tour Boscobel House and Gardens, which offers year-round family-friendly activities like bonfires, snapping turtle walks, and craft programs.
17. Emelin Theatre
This quaint theater in the village of Mamaroneck offers great family programming—and makes for a wonderful first theater experience for kids. Many productions, like The Pout-Pout Fish, are familiar to kids too, which doubles the fun.
18. Tarrytown Music Hall
This Tarrytown venue is another hotspot for live entertainment and offers family programming, including plays and concerts. Before or after a show, indulge in a beverage at the supremely child- (and dog-) friendly Coffee Labs Roasters nearby.
RELATED: Gorgeous Glamping Near NYC for Your Next Family Getaway

Sure there's the famous Dragon Coaster, but Playland Park has plenty of little kid rides, too.
19. Playland Park
This Westchester institution includes the famed Dragon Coaster and a cute little kiddie area, too, with rides that are ideal for the preschool-and-under crowd. While there, consider a walk on the beach or a meal at Charley's Pier Restaurant & Tiki Bar.
Best Things To Do in the Hudson Valley with Kids
20. Apple Picking
The Hudson Valley is a treasure trove of amazing farms and orchards—which makes it ideal for picking apples once September hits. While there, don't forget to stock up on a pumpkin or two.
21. Corn Maze Fun
Whether you visit the corn maze while apple picking or head to one solely for the purpose of getting "lost" in the stalks, there are plenty of places to do that in the Hudson Valley, including some that are totally FREE.
22. Strawberry Picking
While apples usually get all the glory, there is plenty of other fruit to pick throughout the year—from strawberries in June to blueberries in July to peaches in August.
23. See Hot Air Balloons
While your kids might not be ready to ride on a hot air balloon, they can definitely take in these gorgeous marvels at the annual Hudson Valley Hot Air Balloon Festival. Expect the balloons, along with games, attractions, music, and more.
RELATED: Guide to Farms and Pick-Your-Own Fun Nearby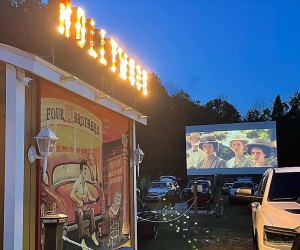 Take a step back in time with the old-school entertainment options at the charming Four Brothers Drive-In in Armenia.
24. Drive-In Movie
Channel old-school summer vibes at the region's drive-in movie theaters. There are locations in Warwick, Poughkeepsie, Middletown, and Armenia for your consideration.
25. Go to a Holiday Festival
Head to the quaint and crafty town of Rhinebeck in December to experience a traditional Dutch holiday celebration at the Sinterklaas Festival, which also happens to be FREE.
26. Hit up the Beach or Splash Pad
There's water fun a-plenty in the Hudson Valley, whether you want to swim in a local pool, at the beach, or even the Hudson River and local lakes. Don't want to go all in? Visit a local splash pad! Entry times, fees, and requirements vary, of course, so be sure to call before you pack your swimsuit and towels.
27. Sleep in a Lighthouse
You read that right: Families can stay overnight in the ​Saugerties Lighthouse year-round, with breakfast included. Want a more traditional hotel? There are plenty of those, too.
RELATED: 100 Things To Do in New York State with Kids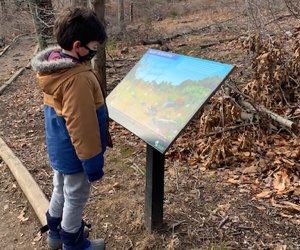 Enjoy a family-friendly hike at the Teatown Lake Reservation in Ossining in any season. Photo by Marisa Iallonardo
Fun Free Things to Do in the Hudson Valley with Kids
29. Hiking
The Hudson Valley is known for some great hiking, and that includes plenty of trails that are perfect for little feet, including many that offer waterfall views, like Croton Gorge Park in Cortlandt, which provides great views of the waterfall created by the Croton Dam's spillway.
28. Walkway Over the Hudson
Bike, skate, and stroll along the Hudson Valley Rail Trail to meet up with the Walkway Over The Hudson, the breathtaking 1.28-mile-long pedestrian bridge that's hailed as the "world's longest elevated park."
30. Holiday Lights
Jump in the car—maybe in your holiday PJs—and drive around the Hudson Valley to check out some of the amazing light displays that dot the area come December. For some, you can tune your radio to play the synched soundtrack and, at others, you can get out of the car and walk around to get a closer look.
31. Hit the Playground
There are plenty of playgrounds that make for a fun morning or afternoon—and then there are the stand-out destination playgrounds that truly take things up a notch, and make for some all-day fun.
32. Visit a Museum
Many area museums have certain days that are FREE for visitors, including the wonderful (and recently re-named) Mid-Hudson Discovery Museum in Poughkeepsie, which holds a FREE family night on the third Saturday of the month.
33. Stroll Through Town
While we can't promise your kids won't make you stop for a treat, you can easily spend some time strolling along the super-cute downtowns of Hudson Valley enclaves, including Beacon and Cold Spring
34. Westchester RiverWalk
It's not just walking you can do here: Bikes and scooters work, too. But, this recreational trail, which can start in Tarrytown, Croton, or Peekskill is great because it offers great Hudson River views and fun stops in towns along the way.
35. Take in the Fall Foliage
Fall in the Hudson Valley can't be beat—and neither can the amazing colors of the changing leaves. There are prime leaf-peeping spots all over, but these are a few of our favorites, including Mount Beacon in Beacon.
Originally published in 2016. Marisa Iallonardo contributed additional reporting. Unless noted, all photos courtesy of the venues
Click Here to Sign Up!