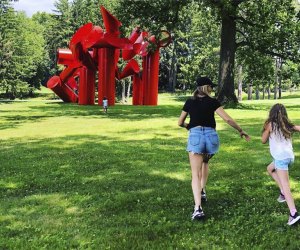 Storm King Art Center Reopens for Summer 2020 Visits
New Yorkers are lucky to live near so many world-class museums and New Windsor's Storm King Art Center is worthy of being mentioned in the same breath as many of the more famous local haunts. The sprawling 500-acre outdoor museum in the Hudson Valley is home to large-scale sculptures and site-specific pieces, which dot its wide-open green space, and make a perfect day trip during this social distancing summer.
Storm King Art Center is newly reopened and has debuted a pair of new exhibitions, which are waiting to welcome visitors looking for a unique getaway. So, pack your picnic basket and read on for details on visiting this unique artscape.

Explore the art at this 500-acre outdoor museum.​ Photo courtesy of Eva Schwartz
Storm King Art Center Changes for Summer 2020
Storm King Art Center reopened July 15 as an outdoor-only experience and is limiting its capacity. All visitors must reserve timed-entry tickets online in advance for contactless entrance. Tickets are released in two-week blocks on Wednesdays. There is currently no on-site programming offered, and there are limited indoor amenities. The on-site cafe and food trucks are closed, as is the visitor center, bike rental, and tram service.
Visitors are asked to maintain social distance from all other groups and wear facial coverings when that's not possible.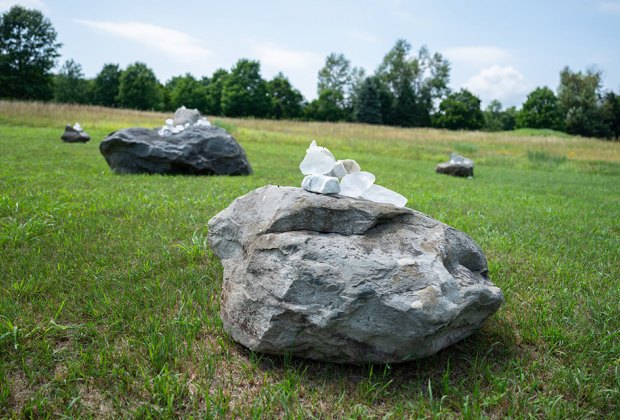 The glass stones in "Outlooks" by artist Martha Tuttle reflect light. Photo by Jeffrey Jenkins
What Can You See at Storm King Art Center in 2020?
The Grounds: Storm King Art Center is truly massive. It's hard to overstate the grounds' beauty. It's surrounded by the Schunnemunk and Storm King mountains and takes up more than 500 acres. The Storm King Art Center is home to more than 100 sculptures, some of which have been there since the 1960s. You're greeted by colossal art from the moment you drive in, setting the stage for a truly wondrous experience. Children (and adults!) can soak in and appreciate the surroundings without worrying about keeping still or being too loud. Because the grounds are so expansive, you'll have a blast (and get a workout) simply dashing from one exhibit to the next.
The Artwork: Modern and contemporary art is central to Storm King's collection. Site-specific "earthworks" are also a popular draw. Find sculptures by Alexander Calder, Mark di Suvero, Isamu Noguchi, and many more in its collection. The reopening brought with it two new pieces, Kiki Smith's River Light, a collection of flags, whose undulating in the breeze is meant to mimic a river, and Martha Tuttle's A stone that thinks of Enceladus, made up of a series of boulders pulled from the ground's landscape.
Know Before You Go
With so much open space, it may be difficult for little ones to remember they are not in a traditional park and the exhibits are not play structures, so we've highlighted some general rules to keep in mind when visiting Storm King, plus some useful tips for visiting with kids.
Rules for the grounds and sculptures: Ball playing, Frisbee, and similar games are prohibited on the grounds. Touching and climbing on the sculptures is also off-limits, though you can walk right up to them. Many are so large in size and scope, standing just inches from them is enough to overwhelm the senses. Little ones will likely be tempted to reach out to touch them if you get too close.
You'll never see it all in one visit: The South Lot is an ideal parking location for a first-time visit because of its proximity to multiple pieces. Be sure to download a map and plot your route before you head out.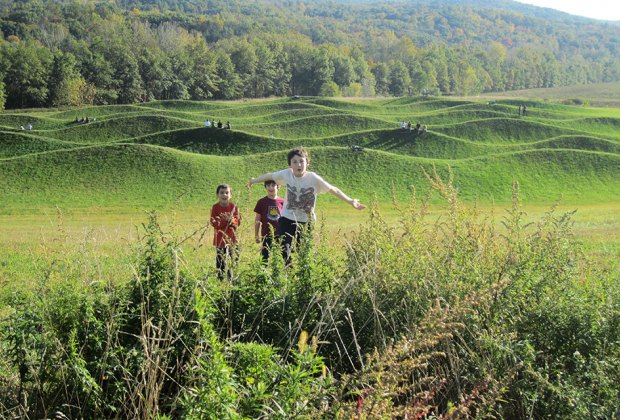 Make sure you ask for a map, and don't forget the sunscreen. Photo courtesy Eva Schwartz
Bring a lightweight stroller: My 4-year-old almost never uses a stroller anymore, but I brought one, just in case, and was glad I did. We were able to extend our visit by at least another hour. Outside bikes and scooters are not permitted.
Most bathrooms are port-a-potties: Storm King has instituted an enhanced cleaning policy for all restrooms. While most are port-a-potties, there are indoor restrooms with changing tables on Museum Hill.
Pack a picnic: You're welcome to eat on the grounds at designated areas and many are in the shade. Eating next to the sculptures is prohibited.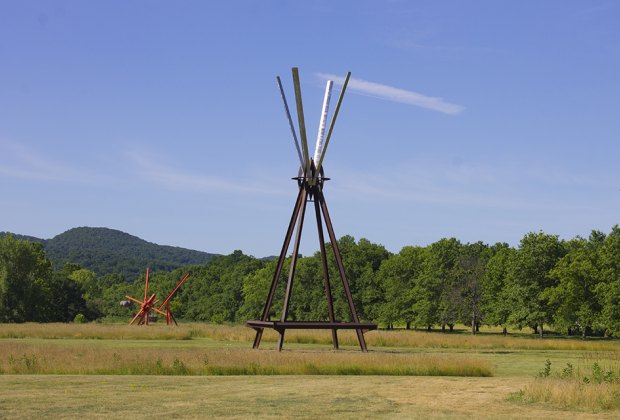 E=MC2 by artist Mark di Suvero stands 92 feet and 9 inches and is the tallest sculpture by the American artist to date. Photo by Jeffrey Jenkins
Bring crayons and a sketch pad: My older son loved trying to sketch the sculptures, and it was an easy way to take a break and relax.
The visitor center is closed: Storm King encourages you to shop online for now.
Storm King Art Center is open Wednesdays through Mondays from April through October. Hours are 10am-5:30pm; the last ticket entry is 3pm. Admission is $20 per person, with discounts depending on the number of visitors arriving in your car. Children under age 5 are FREE. In 2020, Storm King Art Center is also offering FREE admission to frontline medical professionals.
This post, originally published in 2015, has been updated to reflect the 2020 operating season.
Places featured in this article:
---
Storm King Art Center