Visiting Storm King Art Center in the Hudson Valley with Kids: What You Need to Know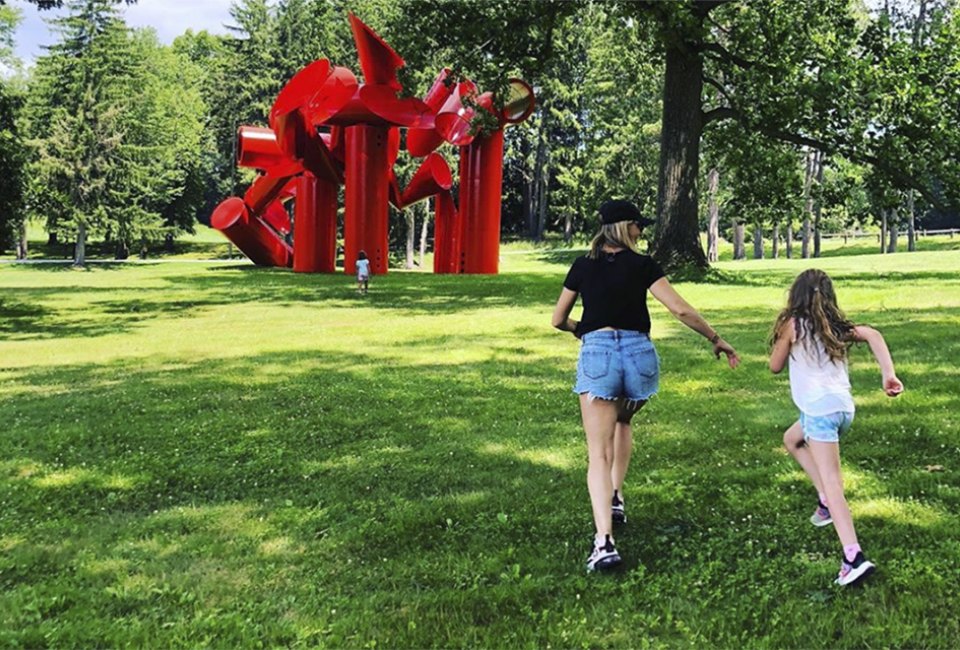 6/23/22
- By
Lisa Johnston
Visiting the Storm King Art Center in the Hudson Valley is a world-class experience that's worthy of being mentioned in the same breath as many of the more famous New York-area museums. The sprawling outdoor museum in New Windsor is home to large-scale sculptures and site-specific pieces that dot its wide-open green space.
Read on for more about what makes this destination great for families—and what you can't miss while there.
For other open-air cultural offerings, check out our rundown of outdoor art day trips in the area, and bookmark our comprensive Guide to Summer Activities.
Sign up for our FREE newsletters to get posts like this delivered to your inbox.

Explore the art at this 500-acre outdoor museum.​ Photo courtesy of Eva Schwartz
Why Storm King Art Center is an Awesome Family Destination
If the idea of taking your kid to a museum conjures images of priceless art being knocked over or near-constant complaining of boredom, then Storm King Art Center, with its wide-open fields and trails, is the antidote to that. Children and adults can appreciate the surroundings without worrying about keeping still or being too loud. Plus, the outdoor cafe and picnic-perfect grounds also make it easy to take a break when needed.

Visitors experience large-scale sculpture and site-specific commissions under the open sky st Storm King. Photo courtesy of Storm King
Must-Do Things at Storm King
Walk the grounds
Storm King Art Center is truly massive. It's hard to overstate the grounds' beauty. It's surrounded by the Schunnemunk and Storm King mountains and takes up more than 500 acres. The Storm King Art Center is home to more than 100 sculptures, some of which have been there since the 1960s. You're greeted by a colossal art from the moment you drive in, setting the stage for a truly wondrous experience. And because the grounds are so expansive, you'll have a blast–and get a workout–simply by dashing from one exhibit to the next.
See the Sculptures
Modern and contemporary art is central to Storm King's collection. Site-specific "earthworks" are also a popular draw. Find sculptures by Alexander Calder, Mark di Suvero, Isamu Noguchi, and many more in its collection. Through November 2022, you can see two new exhibitions, one by artist Wangechi Mutu, which includes an eight-piece outdoor collection of bronze-cast sculptures plus an indoor portion, and an exhibit by Brandon Ndife as part of the museum's "Outlooks" program, which spotlights work from an "emerging or mid-career artist."

Join an outdoor educator from Hudson Highlands Nature Museum for a walk around Storm King's woods, meadows, and fields. Photo courtesy of Storm King
Check out the children's programs
Storm King offers specific programming geared towards kids and families at various points throughout the season, with a focus on nature and art. In one summer program, for example, kids search for animals and plants at Storm King, and then analyze what they've found at the Storm King Environmental Field Station, which is by artist Mark Dion.
Rent bikes
While you can't bring your own bikes, you can rent ones to use. They recommend that riders are 4'7" or taller—but they also offer kids "tag-along" bikes as well as trailers (and strollers!) to rent.
Encourage your little artist
Since the grounds are so big and kids might want to take regular breaks, consider having them bring along a sketch book and crayons so they can plop down in the grass and draw what inspires them.
Eating at Storm King
Pack a picnic
You're welcome to eat on the grounds at designated areas, many of which are shaded. Eating next to the sculptures is prohibited.
Visit the on-site outdoor cafe
Located under a pavilion, the outdoor cafe offers sandwiches, hot dogs, salads, and snacks like pretzels, cookies, and chips.
Head to a nearby town
Another option is to wrap up your time at Storm King and then take a quick drive to one of the nearby towns for lunch or dinner, or even a treat break, before heading home. The museum offers a great list of spots in Cornwall—which is less than a 10-minute drive—or Newburgh. On a recent trip, we made the 20-minute drive into Beacon for dinner.

Make sure you ask for a map, and don't forget the sunscreen. Photo courtesy Eva Schwartz
Know Before You Go
With so much open space, it may be difficult for little ones to remember they are not in a traditional park and the exhibits are not play structures, so we've highlighted some general rules to keep in mind when visiting Storm King, plus some useful tips for visiting with kids.
Rules for the grounds and sculptures: Ball playing, Frisbee, and similar games are prohibited on the grounds. Touching and climbing on the sculptures is also off-limits, though you can walk right up to them. Many are so large in size and scope that standing just inches from them is enough to overwhelm the senses. Little ones will likely be tempted to reach out to touch them if you get too close.
You'll never see it all in one visit: The South Lot is an ideal parking location for a first-time visit because of its proximity to multiple pieces. Be sure to download a map and plot your route before you head out.
Bring a lightweight stroller: Even for preschoolers who don't use strollers much anymore, bringing one is a good idea, since little legs might get tired easily. Outside bikes and scooters are not permitted.
Most bathrooms are port-a-potties: Storm King has instituted an enhanced cleaning policy for all restrooms. While most are port-a-potties, there are indoor restrooms with changing tables on Museum Hill.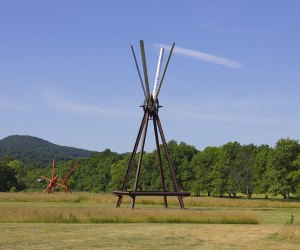 E=MC2 by artist Mark di Suvero stands 92 feet and 9 inches and is the tallest sculpture by the American artist to date. Photo by Jeffrey Jenkins
Visiting Storm King
Storm King Art Center is open Wednesdays through Mondays. Hours are 10am-5:30pm every day except Fridays and Saturdays in the summer, when they stay open until 7:30pm.

You have to book your tickets online in advance. Admission is per car and depends on how many people are with you—for two adults it's $46. Kids under 5 are FREE. You can also check your local library for free passes, as well as consider going on the first Friday of the month in the summer, when admission is free.
This post, originally published in 2015, has been updated to reflect the 2022 operating season.
Places featured in this article: