Visiting Historic Philadelphia: Top Things To Do in the Historic District with Kids
2/17/23
- By
Kristen Sullivan
There are so many things to do with kids in Old City Philadelphia's historic district. Get ready to time travel back to the earliest years in US history.
Alongside our love of cheesesteaks, hoagies, and sports is a deep sense of civic pride that comes along with being the birthplace of the entire nation. The streets of Philly are steeped in history, with Old City Philadelphia at the heart of it all. Whether you're a visitor or a local, it can be overwhelming to know where to start, so we've got a list of the best spots to visit in Old City and historic Philadelphia with kids. From famous attractions like the Liberty Bell and Independence Hall to museums dedicated to telling the stories of our past, Philly's historic district has so much to offer families.
Historic Philly is the first stop on our 3 day itinerary for visiting Philadelphia, where you can find more of the city's highlights. Check out our Guide to Philly Museums for Kids for more top attractions, like the Philadelphia Zoo (the very first zoo in the nation!) and other landmarks like the Philadelphia Museum of Art (hello Rocky run!).
Landmarks and Sites in Historic Philadelphia
The Independence Visitor Center offers a small, yet informative exhibition to help you and your family get your bearings. This is a logical first stop to learn more about Old City, find out about any special events, score deals on top Philadelphia attractions and get $1 timed tickets to visit Independence Hall. The visitor center features a digital exhibition wall, gift shop, and one of the city's beloved Once Upon a Nation storytelling benches.
Two of our nation's most important documents, the Declaration of Independence and the Constitution, were both written and signed here, and George Washington was appointed Commander in Chief of the Continental Army right here in Philly. This is a must-see for US history buffs of all ages. Be sure to pick up tickets at the Independence Visitor Center first, though no tickets are required in January and February (except holiday weekends) or after 5 pm in the summer.
Meet Betsy in her upholstery workshop at the Betsy Ross House.
Families can enjoy a self-guided tour of the home of Betsy Ross, who was credited with stitching the first American flag. Lucky visitors might encounter Betsy Ross herself in her upholstery shop.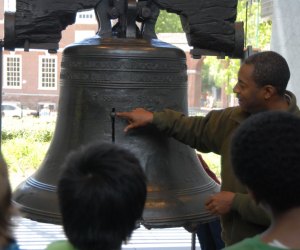 No trip to historic Philadelphia is complete without a Liberty Bell photo op.
While the iconic Liberty Bell no longer rings, it remains an important artifact from our country's past. Lines to enter the visitor center are often long, but it's worth the wait to view the exhibit about the history of the bell. If you're short on time (or attention span), skip the line and check out the bell through the viewing window. Visiting the Liberty Bell is free!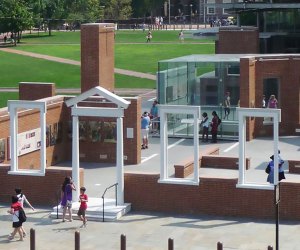 Visit the site where Presidents Washington and Adams once lived. Photo courtesy of the NPS
On the corner of 6th and Market, between the Liberty Bell and the Visitor Center, visitors can view the original foundation of the President's House in which both Presidents Washington and Adams lived. This outdoor exhibit is open daily from 7am to 10pm and features videos, art installations, and panels that tell the story of the enslaved people who lived and worked in the President's house. This self-guided experience is free and does not require tickets.
Museums in Historic Philadelphia
This museum tells the story of African Americans in Philadelphia and across the United States, and the important role African Americans have played in shaping American culture, art, and music. Family-friendly programming includes Family Fun Days.

Located in Franklin Court between Market and Chestnut Streets and 3rd and 4th Streets, this family-friendly museum shares information about Benjamin Franklin's life, his philosophy and his inventions in an interactive way. Admission to the museum is reasonably priced, and the museum offers free admission on special occasions throughout the year. Fourth graders enrolled in the Every Kid Outdoors program get in free year round.

The National Constitution sits along the northern end of Independence Mall. It's a must-do Old City Philadelphia attraction, though it isn't part of the Independence National Park which means admission fees apply. Once inside, learn how "we the people" became a central part of constitutions not only in the United States but also around the world. Be sure to check out our parent review for all the details.
This museum offers a variety of engaging and interactive exhibitions about the history of the Jewish experience in the United States. Admission is free, and special events include programs just for young children.

If your family needs just one place to hang out all day, this is the place for you! Exhibitions vary throughout the year, but Revolution Place is a play place not to miss.
Tour the country's first mint and find out how the money gets made. The 45-minute self-guided tour provides a thorough explanation of the coin-making process, with a sneak-peek at actual production through big windows. The experience is free; however, there may be slight wait times during peak times such as spring break and summer weekends.
More in Historic Philadelphia
Throughout Historic Philadelphia, guests can scout out yellowish-green circles emblazoned with the words "Once Upon A Nation" over a storytelling bench. Training guides offer brief 3-5 minute stories about historic Philadelphia that are the just-right length for young visitors. There are multiple benches situated throughout this section of the city, with storytellers stationed there during the warm weather months. Franklin Court, Independence Visitor Center, and the Betsy Ross House are all sites for storytelling benches.
Take a stroll down quaint, historic Elfreth's Alley, the country's oldest and still operational residential street.
Franklin Court is home to Ben Franklin's printing office, where visitors can see how books and newspapers were created in the 18th century. The ghost structures of Franklin's house will fascinate young visitors, who will likely love imagining the Founding Father's life here. Big and little kids alike will get a kick out of visiting the B. Free Franklin post office, an active postitive office that still hand-cancels mail with Franklin's signature.
"America's Steeple" is located at 2nd and Market. It was the tallest structure in North America for decades after it was built, and the church still fascinates visitors. Benjamin Franklin and four other signers of the Declaration of Independence are buried at Christ Church. Note that the burial grounds are sometimes closed throughout the year.

Ride the historic Parx Liberty Carousel in Franklin Square. Photo by J. Fusco
Visitors can spend the afternoon playing in Franklin Square, one of the first five original squares in Philadelphia. Today, Franklin Square is a big park with modern attractions. An 18-hole miniature golf course features tiny versions of local Philadelphia landmarks such as Elfreth's Alley, the LOVE Statue, the Liberty Bell, and Boathouse Row. Children and adults alike can take a spin on the Parx Liberty Carousel. There is also playground for younger kids and a grassy area to play ball. With so much to see and do, we're glad there are nearby snack options too.
Originally published in 2015, with additional reporting by Hillary Moses Mohaupt in February 2023. Unless noted, photos courtesy of the venues.
Sign up for the Mommy Poppins Newsletter today!