Visiting the Philadelphia Zoo with Kids: What You Need to Know Before You Go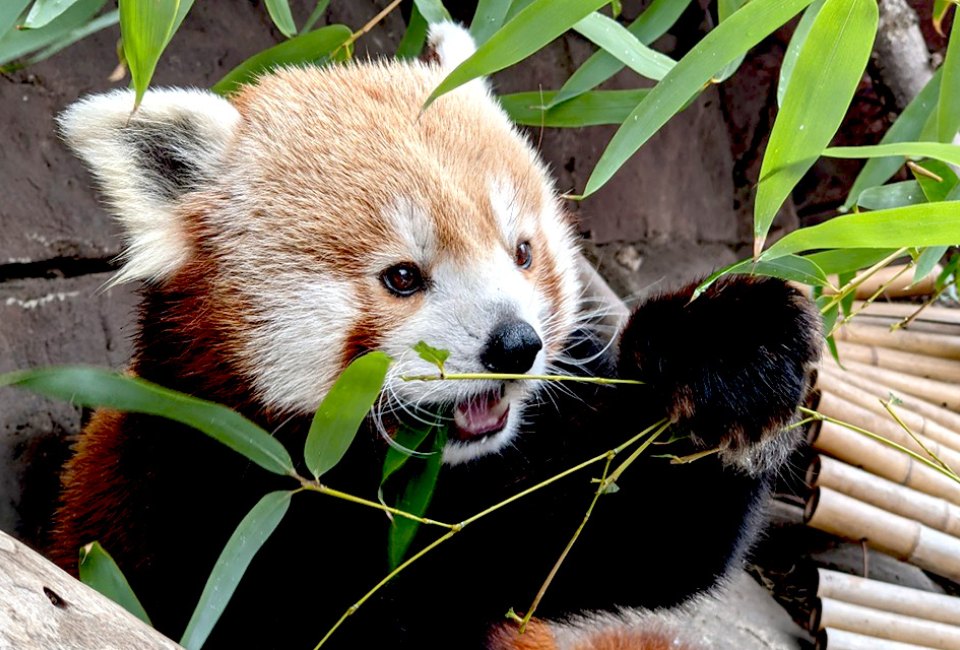 10/21/22
- By
Michelle Lopez
Here's everything you need to know about visiting the Philadelphia Zoo with your own rowdy cubs!
Lions and tigers and bears (and E-A-G-L-E-S obviously)...oh my! The animals at the Philadelphia Zoo have that same Philly spirit as their human counterparts--lively and passionate, with just the right amount of grit. At America's very first zoo, located in Fairmount Park, you'll find more than 1,700 rare and endangered animals and will be transported to Africa, South America, and even farm country. From barnyard animals to exotic creatures, grown-ups and children alike are amazed and engaged by the sights and animal sounds the Philadelphia Zoo has to offer.
One thing to note before your trip is that the Philly Zoo is BIG with lots of ground to cover, but don't let that intimidate you from visiting with little ones. Prioritize your visit and consider a membership so that you'll never miss an event or exhibit. Don't forget Philly has tons of places perfect for animal and nature lovers, so check out our Guide to Philly's Zoos and Gardens, where you'll find roundups of the best petting zoos and more.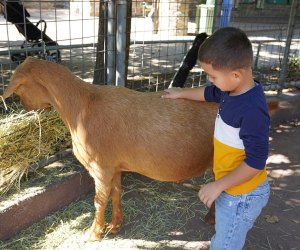 For a hands-on and personal experience with the animals, head over to the petting zoo.
Things to Do at the Philadelphia Zoo
1. KidZooU Playground and Faris Family Education Center
Okay, maybe this is obvious, but my kiddos at ages 5 and 7 still love a good playground, and the KidZooU was the perfect break for them to get their wiggles out from walking. There's a super big slide and a roped jungle gym play space where kids can climb as high as the monkeys they'll see nearby. There's also a family education center with displays and demonstrations where the littles can learn more while taking a breather from all that exploring. My kids really enjoyed learning about the environment here and placing materials in the interactive recycling truck.
2. Children's Petting Zoo
You will find the zoo is set up to have many of the children's activities thankfully close together. The petting zoo was a skip and hop away from the playground, with great hands-on activities for my boys. They were able to see a pony and pet the goats, who were very calm, but make sure your hands are free in case you need to intervene (overly excited kids make for overly excited animals!).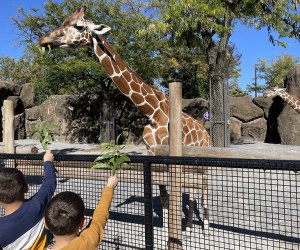 It's a thrilling experience to feed this amazing family of giraffes!
3. Giraffe Encounter
Drum roll please...if you haven't heard yet, feeding the giraffes is new at the Philly Zoo! My kids and my husband were equally psyched to get up close and personal with our long-necked friends. Make sure you check the schedule and line up before feeding time. The zoo staff will give you leaves to feed for $6 a branch and ask that you keep your hand still when offering up the green goodies to the giraffes, who are totally cute and friendly.

Take a train ride fit for the tiniest zoo explorers on the Septa PZ Express Train.
4. SEPTA PZ Express Train
This kiddie train is the perfect way to mix up your visit and give little feet a break from walking. It's perfect for pint-sized kiddos 12 and under and gives fun Philly fun vibes. My boys were excited to get on the train and make choo choo sounds the entire time. You can purchase your ticket at the nearby kiosk--just a few bucks and you're all aboard!
Things to See at the Philadelphia Zoo
5. Zoo360
Don't forget to look up! A network of mesh trails, called Zoo360, travels around and over the zoo, giving the animals more space to explore while delighting visitors who see big cats, monkeys, and other creatures roaming through tunnels overhead.
6. Habitat Hollow
Habitat Hollow is the newest interactive space at the Philadelphia Zoo, with a large roped web perfect for kids to channel their spidey abilities, plus a cute turtle shell for pretend play. Your kiddos will adore this space, which makes for fun photo ops. Also new is the Treehouse, coming soon for members only.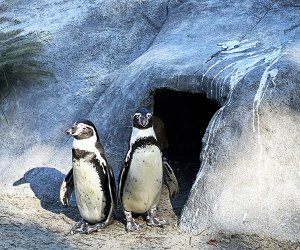 There is a lot of cuteness and love happening at Penguin Point.
7. Penguin Point
The Penguin Point exhibit was truly exciting for my kids. The penguins were out to play and ready to be the stars of the show, not to mention their crazy cuteness. They interact well with their peer penguins and show affection to one another.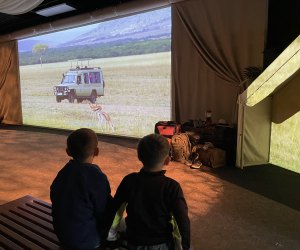 Take an African safari without ever leaving the zoo in this immersive experience.
8. Bill and Laura Buck Safari Experience
I think what I love most about the Philadelphia Zoo the mix of animal encounters with educational and interactive experiences. In a theater-style setting, you and your children have the chance to immerse yourselves in the experience of an African safari. The theater has camp-like decor and safari backdrops and video screens and is filmed from the persepctive of a child in Philly. Out of the many lessons shared, the experience shows how the Philly Zoo can transport you anywhere and reinforces that our city has so much to offer.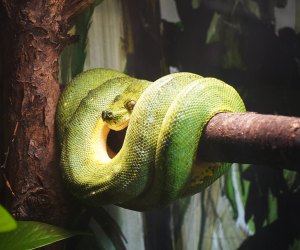 Wander through the Reptile and Amphibian House to glimpse into the lives of these fascinating creatures.
9. Reptile and Amphibian House
With slithering snakes and leaping lizards, this was the first exhibit my 5-year-old wanted to see. The indoor exhibit has a surprising calming vibe, where you'll discover which reptiles are out and about and which are camouflaged in their environment. Make it a game to see which ones they see and which ones they can't!
10. PECO Primate Reserve
From gorillas and gibbons to orangutans and lemurs, the PECO Primate Reserve is a crowd-favorite at the Philly Zoo. The gorillas are highly interactive and it's hard to resist comparing their family dynamic to your own!
11. Water is Life
Here you'll find some of the cutest animals at the Philadelphia Zoo. Fans of the movie Turning Red will love spotting the red panda, and nearby at Otter Falls, you can watch the sweet otters play, swim, and maybe even hold hands.​
Seasonal Events: Philadelphia Zoo Lights and More
The Philadelphia Zoo gets in on the Halloween action with Boo at the Zoo. Come in costumes and don't forget to bring your trick-or-treat bags to grab yummy sweets at stops around the zoo. Plan for fun photo ops, spooky decor, children's activities, and more.
If you miss Boo at the Zoo, don't sweat it because LumiNature comes next to ring in the holiday season. It features beautiful dazzling lights illuminating the zoo at night. Tickets sell out so reserve them early.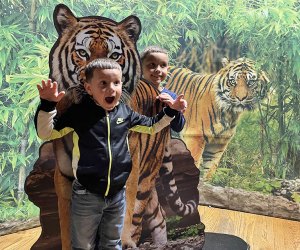 Toddlers and tigers and bears....oh my!
Know before You Go to the Philadelphia Zoo
Food, Ice Cream, and Beer Gardens
There's tons of places to grab a bite to eat at the zoo. We loved having lunch at Tiger Terrace right near Big Cat Falls. There's also the Urban Green where you can find lots of food trucks. My chicken-loving kiddo especially enjoyed the Chicken Kitchen. Grown-ups will love the Watering Hole, an open-air beer and wine garden right in the zoo. As a mom who doesn't get out among other adults as much as she used, this was one of my favorite stops. There are also tons of mini melt vending machines that children won't be able to resist for a cold treat, plus the Ice Cream Barn serves everything from soft serve to sundeas.
Tickets, Tips, and More
Tickets: $24 Adults (12+); $19 Kids (2-11); Free under 2
Parking in the zoo's secure lot is $17 for the public and free for members.
There are family restrooms throughout and stroller rentals available.
At closing hour between 4pm and 5pm a lot of the exhibits begin to slow and shut down as the animals go to bed for the night.​
Food options and availability change throughout the year.
Consider a membership. Members receive special discounts in zoo shops, dining, and for special events. Even if you decided to go twice within the year, the zoo membership pays for itself.
Places featured in this article:
Sign up for the Mommy Poppins Newsletter today!