Animal Farms and Petting Zoos near Philadelphia that are Perfect for Preschoolers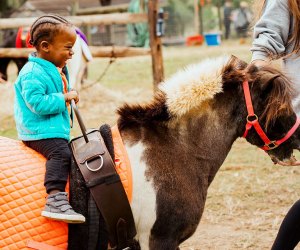 4/8/22
- By
Corrie Stango
Getting face to face, or rather touch to touch, with baby animals is among the top childhood experiences for young kids. There's something special about being up and close and personal at a petting zoo with the creatures that they see in books and movies. Thankfully, the Philadelphia area is home to so many exciting tactile experiences for families. From farm animals to insects—preschoolers, toddlers, and school-age kids are sure to enjoy these animal farms and petting zoos near Philly.
The spring season is a great time of year to explore Philly farms and petting zoos, whether part of a quick day trip or an effort to scratch something off your spring bucket list. For more great ideas, don't miss our Guide to Philly Zoos and Farms.

Snuggle with baby goats at Rose Bridge Farm Sanctuary. Photo courtesy of the farm.
Animal Farms and Petting Zoos near Philly
This unique experience blends cuddles with service. The sanctuary provides a home to various rescued farm animals and offers sessions for bottle feeding the babies and snuggling them all. Baby goats, calves, and kittens are typical on the farm as are horses, sheep, pigs, bunnies, chickens, peacocks, and even camels; be sure to grab a camel kiss in the camel kissing booth. Check out the website for additional events, such as goat hiking.
Merrymead is a sweet farm for many reasons. Their homemade ice cream is utterly delicious, and the premises itself is completely charming. All the farm animals you'd expect dwell here, cows, sheep, bunnies, goats, donkeys, and even a peacock! This spring, Merrymead looks forward to welcoming new chicks and piglets, and each day in the late afternoon, visitors can view cow milking. The grounds are very walkable and accommodating for strollers as well.
Cherry Crest is somewhat of a one-stop-shop for fun on the farm. In addition to the over 50 games, adventures, and experiences the farm offers, visitors can interact with and feed goats, sheep, bunnies, pigs, ducks, chickens, and baby chicks in the animal center. As a sweet addition, the farm welcomed two micro mini highlanders, Honey and Sugar, last summer, and they are available to feed and touch. Please note that Cherry Crest Adventure Farm is open from late May through early November.
This facility has over 130 species just waiting for human interaction. The Insectarium's philosophy is that no child is too young to engage, and highly trained caretakers provide structured experiences to ensure that happens (be sure to get a "tarantula high five"). With beetles, cockroaches, tarantulas, lizards, snakes, and more, the Insectarium's purpose is all about holding … or landing; the butterfly pavilion is 7,000 square feet and houses 60 species of butterflies, who are sure to land on guests while visiting.
This cute little farm is home to pigs, bunnies, goats, sheep, ducks, chickens, and ponies and specializes in riding lessons. A unique barn playground, pool, and pavilion are also on the property, which makes this the perfect small-group birthday party or day-out spot. Please note: Sandy Hill hosts some public hours but mainly operates by appointment only.
Come on out to see the adventure barn, which is always playfully decorated according to season, and afterward, visit with the barnyard animals. Sheep, goats, donkeys, a pony, chickens, and cats roam here, eagerly awaiting visitors. The playground contains large play and pedal tractors, and a 1-mile trail goes around the on-site pond. During the spring and summer, the farm hosts "Read and Pick" on Tuesdays, including a story featuring a crop in season and a chance to pick that crop or complete a craft.
RELATED: 14 Philly-Area Alpaca Farms for Furry Family Fun

Feedings are popular at Highland Orchards. Photo by author.
While Highland Orchards just has goats and chickens greeting visitors, they also offer hayrides, a playground right next to the goats, and other fun activities. With over 10 pick-your-own crops, a large tractor to climb on, special events, a delicious bakery and market, and many picnic tables to dine at, Highland Orchards makes for a fun family day trip.
Adventure Aquarium is kicking off its 30th-year celebration, and guests can visit for free on their birthday throughout 2022. Alongside the thousands of exhibited animals, a few are available for touch. The Stingray Beach Club allows guests to touch and feed the rays, and at "Touch a Shark", visitors can do just that. Hippo, sea turtle, penguin, and in-water shark and ray encounters are available for an extra fee for the truly adventurous.
RELATED: 10 Great Farms near Philly with Family Entertainment
An expansive space, Linvilla Orchards has sheep, goats, horses, deer, and almost ten types of birds, including geese, turkeys, peacocks, and guineas. More fun awaits guests at Linvilla by way of hopping on a pony, casting a line in Orchard Lake, climbing on Playland, riding the train, or getting your face painted. Linvilla is another one-stop destination for a day of fun.

Make new friends at Milky Way Farm. Photo by author
Another ice cream and cow milking experience can be found at Milky Way Farm. A visit to Milky Way is a bit more structured than others and needs advanced scheduling, but visitors can enjoy close contact with farm animals that includes helping with cow, goat, and sheep feeding as well as egg collection. End the trip with a delicious ice cream treat, made with milk from the farm's very own cows.
The Philadelphia Zoo's interactive wildlife academy is a nice break for younger kids who might feel overwhelmed with the enormity of the zoo. Indoor and outdoor facilities provide opportunities to interact with ducks, goats, sheep, and chickens.
A local family favorite, this small but mighty Montgomery County zoo is a manageable size for families with young kids, who'll enjoy feeding big animals like giraffes or giving handfuls of grain to smaller barnyard animals like goats, birds, and sheep.
This smaller zoo across state lines in Delaware is a big hit with parents of small kids due to its manageable size. The Barnyard hoses goats and chickens for interactive experiences.
Photos by the author except where indicated.
Sign up for the Mommy Poppins Newsletter today!