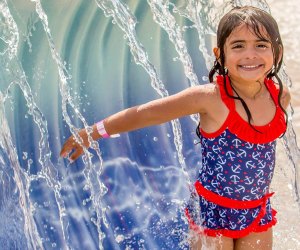 100 Things To Do in New Jersey with Kids Before They Grow Up
Now that my oldest child is a 'tween, I understand that phrase I heard often during those difficult baby/toddler times: "The days are long, but the years are short." Thankfully, filling those short years with quality bonding time is even easier with our top 100 not-to-be-missed family activities right here in New Jersey.
From indoor play to awesome zoos, and from lush gardens to thrill-filled boardwalks and amusement parks, New Jersey offers tons of incredible sights and activities for families and kids. We have beautiful forests for hiking, Jersey Shore beaches for lounging, and cool playgrounds and parks—all of which make for great day trips with Jersey kids.
NEW: We have a free printable version with the best anytime NJ activities from this list. Print it out and stick it on your fridge to inspire you anytime you need an activity idea.
Read on for our 100 best things to do in NJ.
1. Enjoy a day (or week) at one of the many Jersey Shore family beaches, such as Seven Presidents and Cape May.
2. Get wild at the free Cape May County Zoo.
3. Get really wild at the Lakota Wolf Preserve.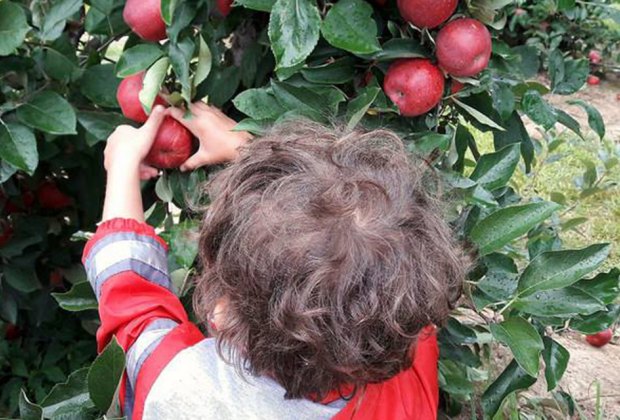 Take a fall trip to Terhune Orchards to pick your own apples. Photo courtesy of the orchard
4. Fill your basket with apples at Terhune Orchards, or at another of the Garden State's pick-your-own farms.
5. Visit the State Theatre in New Brunswick for the Milk and Cookies series for kids ages 3–8.
6. Celebrate fall with pumpkin picking.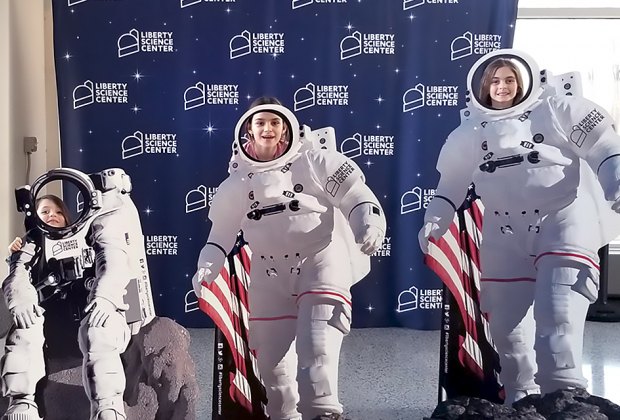 Walk on the moon at the Liberty Science Center. Photo by Karen Turner
7. Spend the day at Liberty Science Center, and visit its new, state-of-the-art planetarium.
8. Take a nostalgic train ride at Whippany Railway Museum or on another historic NJ railroad.
9. While away a perfect fall day at Alstede Farms, feeding animals, taking a pony ride, or picking what's ripe.
10. Play in the giant playground in Liberty State Park, and enjoy the spectacular view of Manhattan.
11. Lace up your skates and hit the ice rink.
12. Get a behind-the-scenes tour at Jenkinson's Aquarium.
13. Hike the New Jersey portion of the Appalachian Trail.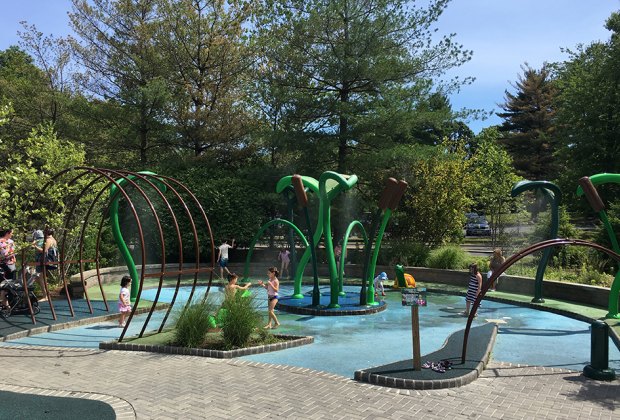 Cool off in the amazing water playground at Van Saun Park. Photo by Rose Gordon Sala
14. Ride the train through the Bergen County Zoo in Van Saun Park and then take in the carousel, playground, and splash pad.
15. Play, picnic, hike, and look for fairy houses at South Mountain Reservation.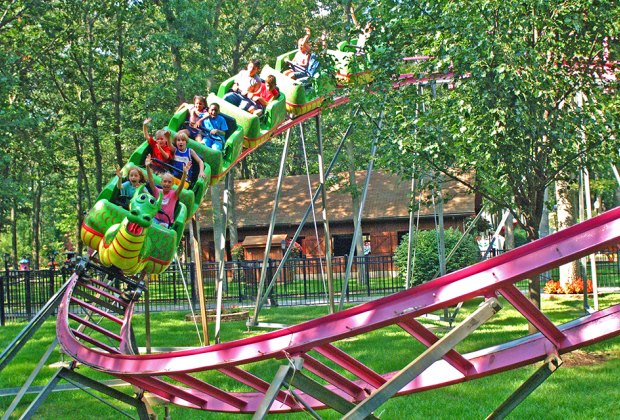 Visit the enchanting Storybook Land. Photo courtesy of the park
16. Brush up on your fairy tales at Storybook Land, or just hit the kiddie rides.
17. See three states from the top of the monument at High Point State Park.
18. Have a day of fun and learning at Rutgers Day.
19. Take a canoe or pontoon boat through the Meadowlands.
20. Tube down the Delaware River.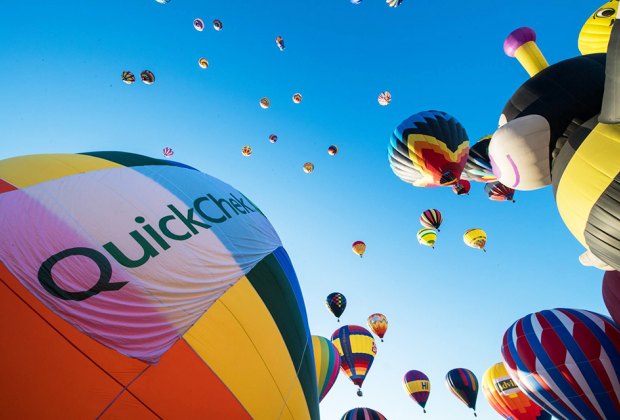 See the sky fill with colorful hot-air-balloons at the NJ Festival of Ballooning. Photo courtesy of the festival
21. See the ascension at the Quick Chek New Jersey Festival of Ballooning.
22. Take your bulldozer-obsessed child to the construction-themed amusement park Diggerland.
23. Visit the Great Falls in Paterson.
24. Go maple sugaring in the late winter.
25. Hike the "hidden beach trail" in Cattus Island County Park.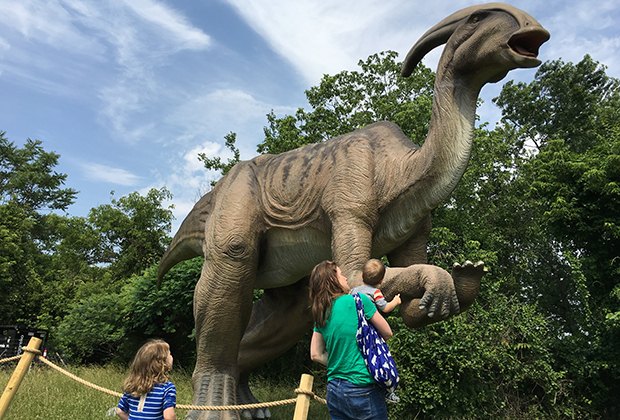 Visit the dinos at Field Station: Dinosaurs in Leonia from May to October. Photo by Rose Gordon Sala
26. See prehistoric creatures up close at Field Station: Dinosaurs.
27. Ride NJ Transit to one of the wonderful and walkable small towns in our state.
28. Ride the roller coasters at Six Flags Great Adventure.
29. Or play cowboys and cowgirls at the western-themed Wild West City in Sussex County.
30. Swim in a refreshing NJ lake.
31. See the Jets Training Camp at their center in Florham Park.
32. Have water fun at Splashplex or one of the other amazing water parks in NJ.
33. Ride the coaster at one of New Jersey's famed boardwalks.
34. Afterward, stroll the boardwalk and fill your bellies with amazing Jersey Shore food: Johnson's popcorn, Shriver's fudge and salt water taffy, and Kohr Brother's frozen custard, to start.
35. Check out an outdoor Shakespeare performance.
36. Walk through the Shark Tunnel at Adventure Aquarium, or enjoy their scuba Santa during the holiday season.
37. Smell the flowers at the Camden Children's Garden, or hit the rides and playground.
38. Brush up on your Revolutionary War history at Washington's Headquarters in Morristown.
39. Bike through Allaire State Park.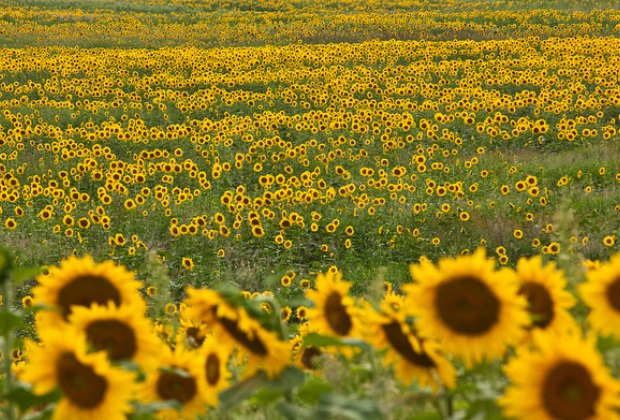 Head to the seasonal Sussex County sunflower maze in summer and early fall. Photo by Anthony Quintano via Flickr
40. Puzzle your way through the Sussex County sunflower maze.
41. View hawks, eagles, falcons, and owls at close range at the Raptor Trust.
42. Watch the annual re-enactment of Washington's Crossing of the Delaware.
43. Go mini-golfing on (or off) the boardwalk.
44. Go stargazing at the historic Batsto Village in Wharton State Forest.
45. Cheer for your knight at Medieval Times.
46. Explore the Grounds for Sculpture.
47. Be awed by the world-famous Cherry Blossom Festival in Branch Brook Park.
48. Hike Sunrise Mountain at Stokes State Forest, or take a day trip to one these other amazing NJ state parks and forests.
49. Search for eggs at Liberty Hall during the annual Easter egg hunt.
50. Visit Watchung Reservation for easy hiking trails, an awesome playground and nature center, and a brand-new sensory trail—or hit another one of our favorite NJ reservations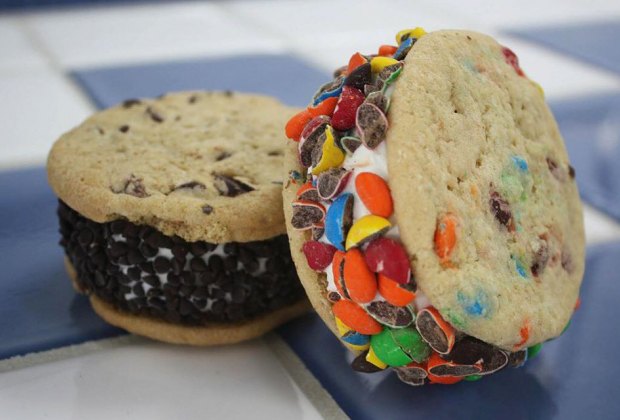 It's not just cones at Denville Dairy! Photo courtesy of the dairy
51. Enjoy homemade ice cream on a hot summer day at Denville Dairy, or one of these NJ ice cream spots.
52. Take in the view of New York as you hike at Palisades Interstate Park.
53. Watch (or enter your little one in) the Ocean City Baby Parade.
54. Visit the home and laboratory of one of America's greatest inventors at Thomas Edison National Historic Park.
55. Eat Disco Fries at Tick Tock Diner.
56. Go skydiving indoors at iFly Paramus.
57. Ski Mountain Creek, enjoy the water park, or just rest up at one of its sumptuous hotels.
58. Catch a fantastic kids' show or holiday Nutcracker performance at one of NJ's many family-friendly theaters, including Mayo Performing Arts Center, Bergen Performing Arts Center, New Jersey Performing Arts Center, or South Orange Performing Arts Center—many of which offer sensory-friendly performances!
59. Witness a planetarium or laser show at Raritan Valley Community College.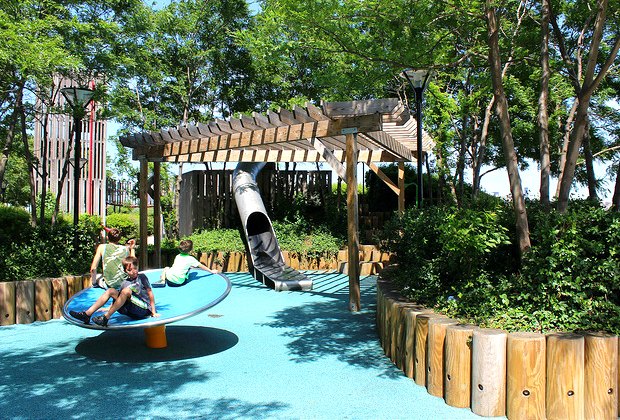 Hit the playground after a stroll along Pier C in Hoboken. Photo by Shinya Suzuki via Flickr
60. Stroll along Pier C in Hoboken and take in amazing views of Manhattan while your kids play in the park.
61. Spend a Saturday at the Morris Museum during one of its Family Festivals; see the model train go around or check out the NJ dinosaur fossils.
62. Hit the rides AND visit Santa at the Land of Make Believe.
63. Explore the magical grounds of Greenwood Gardens, or soak up the scenery at another one of NJ's gorgeous gardens and arboretums.
64. Peek at black bears and giraffes up close at Turtle Back Zoo.
65. See thousands of irises in bloom from May through June at Presby Memorial Iris Gardens.
66. Become a pinball wizard at Silverball Museum in Asbury Park or Morristown Game Vault.
67. Ride the train, carousel, and paddle boats at old time Smithville Village.
68. Warm up at Sahara Sam's Oasis, or at another of NJ's amazing indoor water parks.
69. Visit Battleship New Jersey.
70. Stop by the Discovery Center at Reeves-Reed Arboretum in Summit.
71. Root for the home team at a minor league baseball game.
72. Celebrate New Jersey's cranberry harvest at the Annual Cranberry Festival in Chatsworth.
73. Visit one of the many NJ lighthouses or participate in the Lighthouse Challenge.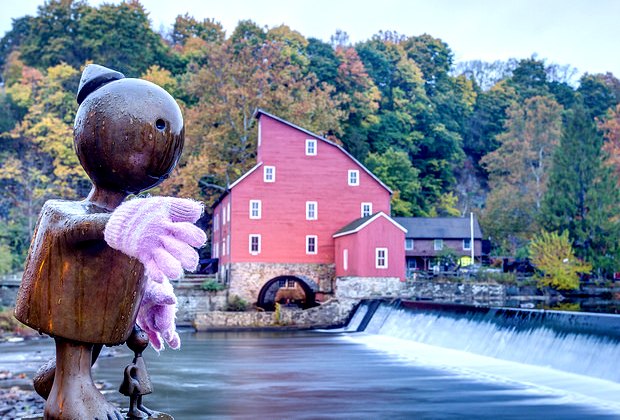 The bucolic setting of the Red Mill Museum is gorgeous no matter the season. Photo by Anthony Cuffari via Flickr
74. See the falls at the historic Red Mill Museum quarry or visit during the Haunted Village if you dare.
75. Bike ride through Duke Farms landscaped grounds.
76. Touch a tarantula and hissing cockroach at Insectropolis.
77. Go sailing with pirates, or hit the water on another exciting boat ride.
78. Play and splash around at Newport Green in Jersey City, or at one of NJ's other awesome water playgrounds.
79. Bring the whole family to an outdoor music festival like Maplewoodstock or Hoboken Arts and Music Festival.
80. Bond with your crew in nature at these family campgrounds.
81. Visit the Newark Museum to see an amazing art collection, along with cool science exhibits, planetarium shows, and a fire museum.
82. Brave a Cape May Walking Ghost Tour.
83. Climb inside Lucy the Elephant at Margate.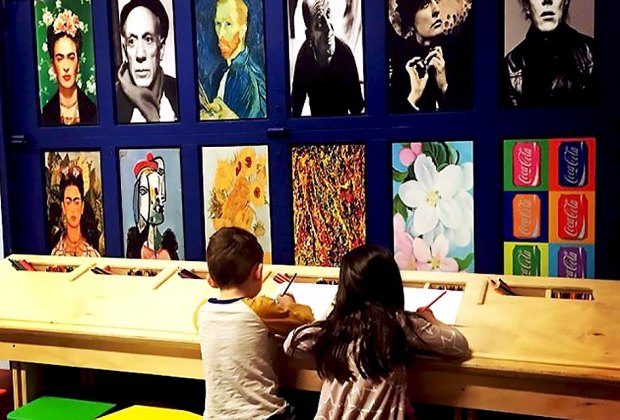 Create a masterpiece at the Garden State Discovery Museum. Photo courtesy of the museum
84. Explore and laugh at the Garden State Discovery Museum.
85. Check out Bon Jovi's leather jacket and Bruce Springsteen's bluejeans at the GRAMMY Museum Experience in Newark.
86. Tour the Sterling Hill Mining Museum and mine for your own treasures.
87. See baby animals at NJ farms, including Paws Discovery Farm in Mount Laurel and Brookhollow's Barnyard in Boonton.
88. Bring your train lover to Northlandz to see the miles and miles of model trains and doll collection.
89. Take the whole family to a Red Bulls soccer game in Harrison.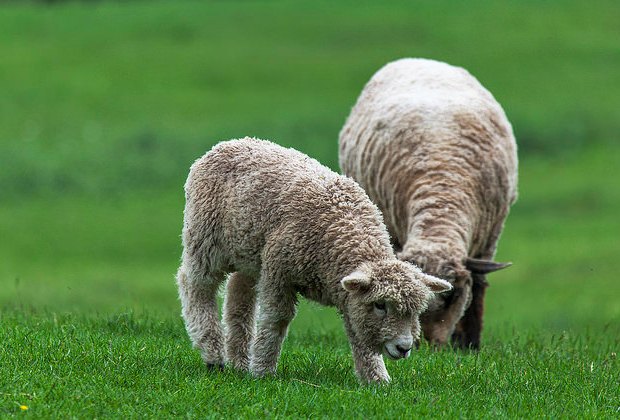 Visit the farm animals at Howell Living History Farm. Photo by William Doyle via Flickr
90. Learn about the past at Howell Living History Farm.
91. Toss the plastic tree and go cut down your own beauty on one of NJ's Christmas tree farms.
92. Get your math fun on at Pi Day in Princeton.
93. See the murals and famed boardwalk in Asbury Park.
94. Ride the Cape May-Lewes ferry.
95. Bounce it out at a NJ trampoline park.
96. Go whale watching in Cape May.
97. Try to avoid the Jersey Devil in the Pine Barrens.
98. Stay up late to watch the big fireworks display on July 4th in Liberty State Park.
99. Be a spectator (or participant) at the NJ Polar Bear Plunge.
100. Treat yourself to over-the-top confections at NJ's incredible doughnut shops.
This article was first published in February 2013 and has since been updated.