10 Things To Do at Terhune Orchards in Princeton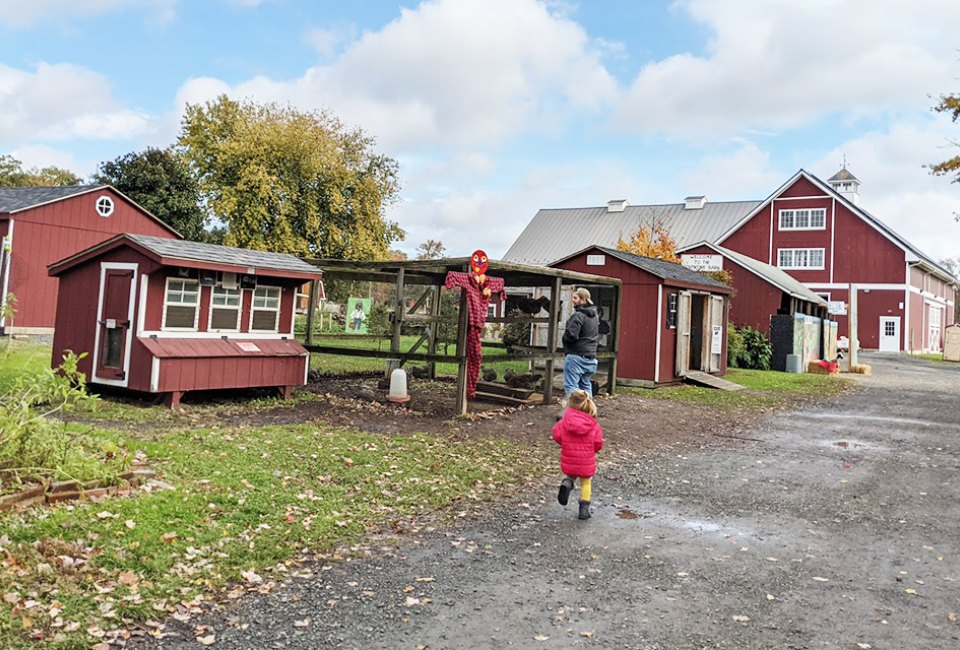 11/11/21
- By
Yuliya Marks
Spread across 250 acres of prime New Jersey farmland, Terhune Orchards has long been one of our favorite family-friendly farms. It's the perfect place to whisk away your spirited child and let them run wild through the corn maze or explore the sunflower field, jump in muddy puddles, or prop them on your shoulders to pick the best-tasting apple from the tippy-top of the tree.
A pastoral play space, it overflows with opportunities for outdoor fun in any season. There are educational programs, plenty of fresh produce, seasonal festivals, live music, and even some grown-up perks. Read on for 10 fun things to do at Terhune Orchards, and find more family-friendly farms in our Guide to Pick-Your-Own and Farms in NJ.
Subscribe to our newsletters to get stories like this delivered directly to your inbox.
Terhune Orchards is home to a variety of farm animals, including chickens, rabbits, sheep, goats, donkeys, and ducks. Pack plenty of quarters to purchase food for a perfect photo-op.
2. Enjoy an Educational Playground
Playtime is fun and educational here, as kids learn about each of the seasons on the farm and what grows during each. See bees up close and learn how to keep them. Learn about farm equipment, and pretend to ride the inoperative tractors. Match the animals and learn about the magnets while figuring out a maze. There is a never ending list of fun things to do and learn. Be sure to walk the Farm Trail, which offers an easy 1-mile loop, and look at seasonal changes, local wildlife, and flora and fauna on the farm.

Little ones can enjoy a mild horse ride around the pasture at Terhune Orchards.
3. Go for a Horse Ride
For a nominal fee, hop astride a horse for a ride around the farm. Those who are feeling sheepish can stand on the sidelines and pet them instead. Be sure to bring your camera because you'll want to capture the joy on your child's face either way!
4. Play Family Games
Depending on the season, there are so many fun things for the kids to do. You can participate in a rubber ducky race, play hoola-hoop horse toss, or go round in the hippity-hop carousel. Pedal tractors beg to be ridden, too.
Don't forget the food: There are a lot of picnic tables for your spread, and Terhune Orchards is happy to help you fill them. Sweet apple cider is so good the bees can't stay away. You'll also find cider donuts, fresh barbecue chicken, and a large list of homemade food items to purchase—and they all taste like your grandma spent a day in a kitchen. Before you head home, stock up on farm-fresh food and local specialties in the Farm Store, which is open daily year-round. Find a variety of sweet butter and honey, plus Terhune-grown vegetables and fruits to enjoy. On the way out, don't forget to pet the farm cat.
RELATED: Family-Friendly Vineyards and Wineries in New Jersey

Terhune Orchards produces a variety of local wines, all with a farm-fresh twist.
6. Indulge in a Wine Tasting
While the kids get a delicious cider, adults can purchase a bottle of apple wine—or one of the other varieties produced at the on-site winery. Plan your farm visit to coincide with one of its events and tastings. There is plenty of outdoor space to enjoy your glass with friends, and during the warmer months, there's even live music
7. Kid-Friendly Programming
If you've got a budding farmer on your hands, take note: Terhune Orchards has plenty of kid-friendly programs that let them learn about farm life. Little ones delight in its read & pick and read & explore programs, which include storytime and farm fun. Register big kids for a one-week session of Farm Camp, where they learn about farm life, pick produce for farm-to-table snacks, and more. If you're searching for a unique field trip or birthday party site, Terhune can help with that, too.
Beginning in April with the annual Bunny Chase and continuing right through Fall Family Weekends, there's always a reason to celebrate on the farm. You'll find festive celebrations, live music, and fun seasonal activities.
RELATED: Cream of the Crop: 15 Top Farms in New Jersey for Family Entertainment

Apple picking season draws scores of visitors to Terhune Orchards.
What would a piece on Terhune Orchards be without mention of its pick-your-own programs? With more than 50 crops, pick your own is nearly always in season. Terhune Orchards is well-loved for its apple, pumpkin, and strawberries, but there's much more to pick here, too.
10. Get Lost in the Corn Maze & Sunflower Field
Run the corn maze as many times as you wish. Little ones can explore a hay bale maze, too. Explore the sunflower field and look out for caterpillars crossing the road, or visit the flower field to pick a bouquet to bring home as a sweet memory of the day.
RELATED: See Baby Animals at Petting Zoos and Family Farms in NJ

Terhune's friendly farm animals are happy to have visitors feed them!
Know Before You Go to Terhune Orchards
There are actually two different locations: Most of the attractions listed take place at the Cold Soil Road location, while the apple orchard is located on Van Kirk Road.
The farm store is open daily, year-round. Hours for other attractions vary. Bookmark the website to check hours before your visit.
Terhune Orchards is both a sustainable farm and an organic vegetable producer. Learn more about its growing practices online.
Terhune Orchards is following all CDC guidelines during the pandemic.
Pets are not allowed; please leave them at home or risk being turned away.
No outside food is allowed on-site, but there are plenty of options for purchase. No smoking is allowed on farm grounds.
All photos by author
Places featured in this article:
---
Terhune Orchards
---
Terhune Orchards
Sign up for the Mommy Poppins Newsletter today!