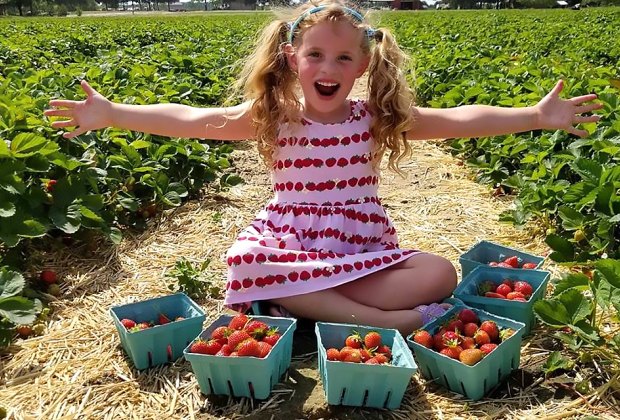 Pick-Your-Own Strawberry Farms and Festivals in New Jersey
Nothing screams springtime in the Garden State like getting your hands dirty picking strawberries, and heading to a pick-your-own farm is an outdoor adventure with a sweet reward.
Whether this is your child's first time at the strawberry patch or you're looking to fill pies, jam jars, smoothies, and shortcakes for months to come, you'll want to check out our list of more than 20 New Jersey farms and festivals around the state, where your sweeties can their hands on bushels full of juicy red berries.
Check out our May GoList and Spring Fun Guide to find more events and activities to enjoy with your NJ kids this strawberry season. Happy picking!
New Jersey's strawberry picking season is estimated to arrive in late May, so be sure to call ahead for opening and picking times before you hit the road.
Sign up for our FREE newsletters to get posts like this delivered to your inbox.
Strawberry Farms
Alstede Farms – Chester
You can easily spend an entire day at this family farm, which offers everything from picking strawberries to feeding barnyard animals. It also hosts an annual Strawberry Festival in June (see "Strawberry Festivals" below).
Battleview Orchards – Freehold
This century-old, family-run farm is known not only for its sweet strawberries, but also its delicious apple cider donuts made fresh all year round—score! There's a $5 per person fee to enter the strawberry patch, which is credited toward your final purchase.
Bonacorsi Family Farm – Frenchtown
This farm has two Hunterdon County outposts, and the Frenchtown location is home to thousands of strawberry plants, ripe for the picking. After picking, stick around for strawberry-themed storytimes and arts & crafts, or visit the farm's baby goats and other animals. Note: this farm is cash-only and provides all the containers.
Donaldson Farms – Hackettstown
During Strawberry Harvest weekends in June, the atmosphere at this family farm is downright carnival-like, with hayrides, pony rides, face painting, sweet treats, and more. There's no entry fee for the strawberry patch. Containers are available for purchase, or you can bring your own (no paper or plastic bags are allowed).
Farms View – Wayne
Around since 1894, this farm is the real deal. In addition to u-pick strawberries for the whole family, kids can greet goats, chickens, pot-bellied pigs, donkeys, peacocks, sheep and a horse at the farm's barnyard.
Johnson's Corner Farm – Medford
With a Discovery Barnyard play area that's home to go-carts, climbing rocks, splash pads, and more, your kids won't be bored at this Burlington County farm. Enjoy a hayride out to the strawberry fields to pick your own berries, and check out the annual Strawberry Festival held the first weekend in June (more details below).
Lee Turkey Farm – East Windsor
Strawberry season kicks off in early June with a 50-minute farm tour ($7 per person) that includes visits to the farm's honey bees and baby turkeys (hence the farm's name). Once you reach the strawberry patch, everyone can pick their own quart of berries.
Melick's Town Farm – Oldwick
Home to one of NJ's largest apple orchards, the Oldwick Farm Market location is also a sweet spot to pick your own strawberries. Don't leave without walking through the market, where you'll find lots of fresh fruits and veggies, homemade jams and jellies, baked goods, and the farm's own apple wine.
Ort Farms – Long Valley
Quieter and less commercial than other NJ farms, Ort Farms still has a lot to offer with storytimes, crafts, farm animals, a tractor play set, and hay pyramid, plus Strawberry Festival weekends (more on that below). It's open everyday for picking from 10 a.m. – 4 p.m., and expects to open for picking on May 20.
Peterson Farm – Flemington
Since berries grow in full sun, the farm recommends coming early in the morning to pick when temperatures are at their coolest. The farm provides picking trays and carriers, which you can re-use for a discount on your next visit.
Phillips Farm – Milford
If you want an old-fashioned, straight-forward u-pick experience, check out this farm situated along the Delaware River. Perfect for berry lovers, this farm has strawberries now and, later in the season, blueberries, blackberries, and red and black raspberries. The farm is closed for picking on Tuesdays.
Russo's Orchard Lane Farm – Chesterfield
With a 10-pound minimum, you won't have trouble filling up your basket with freshly picked strawberries at this 250-acre farm. Be sure to refrigerate your haul as soon as you get home, and wash and clean berries right before eating. Freeze some to use year-round in smoothies and shakes.
Sparacio Farms – Bridgeton
Surprise! This Cumberland County farm is already ripe with juicy red strawberries. Limited quantities are available daily at the farm's market stand. After being closed for u-picking last year due to harsh winter conditions, the farm expects the strawberry fields to open soon for pick-your-own season.
Snyder's Farm – Somerset
Rutgers Scarlet strawberries, developed by the NJ Agricultural Experiment Station, are grown for picking at this farm, which is open weekends only. After picking strawberries on June 1, BYO blanket and take a hay ride out to the field to watch a movie under the stars. Enjoy corn hole, pedal carts, and races on the lawn, plus hamburgers, hot dogs, and the farm's famous blueberry grilled cheese from the concession stand before the movie starts. Don't forget to save room for the popcorn and homemade ice cream.
Stony Hill Farms – Chester
You may forget to pick strawberries at this farm because there are so many other fun activities available. Admission to the picking field also includes access to the rope maze, tile maze, barnyard boardgame and trike rides, perfect for little ones.
Sussex County Strawberry Farm – Newton
Looking for an idyllic place to pick your own fruit? Look no further. As its name implies, this farm is serious about strawberries. Owned by two families who have been working the fields for more than 30 years, it's aa berry picker's dream!
RELATED: 50+ Things We Can't Wait To Do with Kids This Spring in NJ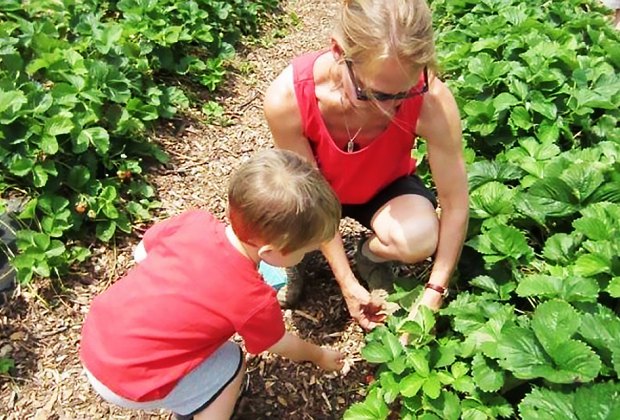 It's a family affair at Terhune Orchards. Photo courtesy of the orchards
Terhune Orchards – Princeton
Terhune's strawberry patches span two acres, and the beds are raised, which makes picking easier. After you've had your strawberry fill, there's still plenty to do. While kids enjoy the farm animals, trails, and hayrides, parents can check out the farm store and winery. Head over on Tuesday, June 4 for Read and Pick, where kids can enjoy a storytime about strawberries, learn how the berries are grown, and pick their own container of fruit.
VonThun Farms – Monmouth Junction
Going strong for five generations, this Middlesex County farm offers good, old-fashioned farm fun. The fee for "picking passes" will be deducted from your total purchase once you're done in the field. Be sure to check out the Strawberry Festival weekends in June (more details below) with pony rides, face painting, and more.
Wemrock Orchards – Freehold
Nestled at the end of a dirt road and through a forest is this farm's secluded strawberry patch. There's no entrance fee; simply pay per pound for whatever you pick. Stop by the ice cream parlor before you go.
Wrightman's Farms – Morristown
To pick your own fruit, you need to join its PYO Farm Club. A membership gives you access to fruits, vegetables, flowers, and herbs. The membership comes with two reusable bags, coupons for the farm, and water bottles.
Strawberry Festivals
Johnson's Corner Farm Strawberry Festival – Medford
Friday, May 31– Sunday, June 2, 2019
Celebrate all things strawberries at this three-day festival. There will be hayrides to the strawberry patch, games, and a farmhouse BBQ. For dessert, have a taste of strawberry ice cream, shakes, and baked treats made with the farm's own fresh strawberries.
City Green Strawberry Festival – Clifton
Saturday, June 1, 2019
Urban farm organization City Green returns with its annual strawberry fest. Stop by the Farm Eco Center to pick fresh berries off the vine, listen to live music, and participate in arts, crafts, and family-friendly activities.

West Cape May Strawberry Festival – West Cape May
Saturday, June 1, 2019
This fun-filled festival is held in Wilbraham Park in West Cape May and features Jersey fresh strawberries (of course), strawberry shortcake, craft vendors, food, and more. Parking and admission are free.
RELATED: 40+ Spring Festivals for New Jersey Kids and Families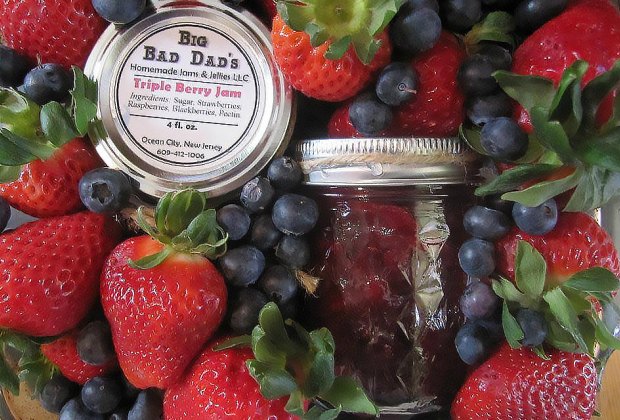 Stock up on local homemade jams and jellies at the West Cape May Strawberry Festival. Photo courtesy of the festival
Ort Farms Strawberry Festival – Long Valley
Saturdays and Sundays, June 1-2 and 8-9, 2019
Head out to Ort Farm for a day of u-pick fun, served up with a side of train rides, hayrides, and a snack shack brimming with tasty strawberry treats.
Alstede Farms Strawberry Harvest Festival – Chester
Saturdays and Sundays, June 1-2, 8-9, and 15-16, 2019
Alstede Farms celebrates the glory of the red ripe berry annually with its Strawberry Harvest Festival. Take a scenic hayride out to the strawberry patch to pick your own strawberries all day long. Under the festival tent will be a variety of homemade strawberry treats to sample, plus lots of family fun activities, including pony rides, tractor train rides, and a bounce house.
VonThun Farms Strawberry Festival – Monmouth Junction
Saturdays and Sundays, June 8-9 and 15-16, 2019
Beyond berry picking, this festive weekend includes an activity area complete with a straw maze, rubber duck races, hayrides, flower pot bowling, spring checkers, and corn hole. Spring for the combo admission ticket which gives you full access to the activity area and strawberry fields, plus a free pound of fresh strawberries.
Strawberry Picking Tips:
Always call ahead. Picking schedules are weather dependent and fields close frequently to allow berries to ripen—or if they're picked out. It's best to know before you go.
Leave your pets at home. With the exception of Alstede Farms, dogs are not permitted on u-pick premises. At Alstede, while dogs are allowed in the PYO areas, they must be leashed and remain on the farm road.
Bring cash. A majority of these farms don't accept credit cards. Come prepared with a few paper bills to avoid disappointment at checkout.
Have a plan B. Visit the farm's website to see what activities are offered, and also research the local area for events, playgrounds, or restaurants in case you want to hang out and refuel after a day of picking.
Don't overbuy—or under buy. Plan ahead and figure out how much fruit you will use now, and how much you want to freeze for later. But keep in mind that NJ's strawberry season is short, so you may not have a chance to return to a farm before the berries are gone.