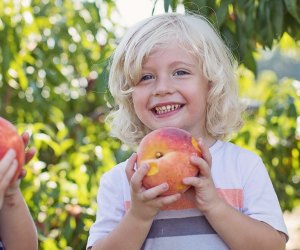 Top Peach Picking Farms in New Jersey for 2021
One of the great joys of summer is a warm-off-the-tree peach, and New Jersey has pick-your-own peach farms aplenty.
The peach picking season in the Garden State really gets going in mid-July and carries on through August and early September at some farms. Before heading out on a peachy adventure, call ahead or check the farm's Facebook page to make sure crops are still plentiful and what, specifically, is available on any given day—you might also be able to pick blueberries, which are available at many farms through the end of July.
OUR LATEST VIDEOS
Pick-Your-Own Peaches in Northern NJ
This popular farm offers more than 12 varieties of peaches for picking and is open to the public on the weekends from 10am-3pm. You'll pay $5 per person to enter the orchard. Be sure to wear comfy shoes: Hayrides are still on pause. There's a $12 flat fee for a bag that holds up to 12 pounds of peaches. Picking requires online reservations and masks.
RELATED: Gorgeous Sunflower Fields and More Pick-Your-Own Flowers in NJ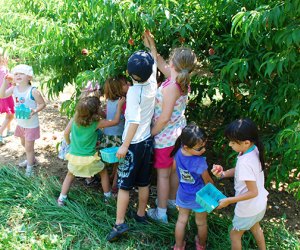 Follow up your peach picking with a pony ride and other kid-friendly fun at Alstede Farms. Photo courtesy of the farm
Alstede entices visitors with a slew of entertaining extras in addition to pick-your-own peaches, flowers, and other fruits and vegetables. There are always barnyard animals available to feed, events going on, such as tractor and pony rides, and corn or sunflower mazes, as well as a seasonal hay pyramid to climb. Check the farm's "what's picking now" tab for the best peach picking days. Purchase your tickets online in advance to guarantee admission.
This adorable country farm offers pick-your-own peaches during limited hours. Call 908-475-5209 in advance to check on picking conditions and availability. After you're done peach picking, stop in for a visit with the animals or peruse the goods at the farm store. Credit cards are not accepted, so be sure to bring cash or a check.
The orchard is open on Saturdays from 9am-5:30pm and Sundays from 9am-2:30pm. The $10 entry fee provides 5 months of PYO access, a reusable tote bag, and berry containers. All fruit harvested is weigh-and-pay. You may also skip the schlep and purchase directly from its farm store seven days a week.
Pick-Your-Own Peach Farms in Central NJ
Staggered varieties mean peaches are available at this popular farm through mid-September. The orchard is open daily, and hours vary from day to day. Call ahead for daily orchard hours, 732-462-0756. You'll need to arrive at least 20 minutes before closing to pick your fruit. Don't leave without a visit to the country market, where the farm's famous apple cider doughnuts are baked fresh daily. Also, note that Battleview Orchards is a cash-only farm.
Home to several varieties of peaches and nectarines, this 35-acre family-run farm has been around for more than seven decades. Call to confirm crop availability, 732-821-9494. The farm is open Wednesday through Saturday, 10am-6pm; on Sundays, it closes at 3pm. Plan to arrive at least an hour before closing.
Johnson's offers 10 varieties of peaches in its orchard, which is accessed by a paid hayride. Once you're finished picking, cool down at the farm's splash pad or check out the pedal go-kart track and obstacle course at the Discovery Barnyard and Animal Farm (for an additional fee). Book reservations in advance.
Celebrating 150 years of farming in NJ, this farm has the pick-your-own process down to a science. The $2 pick-your-own club membership covers a family for the entire season. When you come to pick, there's a $5 picking deposit per adult that goes toward your final purchase. The farm says this nominal fee is to offset the irresistible peaches you're bound to taste as you pick. Picking is available 7 days a week. There's a nice park right across the road with picnic benches and a pavilion where you are welcome to eat.
RELATED: See Baby Animals and More at Family-Friendly NJ Farms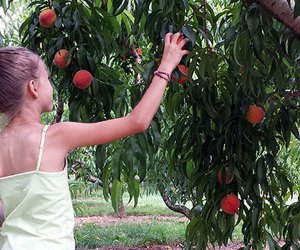 Take your pick of more than 30 varieties of peaches at Melick's Town Farm. Photo courtesy of the farm
Melick's low-key farm experience allows pickers to walk right into the orchard, where you'll find 30 varieties of peaches—both yellow and white—growing on more than 5,000 trees. Luckily, the trees are low to the ground, making the fruit easy for little arms to reach. Book your reservations online in advance.
Stop by the farm stand at this working farm to get your containers weighed before walking out to the orchard. Pick-your-own is offered daily except Tuesday from 9am-6pm, but visitors are encouraged to call the message line at 908-995-0022 before visiting. The farm's clingstone yellow peaches (meaning the peach flesh "clings" to the pit) are ripe for picking now.
This Princeton farm is beloved for its family fun, including wagon and pony rides, face painting, and a petting zoo, with live music and cooking demonstrations under the festival tent. Baskets overflowing with just-picked peaches and nectarines are ready to take home from the farm store to make your favorite peach recipes. Or try one of the orchard's delicious freshly baked peach cobblers or pies. In August, the farm hosts its annual Just Peachy Festival.
Pick-Your-Own Peaches in Southern NJ
Look out for the orange windmill on Route 77, and you'll know you've reached this peach paradise. Bring your own bucket or box (plastic bags are not allowed) to pick peaches at this picturesque farm. Once you check-in, hop back in the car to drive to the easily accessible orchards. Closed Sundays, but picking is available every other day of the week from 8 am-7 pm.
Originally published in 2016 and updated annually.