Best Christmas Light Displays and Christmas Lights on Houses in Los Angeles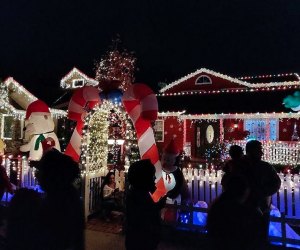 When the lights start going up, then you know it's Christmas! And whether your holiday of choice is Christmas, Hanukkah, Winter Solstice, or Kwanzaa there is a timeless joy in taking a spin around the neighborhood to look at the local Christmas lights on houses. The big flashy light displays are coming back after dimming a bit last year to discourage crowds, and there is always a special magic to finding over-the-top lawn displays created by someone's (if thankfully not your) next-door neighbor. Here we've rounded up the best Christmas lights on houses across the city, from famous displays like Candy Cane Lane to smaller neighborhoods that dazzle.
Can't get enough Christmas lights? Check out some of LA's holiday light shows and drive-through Christmas lights events as well as the dazzling light displays in enchanted gardens. Find all this and more in our Guide to Holiday and Christmas Activities for Los Angeles Families.
If you visit, please respect the safety of the homeowners, many of whom are someone's grandparents! Please keep safe distances, wear masks, and don't touch any decorations.
This post is being continuously updated with 2021 info as it comes in.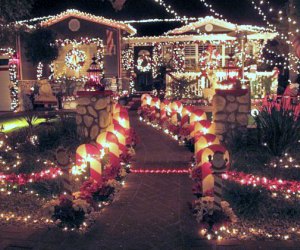 Sleepy Hollow lights are anything but sleepy. Photo by author
Also known to locals as "The Hole," Torrance's Sleepy Hollow neighborhood has been sending up flares for Santa for more than 40 years, and there's no question he's seen them—as have a whole lot of other admirers. Fans pour through nightly from Thanksgiving weekend until Christmas, and the best way to enjoy the vibe is to park outside the neighborhood and walk through. It sounds like the hot chocolate and candy cane stands are back for 2021, and no doubt many residents (some dressed as Santa) will still sit around their fire rings and wave at the holiday lights admirers. A limited number of cars are allowed through, but it's slow going; one can only hope that no one is waiting for a pizza delivery guy.
Parking options are best on either Pacific Coast Highway or Prospect. Robert Road is just north of Calle Mayor off PCH.

Just one of the many houses on Candy Cane Lane in El Segundo. Photo by Pedro Szekely/CC BY 2.0
Candy Cane Lane is back! After being canceled for the first time since it began in 1949, residents of El Segundo and the rest of the South Bay will be able to enjoy the festive lights once again. The eastern block of Acacia Avenue is announced by a Candy Cane Lane sign, marking a tradition of more than 60 years. Houses are alight with trains, reindeer, giant characters, and music, plus frequent appearances by Santa Claus in a covered sleigh at the end of the cul-de-sac. The lights are on by 6pm (though most turn on at dusk). Opening night this year is Dec. 11 at 7pm and includes extra entertainment and a special appearance by Santa himself! If you're looking for the most holiday lights per square foot, Candy Cane Lane is your destination.

The street itself is closed to cars, making for a delightful, one-block family stroll, and parking is available throughout the rest of the (well decorated) neighborhood. The last night of the official display is December 24, keeping the street more private for the actual holiday.
South Bay Cities Lighting Contest - Manhattan Beach
To raise much-needed funds for educational programs at the Roundhouse Aquarium, Manhattan Beach and the surrounding Beach Cities are also lighting up with a competition for the second annual Light Up the Beach Cities contest. Businesses, residences, and vehicles (that could mean bikes, cars, golf carts, and more—literally anything with wheels) can enter the contest and win prizes by displaying the most creativity and spirit. Entries from these contests will be spread throughout the community—and Manhattan Beach is sure to be unusually festive as a result.

Ever wondered how many lights can fit on one lawn? Photo courtesy of Norton's Winter Wonderland
This fellow Dick Norton is about as Christmassy a neighbor as anyone could want! For years the Norton home has been a destination because of its ultra-festive decor. 2021 is a year of transition for Norton's Winter Wonderland, with most of the large attractions not on display. That's because they've been passed down to the Norton's adult children for their own home displays (and links with directions to these homes will be shared on the Norton's Winter Wonderland website when they're up). Don't worry, they'll still have the original Santa's Toy Shop with the animated elves, plus there are plans for Santa's Train Station. Don't miss another formidably lit house on this street, Keith's Winter Snowland. Note that if we happen to get a wet evening, much of the display is turned off.

Polar bears and elves make their home on Candy Cane Lane in Woodland Hills. Photo courtesy of F. Bara, Tripadvisor
The Valley's version of Candy Cane Lane can be enjoyed from the comfort of one's car, but be prepared for traffic as the holidays draw closer. The group of homeowners on the four streets bordered by Oxnard, Martha, Corbin, and Winnetka collectively out-do themselves every year, and cars are drawn like kids to Santa. Visitors are encouraged to dim headlights on the eight-block stretch so that everyone can enjoy the holiday lights. Brace yourself for slow-moving traffic—so slow, in fact, that most cars end up with kids poking their heads through the sunroofs waving at each other with holiday cheer.

The lights can generally be enjoyed from the second Saturday in December through New Year's Day, though many homes start decorating Thanksgiving weekend. This year, some families on the four streets are decorating, and some are not. Expect a smaller display than most years.
Yolanda Lights is a unique spin on the typical Christmas light setup. All along the 7300 block of Yolanda Ave. in the center of Reseda a series of incandescent arcs straddle the sidewalks to create mesmerizing tunnels of warm light. The neighbors along Yolanda Avenue want you to park your car, admire their handiwork, and donate some canned food items or blankets for the local homeless. The lights run until Jan. 6 (Epiphany) and come on at sundown, staying on until midnight. If this video featuring drone footage of the display doesn't get you excited, we don't know what will!
Lights on Display is the name that Emmy Award-winning video editor Mike Ziemkowski has given his magnificent Christmas decoration display show. Ziemkowski mixes his film industry expertise and a love of Christmas to produce a display whose fame extends far beyond the San Fernando Valley: this house is the 2015 winner on the national reality show The Great Christmas Light Fight. The display goes way beyond lights; the timed show with music and motion is the sort of thing some places would charge admission for. Located in Sherman Oaks on Longview Valley Road, the new 2021 show premieres on Dec. 3 and runs through New Year's Day. Shows run on Wednesdays and Thursdays from 6pm until 9pm, and Friday through Sunday from 5pm until 10pm. If you're not up for the drive to the Valley, you can always check out videos of his shows on his website, as well as shows from Christmases past.
The parade is back for 2021! Well, sort of. Instead of the usual march up and down Daisey Avenue, the reimagined parade will be a car caravan that winds through the streets of Long Beach's Wrigley neighborhood. The Christmas Tree Lane Parade will be on Dec. 11 and starts at noon (instead of its usual 6pm start). With more than six decades of experience in the Christmas lights business, this neighborhood has it down. Long Beach holiday light groupies may be our most spoiled Southlanders at this time of year, with the Naples Island holiday lights boat parade being held on Dec. 18.
RELATED: Christmas Boat Parades around LA and OC

And a place to park your camel, too... Photo by author
If you're living closer to Orange County, Brea Lights may be the perfect place to see stunning Christmas decorations in 2021. This light display, which is located in the neighborhood of Eagle Hills, has its semi-official light-up date on Dec. 2 and will run until Dec. 30. As a hillside neighborhood with narrow roads and many cul-de-sacs, traffic can be very rough. If you want to park and walk, it's recommended you park at the Brea Sports Park and walk into the tract.

Christmas Tree Lane in Altadena is one of the longest-running Christmas light displays anywhere! Photo courtesy of Yelp
Altadena's famous Deodar cedar trees have been lit with festive strings of holiday lights every year since 1920, in what is recognized as the oldest large-scale outdoor Christmas display in the world. Some of the houses decorate, but the attraction here is really more the trees, which create a delightful .7 mile colorful pathway to cruise. There isn't a sidewalk, so it's not as inviting a walk as it is a drive; cars ramble slowly down the length of Santa Rosa Lane taking in the view. Be a good neighbor and dim down to your parking lights while viewing, to help other drivers enjoy the lights more.

The lights are on, and will stay lit until January 9, 2022, giving you plenty of time to see this awesome display.
The Altadena and San Marino versions of this lighted holiday pathway are twinsies. The towering trees lining the road get decked out like giant Christmas trees, and the estate homes behind them don't look too shabby either.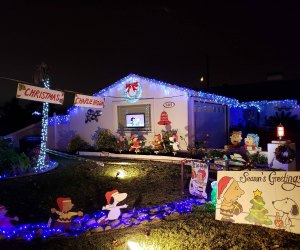 Peanuts are timeless. Photo courtesy of Upper Hastings Ranch Association
Since 1951, each block in this neighborhood has decorated its homes to a theme, marked by an icon placed in the parkway, and themed wooden signs along each block. The neighborhood is large enough that one evening's drive probably won't catch everything; the pride this neighborhood takes in the collective project definitely merits a visit. Choose a route, and let the oohs and aahs begin; opening night is December 11, 2021, and the displays run nightly, 6pm-10pm.
The double cul-de-sac of 41 houses in the Saugus neighborhood of Santa Clarita offers an annual elaborate light display that includes a ceiling of lights strung across the street from house to house. Wakefield Court is off Copper Hill Drive and Courtland, and the lights switch on nightly from 5:30pm-10:30pm, usually by December 1 each year. (Yep, this year they're already up and shining!) The lighting displays won't be quite as elaborate this year, and for the safety of the community, residents request that guests drive by in lieu of walking the neighborhood.

Families in this cul-de-sac don't mind the traffic. Photo courtesy of Wakefield Winter Wonderland
Montgomery Road and Janss Road - Thousand Oaks
This home doesn't have a fancy name or a flashy website, but our friends in Thousand Oaks love to drive by this family's extravagant display every year. It's just one house, but no corner goes unlit, and the decorations are generally up and flashing their seasonal cheer by Thanksgiving weekend.
Timberdale & Pinedale - Moorpark
This isn't one of those neighborhoods with a Facebook page, a special street sign, or even a kitsch name, but if you're on a search for holiday eye candy, this is a sweet spot to check out. The neighborhood is across from Moorpark High School (head east on Countrywood Drive until you hit Timberdale), and it's just house after house of sparkling delights, in a clear spirit of "I can make my house more visible from space than yours is."
Originally published December 5, 2011