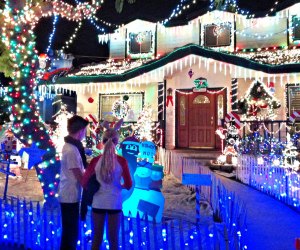 Best Christmas Light Displays and Home Holiday Decorations around Los Angeles
When the lights start going up, then you know it's Christmas! And whether your holiday of choice is Christmas, Hanukkah, Winter Solstice, or Kwanzaa there is a timeless joy in taking a spin around the neighborhood holiday lights. Flashy light displays that charge admission—like the LA Zoo Lights, Enchanted Forest of Light, or Queen Mary Christmas—are always fun, but there is a particular magic to those over-the-top lawn displays created by someone's (if thankfully not your) next-door neighbor. Even better is a whole street made up of nothing but this kind of neighbor, and we know where a few of those extra special Christmas neighborhoods are.
LA County has plenty of these community treasures hidden in plain view; some of the top Christmas crowd-pleasers are listed below (not to mention some amazing holiday lights in Orange County). And while we SoCal families do try, for the most part, to achieve something of a Green Christmas, for at least one evening we can forget that we're burning fossil fuel to admire electricity-guzzling visual excess. Or, better yet, park the Prius, walk through, and only look at the houses using LED holiday lights...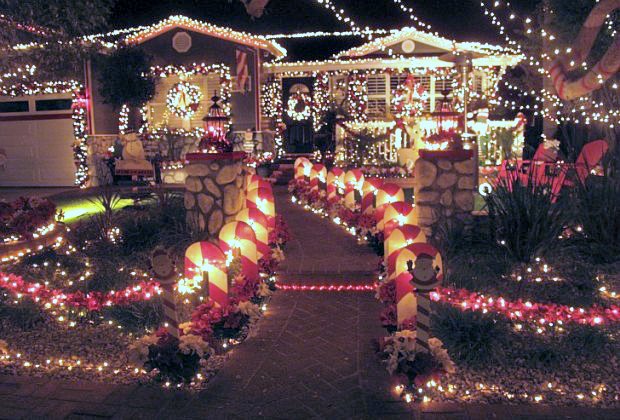 Sleepy Hollow lights are anything but sleepy. Photo by author
Sleepy Hollow Christmas Lights - Torrance
Robert Road
Torrance, CA 90505
Also known to locals as "The Hole," Torrance's Sleepy Hollow neighborhood has been sending up flares for Santa for more than 40 years, and there's no question he's seen them—as have a whole lot of other admirers. Fans pour through nightly from Thanksgiving weekend until Christmas, and the best way to enjoy the vibe is to park outside the neighborhood and walk through. Kidpreneurs in other neighborhoods have their lemonade stands; the ones around here set up hot chocolate and candy cane stands on every block ($1 is the usual price point). Residents (some dressed as Santa) sit around their fire rings and wave at the holiday lights admirers, the most dedicated of whom could easily spend a couple of hours wandering the whole display. A limited number of cars are allowed through, but it's slow going; one can only hope that no one is waiting for a pizza delivery guy.
Parking options are best on either Pacific Coast Highway or Prospect. Robert Road is just north of Calle Mayor off PCH.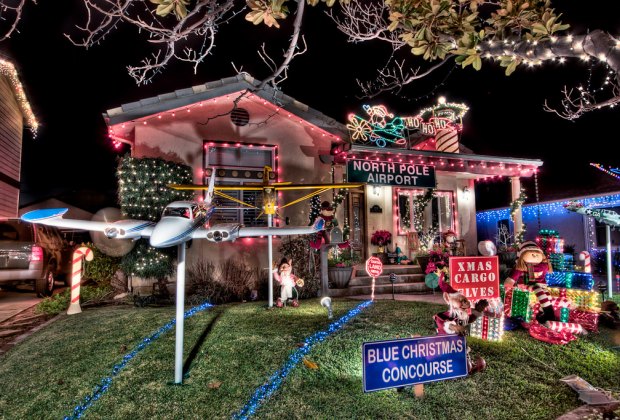 Candy Cane Lane in El Segundo. Photo by Pedro Szekely/CC BY 2.0
1200 Acacia
El Segundo, CA 90245
The eastern block of Acacia Avenue is announced by a Candy Cane Lane sign, marking a tradition of more than 60 years. Houses are alight with trains, reindeer, giant characters, and music, plus frequent appearances by Santa Claus in a covered sleigh at the end of the cul-de-sac. The lights are on by 6pm (though most turn on at dusk); Santa usually sits down in his sleigh at about 7pm. Opening night always includes extra entertainment. If you're looking for the most holiday lights per square foot, Candy Cane Lane is your destination.

The street itself is closed to cars, making for a delightful, one-block family stroll, and parking is available throughout the rest of the (well decorated) neighborhood. The last night of the official display is usually December 23, keeping the street more private for the actual holiday.
RELATED: Descanso Gardens' Enchanted Forest of Light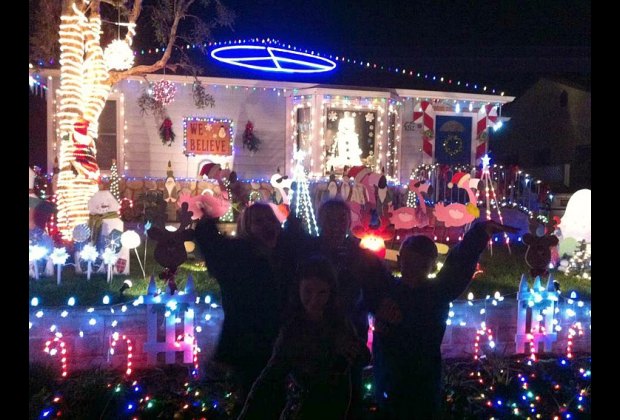 We believe in Candy Cane Lane! Photo by author
Lubao and Oxnard Streets
Woodland Hills, CA 91367
The Valley's version of Candy Cane Lane can be enjoyed from the comfort of one's car, but be prepared for traffic as the holidays draw closer. The group of homeowners on the four streets bordered by Oxnard, Martha, Corbin, and Winnetka collectively out-do themselves every year, and cars are drawn like kids to Santa. Visitors are encouraged to dim headlights on the eight-block stretch so that everyone can enjoy the holiday lights. Brace yourself for slow-moving traffic—so slow, in fact, that most cars end up with kids poking their heads through the sunroofs waving at each other with holiday cheer.

The lights can generally be enjoyed from the second Saturday in December through New Year's Day, though many homes start decorating Thanksgiving weekend.
RELATED: Holiday Lights Worth Paying To See this Christmas Season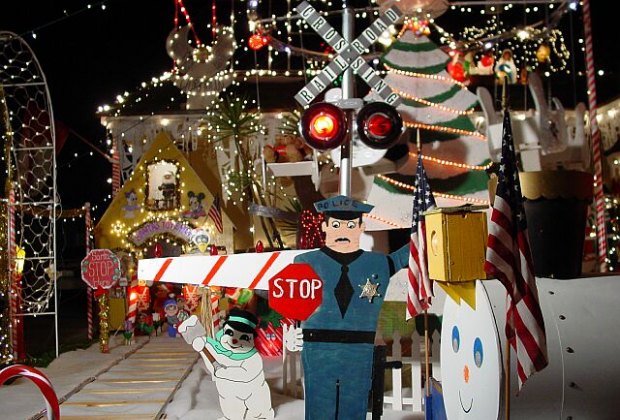 Ever wondered how many lights can fit on one lawn? Photo courtesy of Nortons Winter Wonderland
513 N. Florence Street
Burbank, CA 91505
This fellow Dick Norton is about as Christmasy a neighbor as anyone could want—and he lets everyone feel like his neighbor by sharing both the lengthy construction process and his nightly holiday light show via a string of webcams. His website has plenty of info, including ongoing progress toward his target opening date December 6, 2019. The website also has a link for sending email to Santa, and info about another formidably lit house on his street, Keith's Winter Snowland. Note that on wet evenings, much of the display is turned off.
2000 Daisy Avenue
Long Beach, CA
Long Beach holiday light groupies may be our most spoiled Southlanders at this time of year, between the Naples Island holiday lights, the brilliance of Queen Mary's Christmas, and the annual light-up treat at Daisy Avenue, which kicks off its annual display with a Christmas Tree Lane Parade, generally the second Saturday of December. With more than six decades of experience in the Christmas lights business, this neighborhood has it down, complete with musical entertainment on the Saturday and Sunday evenings leading up to Christmas.
RELATED: Christmas Boat Parades around LA and OC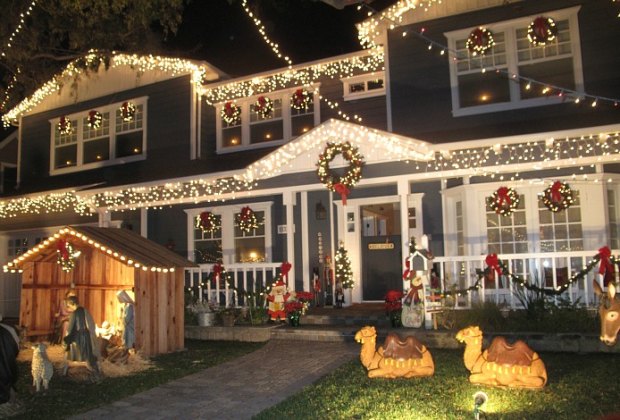 And a place to park your camel, too... Photo by author
2024 Santa Rosa Lane
Altadena, CA 91003
Altadena's famous Deodar cedar trees have been lit with festive strings of holiday lights every year since 1920, in what is recognized as the oldest large-scale outdoor Christmas display in the world. Some of the houses decorate, but the attraction here is really more the trees, which create a delightful .7 mile colorful pathway to cruise. There isn't a sidewalk, so it's not as inviting a walk as it is a drive; cars ramble slowly down the length of Santa Rosa Lane taking in the view. Be a good neighbor and dim down to your parking lights while viewing, to help other drivers enjoy the lights more.

Lights switch on the second weekend of December with a big tree lighting event and remain lit (until 10pm nightly) through January 1.
Huntington Drive & St. Albans Road
San Marino, CA 91108
The Altadena and San Marino versions of this lighted holiday pathway are twinsies. The towering trees lining the road get decked out like giant Christmas trees, and the estate homes behind them don't look too shabby either.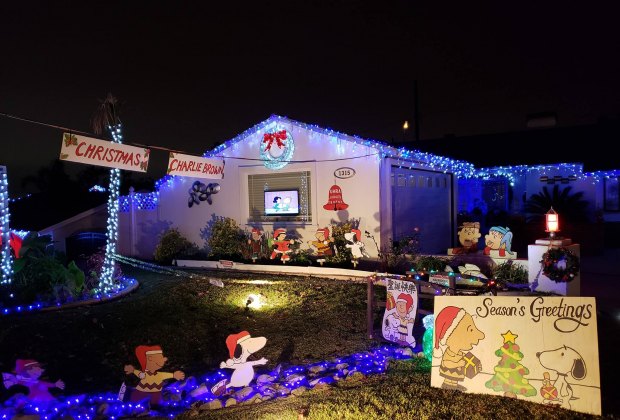 Peanuts are timeless. Photo courtesy of Upper Hastings Ranch Association
North of East Sierra Madre
Pasadena, CA 91107
Since 1957, each block in this neighborhood has decorated its homes to a theme, marked by an icon placed in the parkway, and themed wooden signs along each block. The neighborhood is large enough that one evening's drive probably won't catch everything; but the pride this neighborhood takes in the collective project definitely merits an evening's drive. Choose a route, and let the oohs and aahs begin; opening night is December 7, 2019-January 2, 2020.
Wakefield Court between Seco and Haskell Canyon
Santa Clarita, CA 91350
The double cul-de-sac of 41 houses in the Saugus neighborhood of Santa Clarita offers an annual elaborate light display that includes a ceiling of lights strung across the street from house to house. Wakefield Court is off Copper Hill Drive and Courtland, and the lights switch on nightly from 5:30pm-10:30pm, starting December 1.

Families in this cul-de-sac don't mind the traffic. Photo courtesy of Wakefield Winter Wonderland
7300 block of Yolanda Ave.
Reseda, CA 91335
The neighbors along Yolanda Avenue want you to park your car, admire their handiwork, and donate some canned food items or blankets for the local homeless. The display is a simple incandescent tunnel of holiday lights straddling the sidewalks on both sides of the street, which is on the south of Valerio. Construction on the series of lighted archways begins on the Saturday after Thanksgiving each year, and the display remains until Three Kings Day (January 6).
Montgomery Road and Janss Road - Thousand Oaks
Montgomery Rd & E Janss Rd
Thousand Oaks, CA 91360
This home doesn't have a fancy name or a flashy website, but our friends in Thousand Oaks love to drive by this family's extravagant display every year. It's just one house, but no corner goes unlit, and the decorations are generally up and flashing their seasonal cheer by Thanksgiving weekend.
469 Highland Road
Simi Valley, 93065
This open house features many of traditional decorations, but dog lovers will appreciate the "dog land" section, in which light-up canines (including a boxer and a sleigh-riding dachshund) lend some ruff appeal to the Christmas cheer. Be sure to check the Facebook page for the schedule. While Winter Wonderland is free, the owners gladly accept donations for Relay for Life (American Cancer Society), Casa Pacifica, and For the Troops (FTT).
Timberdale & Pinedale - Moorpark
Timberdale Rd. & Pinedale Rd.
Moorpark, CA 93021
This isn't one of those neighborhoods with a Facebook page, a special street sign, or even a kitsch name, but if you're on a search for holiday eye candy, this is a sweet spot to check out. The neighborhood is across from Moorpark High School (head east on Countrywood Drive until you hit Timberdale), and it's just house after house of sparkling delights, in a clear spirit of "I can make my house more visible from space than yours is."
Light Displays Not Happening in 2019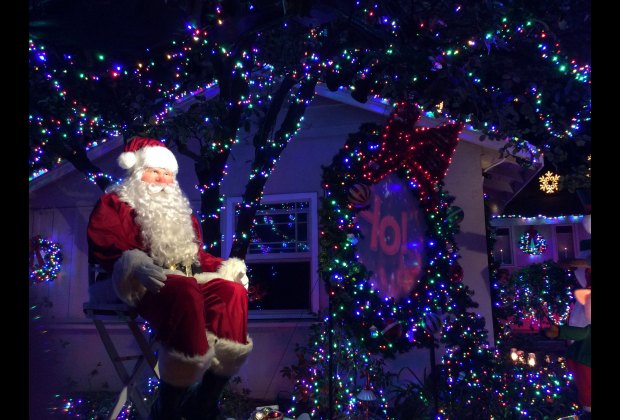 Animated Santa oversees the goings-on at the winner of The Great Christmas Light Fight.
Sometimes it's important to know that a light display we're used to visiting is not happening. The following homes have had big displays in the past, but not this year:
Lights on Display - Sherman Oaks
3901 Longview Valley Rd.
Sherman Oaks, CA 91403
Mike Ziemkowski was the 2015 winner on the national reality show The Great Christmas Light Fight. He hopes to bring his display back in the future, but in 2019 he's taking a year off. The Facebook page generally has up-to-date news.​
The Balian Mansion - Altadena
Mendocino Lane
Altadena, CA 91003
After several decades, the Balian ice cream family has unplugged the famous holiday lights for the last time.
Originally published December 5, 2011
Top photo of Candy Cane Lane in El Segundo by Alex/CC BY 2.0