Best Neighborhood Holiday Lights and Christmas Lights in Los Angeles: Candy Cane Lanes and More!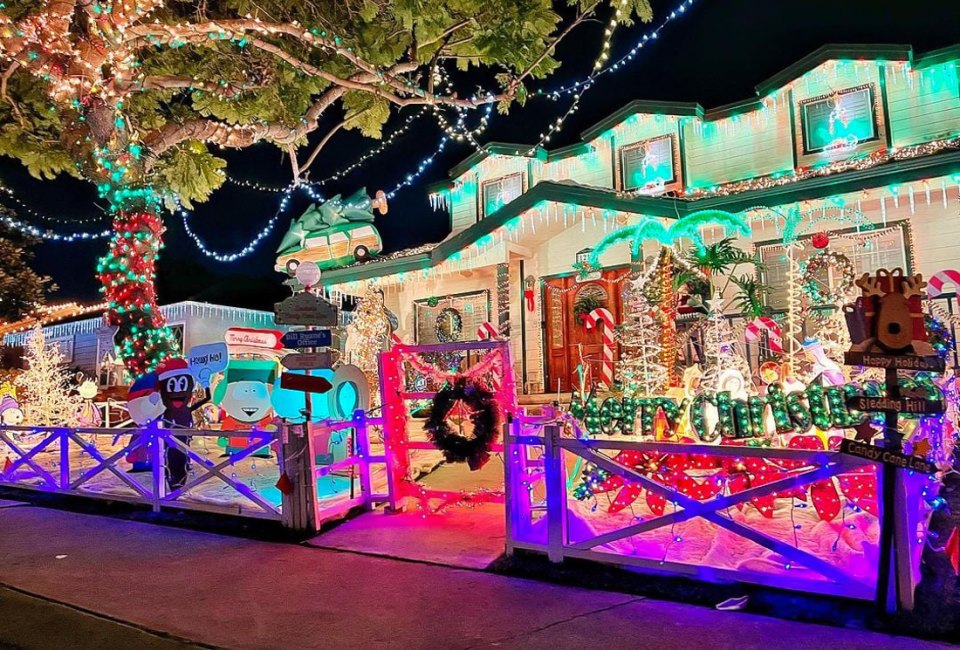 12/9/22
- By
Roberta B
When the Christmas lights start going up around Los Angeles, you know the festive holiday season has arrived! And whether you're celebrating Christmas, Hanukkah, Winter Solstice, or Kwanzaa, there is a timeless joy in taking a spin around the neighborhood to look at the local holiday light displays.
Every year, my family makes multiple trips to all the best Christmas lights displays across Los Angeles. Our kids put on their Christmas jammies, we fill our to-go cups with hot cocoa (or take a quick detour through to Starbucks), and bring along candy canes or Christmas cookies. Pop on a Christmas classics playlist and you're ready for an evening immersed in (free) holiday lights magic. Including the famous Christmas lights displays like Christmas Tree Lane in Altadena and Candy Cane Lane in El Segundo (we like our Lanes in Los Angeles!), we've rounded up the best holiday lights on houses across the City of Angels that really dazzle.
Can't get enough Christmas lights? Check out our picks for LA's best holiday light shows and drive-through Christmas lights events, which you'll find in our Guide to Holiday and Christmas Activities for Los Angeles Families.
Subscribe to our newsletters to get stories like this delivered directly to your inbox.
Incredible Christmas Lights in the South Bay & Long Beach
1. Seaside Holiday Christmas Lights (aka Candy Cane Lane Torrance) — Seaside Ranchos/Sleepy Hollow, Torrance
Torrance's Seaside Ranchos neighborhood has been sending up flares for Santa for more than 40 years, and there's no question he's seen them—as have a whole lot of other admirers. Fans pour through nightly from Thanksgiving weekend until Christmas, and the best way to enjoy the vibe is to park outside the neighborhood and walk.
No doubt many residents (some dressed as Santa) will be sitting around their fire rings and waving at the holiday lights admirers. A limited number of cars are allowed through, but it's slow going; one can only hope that no one is waiting for a pizza delivery guy. Rumor has it that there are also hot cocoa and candy cane stands dotting the streets.
Parking options are best on either Pacific Coast Highway or Prospect. Inside tip: you can also park near the Seaside Elementary School.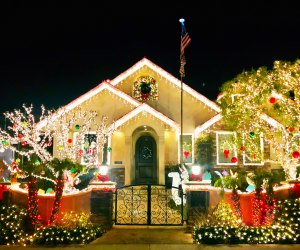 Just one of the many houses on Candy Cane Lane in El Segundo. Photo by Gina Ragland
The eastern block of Acacia Avenue is announced by a Candy Cane Lane sign, marking a tradition of more than 60 years. Houses are alight with trains, reindeer, giant characters, and music—plus frequent appearances by Santa Claus in a covered sleigh at the end of the cul-de-sac. The lights are on by 7pm (though most turn on at dusk). Opening night this year is December 10, 2022, at 7pm with a special appearance by Santa himself! If you're looking for the most holiday lights per square foot, Candy Cane Lane is your destination.

The street itself is closed to cars, making for a delightful, one-block family stroll, and parking is available throughout the rest of the (well-decorated) neighborhood. The last night of the official display is December 24.
This Wrigley area neighborhood always kicks off the season with a parade. This year, the Christmas Tree Lane Parade is on December 10, 2022, and starts at 5pm. With more than six decades of experience in the Christmas lights business, this neighborhood has it down. Long Beach holiday light groupies may be our most spoiled Southlanders at this time of year, with the Naples Island holiday lights boat parade also taking place on Saturday, December 10, 2022.
RELATED: 45 Best Holiday Activities and Christmas Events in Los Angeles for Kids

Polar bears and elves make their home on Candy Cane Lane in Woodland Hills. Photo courtesy of F. Bara, Tripadvisor
Holiday Light Displays That Dazzle in the Valleys
The Valley's version of Candy Cane Lane can be enjoyed from the comfort of your car, but be prepared for traffic as the holidays draw closer. Visitors are encouraged to dim headlights on the eight-block stretch so that everyone can enjoy the lights. Brace yourself for slow-moving traffic—so slow, in fact, that most cars end up with kids poking their heads through the sunroofs waving at each other. Visitors are also welcome to park on side streets and walk the blocks. On weekends, food trucks, hot chocolate stands, and even toy and flower salespeople often gather to sell their wares at this holiday hotspot.
The lights can generally be enjoyed from the second Saturday in December through New Year's Day, though many homes start decorating Thanksgiving weekend.
5. Yolanda Lights — 7300 Block of Yolanda South of Valero, Reseda
Yolanda Lights is a unique spin on the typical Christmas light setup. All along the 7300 block of Yolanda Ave. in the center of Reseda a series of incandescent arcs straddle the sidewalks to create mesmerizing tunnels of warm light. The neighbors along Yolanda Avenue want you to park your car, admire their handiwork, and donate some canned food items or blankets for the local homeless. The lights come on at sundown and stay on until midnight. If this video featuring drone footage of the display doesn't get you excited, we don't know what will!
RELATED: Christmas Boat Parades around LA and OC

And a place to park your camel, too... Photo by author
Altadena's famous Deodar cedar trees have been lit with festive strings of holiday lights every year since 1920, in what is recognized as the oldest large-scale outdoor Christmas display in the world. This year is a big one, because it is the 100th Annual Lighting Ceremony and Winter Festival! Some of the houses decorate, but the attraction here is really more the trees, which create a delightful 0.7-mile pathway. There isn't a sidewalk, so driving is easier than walking. Be a good neighbor and dim down your parking lights while viewing, to help other drivers enjoy the lights more. If you decide to walk, a great place to park is by the Altadena library. Walking or driving, make sure to pop by the Balian House, at 1960 Mendocino Lane, which is very close to the Christmas Tree Lane display (just turn right on Altadena to Allen). This 1920s Mediterranean castle is loaded with lights for the holiday season.
The lights stay on until early January, giving you plenty of time to see this awesome display.
RELATED: Fun Hanukkah Celebrations and Menorah Lightings for Kids in Los Angeles

Christmas Tree Lane in Altadena is one of the longest-running Christmas light displays anywhere! Photo courtesy of Yelp
The Altadena and San Marino versions of this lighted holiday pathway are twinsies. The towering trees lining the road get decked out like giant Christmas trees, and the estate homes behind them don't look too shabby either.
Since 1951, each block in this neighborhood has decorated its homes to a theme, marked by an icon placed in the parkway, and themed wooden signs along each block. The neighborhood is large enough that one evening's drive probably won't catch everything; the pride this neighborhood takes in the collective project definitely merits a visit. Choose a route, and let the oohs and aahs begin; opening night is December 10, 2022, and the displays run nightly, 6pm-10pm. When we polled our Facebook and Instagram followers for holiday light recommendations, this one was an overwhelming crowd favorite.
RELATED: Mission Inn Festival of Lights: Riverside's Legendary Holiday Lights Display

Families in this cul-de-sac don't mind the traffic. Photo courtesy of Wakefield Winter Wonderland
The double cul-de-sac of 41 houses in the Saugus neighborhood of Santa Clarita offers an elaborate annual light display that includes a ceiling of lights strung across the street from house to house. Each house has a portion of "The Night Before Christmas" on display outside, and if you start on the right side of the cul-de-sac, you can follow along with the story as you admire the lights. Wakefield Court is off Copper Hill Drive and Courtland, and the lights switch on nightly from 5:30pm-10:30pm, usually by December 1 each year. Families sit outside their homes by fire pits, and many of the neighborhood kids pass out candy canes to passersby while raising donations for charitable organizations. Park on a nearby street and walk the loop, or see the displays from your car (just expect some slow traffic). Ash Court and surrounding streets in Saugus continue the holiday cheer if you want somewhere to go after wandering Wakefield.
10. North Valencia Northbridge Area — Streets such as Clearidge Drive, Essex Place, and Woodfield Place
After touring the Wakefield Winter Wonderland, take a short drive into North Valencia for more enchanting, themed houses. The streets listed above are all guaranteed to have some incredible light displays—the locals in this neighborhood truly get into the spirit of the season with themed houses and thousands of twinkling lights.
11. Timberdale & Pinedale — Moorpark
This isn't one of those neighborhoods with a Facebook page, a special street sign, or even a kitsch name, but if you're on a search for holiday eye candy, this is a sweet spot to check out. The neighborhood is across from Moorpark High School (head east on Countrywood Drive until you hit Timberdale), and it's just house after house of sparkling delights, in a clear spirit of "I can make my house more visible from space than yours."
12. Newburgh Lights — 609 E. Newburgh St., Glendora
A landscape lighting designer in Glendora puts on quite the show for visitors every holiday season. This year, the show will light up for the first time on November 25, 2022, at 7pm. After that, it will ignite the residence nightly starting at 5pm. This isn't just a few twinkling lights timed to music- this is a 15-song light spectacular set to familiar Christmas tunes by Mariah Carey, Gene Autry, and the Trans-Siberian Orchestra (to name a few).

Burbank goes all out for the holidays! Photo courtesy of Keith's Winter Snowland
Norton's Winter Wonderland has been a fixture in Burbank for years, but the festive family recently moved to Valencia. They've assured fans that more information on their new Valencia light display will be available on the website, so keep checking back. However, the Norton home was not the only one on Florence Street that got decked for the Christmas season. A few doors down, Keith's Winter Snowland is filling some of the void left by the Norton's with a spectacular light display with his own over-the-top ensemble.
You're bound to see a few favorite characters, a lot of inflatables, and thousands of lights if you head to Highland Road and take a peek at the Simi Valley Winter Wonderland. This single-house display opens every Christmas season to spread some Christmas cheer. Dog lovers will appreciate the "dog land" section, in which light-up canines (including a boxer and a sleigh-riding dachshund) lend some ruff appeal to the Christmas cheer. Be sure to check the Facebook page for the schedule. While Winter Wonderland is free, the owners gladly accept donations for Relay for Life (American Cancer Society), Casa Pacifica, and For the Troops (FTT). Last year, lights were on from 5pm to 10pm on weekends and 5pm to 9pm on weekdays.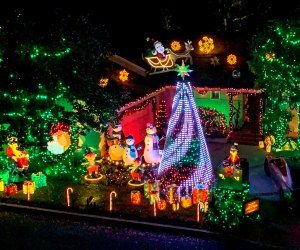 You know it's an LA display when it comes from an Emmy winner! Photo courtesy of Lights on Display, Facebook
15. Lights on Display — 3901 Longview Valley Rd., Sherman Oaks
Lights on Display is the name that Emmy Award-winning video editor Mike Ziemkowski has given his magnificent Christmas decoration display show. Ziemkowski mixes his film industry expertise and a love of Christmas to produce a display whose fame extends far beyond the San Fernando Valley: this house was the 2015 winner of the national reality show The Great Christmas Light Fight. The display goes way beyond lights; the timed show with music and motion is the sort of thing some places would charge admission for. Located in Sherman Oaks on Longview Valley Road, the new 2022 show premieres on November 25 and runs through New Year's Day. Shows run on Wednesdays and Thursdays from 6pm until 9pm, and Friday through Sunday from 5pm until 10pm. If you're not up for the drive to the Valley, you can always check out videos of the shows on the website.
16. Harbeck Lights — 1215 Tropical Ave., Pasadena
This one is a 2022 The Great Christmas Light Fight contender. On Monday, December 8, at 5pm. catch this house in all its Christmas glory on ABC. The good news is, whether the Harbecks win or lose this TV challenge, locals get to enjoy their incredible display for the rest of the Christmas season. Tune your car radio to 99.1 FM to catch the soundtrack for this wonderful house. The show runs on a 16-minute loop, and features a giant LED screen that features favorite characters like Grogu, Pac-Man, Mario, Hello Kitty, and more.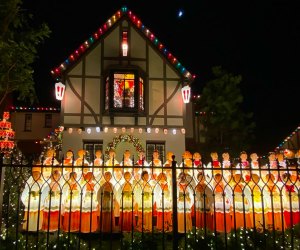 This Turor-style home takes you to Christmas in merry old England. Lilley Hall Toluca Lake photo courtesy of Parks and Cons
Not only does this house do the classiest holiday display around, but it is also a history piece named after the musician Joseph J. Lilley who resided there from 1954 - 1971. This Tudor-style home draws massive crowds every year and has even been featured on the local news. Keep tabs on the Lilley Hall Instagram page for updates.
Your kids will be entranced by this singing house in Sylmar that croons through 55 minutes worth of Christmas melodies from 5:15pm to 11:15pm nightly. The home features two light-up faces that sing back and forth to one another on different portions of the house. Tune in to the music at 104.1 FM.
Best Holiday Lights on the Westside
19. The Holiday House — 3547 McLaughlin Ave., Mar Vista
We featured this elaborate home in our Halloween house display round-up as well, but they always pull down the scary and put up the merry when December rolls around. The display typically stays up until right after Christmas.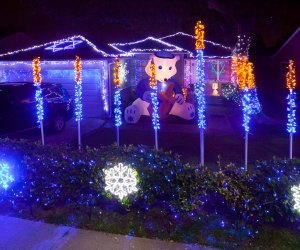 There are Hanukkah lights on lawns, too! Photo courtesy of the Herman Family Festival of Lights
Whether you celebrate Hanukkah or Christmas, Overland Avenue has light displays in abundance. The Herman family does their home up with dreidels, Jewish stars, and all things Hanukkah, and surrounding homes also deck their halls with flare. Six houses in a row time their lights to music, making this one of the biggest residential light shows in the state.
21. Venice Canals — Venice Beach
The waterfront properties on the famed Venice Canals get festive for the holiday season. Walk along the canals and cross the many beautiful bridges that span the historic waterways to take in the views of holiday lights. Even the bridges get spruced up with sparkling light displays.
Christmas Lights Displays Worth a Drive
If you live closer to Orange County, the Eagle Hills Christmas Lights is a great place to capture some Christmas spirit. This light display, which is located in the neighborhood of Eagle Hills, has been dazzling locals for more than 20 years. The cul-de-sac kicks things off with a semi-official light-up date on December 1, 2022, and stays up and running through December 30. The lights are on nightly from 6pm to 10pm. As a hillside neighborhood with narrow roads and many cul-de-sacs, traffic can be very rough. If you want to park and walk, park at the Brea Sports Park and walk into the track.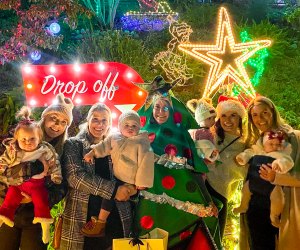 See the musical display on the weekends in Westlake Village. Photo courtesy of the Tattersall Team of Active Real Estate
This one came to us from the Tattersall Team of Active Real Estate: The Tattersall home lights up with a musical display every Friday, Saturday, and Sunday in December in 2022. The synchronized show even features some falling "snow." The family also uses their home to encourage visitors to give this season. They collect donations for the Manna Food Bank and encourage non-perishable food items, unwrapped gifts, or monetary contributions.
24. Montgomery Road and Janss Road — Thousand Oaks
This home doesn't have a fancy name or a flashy website, but our friends in Thousand Oaks love to drive by this family's extravagant display every year. It's just one house, but no corner goes unlit, and the decorations are generally up and flashing their seasonal cheer by Thanksgiving weekend.
With additional reporting by Matt Matasci, Kylie Williams, Gina Ragland, and the whole MP LA team!
Originally published December 5, 2011
Sign up for the Mommy Poppins Newsletter today!
i