30 Things To Do with Orlando Babies Before They Turn 1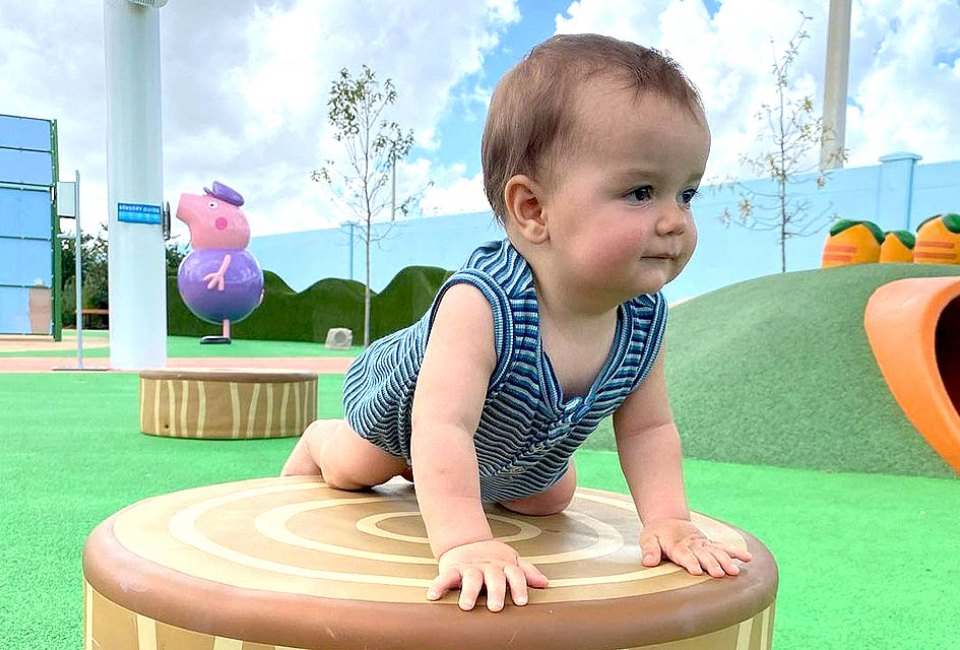 10/28/22
- By
Paula Andrea Morales
There's so much to do in Orlando for every age, including those who haven't even celebrated their first birthday. The first year of baby's life is so special—full of wonder and firsts. It goes by so quickly! Make the most of baby's first year with our "Baby Bucket List" for Orlando babies. Get ready to make some great memories!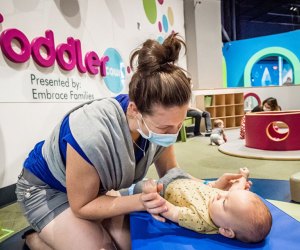 Explore the Orlando Science Center's Toddler Town with your little one. Photo courtesy of the Orlando Science Center
Things To Do in Orlando with Babies
Located on the second floor of the Orlando Science Center, KidsTown is fun for kids (and adults) of all ages. Orlando babies can play with toy oranges in the Orange Grove or play with soft abstract shapes in ToddlerTown. Story time is offered most days at 11:30am.
Keep the Florida humidity at bay at this gentle splash pad filled with interactive water features and soft, large animals and lego blocks.
Also located in the Legoland theme park, this outdoor area is shaded, safe and allows your budding crawler, or walker a colorful environment to explore. Also great for siblings who want to stack oversized bricks!
An extension of Legoland Florida, Peppa Pig Theme Park has no shortage of entertainment for your little piglets. In addition to your favorite characters, Rebecca Rabbit's Playground has tunnels and a variety of whimsical obstacles to climb safely.

Be sure to stop by the Harry P. Leu Gardens for stories and songs with Tiny Tales for Infants. Photo courtesy of the gardens
Connect with nature and plan an experience that is low-key and lovely by strolling through Leu Gardens. In addition to the outdoor gardens, there are sculptures and art. The Leu House Museum is listed on the National Register of Historic Places. Many events are hosted here that can impact operating hours, so check the website before you go. First Monday of each month is FREE admission!
Story time! Tiny Tales is designed for babies 0-18 months and runs approximately 15 minutes long. This is offered throughout many Orange County Library branches, so be sure to check their website. I still see parents and kids now that I first met at story time years ago.
Also offered by the Orange County Library System, Zero to Five story time runs a little longer (25 minutes total). This is a great option if you have multiple children of different ages.
If you are still adjusting to life with baby, a mommy-and-me class is a great way to get out of the house, meet other parents, and keep baby with you.
9. Run
Whether you were a runner before becoming a parent or if you are looking to mix things up, running groups that allow strollers are great options. These running groups can be found in community centers, fitness facilities, or local meet-up groups.
Designed for babies 4-12 months, sensory classes allow parents to join their babies in exploring colors and textures through sensory stimulating props.
With multiple locations in the greater Orlando area, O2B kids offers classes for babies where they can engage in play and develop sensory and social skills. Classes range in times from 15 to 60 minutes.

Spend time indulging yourself and baby with 45 minutes of one-on-one time at momhour. Photo courtesy of momhour
This 45-minute experience rotates topics like tummy time, massage for baby, and infant development. Perfect for babies ages 0-6 months.
13. Learn to Sign
Help baby develop language skills by learning how to sign for things like colors, animals, and meal-time words. In order to participate, babies should be able to sit with light trunk support.
Divided into development groups like Infants, Crawlers, and Walkers, these baby classes help build balance and promote developmental motor milestones.
Langford Park is a great outdoor space to take the stroller. Paths are paved and shaded with Shumard oaks, swamp chestnuts, and live oaks.
With its iconic fountain, amphitheatre, and swan boats, Lake Eola park offers family-friendly options all year. A great place to bring the stroller and get fresh air, Lake Eola Park also hosts many events that include live music, charity races, and farmers markets.
Babies love to play, and what better place to play than at the beach! Orlando is close to many beaches like Cocoa, New Smyrna, and Daytona Beach, just to name a few. Bring a tent for shade and research beaches as some offer facilities that include restrooms, playgrounds, and splash pads.
We are so lucky in Orlando to have great weather most of the year and access to beaches and lakes. The Scenic Boat Tour out of Winter Park offers a gentle way to explore Florida's waterways —soothing for baby, kids and adults alike.

With Elmo's Choo Choo Train and more characters and activities, SeaWorld Orlando is a great place for a baby's day of exploration. Photo courtesy of SeaWorld Orlando
SeaWorld Orlando offers animal experiences, Elmo's Choo Choo Train, and lovely landscaping filled with lush green bushes and lovely flowers. Parents have indoor and outdoor options to let baby explore new things.
Whether its Wekiwa Springs, Rock Springs, or Kelly Park, these natural springs are great places to spend outdoors. All parks have restroom facilities and charge a nominal entrance fee (usually per vehicle). Get there early as these parks can reach capacity quickly.
Disney Springs is one of the few theme park options that does not have a fee for entrance or parking. The paths between shops and dining here are great for strollers. Disney Springs is a feast for the senses, with live music, delicious food, and dazzling sights. Stay as long or as little as you like!
22. Dr. P. Phillips Community Park
This park is great for its variety of amenities, but baby will love the bucket swings and splashpad the most.
George Touhy Park sits in downtown historic Sanford. Right next to the infamous River Walk, this park is filled with flowers and brick pavers for easy navigation of a stroller. You can find great dining, breweries, and events all year in this gem of north Orlando.
This park in south Orlando is full of charm, there is a splash pad, shaded playground, and lighthouse.
Waterfront Park is located in Clermont and offers a sandy area off the lake, shaded playground, splash pad, and pavilion for picnics.
26. Bike Ride
A great way to enjoy Central Florida weather is with the abundance of great bike paths. You can typically pick up an age-appropriate bike seat for baby at a child's consignment store.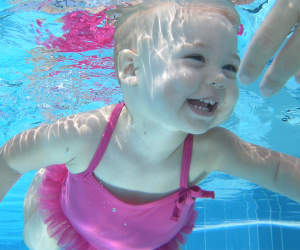 Swim lessons for babies at places like Southwest Aquatics are crucial for life-saving skills. Photo courtesy of the school

Many homes in Central Florida have pools, so safety should always be at the forefront. Babies can start swim lessons as early as three months old.
28. Local Community Centers
Many towns have community centers that host events for residents of all ages. You may also find that parishes offer family-friendly events geared towards young children.
29. Parent & Baby Groups
Finding other parents with young kids has never been easier with social media. Platforms like Facebook and Meetup allow parents to find a time that works with baby's schedule to socialize with other families.

Your baby will get their own free mini cake to devour when your order a decorated Happy 1st Birthday Cake. Photo courtesy of Publix
Congrats, you've made it one whole year! When you order a decorated cake wishing baby "Happy 1st Birthday," Publix will offer a free, 7-inch single layer "smash cake" just for baby to enjoy.