Dinosaur World: A Central Florida Roadside Gem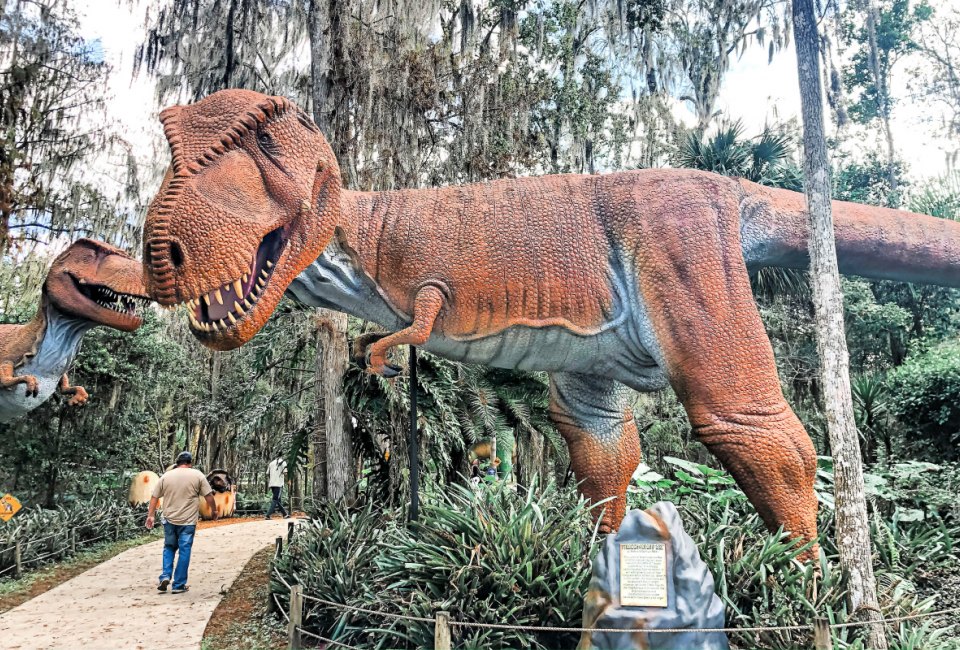 2/8/20
- By
Charlotte B
When traveling in Central Florida along the I-4 corridor, you might just see a giant T-Rex peering out at the family over the highway. This Jurassic-themed roadside attraction is Dinosaur World Florida. Located in Plant City, Florida, about 20 minutes from Tampa, Dinosaur World features hundreds of life-size dinosaur replicas, interactive exhibits, themed playgrounds for both little and big kids, a museum, and dino-themed shows.
My 6-year-old loves all things dinosaurs, so Dinosaur World made the perfect day trip for us from the Orlando area. It's about an hour from the Orlando area, making it easy for theme park visitors to make the trip, too. It's an inexpensive, charming Florida attraction for kids. Read on for more on what to expect from Dinosaur World Florida.
Find more Florida day trips and attractions in our Florida Family Travel Guide.
Sign up for our FREE Orlando newsletter to stay up to date on the best things to do in Orlando and Florida with kids.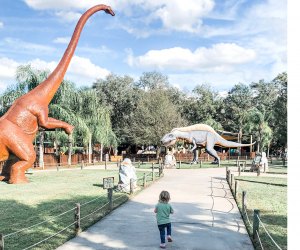 Take a stroll through Dinosaur World at the kids' pace.
Best Things to Do at Dinosaur World
Dinosaur World is a low-key and educational attraction, great for spending a relaxing day away from the theme parks. There are no rides and no lines to wait in; you can leisurely stroll the park at your own pace. It is located conveniently right off of I-4 at exit 17. Parking is free and there are ample spaces. After entering the park through the large gift shop, you immediately see a well-kept lawn of several enormous dinosaur statues, as well as covered picnic areas, a toddler playground, and a "big kid" playground. My kids loved these dinosaur-themed playgrounds, complete with slides, swings, several climbing structures, and even a giant T-rex skeleton to walk through.
Fossil digging is included with each child admission ticket. At the dig site, the kids turn in their tickets in exchange for tools to dig in a sand area stocked with shark teeth, mosasaur teeth, stingray barbs, and more. They picked three of their favorite finds to bring home as a souvenir.
RELATED: 25 Fun Things to Do in Miami with Kids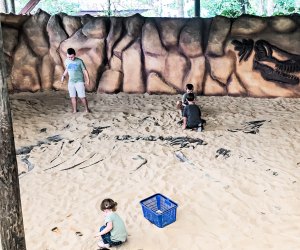 The fossil dig is included in the ticket price and kids even get to take home a few of their finds.
We spent the majority of our time strolling through the dinosaur exhibits and interactive activities along the winding paths of the boardwalk. It's shaded by hundreds of large trees creating a jungle-like environment. Some of the notable exhibits include Mammoths: Giants of the Ice Age, a Skeleton Garden, Deinonychus Island (fun fact: the Deinonychus was the model for Jurassic Park's raptors), and a Carnivore Boardwalk. Just a word of caution for parents of young kids: some of the exhibits on the Carnivore Boardwalk display meat-eating dinosaurs feasting on other dinosaurs, which might alarm sensitive visitors. Some of our favorite activities along the boardwalk area included the touch-and-tell boxes, giant puzzle, a boneyard where the kids excavated a large skeleton from under the sand, and a fish pond where they were able to feed the koi fish.
We upgraded our kids' admission tickets to include mining at the Dino Gem Excavation area, which they really enjoyed. The kids panned in the mining trough for gems, minerals, and arrowheads, and then matched them up with a provided Gem Identification Card. They really enjoyed this and had several more treasures to bring home.
The last place we visited before leaving was the Prehistoric Museum, located next to the gift shop. There are several exhibit cases with real and cast fossils, including eggs, teeth, and even an Allosaurus foot claw. The impressive animatronic dinosaurs are the highlight of the museum, although my two younger kids were a little intimidated by their sounds and movements. The museum is on the smaller side and only took about 10-15 minutes to walk through.
RELATED: 9 Must-See Dinosaur Theme Parks Across the US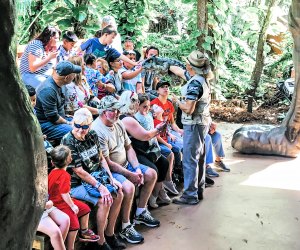 Educational shows teach kids some basic and advance dinosaur facts.
Shows
There are two interactive shows offered. The Triviasaurus Rex Game Show will test your dinosaur knowledge. For instance, I had no idea that Velociraptors were actually only about 3 feet tall. Be sure to stay through the entire show for a surprise guest appearance. The second is the Exploration Cave Show, where a paleontologist will guide you through a cave, dig site and workstation. We found the shows educational but equally as entertaining.
Food
There is no food service available inside the attraction. However, there are plenty of picnic areas throughout the park, so pack a lunch for a budget-friendly nosh. There are drink and snack machines if you get desperate or pizza delivery is also available.
Dinosaur World Tickets and Tips
Dinosaur World tickets are one of the more affordable options, among the state's many themed attractions, starting at around $12 for kids at publication time. Kids under 2 are FREE. I recommend upgrading to the excavation pass for the kids, which includes the Dino Gem Excavation. If your family has memberships to other local attractions such as MOSI, the Florida Aquarium, Clearwater Marine Aquarium, and others (see the full list here), discounted admission is available. Also, be sure to check local entertainment and coupon books for other ticket deals. If you live close by and plan to attend several times per year, the annual pass option is a great value.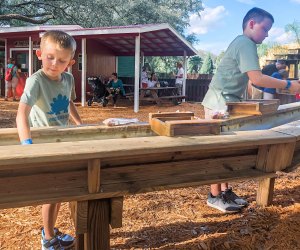 Upgrade your ticket for a special gem excavation experience.
Top Tips for a Visit to Dinosaur World
Dinosaur World is best for kids ages 2-9—or anyone with a fascination for dinosaurs!
Plan to spend about 3-4 hours here if you want to experience everything.
Dinosaur World is dog-friendly, so you can bring your four-legged family member (on leash) with you.
The park is kept extremely clean and the replicas are all well-kept and in good condition. There are even themed "Trashosaurus" cans throughout the park.
Dinosaur World is autism-friendly and provides visual support on their website, so that guests on the spectrum can prepare for their visit.
Photos by author
Places featured in this article: