9 Must-See Dinosaur Theme Parks and Attractions for Kids
If your kid is fascinated by dinosaurs, chances are everything in your home revolves around the prehistoric creatures, including your family vacations. Your nearby natural history or kids' science museum is a great bet for a quick trip to study major fossil displays. For an even bigger thrill, families might want to check out one of the many outdoor dinosaur parks, from full amusement parks to nature walks and mini fossil digs.
We've rounded up a list of 10 great places for dinosaur lovers across the country. These dinosaur-themed attractions offer up-close encounters with lifelike creatures, thrilling rides, impressive fossils, and more fun things to do and see for kids, including dino-theater.
For more family vacation ideas—that may, or may not, involve dinosaurs—check out our United States Family Travel Guide.

Roam with the dinosaurs at Field Station: Dinosaurs. Photo by Rose Gordon Sala
Field Station: Dinosaurs – Leonia, New Jersey
​The outdoor setting of this collection of lifelike dinosaurs provides a realistic feel of how the world was when dinosaurs roamed free. Kids will love how the more than 15 types of dinos and other prehistoric creatures move and roar. Besides walking the dino trail, enjoy a mini theater show or try the fossil dig where kids can look for hidden "bones." Kids age 1 and under are free.

The roadside Cabazon Dinosaurs attraction boasts more than 50 giant beasts.
Cabazon Dinosaurs – Cabazon, California
Mom and Dad may remember this dinosaur roadside attraction from the movie "Pee-wee's Big Adventure." Kids will fall for the exhibit featuring more than 50 giant dinosaurs, a dinosaur dig, and fossil panning. And, just like Pee-wee, you can climb up the middle of Mr. Rex for a climactic view of the desert through the teeth in his mouth. Ages 2 and under are free.

Snap up an individual impression of a dino footprint in the gift shop at Nash Dinosaur Track Site and Rock Shop.
Nash Dinosaur Track Site and Rock Shop – South Hadley, Massachusetts
For a piece of dino history, head to the humble location where the nation's first dinosaur tracks were discovered. You can walk the grounds to see tracks in the quarry, but if you want to take home your very own footprint, head to the rock shop where individual impressions are sold alongside other fossils.

The animatronic dinosaurs in Dino Land at Edaville will leave you petrified!
Dino Land at Edaville – Carver, Massachusetts
Dino Land is a section of the greater Edaville Family Theme Park (which also includes a Thomas Land) and is included in the price of admission. The seasonal self-guided tour will take you past more than 23 life-sized animatronic dinosaurs. There is also the Bone Shaker ride, a shooting gallery, and a dinosaur meet-and-greet on certain days.

The dioramas are not to be missed at the Dinosaur State Park.
Dinosaur State Park – Rocky Hill, Connecticut
Check out 500 prehistoric tracks preserved under a geodesic dome at this state park, one of North America's largest dinosaur track sites. The museum-like Exhibit Center attributes the fossils to dilophosaurus, a large carnivorous dinosaur from the early Jurassic period. A variety of dioramas, interactive exhibits, and fossil collections are also on view at the kid museum. There are also 2 miles of nature trails to explore.

There's lots of fun to be had with the dinosaurs at The Dinosaur Place at Nature's Art Village.
The Dinosaur Place at Nature's Art Village – Montville, Connecticut
Hike 1.5 miles of easy, family-friendly nature trails, where you'll encounter more than 40 life-sized dinos along the way. Kids can also have fun finding their way through a "Maze"asaurus, slide out of the mouth of a T. Rex, cool off in the Splashpad, and explore the T. Rex Tower and Monty's Playground (socks required).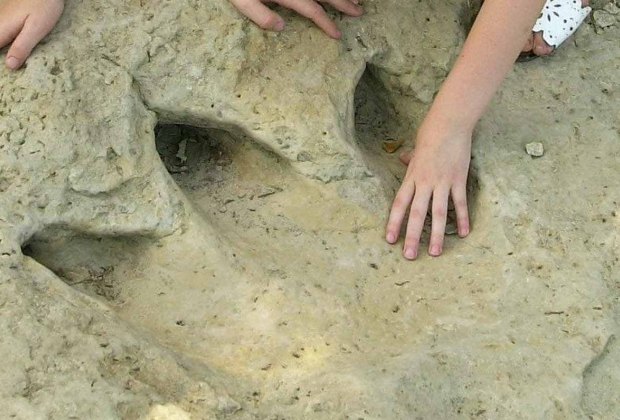 Compare prints at the Dinosaur Valley State Park.
Dinosaur Valley State Park – Glen Rose, Texas
Roam in the footsteps of dinosaurs as you walk along the bed of the Paluxy River. Because the tracks are not always visible at the bottom of the river, consult the site's Facebook page or Twitter feed before heading out. The state park offers plenty of fun things to do for families: camping, hiking, picnicking, mountain biking, swimming, fishing, and more.

Hop on a Woolly Mammoth for a memorable photo at Dinosaur World.
Dinosaur World – Plant City, Florida; Glen Rose, Texas; Cave City, Kentucky
All three Dinosaur World locations feature hundreds of life-sized dinosaurs, dino-themed playgrounds, and interactive exhibits. You can also dig for fossils, pan for gems and minerals, and excavate a skeleton in the sand with tools. The Florida outpost additionally offers two interactive shows.
RELATED: Secret Fun for Kids at Orlando Theme Parks

You'll be face to face with a T-Rex on the Jurassic River Adventure. Photo courtesy of Jurassic Wiki
Universal Orlando Resort and Universal Studios Hollywood – Orlando, Florida, and Los Angeles, California
Both Florida and California have the Jurassic Park river raft ride, which includes thrilling close calls with dinosaurs and a splashy 85-foot drop. But be advised: The Hollywood park plans to close its Jurassic Park attraction on September 3 and will replace it with an all-new expedition-and-water-adventure combo called Jurassic World, slated to open in 2019. Orlando also offers Camp Jurassic, an outdoor, dinosaur-themed play area with water canons and more, as well as an indoor, more science-themed Jurassic Discovery Center. There's also a great selfie opt with a raptor at Orlando's Adventure Island.
Top photo of Jurassic Park Dinosaur World in Florida's Universal Orlando Resort by Matthew Paulson via Flickr. All other photos courtesy of the parks/venues unless otherwise noted