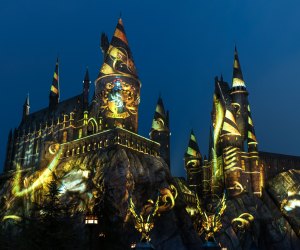 Universal Studios Hollywood: 10 Insider Tips for the Park and Wizarding World
Things just got a little more magical at the Wizarding World of Harry Potter. In case the end of a long day at Universal Studios ever felt like it needed an extra something to send everyone off with a smile, the theme park has added a new lights display for the summer, Christmastime, and certain other holidays. Nighttime Lights at Hogwarts Castle is a dazzling and delightful light show projected on and around Hogwarts Castle, accompanied by John Williams' familiar score and narration by the Sorting Hat. This goes way beyond pyrotechnics, creating a breathtaking effect that is definitely worth hanging around until nightfall to see—just like it's worth hanging around to the end of our list of insider tips for our advice on the best way to view it.
Universal is a big park, as your calf muscles will no doubt remind you the day after you visit. While parks like Knott's or Seaworld can be approached with a devil-may-care, keep-your-stinkin'-map sort of spontaneity, Universal's size is better served by a plan. Consider including these ten tips when you form yours.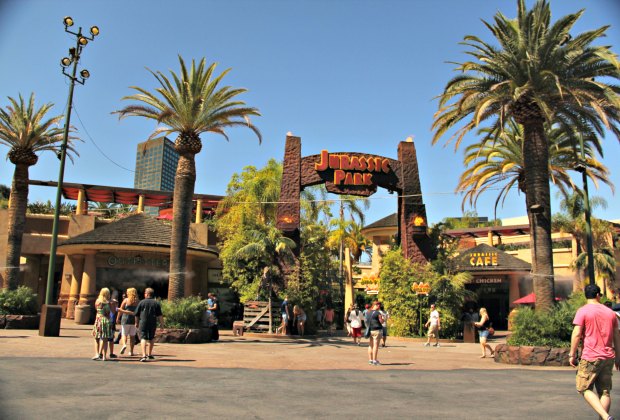 Jurassic Park's lines are shortest early in the day. Photo by Ana Paula Hirama/CC BY 2.0
Start your day in the lower park.
Heading down to the lower area, where Jurassic Park, Transformers, and The Mummy rides are located, is a hike. It's step aerobics if you skip any of the escalators. It seems like most people postpone that workout, not to mention that many first-timers don't even work out that there is a lower section until later in the day. In my experience, starting your day by making a beeline for the lower area can mean starting with 10 minute wait times for some of the best rides in the park. What beats splashing dinosaurs?
Bring Ziploc baggies.
The peace of mind brought by being able to slip your phone into a sealable baggie before indulging in one of the many watery experiences is priceless.
RELATED: Southern California Theme Park Guide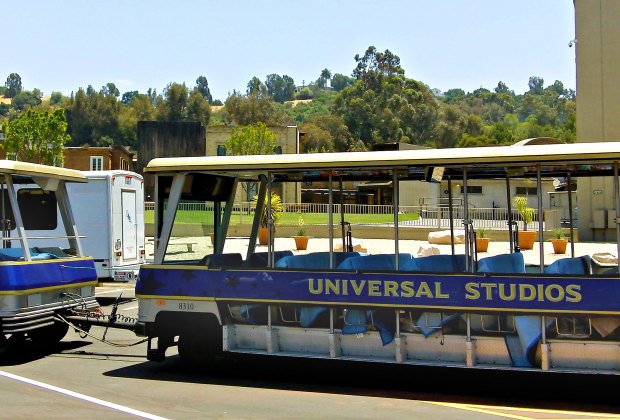 Shady tour buses can offer a nice break. Photo by Paola Sucato/CC BY 2.0
Take the studio tour midday.
The studio tour is an hour of sitting down and letting the entertainment come to you, which can make a nice break in the middle of the day—not to mention those trams provide shade. Taking the ride midday is a good way to recharge everyone's batteries for the afternoon and evening.
You can magically recharge electronics in Hogsmeade.
Speaking of recharging batteries, there are a couple of sneaky little outlets in the gateway to The Wizarding World, and they're even in the shade. You can add a few bars while watching tourists suffer for their art in black polyester robes on the hottest day of the summer.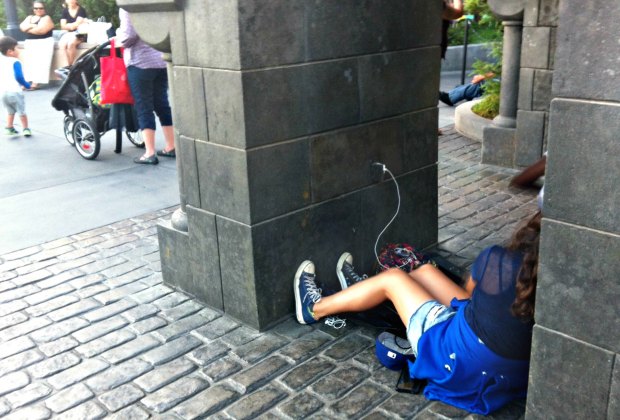 Butterbeer isn't the only juice flowing in Hogsmeade. Photo by author
Feeling warm in that Harry Potter robe?
Speaking of heat, the quickest way to cool off at Universal is to sit in the soak zone of the Waterworld show. Sure, you can get splashed on Jurassic Park; you'll get squirted by the Jaws shark. But only the stunt performers at Waterworld throw bucket after bucket of water right at you, with intent to soak. No one in the front 10 rows leaves hot.
Still hot?
Little ones who are done with the heat can cool off in Super Silly Fun Land. No waiting in line required: kids can splash and soak to their hearts' content. Hopefully Mom and Dad brought a change of clothes for them, though, so staying at the park after dark remains comfortable.
RELATED: Disneyland Tips: 12 Hacks You Need To Know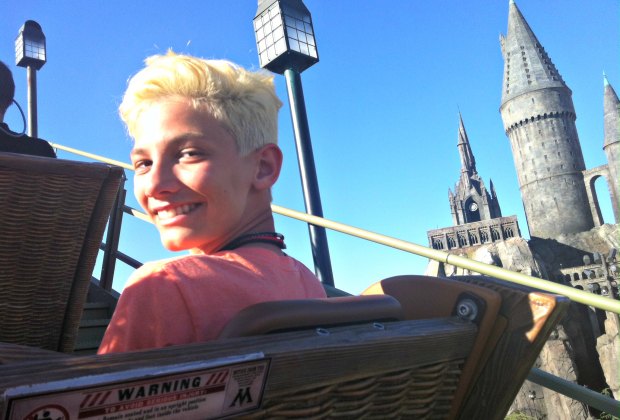 Single rider line: because Hippogriffs were meant to be flown solo. Photo by author
Front of Line and single riders rule.
The size of Universal has already been noted; if you can afford a Front of Line pass for this park, boy does it make a difference. If not, the next best thing is the single rider line. You have a decent chance of ending up in a car with one of your party even as a solo rider, and either way, you have a good chance of making it onto all the rides you want if you use these lines. Sometimes a little alone time is good, right?
The Best Meal in the Park is at the Three Broomsticks.
There is so much right about this wizarding gastropub. For a start, it's spacious and airy, with comfortable seating out of the sun (both indoors and on the covered patio). The ambiance is great, and the food is several notches above any other theme park food I've had. The broiled chicken, sausage and mash, corn on the cob, mac 'n' cheese (which was as much as we could sample in one sitting) were all top notch and filled us up without that awful fried junk food feeling so common to theme park visits. Watching other people's meal choices go by made us vow to return. While it's a popular spot, the system runs smoothly, with plenty of staff making sure that food moves quickly and a table is available when needed. Prices are reasonable, too.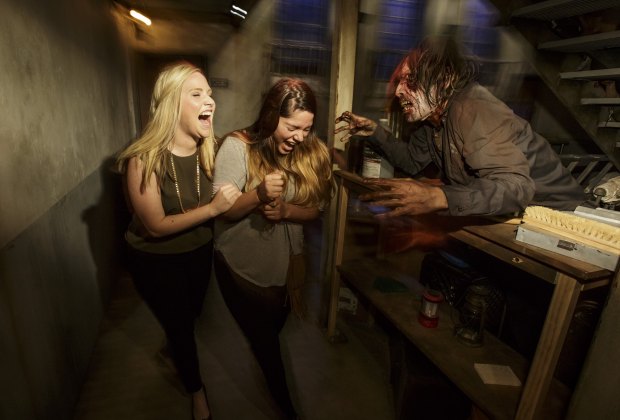 Walking Dead is fun—if you like being chased by zombies. Photo courtesy of Universal
The Walking Dead isn't for everyone, but...
The Walking Dead attraction isn't a ride; it's actually more like a Halloween maze, and as such it's a good opportunity to gauge your kids' (and your own) readiness for one of SoCal's many Halloween theme park haunts. Because it's a walk-through attraction, waits are generally not as long as for most rides (and the line seems to get shorter as the day wears on). It is dark inside, and zombies will jump out and try to scare you (though never touch) at every turn. When it's all over, though, everyone is back out in the cheery Southern California sunshine, making it a less intense experience than a haunting on an October night, when the whole park is universally creepy. This one is not for little kids, but zombie fans over the age of 8 or 9 are likely to run through giggling.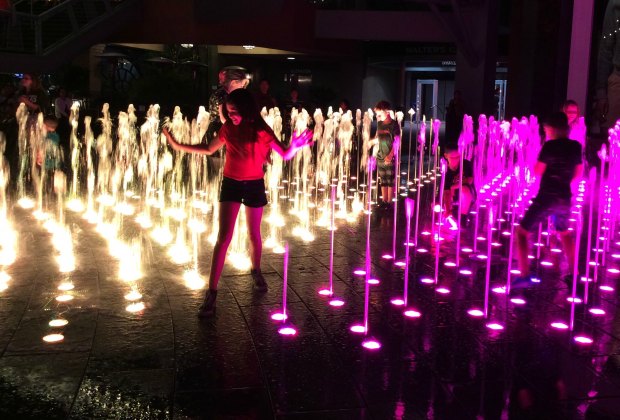 The dancing lights fountain is pretty irresistable. Photo by the author
There is a major temptation on CityWalk, and we're not talking ice cream.
On the way out of the park at the end of the night, don't forget about the light-up, dancing fountain on CityWalk. If your kids have any energy left in them, these lights and sprays may prove irresistible. If you need them to walk on by, plan on a major distraction; if you're OK with one last hurrah, you'll want something dry to wrap them in for the ride home.
Those are our 10 tips, but we've got one more for you, on the best way to enjoy the new light show: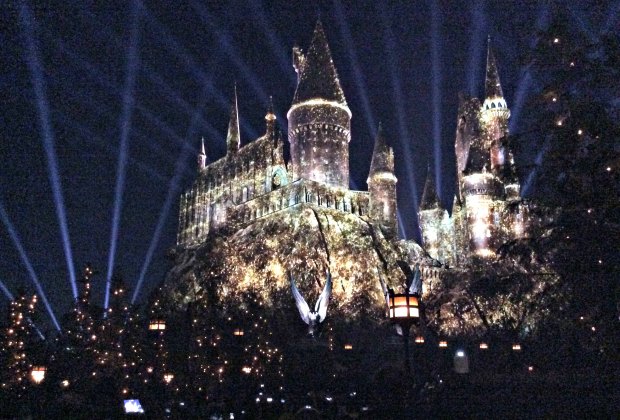 Still photos don't do this light show justice, but we can try. Photo by author
Stay for the Nighttime Lights at Hogwarts Castle!
The new Nighttime Lights show plays twice, with about a 20 minute interval in between. When we went, the crowd for the first show was easily four to five times the size of the crowd for the second show. So our advice is to see the second light show. Use the opportunity, while everyone else is jockeying for a good view of the first show, to grab one last Flight of the Hippogriff before closing. You might even catch a great, if quick, view from above as you fly past.
Top photo courtesy of Universal Studios Hollywood