10 Black-Owned Restaurants Near Houston to Try with Kids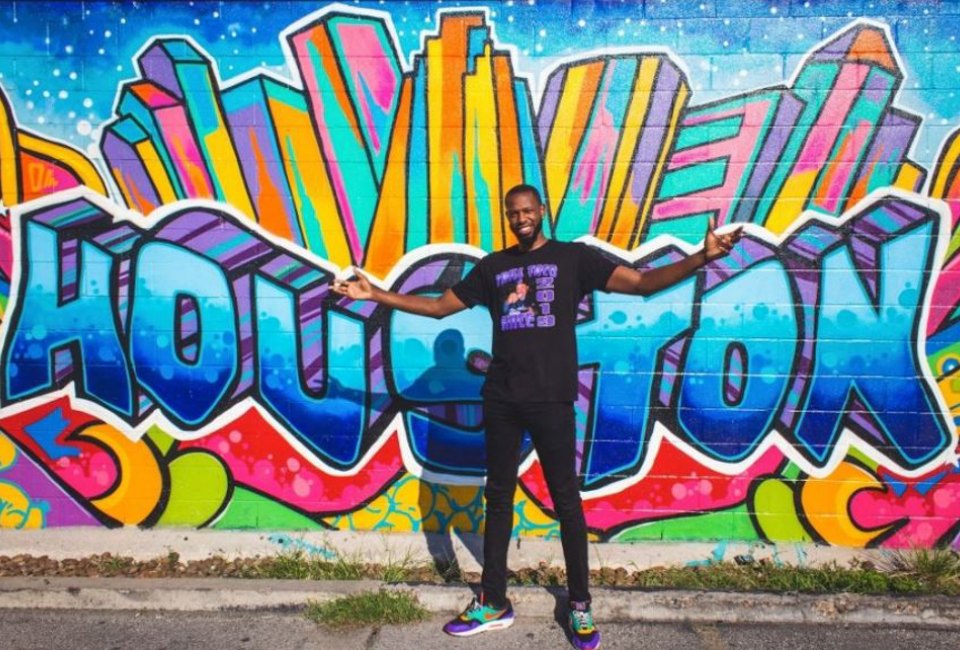 2/4/22
- By
Sarah Banks
Feeling hungry or thirsty? We've picked out ten family-friendly Black-owned restaurants near Houston where you and your kids can refuel—so check out these Black-owned restaurants, coffee shops, and bakeries. Black History Month is also a great time to head out to some of the historic sites in the area that tell important stories from Black history, such as the Buffalo Soldiers National Museum, Emancipation Park, or the Houston Museum of African American Culture. Afterward, stop by one of our selections below and enjoy some delicious refreshments.
You and your family can contribute to the ongoing success of Houston's Black businesses by supporting Black-owned restaurants near Houston in February and throughout the year. And if you're looking for ways to celebrate Black History Month from home, try these 30+ Children's books to celebrate Black History Month.
Check each business location for their hours and any temporary covid restrictions. Most of the businesses offer dine-in, to-go, and pick up - check their website to confirm options.
Multiple locations throughout the Houston area: find one near you.
Frenchy's Chicken has been dishing up delights in Houston since 1969 and is the home of Houston's famous "Frenchy's Chicken," and New Orleans-inspired Creole comforts. From humble beginnings in a small sandwich shop in the Third Ward on Scott Street, there are now multiple locations throughout H-Town. Your family will love their excellent value chicken wing and chicken tender combo meals.

The owners of Gatlin's BBQ, where love is the secret ingredient, photo courtesy of gatlinsbbq.com
3510 Ella Boulevard
Established over ten years ago, Gatlin's BBQ is an award-winning BBQ joint in Oak Forest serving up delicious dishes daily. Classic brisket sandwiches, Texas-sized baked potatoes, and sides like mac and cheese, collard greens, and candied yams - you will be sure to fill up the hungriest member of the family.
8270 W Bellfort Ave
This Jamaican gem serves traditional dishes like tangy Jerk Chicken, tasty Rice and Peas, and Flaky Patties. Wash down your meal with fresh fruit punch or coconut water for a refreshing Caribbean island taste. Food Network's "Diner, Drive-Ins, and Dives" has featured Cool Runnings.

Owners of Alfreda's Soul Food Restaurant,Troy and Marguerite Williams. Photo courtesy of afredassoulfood.com
5101 Almeda Rd
If you head downtown, check out Alfreda's Soul Food Restaurant in the Historic Third Ward, cooking delicious soul food for Houston's families since 1964. Recognized in Houston Press's food awards, they offer delicious dishes such as wings, meatloaf, and oxtail.

Photo courtesy of Lucille's in Houston
5512 La Branch Street
Lucille's is named after Lucille B. Smith, one of the first African-American businesswomen in Texas. Lucille was a chef, a cookbook author, an educator and a community leader. Guests are invited to enjoy authentic southern recipes, from shrimp and grits to Lucille's famous chili biscuits.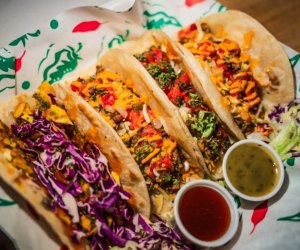 Photo courtesy of Trill Taco, a Black-owned restaurant near Houston
2887 Dulles Avenue, Missouri City
Located to the south of Houston in Missouri City is Trill Taco, which pays homage to our hometown with fabulous flavors. The taco restaurant offers its unique take on tacos, quesadillas, and nachos, all with its famous "Trill Sauce."
732 W 27th Street
Located in the Historic Heights neighborhood, Throughgood Coffee serves up freshly ground brews and baked treats every day.
3409 Emancipation
From savory treats to vegan bites, Crumbville, TX Bakery, will make you and your kids smile from ear to ear. The bakery has a wide variety of stuffed cupcakes, cookies and brownies. They have a great selection of vegan delights as well! A feast for the eyes and the mouth, these baked goods are beautifully iced and decorated.

The owner of Cupcake Kitchen, Patrice Farooq. Photo courtesy of cupcakekitchenhouston.com
2533 Southmore, Suite D.
Cupcake Kitchen is no simple cupcake shop. As well as tasty cakes and other desserts, Cupcake Kitchen offers a range of meals, including fried chicken, beef enchilada and a seafood bowl.
1333 Old Spanish Trl.
Delight your kids and sample fabulous handmade doughnuts at Glazed. As well as the usual doughnut flavors, you can find specialities such as a Glazed Breakfast Sandwich (Glazed doughnut sliced in half and filled with bacon, egg and cheese).
Click Here to Sign Up!
i