The Best Zoos and Aquariums for Chicago Kids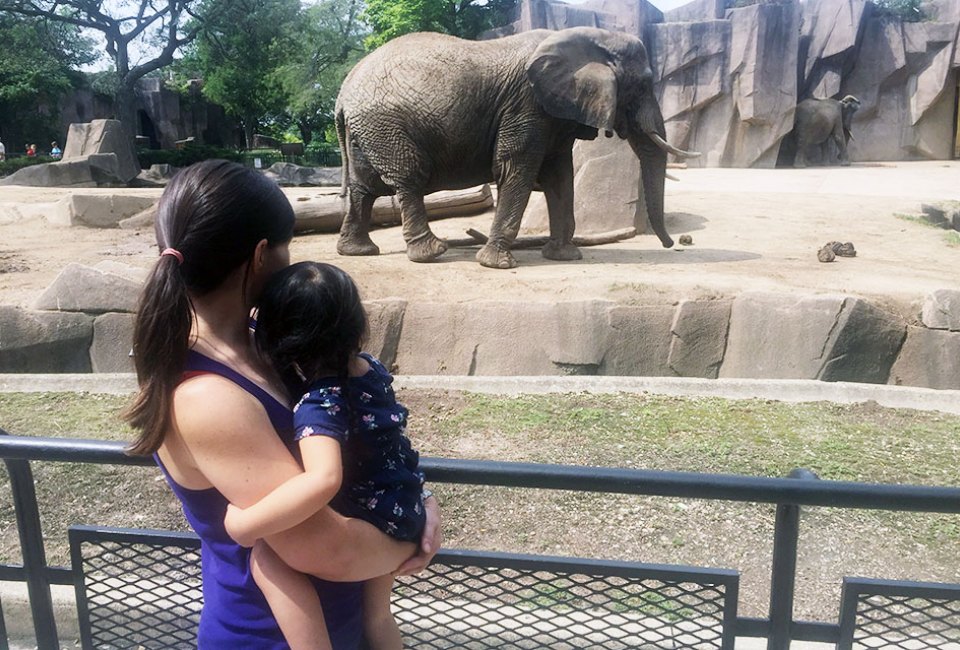 4/16/21
- By
Maureen Wilkey
Are your little animals getting too wild inside of your house? Take them out to one of the Chicago area's many zoos or aquariums. These venues offer a chance to learn about wildlife, get outside, and support nonprofits that help animals around the world. Most Chicago families know about the two big zoos: Lincoln Park in the city and Brookfield Zoo. But families with younger kids might prefer some of these smaller zoos that require less walking, for those with shorter attention spans and little legs. Also, with a short drive across the border into Wisconsin or Indiana, kids can see a variety of animals that can't be found at the Chicago zoos!
To meet animals that are a little bit less wild, check out our list of favorite farms near Chicago. Or take a hike to see animals in the actual wild.
If you're staying in town and plan to visit multiple attractions in the Chicago area (we're looking at you, people with visiting relatives you'll be squiring around town), it's worth it to look into a Go City - Chicago sightseeing pass to save money on entrance fees to attractions like the Navy Pier, Field Museum, the aquarium, and the planetarium.
Chicago's Big Zoos and Aquariums
Brookfield, IL—25 minutes from The Loop
Opened in 1934, this 216-acre park is home to more than 2,300 animals of 450 species. In 2021, the zoo welcomed a pair of new lions, brothers Brutus and Titus, who are easily visible near the north side of the zoo. The Dinos Everywhere exhibit features more than 40 animatronic dinosaurs, showing kids what these giants may have been like millions of years ago. Our family favorites include the recently reopened Great Bear Wilderness, which includes big picture windows with underwater viewing of the grizzlies and polar bears; Tropic World, which features rainforest habitats from South America, Asia, and Africa; and the Living Coast, a South American-themed exhibit with fish and the penguins that my kids imitate for days on end.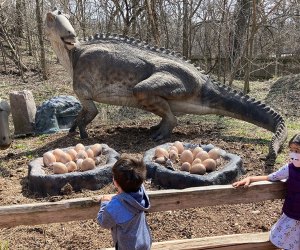 See Dinos Everywhere at the Brookfield Zoo.
Some old-school buildings, like the Reptile and Bird Houses and the Seven Seas underwater dolphin and seal viewing areas often provide unique surprises. My son can't get enough of the goats at Hamill Family Wild Encounters, and both kids love being inside an enclosure with the wallabies at that same exhibit.
The zoo has lots of options for eating, including BZ Red Hots, Cafe Del Sol, and Wild Burger, but you're also allowed to bring in a cooler of your own food. I recommend eating in a paved area to avoid the geese and peacocks that roam free throughout the zoo. Both suburban and city families can easily access the zoo via car or Metra—it's just a few blocks walk from the Brookfield stop on the Burlington Northern Santa Fe line.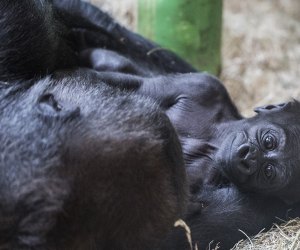 Hi there baby. Photo courtesy of Lincoln Park Zoo
Lincoln Park, Chicago—15 minutes from The Loop
Lincoln Park Zoo is one of just a handful of free zoos left in America. Founded in 1868, it is home to more than 1,100 animals of about 200 species. One of the most popular exhibits (and my personal favorite) is the Regenstein Center for African Apes, which allows visitors to see gorillas and chimpanzees up close and personal—sometimes they're sitting just inches away on the other side of the glass. The Pritzker Family Children's Zoo offers a more tactile experience, with features that kids can touch and climb on while they explore animals like black bears, turtles, otters, and wolves. The lion habitat and flamingo pond are great centerpieces for the zoo, easily accessible right as you walk in.
When planning what to eat, think about the Park Place Cafe, a centrally located food court-style restaurant with a little something for everyone. A handful of other restaurants are available throughout the zoo, or you can bring your own lunch. You can park at the zoo for a fee, or consider taking the Brown Line to Sedgwick (it's a little bit of a hike), or the 151, 156, or 22 CTA bus. If you have bigger kids with the stamina for a longer day, consider a side trip to the Peggy Notebaert Nature Museum, just north of Lincoln Park Zoo.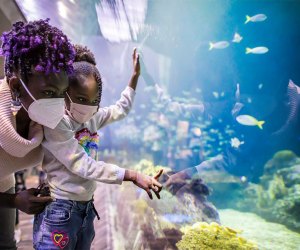 See what swims by at the Shedd Aquarium. Photo courtesy of the Aquarium
Museum Campus/South Loop, Chicago—10 minutes from the Loop
More than 32,000 aquatic animals are on display at this lakefront museum, giving visitors the chance to see fish, sharks, whales, and more from all over the world. The centerpiece of the Shedd Aquarium is the Caribbean Reef, a 90,000-gallon circular aquarium with 360-degree views of sharks, parrotfish, sea turtles, and rays. Around the reef, several hallways extend where visitors can explore sea life from different regions, from nearby rivers and lakes to the Amazon to polar areas. In the Abbott Oceanarium, kids can see dolphins, beluga whales, sea otters, and California sea lions. For an additional fee, the Shedd offers unique meet-and-greet experiences with these animals as well as the penguins who became YouTube stars while wandering the exhibits at the beginning of the pandemic.
Parking for the aquarium is available in Museum Campus lots and garages, or you can take the Red Line to Roosevelt—you'll need a stroller or kids with some endurance for that option. The CTA's 146 and 130 bus will also get you there. The Bubble Net food court is currently open at limited capacity on weekends only.
Milwaukee, WI—90 minutes from the Loop
Museum Campus/South Loop, Chicago—10 minutes from the Loop
Our neighbors to the north also have a great zoo experience available that may be easier to get to for Far North Suburban families. Milwaukee County Zoo covers 190 acres with 1,800 animals, including one big one that neither Chicago zoo has: elephants! The zoo is divided into several exhibits that require some walking, but the walks are well-shaded and include places to stop for food or bathroom breaks. We recommend going south (left) from the main entrance first to see the big cats, elephants, camels, and other African animals, followed by the polar bears and harbor seals. Then head west toward the hooved animals and otters. After that, a walk through the woods leads visitors to the Small Mammals building and the Aquatic & Reptile Center. Looping around to the north will take you to the primates, apes, and birds.
Bigger kids might also enjoy the Sky Adventure Ropes Course and Zip Line while little kids love a ride on the carousel. Many restaurants and food courts are scattered throughout the zoo, or families can bring their own food. The zoo has plenty of parking but is not easily accessible via public transit.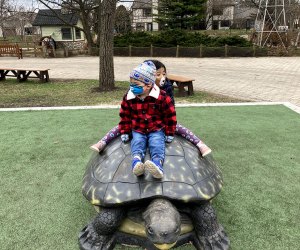 You can see turtles and climb on turtles at Cosley Zoo.
Our Favorite Smaller Zoos Near Chicago
Wheaton, IL—40 minutes from the Loop
For families who want to get outside and see some animals, but aren't ready for a full-day experience, Cosley Zoo is just the ticket. The zoo is currently asking that visitors limit time in the park to one hour, which is just about enough time to complete a loop to see the zoo's 200 animals from more than 50 species. Cosley features mostly farm animals and local wildlife including cows, chickens, sheep, pigs, llamas, a coyote, raccoons, deer, and a variety of birds. Kids can also enjoy an interactive play space inside the boxcar at the zoo, which is located on the site of an old train station.
Parking is free and easily available. The Coyote Cafe and Concession Stand serves kids' lunch standards like hot dogs and chicken nuggets.
Racine, WI—80 minutes from the Loop
Just north of the Wisconsin border, this 32-acre zoo has 100 species of animals, mostly focused on animals native to Wisconsin. There are also monkeys, kangaroos, giraffes, lions, tigers, and bears (oh, my!). On weekends, families can enjoy chats with various animals every hour. Kids can also feed the birds in the Norco Aviary for $3 per seed stick, take a barnyard safari with domesticated animals from around the world, play on two playgrounds, or ride on a miniature train called the Zoo Choo express.
Free parking is available in lots or on the streets near the zoo. Families can dine at Max & Jenny's Jungle Grill or The Watering Hole Bar & Snacks.
South Bend, IN—100 minutes from the Loop
This 23-acre zoo in northern Indiana is mainly organized by the continent of origin of each species. Its 500 animals are divided into exhibits featuring Australia, the Americas, Africa, and Asia, as well as a farm exhibit. Potawatomi Zoo is home to snakes, lions, birds, turtles, otters, cows, rhinoceros, rabbits, armadillos, bison, and more. The zoo is also raising money to acquire giraffes and create a habitat for them. Families can take a ride on the Potawatomi Express and dine at the Congo Cafe or Otter Outpost.
Bloomington, IL—125 minutes from the Loop
This downstate zoo is home to monkeys, sloths, tortoises, rhinos, alligators, snow leopards, and otters. Miller Park Zoo has a petting zoo, but it's currently closed. The zoo's Children's Zoo Complex and Tropical Rain Forest exhibit were built within the last 20 years, making it a little more modern than some of the historic zoos on our list. Admission tops out at just $6.95 and concessions are available for under $5, giving families the chance to tour a zoo and see some animals without spending a fortune. Miller Park Zoo also has a variety of affordable camps and classes for local kids to enjoy.
Unless noted, photos by the author
Disclosure: We may earn a small commission if you click through our link and make a purchase. This revenue helps us maintain this site, so thank you for supporting us.
Click Here to Sign Up!
i