14 Outdoor Water Parks in New England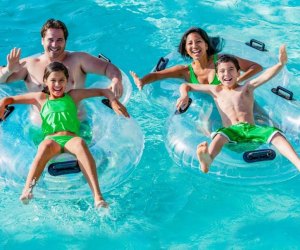 In just a few hours' time, families in Massachusetts and Connecticut can drive to some exciting outdoor New England water parks for a wet and wild adventure with kids. Although there's no shortage of big slides at these water parks, they're perfect for daredevils and little ones alike. There are wave pools, family raft rides, lazy rivers, and mini-slides for younger kiddos. Some of these water parks around New England are small, family-run parks with just a few slides, and others are part of a larger theme park, but they all offer plenty of chances to get completely soaked.
Read on to see what outdoor water parks are open this summer. To cool off closer to home, plan a trip to these Boston-area spraygrounds and splash pads or Hartford-area spraygrounds and splash pads.

Outdoor Water Parks in Massachusetts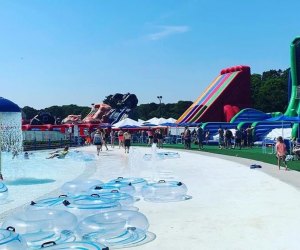 There are loads of big, cushy slides and plenty of spots to splash at Cape Cod Inflatable Park. Photo courtesy of the park
2021 update: As of press time, the park is still working out safety protocols. The park will open for the season June 18.
With its grand opening in the summer of 2018, this splashy addition to the inflatable fun park scene has become a must-stop for many Cape-bound families. There's a lazy river and lily pad "walk," but thrill-seekers will head straight for the four large, inflated slides. Hint: If you're heading for an overnight (or two), consider a stay at the Cape Cod Family Resort; booking includes two free park passes each day of your stay.
2021 update: The park will be open daily starting June 12. There is no longer grilling allowed on property.
This little gem on the Massachusetts side of the Blackstone Valley delivers old-fashioned fun in a natural setting. The three 300-foot slides abut a swimming lake and spacious, grassy, beautifully maintained picnic grounds.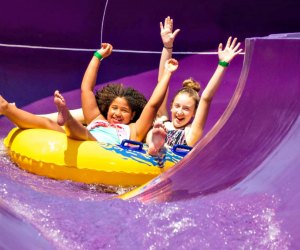 Photo courtesy of Water Wizz
2021 update: The park will open June 19. Social distancing is encouraged.
Water Wizz is packed with watery fun ranging from a family pool with multi-age activities to super high thrill slides called the "Devil's Peak." If the place looks familiar, that might be because the park has been in two feature films!
2021 Update: Six Flags, including the water park, is open for the season. Face masks are required when not in pool or on water rides. It is also strongly encouraged to purchase both amusement park tickets and parking passes in advance online.
Six Flags is home to New England's largest water park, Hurricane Harbor, with has everything from one of the largest wave pools in the country to multi-passenger rafting adventures. Good to know: The water park is pretty serious about enforcing its rules.
Outdoor Water Parks in Connecticut
2021 update: Face mask required for unvaccinated guests. The park is opened on an abbreviated schedule through July with hopes of expanding hours of operation.
Lake Compounce's Crocodile Cove is home to multiple wave pools, water slides, and special areas designed for young children. There's even an actual lake.
2021 update: The water park opens May 29 for the season. Guest should follow CDC guidelines for social distancing and face masks.
Along with giant water slides that can be ridden solo or together, a rapid raft adventure, and a gigantic dumping bucket, there is also a great area for little water lovers to hang out at, with pint-size slides and pools.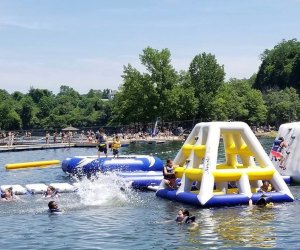 Brownstone Park has a variety of water obstacles on the lake. Photo courtesy of the park
2021 update: Open weekends starting June 5. Guests must follow state guidelines for masks. Passes must be purchased in advance.
Brownstone takes "lake fun" to a whole new level. Along with wakeboarding, kayaking, and paddling opportunities, this lakeside park features an over-water zipline, various water obstacles, inflatable sides and trampolines, and a big "cliff jump" for the bravest kids.

Photo courtesy of Water Country
Outdoor Water Parks in New Hampshire
2021 update: The water park opens June 12 and will be open Wednesday through Sunday for the season. Some attractions will remain closed. Guests should follow CDC guidelines for face masks.
Water Country offers plenty of ways to stay cool and have fun, from the Adventure River Ride that goes through waterfalls, fountains, and caves, to Triple Giant Slides, the Whirlpool, and whitewater adventures on Thunder Falls. Young children can have their own adventures as they slide down the arms of Ollie Octopus, climb on a pirate ship at Pirates' Lagoon, and explore the Tahiti Tree House.
2021 update: Whale's Tale opens for the season June 18. Masks are encouraged to enter the park and required in these areas: food & beverage locations, retail, first aid, customer service, all indoor locations. Advanced reservations are required.
There are a lot of bells and whistles at this White Mountain-area favorite, including a wave pool with "flow boarding" (sort of like surfing), loads of speedy slides and flumes, and a 360-degree tube slide. Rent a cabana for a more private experience.
2021 update: Castaway Island opens for the season on May 29. Advanced online reservations are required. Masks are strongly encouraged indoors and where social distancing can't be maintained.
Castaway Island at Canobie Lake Park has over 180 ways to get wet and features water cannons, nine water slides, waterfalls, and other entertaining activities. Check the website for specials, which include reduced evening rates. Bonus: Parking is free.
2021 update: Ho Ho H2O at Santa's Village opens for the season on May 29. Advanced online registration is required, masks are required in indoor areas and in certain ride lines.
Christmas and summer collide at this cool water park located in Santa's Village amusement park. Kids can splash and play at this interactive splash pad area filled with slides, a dumping bucket, and multiple spray components. For daring kids, try out the JOY Ride Slides, three-story water slides filled with twist and turns. Be on the lookout for the parks newest addition Polar Paradise, opening this summer, for even more water fun.
2021 update: Candia Springs' water park opens June 12. Advanced reservations are encouraged.
Cool off in the splash pad or go for a swim in the spring-fed swimming hole. For daredevils, this park has three crazy water slides to choose from that promise high speeds, lots of twists and turns, and big drops.
Outdoor Water Parks in Rhode Island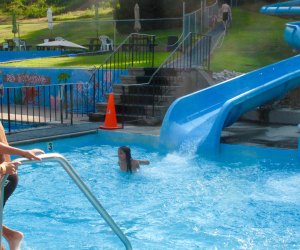 Yawgoo Valley Water Park has medium-sized slides that are fun for little and big kids alike. Photo by Mommy Poppins
2021 update: Yawgoo Valley opens July 1. Advanced online registration is not required, but strongly encouraged. Outside food or drinks are no longer allowed. There are no birthday parties this year, but group reservations can be made for 20 or more paid tickets.
The Yawgoo Valley ski area transforms in the summertime to a fun-filled water park with crazy slides, pools, and a Tiki Bar with food and drinks. The best part: The water park is small enough to sit at the bar with an adult beverage while watching the kids go on the slides over and over again. Good to know: To avoid sharing the park with 100 kids from a day camp, check Yawgoo's Group Schedule before visiting to find out whether any groups are booked during the time you're planning to visit.
Outdoor Water Parks in Maine
Photo courtesy of Funtown Splashtown USA
2021 update: Funtown Splashtown opens May 29 for the season. Face masks are required for retail, indoor food establishments and arcades.
For those headed up the Maine coast for a family vacation, Splashtown's Family Fun Lagoon, thrilling slides, and pirate-themed play area beckon. Good to know: Separate tickets can be purchased for Funtown and Splashtown, but the combo tickets are only a few dollars more, and parking is free, so why not make a full day of it?
Looking to splash inside? Check out our indoor water parks guide.
All photos courtesy of the water parks mentioned
This post was originally published on July 28, 2020.