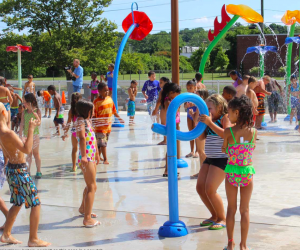 Free Splash Pads, Spraygrounds, and Fountains for Kids in Hartford County
Just because Hartford County is centrally located in Connecticut doesn't mean that you have to venture very far to enjoy the water. Waves and beach sand are not in close proximity, there are still plenty of options to enjoy water play in lakes, pools, water parks, and splash pads. If you're looking to cool down in the hot summer months, check out one of these fun locations. Best of all, like so many of our Mommy Poppins faves, they're free, so there's no need to bring your wallet (just towels and sunscreen)!
Rockwell Park, Bristol
In addition to its great playground and picnic areas, the park also features a splash pad, a pool, a basketball court, and walking trails. It is easy to spend a day here, especially considering other child-friendly features.
Cotton Hollow Preserve, Glastonbury
Enjoy 80 acres of outdoor adventure in a historic atmosphere. For a refreshing escape from the heat, visit the naturally formed swimming holes, the cascading and tumbling fresh water, and the roaring banks of the roaring brook. A beach area located at the bottom of the main falls features the best conditions for a relaxing dip in the water. Unfortunately, it is limited to Glastonbury residents and guests only.
Willow Street Park, New Britain
Bring a towel and a cooler because the largest (and free!) splash pad in New England will keep the kids entertained for hours. Open 10am to 8pm until Labor Day weekend.
West Hartford Splash Pads, West Hartford
Conveniently located next to playgrounds, concession stands, and restrooms, you will find four splash pads featuring several water features, making for a fun day out. Spray Pads are located at Beachland, Fernridge, Kenney, and Wolcott Park, and are free for children ages 2-8. Open Memorial Day weekend until Labor day weekend, daily from 10 a.m. to 7 p.m
Elizabeth Berner Pool, Plainville
Located at Norton Park, it features two water slides, a raindrop fountain, and a zero depth entry tot pool. According to the town recreation department webpage, the pool is open and free for Plainville residents and guests beginning June 10, but non-residents can purchase a daily pool pass for $14 per person.
Chesley Park, New Britain
At Chesley Park, there are plenty of exciting water spray features, including bucket dumps, ground sprays, and jets you can aim at your friends. There's even a new pool for getting fully wet.
Colt Park Splash Pad
, Hartford
This is a great place to go on a hot summer day: There are several overhead sprayers and even spinning controllers for the kids to man themselves. This is an all-ages splash area.
Pope Park North, Hartford
There's a splashy spray park in this northernmost corner of the popular park (a.k.a, Baby Pope), and a full swimming pool in Pope's main section.
Keney Park Splash Pad, Hartford
This is the largest park in Hartford at almost 600 acres. This splash pad opened in 2017 and is a mecca for local children wanting to cool off. Consists mainly of floor sprayers and a structure under which you can stand in cool showers. You can't miss the big, yellow spraying spider!
Goodwin Park, Hartford
Home to a golf course, Goodwin has lots of open green space for running around, and a splashy playscape that's perfect for cooling off after.
Hyland Park, Hartford
This baseball-themed little park near the popular ball fields offers a small, contained space with simple water features well-suited for little ones.
Originally published 6/24/13.