40 Things To Do Indoors in New Jersey on Rainy Days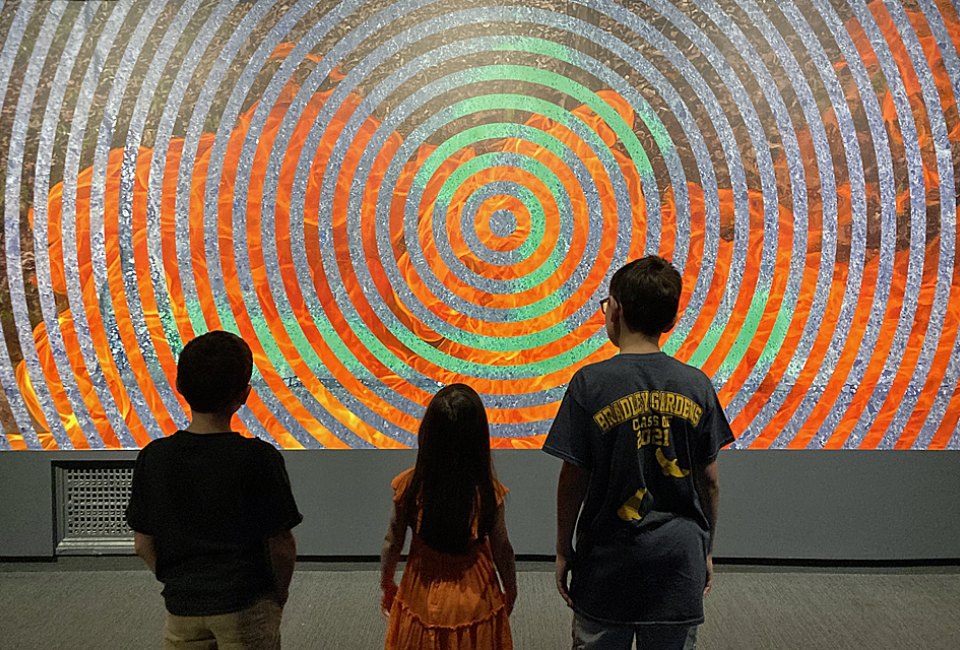 9/15/23
- By
Dore Duhaime
New Jersey is teeming with potential rainy-day activities that are perfect for when your active kiddos want to do more than curl up with a book or stomp in a puddle. No matter the season, New Jersey has an array of great indoor activities for the whole family, from museums and indoor play spaces to bowling alleys, roller rinks, and more.
If staying in sounds better, we've got plenty of ideas for at-home rainy-day fun, too. Find more picks for things to do with kids on the next bad weather day in our Guide to Indoor Play Spaces in New Jersey for Kids.
Subscribe to our newsletters to get stories like this delivered directly to your inbox.
1. Morris Museum – Morristown
A museum like the Morris Museum that features interactive exhibits, where kids want to linger and play is encouraged, provides the perfect rainy day escape. Plus, the Spark!Lab maker studio is the perfect spot for kids to unleash their creative side.
2. Jump Around at Adventure Centers
If your kids have turned your couch into a trampoline or the dining room into an obstacle course, Englewood's Xtreme Energy has a ropes course, rock-climbing wall, and foam pit to burn off some energy. Or, check out the newly opened Catch Air in Hasbrouck Heights, which has slides and climbers galore.
RELATED: Indoor Birthday Party Spots with Mega Playgrounds in NJ

Spend a day exploring the Adventure Aquarium on a rainy day. Photo courtesy of the aquarium
3. Visit an Aquarium
Dive into some family fun with a visit to the aquarium. You and your kiddos can get up close to sea life at Jenkinson's Aquarium or the Adventure Aquarium in Camden.
4. American Dream – East Rutherford
Nothing beats the mall on a rainy day, and American Dream is no ordinary shopping center. This larger-than-life mega mall has a bunch of kid-friendly destinations in its ever-expanding lineup, including Sea Life Aquarium and Legoland Discovery Center.
RELATED: Indoor Obstacle Courses, Ninja Warrior Training, and Aerial Arts for NJ Kids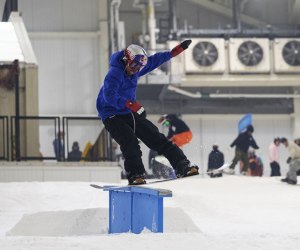 The action is on the indoor slopes at Big Snow. Photo courtesy of Big Snow
5. Big Snow – East Rutherford
You can also hit the (indoor) slopes at Big Snow at American Dream any time of year.
6. Host a Movie Night
Break out the snacks and have a movie night—or day!
RELATED: Free Indoor Play Spots in New Jersey for Kids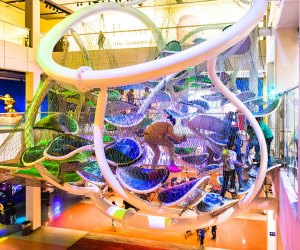 Spend the day looking at cool stuff at the Liberty Science Center. Photo courtesy of LSC
7. Liberty Science Center – Jersey City
You can easily spend an entire day at the Liberty Science Center, from the special exhibits to its state-of-the-art planetarium.
8. The Gravity Vault – Montclair
Scale the walls at an indoor rock-climbing gym instead of at home. A new outpost of The Gravity Vault recently opened in Montclair.
9. Game at an Arcade
Play retro video games and current favorites at one of these New Jersey arcades.
10. iPlay America – Freehold
Try your luck at carnival games, ride a mini roller coaster, or hone your arcade skills at iPlay America.
RELATED: Kid-Friendly Museums in Northern New Jersey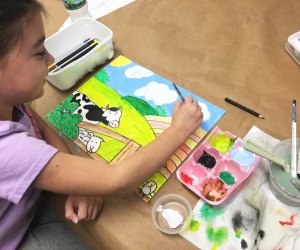 Make art at Around the Corner Art Center in Freehold or Morganville. Photo courtesy of Around the Corner
11. Drop in for Arts and Crafts
Around the Corner Art Center offers walk-in canvas painting, pottery making, and more. Many arts and crafts spots offer at-home art kits ready for pickup as well.
12. Work Out the Wiggles
Little ones can engage in imaginative play at Tay + Te or Magic Sky Play. For a safe sensory experience, check out We Rock the Spectrum Kid's Gym.
13. Get Creative at Home
You only need a few simple materials, mostly things you have around the house, to make these simple crafts for preschoolers or DIY-sensory activities for babies.
14. Indulge a Sweet Tooth
Take a trip down memory lane at a sweet shop that sells retro candy; Black River Candy Shoppe in Chester has more than 900 candies to choose from! In downtown Collingswood, try The Candy Jar or the second location in Bordentown, which is the sweetest spot in town because it is right next to The Ice Cream Boutique.
15. Sip Tea
Dress in your finest frocks and ties for high tea at Harmony Tea Room in Westwood or check out Jane's Tea House in downtown Haddon Heights, which is one of the best tea houses in New Jersey.
16. Exceptional Explorers – Livingston
Grab a pair of socks and introduce the kids to one of the Garden State's newest indoor play spaces, Exceptional Explorers in Livingston.
17. Find a Way Out of an Escape Room
Family-friendly escape rooms offer a challenging, all-ages activity.
18. Franklin Mineral Museum – Franklin
The Franklin Mineral Museum is perfect for your mini geologist, with thousands of displays filled with minerals and rocks to examine.
19. iFly – Paramus
Take a flight and go skydiving—indoors—at iFly in Paramus.
RELATED: Guide to Indoor Play Spaces in New Jersey for Kids

Imagine That is an action-packed play space in Florham Park. Photo by Margaret Hargrove
20. Imagine That - Florham Park
Explore and play at Imagine That museum and play space in Florham Park.
21. Shop for a New Book
Browse a local bookstore, like Inkwood in downtown Haddonfield, and let your child choose a new book, or visit Canadian bookseller Indigo's mega-store in the Short Hills Mall.
22. Bop Around a Bounce House
Burn off energy at an indoor trampoline park or bounce house like Sky Zone in Springfield or Launch in Depford.
23. Hit a Play Cafe
New Jersey is home to some delightful play cafes that give kids room to romp and offer perks for parents like a cup of joe and Wi-Fi.
RELATED: Indoor Obstacle Courses, Ninja Warrior Training, and Aerial Arts Facilities in NJ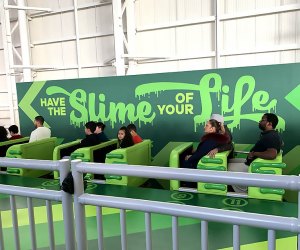 Catch a ride on The Slime of Your Life at Nickelodeon Universe. Photo by Elaine Quilici
24. Enjoy the Thrill
Amusement parks aren't just for summer: Go for a whirl at American Dream's Nickelodeon Universe and DreamWorks Water Park.
25. Get Messy with Slime
If you're anything like me, slime is off-limits at home, but slime-obsessed kiddos can make their own at The Slime Factory in the Menlo Park Mall or the Slime Lounge with multiple locations.
26. Grammy Museum – Newark
Learn about music history and sing your hearts out at the Grammy Museum in Newark.
27. Lace Up Your Skates
Hit the ice and glide around an indoor skating rink like North Jersey's Skyland's Ice World and SportsCare Arena or in South Jersey the Flyer's Training Center in Voorhees.
RELATED: Top Indoor Play Spaces in New Jersey for Kids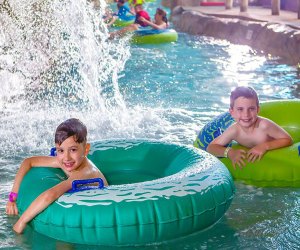 Take a mini-vacation at Big Kahuna's. Photo courtesy of the venue
28. Make a Splash
Get wet and wild at an indoor water park like Big Kahuna's in West Berlin or the Kartrite in the Catskills.
29. Lively Laser Tag – Springfield
Battle it out for bragging rights with a round of laser tag at Lively Laser Tag.
30. Puddle Jump at a Nature Center
If you'd rather do some outdoor splashing, pull on your rain boots and hike to a nature center like the one at Great Swamp in Basking Ridge or the Scotland Run Park Nature Center in Clayton. Stomp in as many puddles as you can and take heart: These spots offer plenty of indoor fun, too!
31. Blow Off Some "STEM"
Have some indoor STEM fun with your mini-maker at Genius Gems in Millburn. Or, try Snapology Discovery Center in Tinton Falls, which has drop-in hours a couple of afternoons per week. Call for the weekly schedule.
RELATED: Free Admission for Kids at 50 of New Jersey's Biggest Family Attractions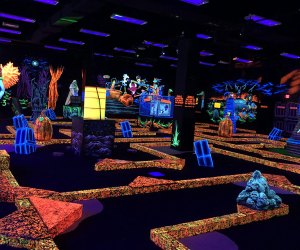 Monster Mini Golf puts a new spin on putt-putt.
32. Tee it Up at Mini-Golf
Play a round of indoor glow-in-the-dark mini golf, including at Blacklight Mini Golf, which is now open at American Dream.
33. The Angry Birds Not So Mini Golf Club – East Rutherford
Another can't-miss indoor putt-putt spot at American Dream: Check out The Angry Birds Not So Mini Golf Club.
34. Yogi Berra Museum – Little Falls
Chances are your lil' slugger has heard of Yogi Berra. At the Yogi Berra Museum, see portraits of baseball greats, vintage mitts, and bats, plus the whole family can practice their pitches.
35. Enjoy Games and Goodies
Check out one of Dave and Buster's locations in New Jersey that are just as fun for grown-ups, too.
RELATED: A Dozen Museums for Kids and Families in Central and Southern Jersey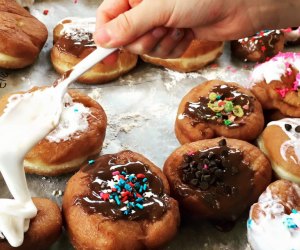 Sample the delicious confections at the Montclair Bakery. Photo courtesy of the bakery
36. Treat the Kids (and Yourself)
Enjoy a delicious doughnut for breakfast, lunch, or even dinner (why not?).
37. Play Games at Home
Make a big bowl of popcorn and teach the kids a new card game or break out a favorite board game.
38. Montclair Art Museum – Montclair
Marvel at the artwork at the Montclair Art Museum, which is just the right size for kids.
39. Make Some Magic at Home
Put on your very own magic show at home.
40. Experience Interactive Dining
Treat the kids to a fun, interactive dining experience.
This post, originally published in July 2012, is updated annually. Kaylynn Chiarello Ebner contributed additional reporting.
Sign up for the Mommy Poppins Newsletter today!
i