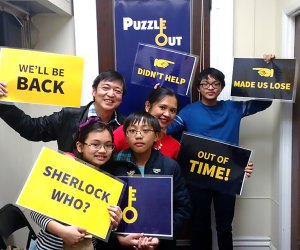 Family-Friendly Escape Rooms in New Jersey
Little sleuths and code-breakers can show off their detective skills at one of New Jersey's many family-friendly escape rooms. Getting "locked" inside a room with your kiddos to solve a murder mystery or foil a cyber attack adds a fun twist to family time and can be a cool alternative to other indoor fun zones, like arcades and trampoline parks.
Many rooms are suitable for children ages 8 or 10 and up, but some are geared toward older kids and teens. The rooms' themes vary from submarines and pirates to zombies and murder mysteries, so be sure to check the venue's website to find an age-appropriate experience for your child. Below, we've rounded up the best options for kids 8 and up.
Your group will have one hour to find clues hidden throughout the room to solve your mission. Hidden clues can be colors or numbers embedded in pictures or room decor; they can be in code or they can be locked away, requiring a riddle to solve. A game master monitors all the action on video screen and can offer hints upon request.
Most require advance reservations, so call ahead or book online.
Escape Rooms in North Jersey
Escape Room NJ – Hackensack and Madison
Geared toward kids 12 and up, the ghostly phenomena in "The Otherside" prompts players to explain mysterious happenings, and in "King Arthur's Castle," players are knights in search of the Holy Grail.
Last Minute Escape – Montclair and Wayne
The most kid-friendly rooms here include "The Frozen Grove" (Wayne location), involving trickster snowmen in an enchanted winter forest, and "The Lost City" (Montclair), with underwater clues preserved in bubbles.

Try to out-maneuver a master art thief at My Adventure Rooms in Montclair.
My Adventure Rooms – Montclair
This challenging escape room appeals to older kids, with one room tracking a master art thief and another engaged in the "Swiss Original" puzzle game for kids 14 and older.

Puzzle Out You offers a variety of escape rooms in Newark, Hoboken, and Jersey City.
Puzzle Out – Newark, Hoboken, and Jersey City
Several rooms are geared toward teens and adults, but "Downtown Countdown" and "Haunted Escapes" in Jersey City are suitable for kids 10 and up.
Escape Rooms in Central Jersey
Escape Room Center – Bridgewater
In "The Lost Jewel of Zanzibar," kids can help track down a powerful gem hidden from an evil warlord, and in "Blackbeard's Brig," kids must escape from pirate prison.
Escapology – Garwood
Kids can pretend to be FBI agents trying to stop a computer hacker in "The Code," or scientists working to prevent a viral outbreak in "Antidote." Older kids may try to catch a murderer aboard the "Budapest Express." Kids of all ages will enjoy "Saving Santa" (and will even get to meet the man himself at the end!). Have a large group? Book a birthday party for two groups of tweens to compete against each other to see who can solve the puzzle first.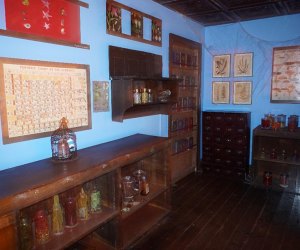 Choose from a variety of rooms for different ages at Amazing Escape Room, which has six NJ locations.
Escape Rooms with Multiple NJ Locations
Amazing Escape Room – Bloomfield, Montclair, Green Brook, Cherry Hill, Princeton, and Freehold
Families visiting the Bloomfield location may choose to go "Down the Rabbit Hole" or get "Lost in Space". Visitors to Green Brook can become a "Wizard's Apprentice" or try their skill as an "Illusionist". Older kids may "Search for the Grail" or set sail on a "Pirate Ship."
All photos courtesy of the escape rooms
This post was originally published in 2016 and has been updated since